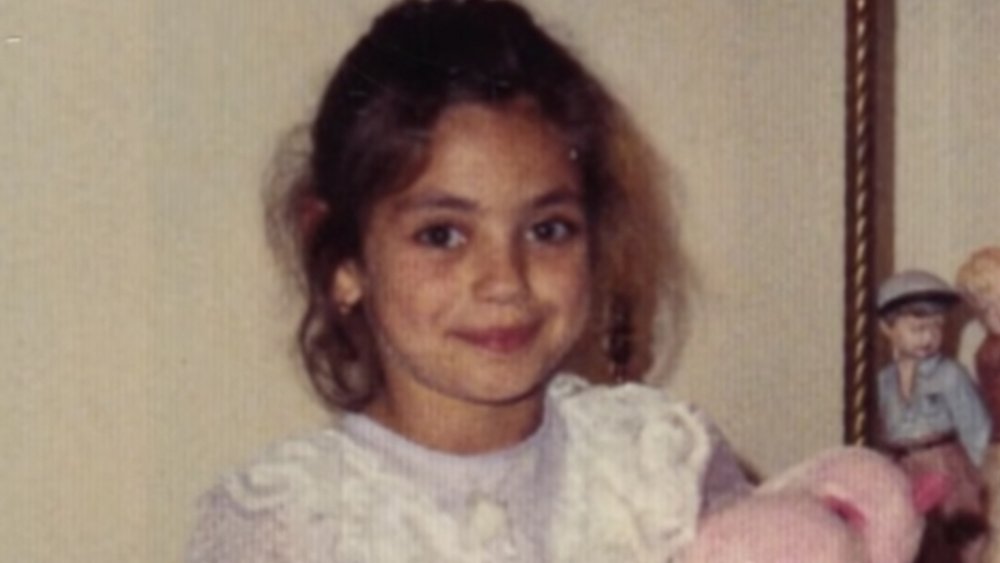 Mila Kunis is best known for a few things: her shrill portrayal of Jackie on That '70s Show, her varied film career, and her marriage to former co-star Ashton Kutcher. However, something else Kunis should be known for is how much she keeps it real. "Stop saying, 'We're pregnant.' You're not pregnant! Do you have to squeeze a watermelon-sized person out of your lady-hole? No," she once proclaimed in front of thousands on Jimmy Kimmel Live.
By all accounts, Kunis is a bonafide star, but she seems very down to earth. She doesn't even have a social media presence. "I was so late to that train," Kunis told Cosmopolitan. "[Kutcher] used to be incredibly forward-thinking with social media, when the intent was to connect to people. But it took an ugly turn and became all about who can be the loudest, who can be the angriest and the most negative. Then it's just not a fun game to play."
Clearly, there's a lot more to Kunis than what most people know. Here is the stunning transformation of Mila Kunis.
Mila Kunis was born in Ukraine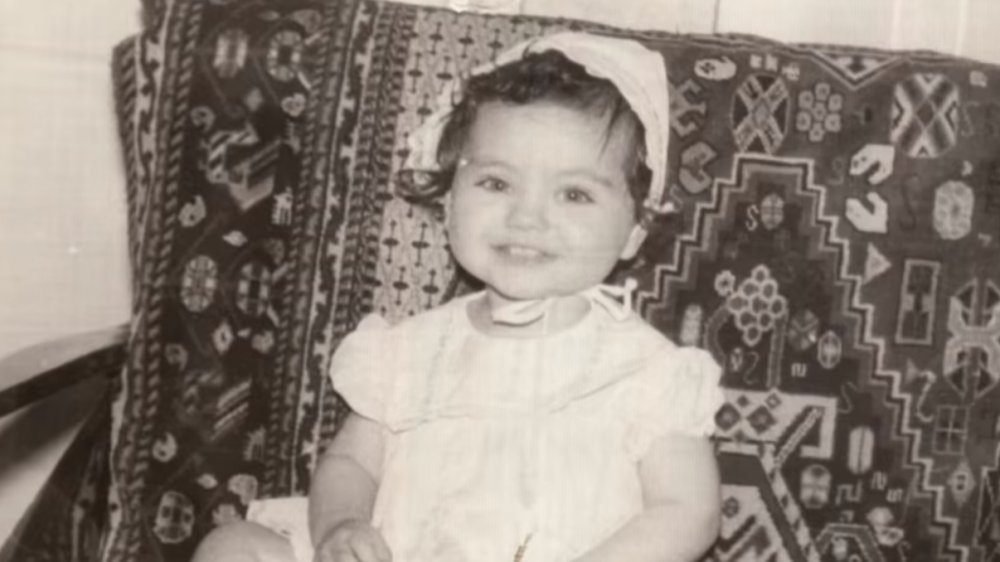 Milena Markovna Kunis was born on Aug. 14, 1983 in Chernivtsi, Ukraine. Known as Mila Kunis these days, she was the second child of Mark and Elvira Kunis. The family was Jewish, and, as Kunis explained to The Sun, it was difficult living there at the time. "My whole family was in the Holocaust. My grandparents passed and not many survived," she said. "After the Holocaust, in Russia you were not allowed to be religious. So my parents raised me to know I was Jewish. You know who you are inside." She further recalled a childhood friend of hers who came home crying one day because someone had carved a swastika on the back of her school seat.
Kunis' parents had good jobs. Mark was a mechanical engineer, and Mila's mother worked as a physics teacher. But the two decided to move to America when Kunis was 7 years old. "They wanted to make a new life for all of us and they've worked very hard to give us a good life," Kunis shared with Yahoo! Philippines.
Mila Kunis struggled to adjust to American life
The road to a better life was a long and hard one for the Kunis family. Mila Kunis shared with the Los Angeles Times that her family had $250 when they touched down in Los Angeles in 1991. While they had middle-class jobs in Ukraine, Kunis' parents had to work hard to make ends meet in the United States. Her father did odd jobs, and her mother worked in a drugstore.
Kunis herself had trouble assimilating into American culture. "I blocked out second grade completely. I have no recollection of it. I always talk to my mom and my grandma about it. It was because I cried every day. I didn't understand the culture. I didn't understand the people. I didn't understand the language," Kunis told the Los Angeles Times. "My first sentence of my essay to get into college was like, 'Imagine being blind and deaf at age seven.' And that's kind of what it felt like moving to the States."
Mila Kunis desperately wanted to act despite her family's poverty
After having time to adjust to life in America, Mila Kunis turned into a more outgoing child, and, by the age of 9, she asked her parents about taking acting classes. "My parents wanted me to go and mix with other kids, but the class cost $900. My parents had $2,400 in the bank account, and we couldn't afford it," she told The Telegraph. "But my mum took out the chequebook and signed the cheque. She said, 'I don't know why I am doing this,' and walked away. I gave the cheque to the instructor."
In that first acting class, Kunis met the woman who would become her manager. Kunis told the magazine American Way, "My parents told her, 'Listen, we can't afford head shots; we can't afford anything. We can't take her to auditions because we work full-time. And we can't do this and we can't do that.' For one reason or another, being the crazy woman that she is, [my manager] said, 'Don't worry. I'll fix everything.'"
Mila Kunis found early success with commercials
After finding a manager, Mila Kunis landed commercials with big brands, such as Barbie and Lisa Frank. "All I had to do was go 'wow!'" Kunis recalled in a Marie Claire video. "That's literally all I did for like the first two years of my career." Still, Kunis' parents were supportive of their daughter's budding career. "All my parents said was, 'You can do whatever you want to do as long as you get A's and stay in school,'" she told American Way.
From a very young age, Kunis was racking up acting credits and setting herself up for steady work. "From 9 to 14 I probably did 20 commercials. The first movie I ever did was Piranha," Kunis told Interview. "Then I did a movie called Make a Wish, Molly, where I played a Mexican girl who was racist against a Russian Jew, but I didn't get the Russian Jew part because they didn't think I looked Russian or Jewish enough… so I was cast as the racist Mexican." She went on, "I did Baywatch, The John Larroquette Show. Any show on television I guest-starred on. I was that little kid."
Mila Kunis joined That '70s Show as Jackie
Young Mila Kunis gained national attention when she starred in the sitcom That '70s Show. "I went on the audition, and I wanted this other show called Sunset Beach," she excitedly explained on The George Lopez Show. "And I wanted that one because it had cute guys in it." Thankfully, Kunis' manager steered her towards That '70s Show instead.
Kunis famously lied to the producers about her age in order to be cast on the comedy show. In a 2001 interview with People, Kunis said, "I told them I was going to be 18. But I didn't tell them when I was going to be 18!" Soon enough, Kunis had transformed into the annoyingly confident, self-obsessed Jackie Burkhart. And Kunis, who had to learn English after moving to America at age 7, apparently now spoke the language so well that she would talk way too fast for some people. Kunis' co-star Laura Prepon told People, "Sometimes you can't understand what she's saying — we're always telling her to slow down."
Mila Kunis met her future husband on That '70s Show
One of Mila Kunis' That '70s Show co-stars was, of course, her now-husband, Ashton Kutcher. When they were on the show, though, there wasn't anything romantic between them. "I did her chemistry homework for her," Kutcher told The Howard Stern Show (via People). Kutcher was 19 when filming started and thus Kunis' senior by five years. The couple's first kiss being captured on film is a romantic idea, but Kutcher doesn't remember it that way. "It was really weird. I was like, 'Isn't this illegal?' It was really awkward," he shared. "She was 14! She was like my little sister."
Kunis seems to share the sentiment. "I thought he was fine, he was a nice guy, we worked together and sometimes he'd drop me off at home," she told Insider. Kutcher did, however, tease on Stern that he thinks Kunis had a crush on him. "She has a journal, like a diary of when she was a kid that she wrote … she thought I was cute. At first I think she thought that I was good looking. Shortly thereafter, I was just annoying to her because I was like a big brother."
Mila Kunis took on the role of Meg on Family Guy
That '70s Show wrapped up in 2006, but Mila Kunis' other long-term project at the time was still going steady. She replaced Lacey Chabert as Meg Griffin in 1999. "What Mila brought to it … was in a lot of ways, I thought, almost more right for the character," show creator Seth McFarlane told IGN. "She had a very natural quality to Meg that really made what we did with that character kind of really work." He also mentioned that Kunis actually being 15 at the time — around the same age as Meg in the show — helped bring authenticity to the role.
Kunis was asked to come back three times in her audition for Meg, and she was almost fed up with the process when McFarlane finally brought her on. In 2007, Kunis was nominated for best voice acting in an animated television production at the Annie Awards for her work on Family Guy.
Mila Kunis' early film roles failed to impress critics
Like many television actors, Mila Kunis had her eye on moving to the silver screen. Unfortunately, her first attempts weren't met with a great response from audiences or critics. In 2002, she starred in the straight-to-DVD film American Psycho II: All American Girl. "I didn't know it would be American Psycho II. It was supposed to be a different project, and it was re-edited, but, ooh … I don't know. Bad," Kunis told MTV News.
Two of Kunis' films, Moving McAllister and Boot Camp, would have apparent production issues, with the former remaining in theaters for two weeks and the latter being released only on DVD. Things finally took a turn for the better when Kunis was cast in Forgetting Sarah Marshall. "I came in for a part I didn't get (in Knocked Up). It didn't work out, but he remembered liking what I did when I came in to meet with him," Kunis told The Orlando Sentinel. She added, "I do think that Sarah Marshall changed things for me, and for the better. It let people see me in a different light … I'm not just Jackie any more!"
Mila Kunis had a long-term relationship with this famous child star
Mila Kunis started a relationship with the child star Macaulay Culkin in the midst of her struggling film years. The two dated from around 2002 to 2011. "We're incredibly private, and I think we relish the privacy we do actually have and are able to sustain it," Kunis told Parade in 2007. "We enjoy each other's company. We like to read books or play video games or watch TV or go to the movies. And he's an amazing cook. He makes dinner every night."
Kunis' rep proclaimed that the split was "amicable" when it happened, but, in 2018, Kunis told a different story. "I f***ed up. I was an a** in my 20s and I'll be the first to admit it," she said in an interview on the podcast Armchair Expert. "And that's something that took me a long time to come out and be like, 'Yeah, you know what, I was a d***,' and accept it and I own it now."
Mila Kunis soared into superstardom with Black Swan
Forgetting Sarah Marshall continued to have a major influence on Mila Kunis' career, as the actress' performance impressed director Darren Aronofsky. "She just leapt off the screen," he told Independent in 2011. "She was just so sexy, beautiful, charming and free." With a little recommendation from friend Natalie Portman, Kunis joined the critically acclaimed Black Swan. Kunis would dislocate her shoulder and tear her calf ligament while training for the film, but, nevertheless, she powered through. "An opportunity like this very rarely comes about," she shared with the publication. "So if you complain, you kind of feel like a baby, so you choose not to."
Kunis was later nominated for a Golden Globe and won a Saturn award for best supporting actress for her role in Black Swan. In 2012, she admitted to Independent that she had been getting recognized on the street more and more since Black Swan's release. "I feel that I have to be more aware of the attention and at least try to live up to a certain image," she said. "It's weird but also flattering."
Mila Kunis became a sex symbol
In 2013, Mila Kunis was given the number one slot on the "Sexiest Women in the World" list by FHM, ending a four-year reign of British women taking the spot. That same year, Men's Health called her one of the "100 Hottest Women of All Time." Clearly Kunis was drawing a lot of attention, and it wasn't just focused on her talent. But she didn't seem to think much of it. "I appreciate the attention but I don't think of myself as particularly attractive at all," she told The Sun in 2012. Several months earlier, she had been rated as a 2011 knockout by GQ.
Kunis has held this ambivalence towards the idea of being a "sex symbol" for a long time. Amusingly, in 2008, she said to the Los Angeles Times, "You've got to base your career on something other than being FHM's top 100 No. 1 girl. Your looks are going to die out, and then what's going to be left?" One can only imagine Kunis' eyeroll in 2013 when she actually nabbed the title.
Mila Kunis wasn't afraid to get political
Despite all the eyes watching her, Mila Kunis has not been afraid to share her political opinion. "The way that Republicans attack women is so offensive to me. And the way they talk about religion is offensive. I may not be a practicing Jew, but why we gotta talk about Jesus all the time?" she told Esquire. The interviewer pointed out that most people don't like when celebrities talk politics. Her response was, "I don't think I'm a celebrity. I'm a working actress. I think there's a difference."
In 2016, she voiced criticism of the treatment of Syrian refugees in an interview with Glamour. It should come as no surprise, considering she and her family are all religious refugees. "I'm not going to blow this country up. I'm clearly paying taxes. I'm not taking anything away. So the fact that people look at what's happening and are like, 'Pfft, they're going to blow s**t up'? It saddens me how much fear we've instilled in ourselves."
Mila Kunis' mom didn't believe her daughter was dating Ashton Kutcher
Mila Kunis was driving with her mom when she told her she was dating Ashton Kutcher. "I was like, 'Mom, I have to tell you, I'm dating somebody,'" she said on the Armchair Expert podcast. She continued, "And I was like, 'You've got to brace yourself for this one. I'm dating Ashton Kutcher.' And she literally was like, 'Shut the f*** up' in Russian.'" Kunis and Kutcher began dating in 2012, but were very adamant about keeping their romance a secret. Kunis admitted, "We were crazy neurotic about keeping it secret, like, to probably a massive fault, where we alienated so many friends, I'm sure."
The two had reconnected at an awards show not long after Kutcher's divorce from actress Demi Moore. Kunis told The Howard Stern Show (via People), "I see this guy and I see his back and he's really tall. Then he just turns around and it was literally like if we were in a movie, the music would start playing and the violins would go. I think for the first time ever he took my breath away –- I was like f***, he's good-looking."
Mila Kunis married Ashton Kutcher in a secret garden wedding
"We started dating with the idea we both were never going to get married," Mila Kunis told Howard Stern on his radio show (via E! News). Hilariously, Ashton Kutcher had just done the movie No Strings Attached and Kunis had starred in Friends With Benefits, and the two basically relived their roles. "We did exactly as both those movies foretold," Kunis said on The Late Late Show with James Corden. "Like, we literally shook hands, we're like, 'We're going to have fun because we're both single and young.' Three months later we're living together. Six months later, we're like married and have a kid. Like, literally, we clearly did not watch the end of either one of our movies."
Kunis and Kutcher kept things casual with their wedding. The two wed discreetly in a secluded area at The Secret Garden at Parrish Ranch in Oak Glen, Calif. "He got me a beautiful engagement ring, like stunning, stunning, stunning! But for our wedding bands for when we got married, I decided to just get them off Etsy. And so our wedding bands are from Etsy," Kunis admitted on Conan.
Mila Kunis isn't afraid to keep it real about being a mother
Mila Kunis and Ashton Kutcher's daughter Wyatt was born in October 2014 and her brother Dimitri was born in November 2016. Despite having all-star parents, the kids aren't going to be spoiled. "The one topic of conversation we had even prior to ever having kids was always, 'How do you raise a child to not be an a******?'" Kunis said on the Kyle and Jackie O Show (via Harper's Bazaar). "It's so important because we both came from pretty solid poverty backgrounds." Kunis went on, "It's a matter of teaching them from a very early age that, you know, 'Mommy and Daddy may have a dollar, but you're poor.'"
Kunis has remained very vocal about her struggles as a working mother and her choices on parenting. "I did nurse my child and I literally breastfed everywhere," Kunis told Vanity Fair. "It took us a little [aback] because people actually looked at us in a shameful [way] … It didn't matter to me what other people thought. That's what I chose to do…" She added, "If it's not for you, don't look."