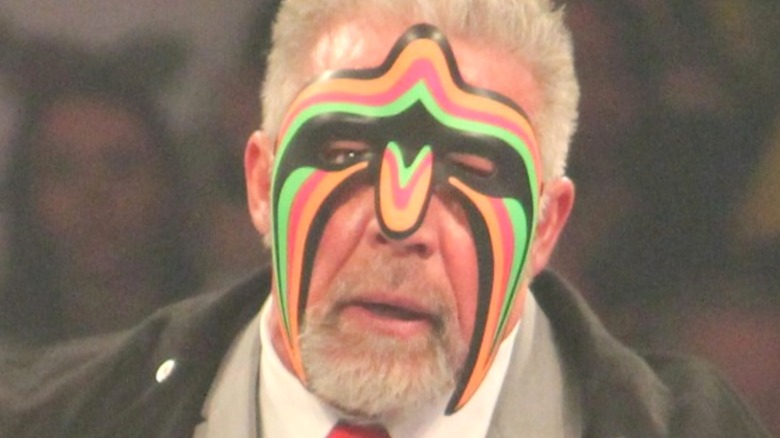 Professional wrestlers, maybe more so than rock stars and rappers, live hard and die young. While some have succumbed to their hard-partying lifestyles, others have died from heart failure due to long-term damage to their bodies and their use of steroids. Other wrestlers died from stunts gone wrong, and some have taken their own lives.
Underneath it all, the blurring of reality and fiction in wrestling could be to blame — the intense desire to not only wrestle well but to give the people a show of epic and superhuman proportions. There have even been incidents where wrestler died and the show still went on. Sometimes, this was because the fans didn't know whether it was a part of the theatrics or not, but usually, those in charge didn't want to lose money. All of the following wrestlers' deaths are tragic — these men and women died way too soon, leaving family, friends, and fans to grieve in the aftermath.
'Macho Man' Randy Savage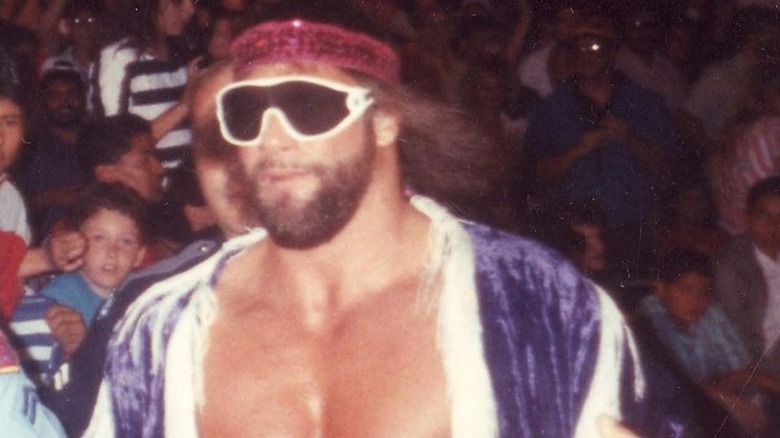 You look at a picture of "Macho Man" Randy Savage, and you can almost hear him saying, "Snap into a Slim Jim!" Or if you remember him more from his wrestling days, you might remember him saying, "Oooooh, yeaahhh." Savage was known for his verbal intensity, colorful and fringey rock-star costumes with cowboy hats to match, and sunglasses. According to Last Words on Sports, Savage was the "primary villain to Hulk Hogan." His story lines were some of the most memorable and often included his manager and then-wife, Miss Elizabeth.
While Savage and Miss Elizabeth were married before they began working for the WWF (now called the WWE) in 1985, their characters did not marry until 1991. A year later, they divorced. Savage and Elizabeth went on to date other people, Savage with Gorgeous George and Elizabeth with Lex Luger. Their use of drugs increased, and in 2003, Miss Elizabeth died of an overdose.
Savage began wrestling in 1972 and did not stop until 2000. He came back briefly in 2004 with Total Nonstop Action Wrestling, but it was short-lived. In 2011, at age 58, he died in a car accident. According to CBS News, he didn't die from the crash but rather a heart attack suffered while behind the wheel. While an autopsy could not prove he had a cardiac event, it is believed he did because they found his arteries to be "more than 90 percent blocked." Fans and fellow wrestlers around the world lamented Savage's death. He was inducted into the WWE Hall of Fame in 2015.
Chris and Nancy Benoit
Chris Benoit grew up in Edmonton, Alberta, where he first started dreaming of becoming a wrestler. By the time he was 18, he was training in the Dungeon, the gym of Canadian wrestling patriarch Stu Hart.
In 2000, Benoit joined the WWF. According to the Calgary Herald, "Benoit was never a larger-than-life cartoon personality, like the famous Hulk Hogan. Rather, he was the strong, silent type, a straight shooter who won the fans' respect by virtue of his work in the ring, sans gimmicks." At the time of his death in 2007, he was beloved by fans around the world, but that love turned to disgust when it was revealed that Benoit had died by suicide after murdering his wife, Nancy, who was also a wrestler, and his seven-year-old son, Daniel.
Fans, families, and colleagues had a hard time reconciling the family man, friend, and hero they once knew with the man who could commit such a treacherous crime. According to ABC News, Chris Nowinski of the Sports Legacy Institute got in touch with Michael Benoit, Chris Benoit's father. He told him, "I thought brain injuries may have played a role in what happened … and it was worth doing the studies." While it cannot be proven definitively, it is possible that brain damage led to the wrestler's homicidal and suicidal actions.
Owen Hart
Owen Hart was a beloved member of the Hart family wrestling dynasty. He was the youngest and one of the more successful of his seven other brothers who also pursued a career in wrestling. Owen's rise to fame began in his father Stu's Stampede Wrestling, and he went on to work in Japan and Mexico before finally joining the WWF. At the time, his brother, Bret, was already a famous WWF wrestler, making up one half of the Hart Foundation with his brother-in-law Jim Neidhart. According to Deadspin, "[R]ather than capitalize on his relationship with Bret, they put him in a mask and called him the Blue Angel. (That beatific moniker was soon corrupted into 'The Blue Blazer.')"
On May, 23, 1999, Owen Hart, playing his Blue Blazer character, was supposed to "fly" from the top of the Kempel Arena in Kansas City for a live WWF Pay-Per-View Event called "Over the Edge." As detailed by Deadspin, "The harness malfunctioned; a clasp gave way, and he fell 70 feet onto the ring ropes, severing his aorta and [dying] almost instantly." Kevin Dunn, the executive producer of the show, decided to continue with the rest of the event. While Hart's fall did not make it to air, the audience of 16,000 people witnessed it. Due to the reality-bending nature of the WWF and its storylines, some thought it was part of the show until Jim Ross, the show's announcer, explained otherwise. Owen Hart's wife and children received an $18 million settlement after suing the WWF for this tragic mishap.
Junkyard Dog
Junkyard Dog was born Sylvester Ritter in Wadesboro, North Carolina, and he started his career playing football for Fayetteville State. When he could not go pro as a ball player, he decided to start a career in wrestling. Ritter worked in Germany and in Canada with Stu Hart's Stampede Wrestling, but his rise to fame came wrestling in the Mid-South. There was born his character, Junkyard Dog (JYD), a role for which he donned a leather dog collar with a large, hanging chain. According to Professional Wrestling Stories, JYD "drew large crowds that routinely sold out the Louisiana Superdome and other major venues. He would become the first black wrestler to be made the undisputed top star of his promotion."
In 1984, he started his career with the WWF. Per the WWE, "Although he never won a championship in WWE, JYD had quite a bit of success while remaining one of the most popular Superstars of the 1980s." JYD fought in Wrestlemania and had wins over wrestlers such as Randy Savage and The Iron Sheik. Junkyard Dog retired from wrestling in 1993. In 1998, at only 45 years old, he died in a car accident on the way home from the high school graduation of his daughter LaToya. In 2004, LaToya was able to accept, on his behalf, his induction to the WWE Hall of Fame.
Dino Bravo
Dino Bravo was born Adolfo Bresciano in Italy in 1949 but grew up in Canada and was often billed as "The Canadian Strongman" by the WWF. According to Deadspin, "Bravo was archetypal of a slightly outmoded sort of bad-guy wrestler in a number of ways — the bleached hair, the procession of weaselly managers, the my-buddy's-strong-dad physique." He got his start wrestling in Canada but soon went on to wrestle with the WWF, winning the Tag Team Championship with his partner Dominic DeNucci in 1978.
Superfans prefer to look back on Bravo's earlier days in Canada and the WWF. According to SLAM! Sports, "Pumped up on steroids in the WWF, Bravo had lost the ability to do much in the ring except pose." Throughout his career, he grappled with some of the biggest names in the business, the Hart Foundation, "Hacksaw" Jim Duggan, and Kerry Von Erich. In 1992, after a great career despite many losses, he decided to retire.
After retiring, Bravo trained other wrestlers back in Montreal. When training was not enough to pay the bills, he joined the mob. According to Wrestler Deaths, Bravo's wife was related to Vic Cotroni, a mafia figure. Brave became involved in cigarette smuggling, and after a deal went bad, he was shot 17 times in his home while watching TV. Bravo was only 44 years old. The crime has gone unsolved to this day. Most accept, given his line of work and the gratuitous nature of the killing, that it was mafia-related.
Plum Mariko
Plum Mariko, whose real name was Mariko Umeda, was a famous Japanese wrestler in the 1980s and '90s. She got her start wrestling for the Japan Women's Pro-Wrestling promotion at 18, and in 1992, she defeated Bolshoi Kid with her famous cross-knee scissor move.
Plum enjoyed a successful career until she had a long string of injuries. First, it was a broken nose, and then she broke first the left and then the right side of her collarbone, forcing her to sit out matches. According to Quebrada, she " miss[ed] the glory period of joshi that should have been her prime and then [came] back and [was seen as] 'too old' to give a big main event push to. Thus, Plum … never reached her full potential as a star…" By the time she returned from all these injuries, she was one of the oldest performers but refused to quit.
On August 15, 1997, Plum Mariko was in a tag team match, partnered with Bolshoi Kid against Mayumi Ozaki and Rieko Amano at Hiroshima Sun Plaza. Ozaki performed the Liger Bomb on Plum, making her head hit the ground. Plum went into a coma and was rushed to the hospital. According to Nikkan Sports, "The following day, on the 16th, she died of acute subdural hematoma and acute cerebral swelling due to cerebral contusion at the age of 29. It was the first time in Japan that a professional wrestler died from an accident on the ring." Many believed that Plum's death was the result not just of this brain injury but several over time.
The Ultimate Warrior
The Ultimate Warrior was a huge WWF star in the 1980s. He is best remembered for his neon face paint, tiny bikini briefs, and the uncomfortably tight strings tied around his bulging arms. According to WWE, "While most Superstars slowly walked to the squared circle, Warrior sprinted full speed down the entrance ramp and ran circles around the ring before shaking the ropes like a man possessed." His matches were quick, too — at the 1988 SummerSlam, he defeated the Honky Tonk Man in under 30 seconds. His greatest claim to fame is beating Hulk Hogan at the 1990 WrestleMania VI and then Randy Savage at WrestleMania VII.
After all these victories, something strange happened: The Ultimate Warrior fell off the map. According to Deadspin, "[T]he pro wrestling world had been abuzz with an unlikely urban legend: that the Ultimate Warrior had disappeared from the WWF in August 1991 because he had died." Warrior returned for WrestleMania VIII, but he looked different, making some believe he'd been replaced by someone else. He popped up every few years to people's surprise. Hulk Hogan once said, upon seeing the Ultimate Warrior at a WCW Monday Nitro in 1998, "I … I thought you were dead."
On April 5, 2014, the Ultimate Warrior was able to attend his induction to the WWE Hall of Fame. According to ABC News, "During his Hall of Fame speech, he announced that he'd signed a new multi-year deal with WWE to serve as an official ambassador." On April 8, however, The Ultimate Warrior died of a heart attack at age 54.
The Von Erichs – David
Fritz Von Erich, aka Jack Adkisson, was a famous wrestler in the '60s and '70s and trained under Stu Hart. He was best known for his signature move, The Iron Claw. Later, he became known as the patriarch of the Von Erichs, a brood of boys who would all become professional wrestlers. His first son, Jack Jr., was born in 1952, and in 1959, the Von Erichs would have their first in a long line of tragedies: Jack Jr. ran his hand along the outside of a trailer. According to Texas Monthly, "A wire had shorted out underneath, and the outside wall was juiced. Jackie was knocked unconscious, and he fell face down into a puddle of melting snow and drowned."
Fritz and his wife Doris went on to have five more boys: Kevin, David, Kerry, Mike, and Chris. The boys were trained after school in the art of wrestling in a barn at their ranch, and as they got older, they grappled in their father's personal arena in Dallas called the Sportatorium under his promotion World Class Championship Wrestling. Fritz's second oldest living son, David, became a fan favorite and was nicknamed "The Yellow Rose of Texas." While on tour in Japan in 1984, he died in his hotel room. According to D Magazine, David's cause of death is officially listed as "acute enteritis" (a severe infection of the intestines), but many believe he died of drug overdose and the family whitewashed it, per Wrestler Deaths. Ric Flair, David's ring opponent and friend behind the scenes, confirmed the overdose theory in his memoir.
The Von Erichs – Mike, Chris, and Kerry
According to Texas Monthly, "Mike was the brother who'd never wanted to wrestle." Not long into his career, he had to get shoulder surgery and, in the process, contracted a bacterial infection which led to toxic shock syndrome. He lost a significant amount of weight, and his family thought he was going to die. Depressed, he turned to drugs and was arrested for DWI. Shortly after, he died by suicide.
The family, who went from selling out seats to barely filling them, was starting to show cracks in their squeaky-clean image. Chris, the youngest son, worked to fill Mike's shoes. Per Texas Monthly, "He had built up his body with weight lifting and growth hormones, but he couldn't grow taller, and his bones were brittle from his asthma medicine." After breaking his elbow and ending his chances at a wrestling career, Chris, too, died by suicide. He was only 21 years old.
Kerry Von Erich (pictured) was the most famous of the clan. According to WWE, Kerry became NWA World Heavyweight Champion in 1984 and entered the WWF in 1990 as "The Texas Tornado." At that year's SummerSlam, he won the Intercontinental Championship by defeating Mr. Perfect. This was all despite that fact that he'd lost his right foot in a motorcycle accident in 1986 and had to wear a prosthetic in the ring. Due to the pain, Kerry developed a strong addiction to painkillers that made him unpredictable. He ended up losing his house, his wife, and his job. In 1993, at age 33, he died by suicide.
If you or anyone you know is having suicidal thoughts, please call the National Suicide Prevention Lifeline​ at​ 1-800-273-TALK (8255)​.
Luther Lindsay
In the 1940s, Luther Lindsay played college football and wrestled, but due to segregation, he could only play against other Black Americans. When he decided to play professional football, he found work with the CFL. While in Canada, he met Stu Hart and trained with him, after which he moved back to the U.S. to begin grappling for the National Wrestling Alliance. According to the WWE, "Not only did Lindsay train under Stu Hart, he also holds the rare distinction of having defeated Stu in the Dungeon itself, which earned Lindsay such a degree of respect that Hart carried a picture of him in his wallet for 50 years."
In the late '50s, Lindsay became the first man to wrestle in an interracial match. He took on Ron White, known back then as "The Number One Hillbilly," in Kingsport, Tennessee. According to an interview with White for Kayfabe Memories, "They had the National Guard up there, thinking they were going to have riots."
Lindsay went on to be the first Black wrestler to compete for the NWA World Heavyweight title. His competitor, Lou Thesz, said of Lindsay, that due to segregation, "it was an amazing accomplishment for Luther to even learn his craft. His place in history is not because he was black; it is in spite of the fact he was black," per Last Word on Sports. Lindsay went on to win multiple championships. In 1972, at age 47, he had a heart attack in the ring while pinning his final opponent. Lindsay has been inducted into both the National Wrestling Hall of Fame and the WWE.
Chief Don Eagle
Don Eagle was a famous First Nation wrestler from the Kahnawake Mohawk Territory near Montreal, Canada. Inspired by his father, wrestler Joseph War Eagle, Don began grappling at age 20. Like his father, he also wore a full headdress. According to Last Word on Sports, Eagle "became the first recognized Native American World Heavyweight Champion, when he won the AWA World Heavyweight Championship in the American Wrestling Association."
Chief Don Eagle was one of the first generations of wrestlers to be a part of the television era. In 1950, he had his most infamous match against Gorgeous George in Chicago, and it was televised. At the end of the match, the referee tapped the ground three times to declare Gorgeous George's victory, but Eagle still had one shoulder off the mat. The crowd was furious — chairs were thrown. According to Slam Wrestling, "Gorgeous George, clearly shaken, fought his way from the ring with police assistance." Don Eagle put his hands on the referee and was suspended, but he was later able to regain his title.
Eagle went on to have a great career, even being a part of what would eventually become the WWE. In 1963, at age 38, he retired due to numerous back injuries. Three years later, he was dead. It was declared that he had killed himself, but many, including his longtime friend, wrestler Two Rivers, believe he was murdered. According to Wrestling Classics, it was rumored that Eagle's wife Jean killed him in retaliation for domestic abuse. She was murdered two years later, some believe in retaliation for Don's death.
Gorgeous Gino
Gorgeous Gino was a wrestler famous for being affable, and, well, gorgeous. Gino was inspired to go pro by watching his stepfather, Luis Hernandez, work in the ring. Luis died when Gino was only 12 years old, motivating the boy to train at a young age under Jose Lothario. Gino started his professional career at only 17 years old. According to Pro Wrestling Stories, "Gino wore his stepfather's boots during his first few matches and credited Luis for how easily wrestling came to him, saying, 'My dad did it for me. I was wearing his [boots]. He did everything for me.'"
Gino formed a tag team with his mentor Jose Lothario, only to dump him for Gary Hart. Gino became more of a "heel" (a villain), and he and Lothario began a feud. Gino went on to win the NWA Junior Weight Championship and team up with Jake "The Snake" Roberts. Per Pro Wrestling Stories, "Gino was quickly becoming one of the most obnoxious, cocky, and reviled heels the sport had ever seen."
Gino began to get a reputation for doing drugs and hanging out with shady people. In 1986, he was found dead in his condo in Dallas, Texas. He'd been dead for four or five days, making it hard to determine cause of death. A loaded gun was found, but drugs were not. At first, it was declared a homicide, but after an autopsy found an enormous amount of cocaine in Gino's system, they called it an overdose. Many remain skeptical and think he was murdered. Gorgeous Gino was only 28 years old.
Brian Pillman
Brian Pillman was famous for being a talented wrestler who really knew how to work the audience. Pillman had a difficult childhood: His father died of a heart condition when Brian was only three months old, and throat polyps required him to spend a lot of time in hospitals. Pillman went on to be a star football player in high school and then a free agent for the Cincinnati Bengals, but it was when he played for the Calgary Stampeders that he found his true love: wrestling. He trained with Stu Hart in the Dungeon and became, for all intents and purposes, part of the Hart family. Later, he was allowed to join the Hart Foundation.
Pillman was one of the first wrestlers in the U.S. to adopt the Lucha style of "flying" in the ring, earning him the name Flyin' Brian. Brian succeeded in all of the promotions he was a part of, ECW, WCW, and eventually the WWF, winning multiple championships.
But his personality on the microphone made people believe he was a loose cannon. At Superbrawl VI, after losing to Kevin Sullivan, he took the mic and revealed that Sullivan was actually the person who booked the shows, after which Pillman was fired. According to Pro Wrestling Post, "Pillman knew what he was doing. He was headed to the WWF and Vince McMahon." At age 35, Brian was found dead in his hotel room, his bright career cut short. He'd died from an undetected heart condition — much like his father.
Bruiser Brody
Bruiser Brody was born Frank Goodish. Like so many wrestlers before him, he started as a football player. While playing for West Texas State, he was discovered by Fritz Von Erich and began his wrestling career. According to the WWE, "His 6-foot-8, 300-pound frame made him a star from the very beginning, but the big man's career began to build steam in 1976 when he arrived in WWE and was rechristened Bruiser Brody." Brody grappled all over the globe, fighting everywhere from Indianapolis to Japan to Puerto Rico. It was in Puerto Rico that his career ended when he was brutally murdered.
In 1988, right before a match, Bruiser Brody was stabbed to death in a locker room shower by José González. Wrestlers Tony Atlas and Dutch Mantell said they witnessed the event. According to Oxygen, "González was ultimately charged in connection to Brody's death, but he claimed he acted in self-defense." Atlas and Mantell were summoned to testify but didn't receive word until after González had already been acquitted. González was able to continue his career and to this day gets paid to visit kids' birthday parties.
Mitsuharu 'Tiger Mask' Misawa
Mitsuharu Misawa was like the Hulk Hogan of Japan, famous and beloved by his fans. Misawa started wrestling early, winning the High School Wrestling Championship before graduating. After grappling professionally for a few years, Misawa became Tiger Mask II after the previous Tiger Mask retired. He rose to fame as Tiger Mask II and faced high-profile opponents such as Ric Flair and Mr. Perfect. In the '90s, he dropped the mask. According to Pro Wrestling Stories, "Like most wrestlers in Japan at the time, he had no gimmick. Instead of behind the scenes drama, his storytelling was in the ring, displaying a high level of physicality and technical moves."
Misawa went on to win multiple championships throughout the '90s, and he created his own promotion called Pro Wrestling NOAH. According to Pro Wrestling Stories, "[D]espite his ongoing injuries and cervical osteophytes (found in 2007), which caused constant pain when doing simple things like brushing his teeth and turning his neck, Misawa continued wrestling in 2009 to keep the company afloat." Misawa fought his final match that year. After his fellow wrestler Akitoshi Saito completed a move on Misawa, he did not get up. Fans began screaming as the reality of the situation began to sink in. It was determined that Misawa's cause of death was a spinal cord injury.
Eddie Guerrero
Eddie Guerrero grew up in El Paso, Texas, watching his father Gory Guerrero, a once-famous Lucha Libre wrestler, grapple professionally. Eddie and his three brothers, Chavo, Hector, and Mando, followed their father's footsteps into the squared circle. Eddie rose through the ranks, working matches in Mexico, Japan, the ECW, and then the WCW. According to the WWE, once he joined the WWF, "Eddie wasn't just Eddie anymore, he was 'Latino Heat.'" Guerrero won five different WWF/WWE titles.
In 2001, Guerrero went to rehab for an addiction to pain medication. According to Wrestler Deaths, "Supposedly the addiction stemmed from a car accident he suffered in the late 90s." Eddie was let go from the WWF but was able to return in 2002. In 2004, he had an incredible comeback match, winning the WWE Championship. In 2005, while staying at hotel Minneapolis, he was found dead just hours before an upcoming appearance. After surviving a car accident and problems with addiction, Eddie died of heart failure at age 38.
If you or anyone you know is struggling with addiction issues, help is available. Visit the Substance Abuse and Mental Health Services Administration website or contact SAMHSA's National Helpline at 1-800-662-HELP (4357).