Pizza Quest
You can find good pizza almost anywhere, even at the most unassuming pizzerias. And sure, pizza delivery from the usual chains is easy (and sometimes necessary — we get it), but it pays to travel off the beaten path when you're searching for a good meal, even if it takes you to a strip mall in the middle of nowhere, or a restaurant that only has two tables and a walk-up window. These under-the-radar pizza joints may not typically grab national headlines due to their low-key nature, but we scoured customer reviews to find the best local favorites that serve exceptional pies. Despite the lack of ambiance, these hole-in-the-wall pizzerias are worth seeking out for the food.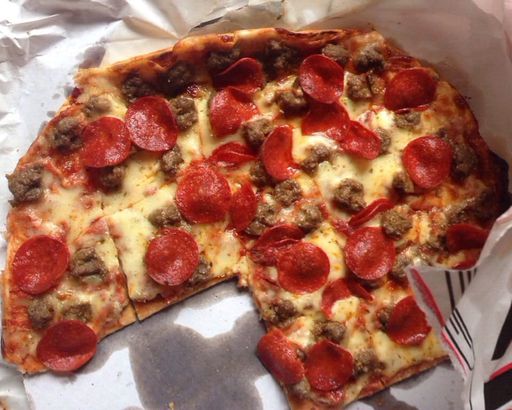 Hup's Pizza
Milwaukee
Hup's Pizza is no more than a little roadside shack on the north side of Milwaukee. Most of the building is for the busy kitchen, so the waiting area (if you can even call it that) is about the size of a phone booth, with one window where you order and pay. But fans say the thin crust, square-cut pies are worth any inconvenience. There aren't any fancy toppings, but who needs them when there's so much cheese anyway?
Huc-A-Poo's Bites and Booze
Tybee Island, Georgia
An open-air bar with a chill beach vibe, Huc-a-Poo's is loved by locals and tourists alike. Unless you count the old license plates, beer signs and other bric-a-brac that covers every wall and surface in the place, it's pretty bare bones. But the vibe is relaxed, and the pizzas are huge 18-inch pies with toppings like feta cheese, black olives, and spinach.
Prince St. Pizza
New York
There are countless slice shops in NYC that aren't much more than an ordering counter and pizza display, with varying degrees of quality. One of the most popular is Prince St., if the line out the door and rave reviews are any indication. Skip the New York-style slice and opt for a Spicy Spring square slice instead. It's got thick, chewy crust, spicy sauce, fresh mozzarella and amazing pepperoni that curls into little cups as it bakes.
East Coast Pizzeria
Utqiagvik, Alaska
It's quite a feat to deliver hot pizzas in the northernmost town in Alaska, but East Coast Pizzeria does it. There's no place to eat in the bright turquoise building with a dark blue roof, but it's bare bones anyway this far north. The pizzas have a thick, doughy crust with plenty of sauce and toppings, or try one of the monster calzones.

For more great restaurant stories and dining tips, please sign up for our free newsletters.
Cowgirl Pizza & Laundromat
Sundance, Wyoming
Of all the things you can do to keep busy while waiting for your clothes to dry at a laundromat, eating a pizza and drinking beer seem like the best. At Cowgirl Pizza & Laundromat, head to one side of the building to load your clothes, then head to the other side and order up meat lover's pizza with loads of toppings. You even get a punch card for a free beer if you do enough loads of laundry.
Bob's Place
Virginia City, Montana
Walking down the main road in Virginia City will transport you back to the Old West. Bob's Place, a pizzeria, has a decorative tin ceiling, antique cash register, and tons of charm. Watch the dough being made in the front window before you grab a slice of bacon-and-tomato or sausage Alfredo. This pizza place is open Memorial Day through Labor Day.
IHS Pizza and Sandwich Shop
Canton, Pennsylvania
IHS Pizza resides in a narrow little space that was built hugging the side of a larger building. It's easy to miss if you're not looking for it, but it's worth seeking out for the pizza and hoagies on homemade rolls. Chicken pizzas are popular here, including a chicken Alfredo and chicken wing version with hot sauce and blue cheese dressing.
Cranky Hank's
Dowagiac, Michigan
Just outside the town of Dowagiac in southeast Michigan is Cranky Hank's. It serves as a one-stop shop and convenience store for things like bait and tackle, groceries, and prepared foods, including pizza. Slices are thick and piled with toppings, making the breakfast pizza with sausage gravy, eggs, bacon, ham, and sausage a hearty way to start the day. Since it's a convenience store, it's carryout only.
Alfano's Pizza
Rock Island, Illinois
Going strong for over 40 years, Alfano's was founded by Italian immigrants and is still family owned. Not much has changed much inside the small restaurant, including the dark wood paneling and a sun-bleached map of Italy. Crust options include regular and an inches-high stuffed version. Taco pizza is popular in this part of the Midwest, as is sauerkraut, so you can find both options here.
Monte Bello Pizzeria
St. Louis
Opened in 1950, Monte Bello serves up classic St. Louis-style pizza with a thin crust and Provel cheese that's cut into squares. The exterior looks a little rundown and unnerving with its awkward windows and door, but the dining room is cozy, if no-frills. The pizza is top notch though, especially with whole slices of bacon lying across it and toppings right to the edge of the crust. And they have toasted ravioli, of course.
Pie Hole
Denver
Pie Hole is a no-frills slice joint on the south side of Denver. Practically every surface is covered with murals or graffiti, or paper plates with customers' drawings on them. The Drunk Candy slice is a favorite with Canadian bacon, jalapeno, and pineapple. This place stays open until at least 2 a.m. so it's a favorite late-night stop when you've got the munchies.
Leone's Sub and Pizza
Somerville, Massachusetts
Opened in 1954, Leone's still retains an old-fashioned feel with a vintage neon sign and quilted stainless steel counter. The menu is now displayed on TVs, but that's about all that's changed at this takeout-only spot. The rectangular half- and full-tray pizzas are the way to go and will feed plenty of people with their pillowy crust. Try the eggplant topping, which is fried before being sliced and put on the pizza.
Mantachie Pizza & Subs
Mantachie, Mississippi
A quaint little prefab building in the small town of Mantachie bakes up some delicious pizzas. Check out the old school letter board menu on the candy-striped wall behind the counter and place your order for pizza, meatball subs, and cheese sticks. As local food blogger Jeff Jones notes, "The Mantachie Pizza & Sub shop has a hometown vibe, but a menu selection that could rival the major restaurants." Most people carry out, but there are a few fixed-chair tables of the sort you used to see in fast food restaurants if you want to eat-in. "The common ingredient shared by all of the menu items is attention to detail. The folks at Mantachie Pizza and Subs have been getting it right for 18 years, and it shows," adds Jones.
Depot Pizza & Deli
Odessa, Texas
The Depot is a large convenience store that also serves up some tasty meals. Pizzas are available with thick or thin crust, but thin and crispy is the way to go, and toppings are scattered all the way to the edges. Unlike most convenience store pizzerias, there are a few high-top tables to sit and eat at, as long as you don't mind being surrounded by racks of potato chips and cigarettes.
Pasadena, California
Pie Life Pizza is a literal hole in the wall: It's simply a walk-up window sandwiched between a coffee shop and gym in a small strip mall. But they're cooking up tasty New York-style pies with toppings like meatballs and burrata. Buy a slice or a whole 18-inch pizza, and watch it being made through the windows. There are tables outside, but takeout is the norm.
Norman, Oklahoma
Strip mall pizzerias aren't generally much to look at, and The Pizza Shop is no exception. It's small and sparse, with the tiled "OU" for the University of Oklahoma in the floor as its most distinguishing feature. But the pizzas have big flavor, according to loyal customers, and massive size, including the Godfather, a rectangular pizza that's 18 by 26 inches. That'll fill up a few college students no problem.
Popplo's Pizza & Que Burgers
Malvern, Arkansas
Though the old, usual building it's housed in looks like it started life as a fast food restaurant, it's now home to Popplo's Pizza. Order your pie at the window in the small dining area that's surrounded by Christmas lights, old photographs, and other ephemera. Canadian bacon, beef, and Mexican pizzas are popular and come smothered with toppings.
Isabella's Brick Oven
Baltimore
The Little Italy neighborhood of Baltimore is full of fantastic pizzerias. Isabella's is one that occupies a small corner shop but cooks up traditional brick oven-baked pies. They're relatively simple with toppings like tomato and basil (margherita) or ricotta, feta, garlic, and herbs (pizza bianca). You can even pick up some imported Italian groceries and deli items while you wait, or get delivery through Grubhub, Postmates, or DoorDash.
Feliciano's Restaurant and Home Run Pizza
Chama, New Mexico
Feliciano's is a full service restaurant in a tiny New Mexico town that serves Mexican specialties along with pizza. The dining room feels like you're in someone's home, complete with fish tank and a hacienda style. The pizza crust is thick and chewy, and pies are cut into thin slices. It's a small operation, so sometimes parts of the dining room or the whole place are closed without notice.
City Creek Pizza
Salt Lake City
Though there is no place to eat in at City Creek Pizza, the corner waiting area is bright and surrounded by windows. The crust on these round pizzas is substantial, as are the toppings. The "full package," their version of a supreme, will get you mounds of meats, veggies, and cheese. Or try the untraditional but totally delicious chicken bacon ranch pizza.
Idaho Falls, Idaho
Though the brick building looks modern, Uncle Benny's Pizza is quaint and cozy inside, with a few brown pleather booths and some ice cream parlor-style tables and chairs. Order at the window and then grab a seat while you wait. Try the Idahoan pizza, which comes with white sauce, onion, bacon, green pepper, and hash browns.
Bimbo's Octagon
Located on the shore of Side Lake in northern Minnesota, Bimbo's Octagon has been serving up pizza, wings and beer for over 50 years. The inside is dark, cozy, and dive bar-like, with a large mural depicting the Octagon's location. Pizzas are thin, crispy, and cut into squares. Order sauerkraut and banana peppers on yours to eat like the locals.
Red Road Pizza Company
Redmond, Oregon
Since food trucks became popular, there are more and more of them slinging slices all around the country. Red Road Pizza in Oregon travels between Redmond and Bend, bringing its creative pizzas to wherever will have them. Scope out a seat wherever they land and try pies like the Chicken Choke with pesto and artichokes or the Spicy Jah with different kinds of peppers.
San Francisco
All Good Pizza has no building. Instead, the kitchen is in a trailer and diners eat at picnic tables in the wood chip-covered lot where it's parked. It's got a Bohemian vibe and camping-like amenities, including porta-potties. Pizzas are Neapolitan style and cooked in a brick oven with toppings like Louisiana hot links with cherry peppers or pesto and salami. Right now a patio is available for outdoor dining during the pandemic.
Raleigh, North Carolina
Located in a strip mall, Gino's Pizza is a small shop with a few tables, some ramshackle decorations, and a checkerboard floor. They serve New York-style pizza in whole pies and slices, including a lasagna version with ricotta, ground beef, and sausage. If you have a ton of people to feed, there's the Big Apple, a 28-inch pizza that's cut into 16 huge pieces. Currently limited dine-in is available.
Corsetti's
A combination convenience store and Italian restaurant serves up traditional and creative pizzas in Maine. Buffalo chicken pizza and a mashed potato, garlic butter, and bacon pizza are popular combinations at Corsetti's. Check out the menu above the cigarette display, and eat in if you don't mind being surrounded by racks of snack foods and coffee. Grab a local favorite homemade whoopie pie on the way out.
Alley Cat Pizzeria bills itself as "home of Manchester's largest pizza" and that's hard to argue when you can get 20-inch pies. Specialty pizzas all have names like Fat Cat, Maui Cat, and El Gato, and layer handfuls of toppings on a soft, bubbly crust. The storefront digs are small but cute, with red checkered tabletops on the few tables for eat-in.
Jack's Pizza and Wings
Atlanta
There's graffiti on the outside of Jack's, and most places inside, too. Everything is a little grungy and worn at this bar, but the beer is cold and the pizza is hot. The pizza crust is thin and slices are large, so sometimes it can't hold up to the crazy amount of toppings heaped on. Specialty pizzas are unique, like the mac and cheese or Soul Food with fried chicken, mashed potatoes, collard greens, and gravy.
Brother's Famous Pizza
The small Brother's Famous Pizza looks more like a diner than a pizzeria, with a counter to sit at and a few booths along a wall. But check out the letterboard menu and you'll notice that pizza and grinders are the focus. It's unlikely that buffalo chicken pizza graced the menu decades ago, but meatball and pepperoni have always been classic options.
Mom's New York Pizza
After a long hard day laying on Miami Beach, what could be better than a slice of pizza? Mom's New York Pizza is less than two blocks from the beach, so when you're done soaking up sun and people watching, head to this strip-mall spot with walls covered in dollar bills. Choose what looks best from the pizzas on display and they'll heat up a slice for you. Classic pepperoni never goes out of style.
Gina's Pizza is temporarily closed due to the pandemic, but pizza fans in Fargo are likely willing wait patiently for the local favorite to reopen. The restaurant is located in a bowling alley called The Bowler, so it's got that homey, old-school dive bar feel right off the bat. A Philly steak version topped with beef sirloin, green peppers, onion, and pepperjack is sure to please.