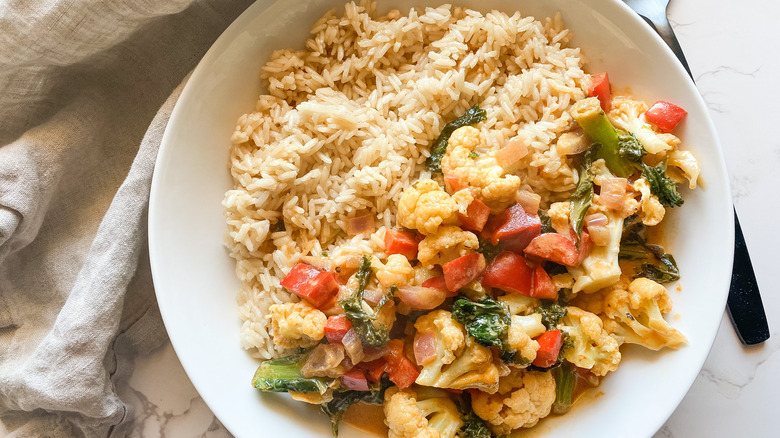 You likely already know that working different vegetables into your daily meals is so incredibly important. Take it from recipe developer and private practice registered dietician Kristen Carli of Camelback Nutrition & Wellness: "As a registered dietitian, I always recommend to eat more vegetables. Most of us are not eating enough. In general, our plates should be made up of half of veggies at each meal. This recipe helps us increase our veggie consumption."
And that's good news. In even better news, this vegetable curry recipe Health Digest is serving up is jam-packed with veggies — and it tastes absolutely amazing. Plus, it's super versatile. You can serve Carli's easy vegetable curry much like a stew when you retain all of the liquid in which the vegetables are cooked, or you can drain most of it off (or serve with a slotted spoon) and portion it out as a side over fluffy white rice. If you'd like to add some protein to this recipe, Carli suggests, "I would serve this with cubed tofu, but if you are not a fan of tofu, I would recommend serving this with chicken."
Any way you serve this veggie curry, preparing the dish couldn't be much easier. If you can chop a few veggies and handle a bit of sautéing, then you are more than ready to cook up this healthy and tasty meal to enjoy solo or with the family. So, it's time to get cooking.
Gather your ingredients to prepare this easy vegetable curry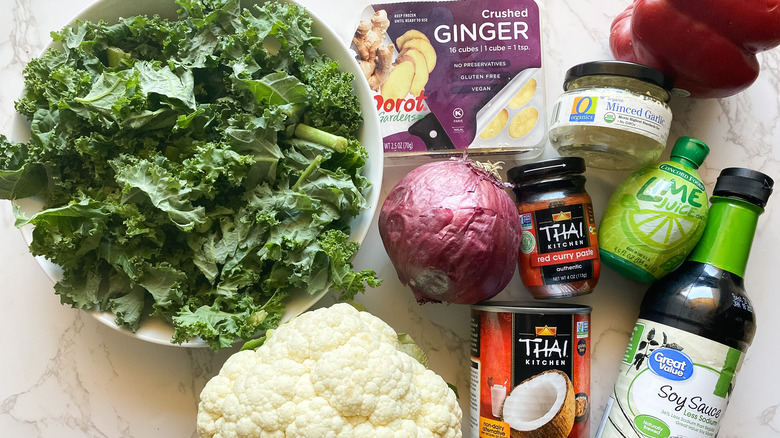 This easy vegetable curry calls for, not surprisingly, a lot of veggies. All in, you'll need olive oil, diced red onion, minced garlic, crushed ginger, diced red bell pepper, chopped kale, a head of cauliflower cut into florets, water, Thai red curry paste, a can of coconut milk, soy sauce, lime juice, and ideally a good deal of cooked rice for serving.
If you want to add some spice, pinches of black pepper and red pepper flakes will do nicely. You could even add a few dashes of your favorite hot sauce to each of the finished servings, thereby tailoring the heat to each diner's preference. The hot sauce and colorful vegetables will be very vibrant on everyone's plate. In addition, it will be quite tasty!
Cook the onions, garlic, and ginger
To start this recipe out, as so many recipes commence, put a large skillet on the stove over medium heat, and pour in the olive oil to heat it up. Once the oil has warmed, add the onion and the garlic, and stir well. Then, you are going to add in the ginger. Cook these three ingredients until the onion is turning translucent and is quite fragrant, which will take about five minutes. And for the record, when you are cooking white or yellow onion and garlic (and/or ginger), give the onion a bit of a head start, as the onion will take longer than the garlic to change consistency.
Cook the veggies, then add the liquids and curry
Now, it's time to add in the diced bell pepper, chopped kale, and the cauliflower florets to the pan. Stir to combine them with the onion, garlic, and ginger, then add the water to the mix. Allow everything to cook for a few more minutes until most of the water evaporates.
For the next part of the recipe, add the curry paste and coconut milk, and stir to combine. "Be sure to give the coconut milk and red curry paste a good stir to combine [them] well," says Carli. Otherwise, the curry flavor will not be evenly enough distributed throughout the dish.
Now add the soy sauce and lime juice, and stir well again. Then, cook everything over medium heat for five more minutes. You can serve the curry as is, or ideally, pour it over cooked rice. It will make such a lovely presentation, whether you're preparing it for the family or guests.
This dish is so easy to put together, and it doesn't take a lot of time or effort to cook up. What more could you ask for in a delicious, healthy recipe? It's a great choice for entertaining, as it's always a crowd-pleaser. This veggie curry will definitely be a family favorite, even for the picky vegetable eaters in the group.
The healthy powerhouse veggies
You know there's lots of healthy stuff in this dish, but let's get specific on a some of the components, shall we? First, we have bonafide nutritional powerhouse, kale, which per single (raw) cup serving gives you 134% of your daily value of vitamin C, 206% of your vitamin A, and 684% of your daily value of vitamin K. It also contains calcium, copper, manganese, and other good nutritional stuff (via Healthline). Needless to say, kale is an absolutely excellent choice to include in your family's diet several times each week.
Next, let's talk cauliflower. This veggie delivers 3 grams of fiber, aka 10% of your daily needs, per a mere 25-calorie serving. It also has a decent amount of your recommended daily intakes of folate (14%), vitamin B6 (11%), and potassium (9%). Plus, it's really delicious. As for the bell pepper, this vegetable provides you with a rich source of antioxidants, and it's quite low in calories. In addition, pepper adds such a great touch of color to any meal that you put on the table.