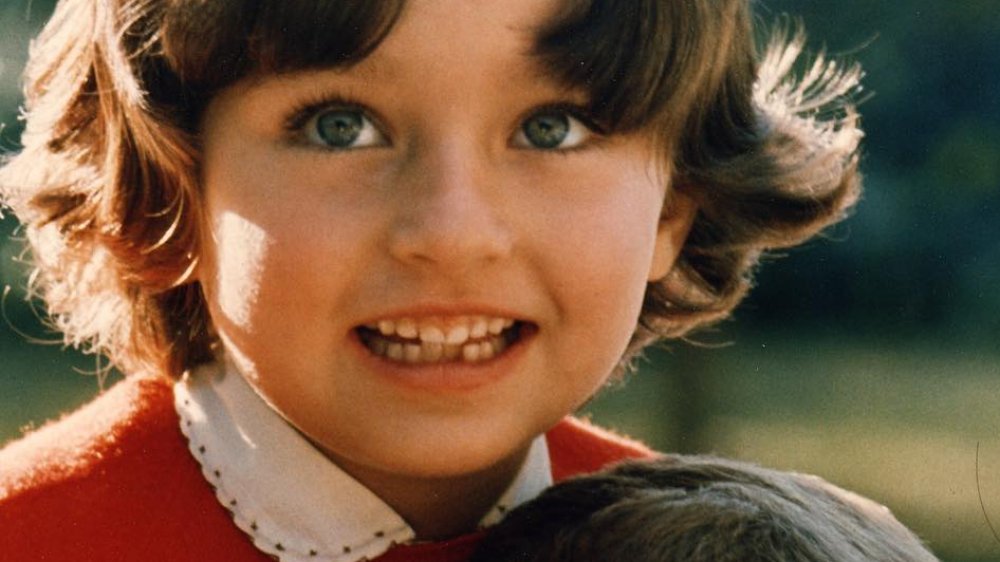 Chances are you know of Giada De Laurentiis. That is, at least, if you love Italian food and have your finger on the pulse of pop culture zeitgeist. The longtime Food Network star has been cooking up pasta, pizza, and parmesan recipes for years on the popular channel, allowing viewers to learn about her, her family, and her culture. That's in addition to the other endeavors she's embarked on over the years, which has made her one of the most popular celebrity chefs out there.
But De Laurentiis wasn't born in the food television spotlight, bursting with ambition to become a celebrity. Rather, De Laurentiis' story begins half a world away, in a home filled with family, food, and fame of a different sort. That's where the young chef discovered both her love of food and her ambition to blaze her own trail.
So, how has De Laurentiis changed from a young girl in Europe to a Food Network empress? And in what ways has she stayed true to her deeply rooted traditions? Read on to witness the stunning transformation of Giada De Laurentiis.
Giada De Laurentiis was born to a well-to-do Italian family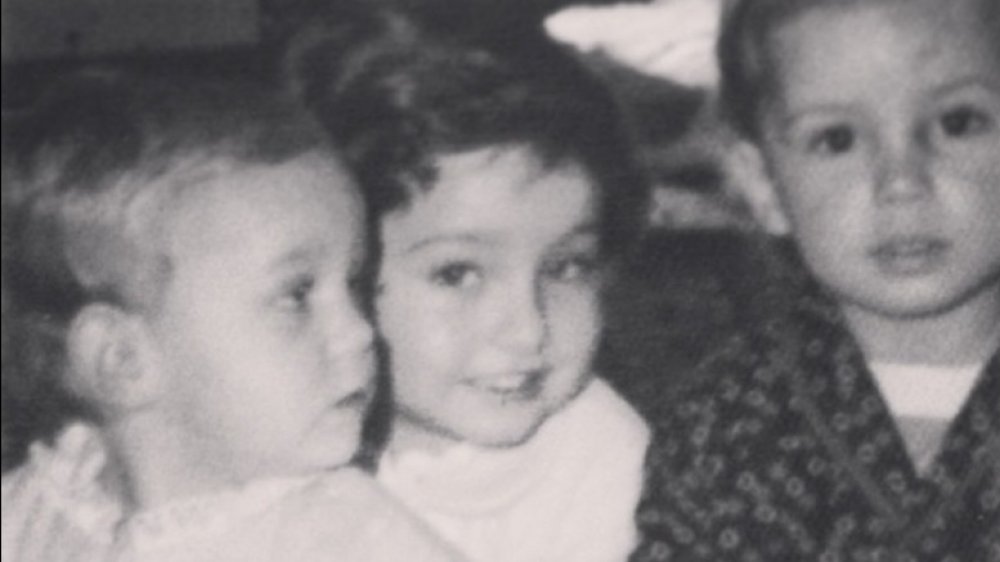 Born Rome on August 22, 1970, Giada De Laurentiis didn't exactly descend from food television royalty, but she was born into a high-profile Italian family. Her grandfather was the famed Italian movie mogul Dino De Laurentiis, who produced countless films over the course of his career, as noted by IMDb. According to Biography, her parents were actress Veronica De Laurentiis and actor-producer Alex De Benedetti.
By all accounts, Giada De Laurentiis' early years in Italy were happy and filled with lots of family and fun. But despite the fact that the De Laurentiis clan was a famous film family, Giada wasn't exactly star-struck or curious about what put their family on the map. "I wasn't looking to get into TV," she recalled in an interview with Food & Wine. "My family was in the movie business, so I was never interested in that world." Clearly from the start, Giada De Laurentiis was determined to march to the beat of her own drum.
Giada De Laurentiis was "tormented" by her classmates
Giada De Laurentiis is the first person to admit that she has a charmed life thanks to the incredible opportunities she's been given. But that doesn't mean she hasn't faced adversity in her life. No, she's certainly endured some hardships. This was especially the case when she first moved to the United States at the age of seven. "I came here from Italy in the '70s and didn't speak a word of English, so the kids at school tormented me," she confessed to Redbook. "Truly, it was horrifying the names they called me, and the teachers never really did a thing to stop it." Ugh, that sounds horrible.
Fortunately De Laurentiis had a secret weapon, which was preparing and cooking delicious foods. "It helped me build my ego and even start to get acceptance at school," she continued. "I'd bring things to class that I'd cooked at home, and my classmates were like, 'Wow. This is amazing, and that girl with the funny name cooked it.'" Never underestimate the unifying power of food!
Giada De Laurentiis became interested in cooking professionally at a young age
While Giada De Laurentiis loved cooking and eating from the start, it was when she became a tween that she started to want to make a career out of her passion. Much of that was because her grandfather, whose parents had a pasta factory back in Italy, brought that entrepreneurial spirit stateside. "After he became a movie producer, he opened up De Laurentiis Food Stores — one in Los Angeles and one in New York," the star told Time magazine. "I was 12, and I would go there after school."
That was when and where De Laurentiis truly began to fall in love with the food scene that existed outside of her and her family's homes."It was a gourmet grocery store that also had a kitchen and served food," she continued. "I loved being in the kitchen, watching the customers come in and talk about what they liked and didn't like." While De Laurentiis' grandfather closed the stores after only two years, those memories made a lasting impact on her.
Giada De Laurentiis put herself through college
Giada De Laurentiis became the first member of her family to attend college and, in 1996, she graduated with a degree in anthropology, according to Biography. Not only that, but she was able to make her academic dream a reality completely on her own accord. "I paid for my own college," she revealed in a chat with Eater. "I paid to go to UCLA, probably why I went to UCLA and not USC." Either way, that's pretty darn impressive, especially for a first-generation student.
However, at the time, De Laurentiis says that no one at home made a big deal of her accomplishment, despite how monumental it was. "I come from a large Italian family, they only care about boys," she continued. "Girls are supposed to get married and have children." That's something she attributes to the cultural norms of the time, which have arguably changed significantly in the decades since.
When Giada De Laurentiis was in college, she met her partner Todd
While Giada De Laurentiis took her studies seriously in college, she still had time to socialize. That's how she wound up meeting and dating her eventual husband, clothing designer Todd Thompson. "When we first met, I didn't have any money because I was in college, and he paid every time we went out to dinner," she shared in an interview with Redbook. "So I'd show my love for him by making a meal." If ever there was proof that the way to a man's heart is through his stomach, there it is.
At first Thompson had a bit of a hard time fitting in with De Laurentiis' large, Italian family and would get the side-eye from relatives for cutting his pasta with a fork and knife. "Luckily, my husband is confident enough that he never took it personally," she continued. "He'd laugh it off, and my family ended up adoring him." Aww!
Giada De Laurentiis attended culinary school in Paris
Once Giada De Laurentiis had finished up at UCLA in 1996, she knew in her heart of hearts she wanted to go to culinary school, despite her parents' misgivings about the idea, the star confessed to Total Food Service. De Laurentiis packed her bags and went to Paris to attend the Cordon Bleu, the world-famous cooking school. "I'm going to be honest — it was brutal," she dished. "The chefs threw pans and rolling pins, I had burns all up and down my arms, and it was intense, laborious work." She added that the experience shattered any notion she harbored that a career in the cooking industry would be easy in any way.
Fortunately, De Laurentiis survived culinary school, despite the trials and tribulations that came with it, including being one of the only women in her class. "Going to Cordon Bleu taught me how to prove myself by not just talking the talk — but walking the walk," she added.
Initially, Giada De Laurentiis didn't want to be on the Food Network
After finishing culinary school, Giada De Laurentiis returned to the United States, spending several years working for several different high-profile chefs in some fairly menial positions, De Laurentiis told Eater. Eventually, born out of the need to make money after being pressured by her family, De Laurentiis went into catering, which was a more lucrative hustle at the time.
But it was her family connections that really put her on the map. After Food Network exec Bob Tuschman read an editorial De Laurentiis wrote about her family in Food & Wine, he asked her to put together an audition tape for the fledgling network, which she stalled on for quite some time. "It took a year to convince me to put myself on tape," she explained to the publication.
But when De Laurentiis did submit it, she knocked it out of the park, thanks to the help of her brother. "I had music, I had an open, I had it all … It was all choreographed," she explained. Thus, in 2003, Everyday Italian was born.
Giada De Laurentiis lost her brother just as her career was getting off the ground
Just as Giada De Laurentiis' career as a celebrity chef was taking off with Everyday Italian airing regularly on Food Network, tragedy struck. In 2003, De Laurentiis' younger brother Dino died of melanoma, a form of skin cancer, at the age of 31. Naturally, De Laurentiis was devastated. "He was the person I turned to for everything, when something great happened in my life, when something bad happened," she told Entertainment Tonight. "I would talk to him two to three times per day."
Because of her brother's untimely passing, De Laurentiis made it a priority to educate people about the importance of wearing sunscreen and checking your skin. "Those are the two most important things," she explained in a PSA (via Entertainment Tonight). "Because had my brother checked his skin and checked his body, he would have seen that something wasn't right." De Laurentiis regularly pays tribute to her brother on Instagram, and remembers him on his birthday.
Giada De Laurentiis became a full-fledged star
Despite the loss of her much beloved brother, Giada De Laurentiis' career went full-steam ahead. After Everyday Italian became super successful, spinoffs followed suit, according to her Food Network bio. In 2007, Giada's Weekend Getaways debuted on the network, which filmed De Laurentiis at popular food destinations in the U.S. After that, Giada at Home started its wildly popular run in 2008, followed by Giada's Holiday Handbook, Giada Entertains, and Giada in Italy. You can also catch De Laurentiis on Food Network Star. Our girl certainly stays busy!
De Laurentiis also became an author multiple times over, starting with the cookbook Everyday Italian, which featured recipes from her show of the same name. That was followed by eight additional cookbooks, which landed her on The New York Times' Best Seller list on multiple occasions. De Laurentiis also published several books for children that explore her favorite cities around the world, as well as feature recipes for kids. There's no question, then, that De Laurentiis had become a bona fide celebrity.
Giada De Laurentiis hadn't planned to become a mom
Clearly, Giada De Laurentiis had a lot on her plate insofar as her career was concerned. So it wasn't too surprising that she and her husband had mutually decided against having children. "But then Jade came along, and I was very afraid, and so was Todd," she confessed in an interview with Redbook. "What would happen to this life we had created, where we'd just take off for Santa Barbara for the weekend?" The star and her husband welcomed their daughter when De Laurentiis was 37.
Despite her initial concerns, and after taking things one day at a time, De Laurentiis came to see that fitting her daughter into her life wouldn't be especially difficult. "I've continued my life exactly as it was," she continued. "Jade knows her mother works and travels, and she travels with me." You can catch glimpses of De Laurentiis' daughter on her Instagram page, where Jade makes regular appearances.
Giada De Laurentiis became the first woman to helm a restaurant on the Las Vegas strip
Sexism is rampant in the American workforce, as noted by The New York Times, and the food industry is no different. Fortunately for Giada De Laurentiis, it hasn't stopped her from accomplishing her goals, no matter what they may be. "It's so funny because, for the longest time, I never saw myself as a female chef versus a male chef," she explained in a chat with Elle. "I just saw myself like everybody else, just trying to make a living and trying to do my job really well."
That determination helped De Laurentiis to become the first female chef to open a restaurant on the Las Vegas strip, which she did in 2014. "I've said this over and over to many women in my business — you kind of have to learn the ropes," she continued. "It's like a game of chess or Monopoly. You have to learn how to play the game." Apparently that's something that De Laurentiis does quite well!
Giada De Laurentiis and her college sweetheart divorced
Although Giada De Laurentiis was married to her husband Todd Thompson for over a decade and had been in a relationship with him since she was 18, the couple ultimately got divorced. In December 2014, after being separated for nearly half a year, De Laurentiis announced on Facebook that she and Thompson were getting divorced. "Although our decision to separate comes with a great deal of sadness, our focus on the future and overwhelming desire for our family's happiness has given us the strength to move forward on separate, yet always connected paths," she wrote in a post.
For a while, De Laurentiis understandably laid low. "I tried to stay under the radar to protect my family and my daughter, mostly," she confessed to E! News. "I think that the pain was so raw for so long that I just felt like I couldn't [even talk about it]." Eventually De Laurentiis says she "turned the corner," and was able to start dating again.
Giada De Laurentiis' success may have surprised her grandfather
Giada De Laurentiis is truly a successful chef and business woman in every way. From her shows to her books to her ever-enduring appeal, De Laurentiis has proven that she's a forced to be reckoned with, which is something her grandfather finally acknowledged. "Over the years, I think he became quite proud, and maybe even a little shocked, at my success," she told Redbook. "You have to understand that coming from a Neapolitan family, men head up the empire." Not anymore, thanks to you, Giada!
De Laurentiis' grandfather questioned her capabilities, mainly because of the easygoing approach she took to cooking — the very same thing that made her so accessible to viewers. "I remember him once saying to me, 'How can you tell people to open a jar of prepared pasta sauce,'" she told the publication. "Those were the kinds of debates we would have." Sadly, De Laurentiis' grandfather passed away in 2010 at the age of 91, according to The Guardian.
Giada De Laurentiis is far from done
With everything that Giada De Laurentiis has accomplished in her life, you may be tempted to think she's content to rest on her laurels. But that's just not in De Laurentiis' ambitious nature, as she says it's difficult for her to feel like she's done working. "I have a distinctive drive to keep accomplishing more, and I always hear my grandfather's voice in the back of my head telling me to keep going," she revealed in an interview with Total Food Service.
Looking forward, you can expect De Laurentiis to champion wellness, as she's invested in making the world a better place one plate at a time. "I believe the very first thing you can do for yourself is eat healthy and balanced, and everything else will fall into place," she continued. "One of my goals in life is to make sure I'm doing the best I can to take part in creating healthier lives for future generations." We can't wait to see what else she accomplishes.