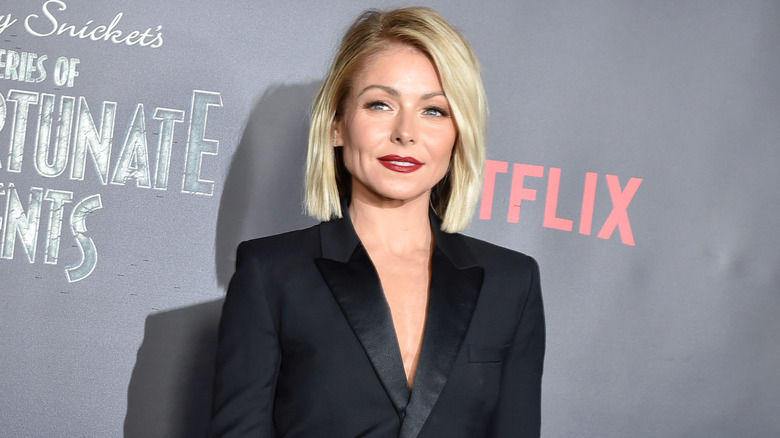 The queen of comedy, interviewing, and hosting talk shows, all in one, Kelly Ripa is the type of woman you automatically feel like is your best friend. She connects with her audience and shares her own life stories — every morning. And she always looks fabulous doing it.
To top it all off, her sense of humor is positively infectious. So how does this mother, host, and one-of-a-kind entertainer really do it all? Let's take a look at Ripa's ever-stunning transformation throughout the years.
A mother's support, growing up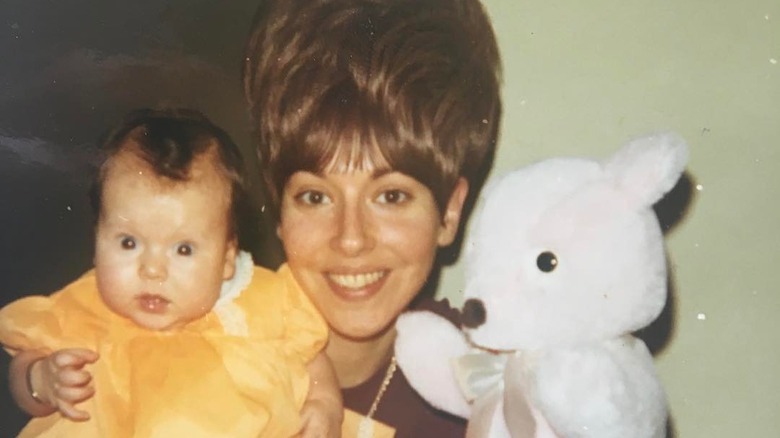 A New Jersey native, Ripa lived there until her late teens when she headed to New York City. When discussing her childhood, Ripa has always been open about her strong relationship with her mother. She shared in the book I Love You, Mom! (via Good Housekeeping), "Growing up, I knew that I could count on your help for any obstacle that I faced. I could depend on you to drop off my homework at school when I left it at home, drive me around to all of my activities, or even tell me my hair looked great when it was sprayed and teased to at least five feet in the air!"
And although Ripa's mom had reservations about her daughter's acting goals, she was there for her. Ripa recalled this to Elle, saying, "She worried that I'd either get my heart broken or live under a bridge." Clearly though, things worked out.
Her first role was a big one
After Ripa moved to New York for her career, she became a demo girl for Nerf footballs at a toy store. But it didn't take long for the stars to align. In 1990, Ripa earned the role of Hayley in the soap opera All My Children. Just 20 years old at the time, Ripa later reflected on her success and how it came about, telling Redbook, "There was never any clear-cut path. And anytime I tried to have a clear-cut path, that's usually when I would be disappointed. In the entertainment industry, you can only work so hard to achieve a goal. It's really 90 percent luck, 5 percent opportunity, and 5 percent skill."
Her role on the soap lasted for more than a decade, and Ripa knew when she was ready for her next steps. She continued on to say, "Eventually I saw that I had to change my own destiny. I had to light my own fire. When the opportunity came to host Live, a lot of my friends said, 'You're not a talk-show host, you're an actor — if you go on talk shows that will be the end of your acting career.' But after I took the talk show, I was offered the sitcom [Kelly costarred on ABC's Hope & Faith from 2003 to 2006] and lots of other acting jobs. Sometimes opportunity begets opportunity and work begets work, and you just have to take a leap."
A fateful encounter on a soap opera
Aside from a break-out role, All My Children brought something else very important into Ripa's life: her husband. Ripa met Mark Consuelos on the show, and the actress knew from the very beginning that he had a role in her life. As she told Redbook, "When I met Mark, I was just sort of thunderstruck. I had a dream about him that night. The next day I went up to him and, although I didn't even know his name, I said, 'I had a dream about you last night. We were married and had a little girl and were on a plane to Rome.' And he was like, 'Oh, really?' and walked away and probably thought about filing a restraining order."
But clearly 24-year-old Ripa and her dream didn't scare Consuelos away. The couple eloped in Vegas in 1996, after dating for just a year. And in 2017, 21 years later, they are still happily married.
Predicting her next gig
Ripa's biggest role came in 2001 when the 31-year-old auditioned to be one of the new hosts on Live with Regis and Kathie Lee. And her audition did not disappoint. During the episode, a guest psychic predicted Ripa's future pregnancy. Little did the world know, Ripa was pregnant at the time with her second child. As she said on the show (via The Washington Post), "I haven't told my boss yet!"
Not surprisingly, Ripa landed the gig. This was a show where she truly brought her personality to the show and to the audience. Executive producer for the show, Michael Gelman, reflected on this time with The Washington Post, "It was just such a real moment that it showed Kelly in a light for really who she was…She had that much honesty she couldn't not react."
Putting family first
One reason why Ripa always seems like a friend you can relate to, on her talk show, is because she tells real stories about her family. With three kids, Ripa has been open about motherhood and the antics she finds herself in day-in and day-out. And once the 32-year-old left All My Children in 2002, she had even more time to be with her kids and her husband. As she told Good Housekeeping, "I feel great not having to go [to set] after I work in the morning. This is all new to me, having free time, having time to have lunch. For the first time in 13 years, I can have lunch with my husband at a restaurant. I had no idea that there was this whole world of people out there eating in restaurants in the middle of the day."
And quality time isn't all that's important for the family; Ripa wants her children's education to be a focus as well. She shared her thoughts on this during the interview, discussing how she never went to college and wanted more for her kids. She said, "Not going to college, it sort of gives you a chip on your shoulder. Would I change anything in my life? No. But I have hopes that my kids will go to college someday, certainly."
Finding her cool
Although she may appear to be the very essence of "cool" on her show, it may be surprising to discover that Ripa has not felt that way about herself in the past.
As she shared with Elle, "No matter how much I try to cool myself up, I'm really dorky. I think that's why people get me." But she's also the first to tell you how cool she wants to be. She continued on to say, "No matter how much I try to cool myself up, it's never going to happen for me. But, like, am I dying to be cool? Yes, I'm dying to be."
Fitness as a lifestyle
It's easy to see when looking at Ripa that she clearly is fit. I think it's safe to say we all have arm-envy when we see her in her cute, sleeveless dresses, looking fabulous as usual. So how does Ripa look good, feel good, and keep a fitness regimen while at the same time having the busiest schedule possible? She keeps moving.
She spoke with Shape about what she does, sharing, "If you're housebound and you're not feeling so good about yourself, just try walking around your living room…Or do five jumping jacks. It'll get your heart beating, you might feel energized, and you'll realize, you could probably do five more."
Her other tricks? Soul Cycle is one, while yoga is up there too. She continued on to say, "If I only have fifteen minutes in the morning, I'll just do some yoga or some deep breathing…For me, it's more the mental aspect than fitness."
Finding her soul with spin
Ripa has long been a well-known fan of SoulCycle. She described her first experience at the fitness class to Style of Sport, saying, "Stacey was my first ride. A friend took me to a charity spin. They had just opened the Barn (SoulCycle's Bridgehampton studio)…I had taken spin classes before, never really liked them, never really thought anything about them. They seemed kind of disorganized and this was organized. I was trying to keep up but I really didn't know what I was doing. My legs were flying all over the place. She really paid attention to my first ride, and I thought, 'This is for me', because it's a group atmosphere but you get one-on-one attention."
The place and the people make it what it is for Ripa. She continued on to say, "It's the only place I feel really comfortable and where I have sort of found my 'tribe' to coin a phrase."
Standing her ground
2016 saw new conflict for the 45-year-old when her current co-host on her talk show, Michael Strahan, announced he was leaving the show and moving over to Good Morning America. The news surprised Ripa, who did not see this coming, and decided to take a day off afterwards.
She later opened up to People about the situation, saying, "I think that all people are deserving of fair treatment in the work place. People deserve respect…People should be treated equally and with dignity…I think that requires a certain amount of empathy on a level. When you're dealing with big business, it's easy to forget that you're dealing with people and that people have feelings. It's easy to just look at it like a business unit."
Ripa handled a difficult situation well, moving forward but also standing her ground on a issue that was important for her to address. She continued on to tell People (via Time), "We're excited for Michael…I think it is a perfect match, I really do…However, what nobody considered is there's a whole other group of people that it really impacts, because we have to now find another great person [to co-host]."
Focusing on her family
Always a mom first, Ripa has continued through her success to focus on her family, making that her top priority. And now, Ripa has some advice for her younger self, and it's good advice for other new moms out there. As she told Good Housekeeping, "Appreciate every second, even when you're exhausted. I remember when Michael was 14 weeks old and I was thinking, I can't wait until he's 14 so I can sleep through the night. You don't sleep through the night when they're 14. You stay awake for other reasons. The worries become so much more significant and bigger — you just want them to feel good about themselves, you want them to do well in school, you don't want them to be influenced by any bad peer groups."
It's clear how invested Ripa is, and that's why it is so enjoyable to watch Ripa on her talk show. Those first 15 minutes are dedicated to the hosts discussing their lives, telling stories and day-to-day experiences — and many of Ripa's include her family.
Living life as a talk show host
Ripa learned that she doesn't just play the talk show host when she sits in the chair and films the show, but the role follows her everywhere she goes. As she described on Late Night with Seth Meyers, the job has given her stories, as people she meets will share interesting information.
She told Meyers, "Here's what's happening now. Now that you are a talk show host, people will tell you everything about themselves always, anywhere you go. I mean, I will be in spin class setting up a spin bike, and somebody will be like, 'So my brother just got arrested for drunk driving,' and I'm like, 'Why are you telling me this?'"
She is thinking about the future of her show
It's difficult to picture the Live talk show without Ripa, but as the years go on, the host is looking to the future. While Ripa doesn't show any signs of slowing down, with recently adding on her new co-host, Ryan Seacrest, she is speaking up about what's to come.
During a recent interview with The Hollywood Reporter, Ripa spoke to the new hire of Seacrest. She shared, "But at some point, I'd like to wind down. I'm not Ryan, I don't have his battery. So when I look at him, I see the future of this show."
Until that unknown time, the two co-hosts are having a good time. Ripa also shared during the interview, "I'm like the older sister he never wanted."
What's next?
So what's next for the fabulous 46-year-old? It's clear there's much more to come! As Elle reported, Ripa and her husband founded a production company that has developed both scripted and reality show projects…You know, just casually producing new content, being a devoted mother, and hosting a live TV show every single day, like she was born to do it.
And Ripa has more plans for herself. When asked by the magazine about her future, Ripa said, "I've never really planned my career, and it's led me to where I am now."
During that same interview Ripa also shared, "I also enjoy writing, but will it lead to anything? I don't know. I'm probably not very good, but lack of talent hasn't stopped me before." If Ripa keeps doing what she's doing, major success is sure to follow.