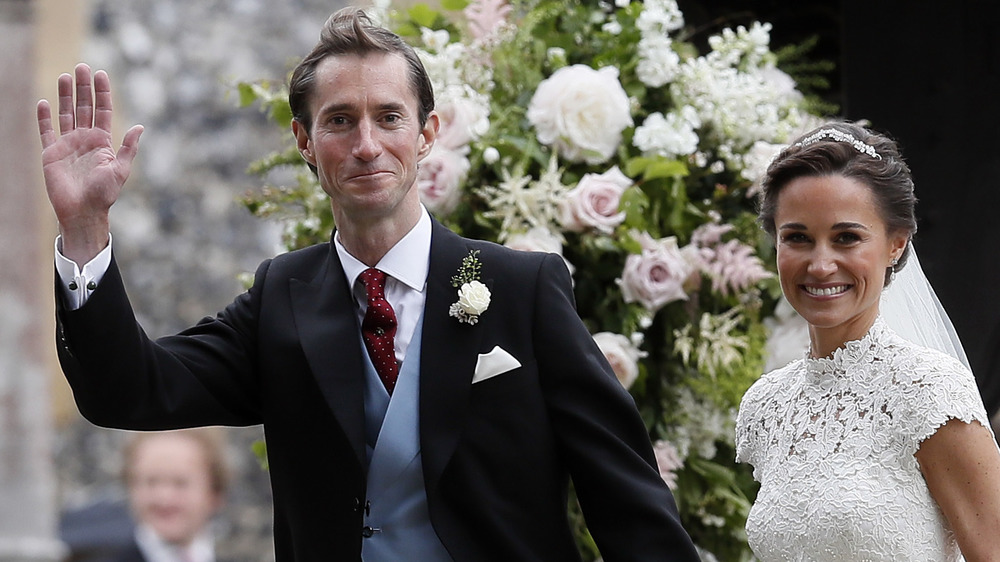 Pippa Middleton and James Matthews' marriage seems to be blissful. All eyes were supposed to be on Kate Middleton the day she got married to Britain's most eligible bachelor, Prince William. It was 2011, and the wedding seemed to be the event of the decade — everyone and their mothers were glued to the television to get a glimpse and the future king and queen.
The day was also full of surprises, but none so monumental as the impact that Kate's younger sister, Pippa, made on the public; Pippa looked positively regal in her stunning dress that day. Since then, she's captured our attention, and has been a consistent figure that people want to keep an eye on. Pippa is known for her active lifestyle, her effortless class, and as of 2017, her marriage to the handsome hedge fund manager.
Pippa and James seem to live a fairly private life, as the amount they're seen in public is limited to their runs around their Chelsea home, their days at Wimbledon, and of course, their wedding celebration. But there's a lot to know about the couple, so here's the truth about Pippa Middleton and James Matthews' marriage.
Pippa Middleton's marriage to James Matthews will one day give her a title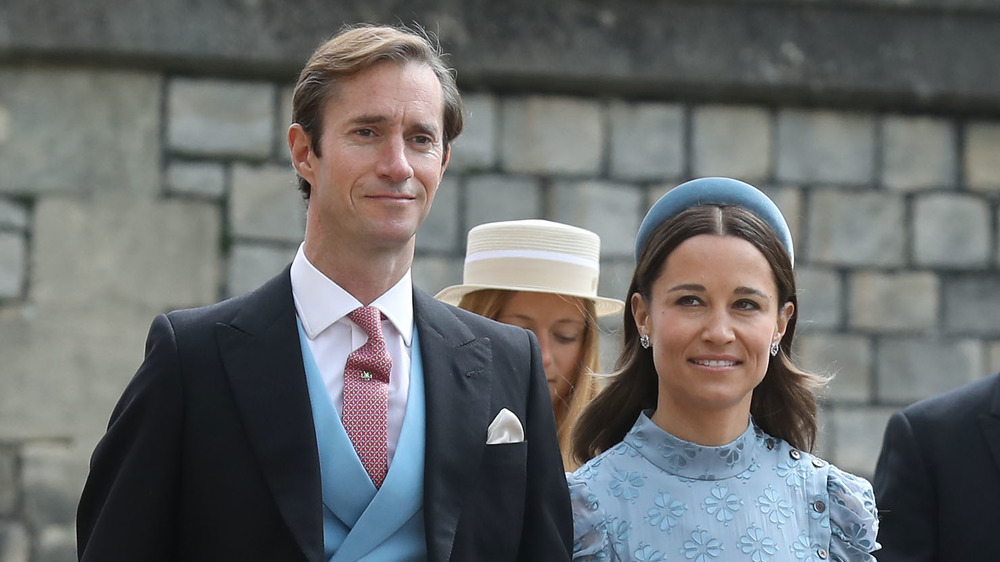 Pippa Middleton's older sister is the Duchess of Cambridge, but one day, Pippa will have a title of her own. James Matthews' family owns the Glen Affric estate; as such, his father holds the title of Laird of Glen Affric (laird is a fancy title used by Scottish land owners). When James' father dies, he will become the Laird of Glen Affric, and Pippa will become Lady Glen Affric — and a 10,000 acre property and a literal castle comes with it.
The Glen Affric estate is located in the Scottish highlands, 15 miles away from Loch Ness (yes, the same area as the Loch Ness Monster). Although we can't imagine Pippa and James will spend their days looking at the lake through a telescope, we can imagine that they'll embrace the Laird and Lady lifestyle.
However, as noted by Express, the Matthews family is fairly down-to-earth, so the couple may not take advantage of what their titles offer. "You've certainly got this Matthews family who own this huge baronial castle," historian Michael Reed explained, but the family has a tendency to "keep to themselves."
Pippa Middleton and James Matthews dated for less than a year before they got engaged
Pippa Middleton and James Matthews clearly had a good thing going, because they were dating for less than a year when James got down on one knee. According to Vanity Fair, the two had briefly been involved back in 2012, but at the time it didn't stick. Pippa was then with long-term boyfriend Nico Jackson, but that relationship fizzled, and she quickly reunited with James.
Pippa and James' newfound fling went from silly to serious in what seemed like no time at all, as Pippa quickly moved in with James. He then popped the question, and after that, Pippa was spotted with a massive engagement ring on her finger. The couple said in a joint statement that they were "delighted to announce that they became engaged," and that they planned " to marry next year." Friends also revealed that the engagement totally surprised Pippa. "Things have got serious very quickly, but James just knew Pippa was the one and vice versa," a source explained. "Their close friends aren't surprised by the news, just thrilled." They added that everyone was excited about the upcoming nuptials, too.
James Matthews is adored by Pippa Middleton's parents
It helps when you're in good standings with the in-laws, and according to Vanity Fair, Pippa Middleton's parents, Michael and Carole Middleton, were beyond happy about the news of their daughter's engagement. And how could they not be? James Matthews, by all accounts, is a nice, handsome, wealthy man — you go, Pippa. Carole and Michael told reporters that they were "thrilled" about the engagement; their sentiments were shared by none other than Prince William and Kate Middleton themselves, who said that they were "absolutely delighted" for the couple.
The Daily Mail also reported that like William, James asked Michael for his permission to propose to Pippa before doing so. "James is a traditionalist and very much wanted to do things properly," a friend told the publication. "That meant getting the consent of his future father-in-law."
Despite the engagement taking Pippa by surprise, rumors about a possible proposal began to circulate when the couple were pictured having dinner with Carole. Mama Middleton is reportedly a big fan of James, and we don't blame her — the man has an insanely successful business and a private jet.
Here's everything you need to know about Pippa Middleton's massive engagement ring from James Matthews
Prince William gifted his bride with his mother's iconic sapphire ring, and it remains one of the most recognizable pieces of jewelry out there. And while Pippa Middleton's engagement ring from James Matthews might not boast the same recognition, but it deserves to be highlighted for its beauty, elegance, and detailing.
According to Town & Country, Pippa's engagement ring is an art deco style, and features an Asscher cut diamond in the center (that is reportedly three carats in size). It's adorned with diamonds surrounding the large center stone, and is just beautiful all around.
Art deco rings with the Asscher cut are not nearly as popular as cushion or round cut diamonds; the style was very popular in the 1920s, but its frequency went down from there. The Daily Mail reported that the ring is estimated to have cost James more than $270,000 (we'll give you a minute to gather yourselves). While spending that much money on an engagement ring might not be the trend to catch on, we wouldn't be surprised if the art deco ring made a comeback.
Pippa Middleton and James Matthews' wedding ceremony was one for ages
It was the "society wedding of the year." James Matthews and Pippa Middleton's wedding ceremony was attended by family and friends, and of course, royalty; it was as gorgeous as it was timeless. As noted by The Guardian, the wedding was not as grand as Prince William and Kate Middleton's, but it still boasted an insanely beautiful ceremony filled to the brim with flowers, A-list guests, and royal flare.
The ceremony took place in the village of Englefield at the St. Mark's church, and lasted about 45 minutes. Nature was on the couple's side, because it poured with rain just minutes after the ceremony began, and stopped just before the newly-wedded couple and guests emerged from the church.
To top off a truly beautiful wedding, royal cuties Prince George and Princess Charlotte were among the page boys and bridesmaids who took part in the ceremony, and they looked just as adorable in their "Sunday best" as you'd think. Prince Harry was also in attendance, and was reportedly joined by Meghan Markle (who was his girlfriend at the time) at the reception. Talk about the social event of the ages.
Pippa Middleton didn't just turn James Matthews' head in her wedding dress
Pippa Middleton set the bar high for herself when it came to her wedding dress. As noted by Town & Country, she stunned in the white Alexander McQueen dress that she wore to her sister's wedding, so the world was watching to see what she would wear on her own big day. As reported by People, the dress Pippa wore to Kate Middleton's wedding was form fitted, and was made of an ivory satin crepe material. It also had a sweeping cowl neckline, and was detailed with buttons down the back.
For her own wedding, Pippa went traditional, and stunned in a custom Giles Deacon gown. The dress consisted of gorgeous cream-colored lace (much like her sister's lace detailed wedding gown), and featured a high neckline and cap sleeves. The figure-hugging bodice was balanced with the A-line design of the skirt, which trailed behind the bride as she walked. Pippa topped her gorgeous wedding day look off with a Stephen Jones veil, a tiara from Maidenhair Fern, and a pair of ivory satin shoes from designer Manolo Blahnik (via The Guardian). Talk about a stunning bride.
Pippa Middleton and James Matthews share a love of sports
Pippa Middleton and James Matthews share a love of all things sports, and not only have a habit of watching their favorite games, but are active themselves. For one, they've been spotted on runs around their Chelsea neighborhood. Additionally, Pippa even wrote about the ways she was staying fit while pregnant with the couple's first child; Pippa steered away from running and biking, and found swimming to be a great option. "From personal experience, I'd confidently say I find it has been the most enjoyable and rewarding form of exercise since I found I was expecting," she wrote in her Waitrose Kitchen magazine column (via Yahoo! News).
To add another layer to Pippa and James' love of fitness, their Chelsea home includes a newly renovated in-home gym (that we're convinced looks like an Equinox).
The most high-profile expression of sports fandom shared between Pippa and James have been the couple's appearances at Wimbledon, the famed tennis tournament. They were once spotted in the stands in coordinated outfits, Pippa in a fun yellow wrap dress and James in a blue suit and yellow tie to match (via People). Cute.
Pippa Middleton and James Matthews vacation in St. Barths often
Remind us to include "must own a hotel in St. Barths" to the filters on our dating apps. Pippa Middleton and James Matthews vacation there often, and they've been captured by paparazzi enjoying the beach on numerous occasions (including Christmas). According to People, the couple have an insider's connection in the area: the Matthews family owns Eden Rock hotel, one of the most gorgeous and expensive resorts in the world. The pair (along with Carole Middleton) has been spotted there a number of times; they even made a trip to the island just ten weeks after their first child was born — talk about a gorgeous baby-moon.
The Eden Rock resort looks beyond amazing. According to its website, it's home to 37 suites and villas, and boasts perks like a gourmet restaurant and a stunning spa. The hotel is a destination spot for celebrities, and as noted by the Daily Mail, has been a go-to for the likes of Beyoncé, Elton John, Leonardo DiCaprio, and Brad Pitt. But the rooms will cost you up to $34,000 a night, so you won't be catching us there any time soon.
Pippa Middleton and James Matthews (used to) run in the same circle as Prince Harry and Meghan Markle
In royal social circles, the drama just always seems to be there. Before Prince Harry and Meghan Markle stepped back from the royal family and moved to the United States, they ran in the very same social circle as Pippa Middleton and James Matthews. Of course, the in-law connection helped, but the couples were spotted together a number of times, including at the Henry van Straubenzee Memorial Christmas carol service in 2018. According to People, the service was the first event that James and Pippa attended after the birth of their first child, and Harry and Markle were seen at the very same outing.
In an even more high-profile outing, Pippa was spotted with her sister, Kate Middleton, and Meghan at the Wimbledon Women's Singles Final in 2019. As noted by Hello! magazine, the threesome watched as good friend Serena Williams — who's undergone a stunning transformation — battled out a tough match against Simona Halep, and their emotions were on full display. Meghan sat next to the Kate, despite their presumed, prolonged tension, but all seemed well at the tennis court.
Pippa Middleton and James Matthews welcomed their first baby in 2018
Pippa Middleton and James Matthews welcomed their first baby, Arthur Michael William Matthews, on October 15, 2018. As noted by People, the baby was born in the private Lindo Wing at St. Mary's Hospital in London — the same place that his royal cousins, Prince George, Princess Charlotte, and Prince Louis were born.
The timing of the birth was among a lot of baby news for the royals! It had just been announced at the time that Prince Harry and Meghan Markle were expecting, and little Prince Louis was only a few months old. Additionally, the couple seemingly used their baby's name to pay homage to their families, both on James and Pippa's sides; Michael is not only Pippa's father's name, but was also the name of James' brother who tragically died in 1999.
The day after baby Matthews was born, Prince William and Kate Middleton released a statement, saying that they were "thrilled" for the couple and their new addition. And talk about cutting it close — just three days before giving birth, Pippa was among the 800 guests that attended Princess Eugenie and Jack Brooksbank's wedding.
In 2020, Pippa Middleton and James Matthews announced they were expecting
Arthur Michael William Matthews is getting a younger sibling! Pippa Middleton and James Matthews revealed in 2020 that they were expecting their second child. As noted by Page Six, a source close to the couple said that Pippa is overjoyed to be welcoming another baby, especially after a very difficult 2020. "Pippa and James are thrilled, it's fantastic news amid a difficult year," the insider shared. "The entire family is delighted."
The new Matthews baby will, of course, become the second cousin to Prince George, Princess Charlotte, and Prince Louis. Additionally, unlike cousin baby Archie, who lives with parents Prince Harry and Meghan Markle in California, Pippa and James are looking to move closer to their family. The couple has lived in London for some time, but are rumored to be in the midst of purchasing Bucklebury Farm Park, a 72-acre country estate in Berkshire that's very close to the Middleton family home. With two babies in two years, it's no surprise that the pair would want a little bit of help.
Pippa Middleton and James Matthews have gotten lots of parenting advice from Kate Middleton
Kate Middleton has had three children, and has continued to look effortlessly glam while being a mom on the go. It doesn't come as a surprise, then, that Pippa Middleton and James Matthews turned to the royal for advice on parenting. As noted by Us Weekly, Pippa asked Kate almost every first-time mom question under the sun, and a close friend told the publication that Kate had an answer for just about everything. "Kate has so much knowledge to share," the source revealed. "She's a walking baby encyclopedia at this point!"
Additionally, while pregnant, Pippa made a habit of practicing her swaddling skills on baby Prince Louis, who was born in April 2018. And with baby number two set to arrive in 2021, Pippa will probably draw on that knowledge again.
Pippa also wrote in a 2019 article that the couple's "local baby gym" was a lifesaver, and that their little man was already gaining movement confidence (via People). If one thing is for sure, both of Pippa and James' kids will follow in their parents' active lifestyles.
Some people honeymoon on the beach, but James Matthews and Pippa Middleton honeymooned in Australia
While some people opt for a beach honeymoon full of relaxation and champagne drinking, Pippa Middleton and James Matthews went all out on their honeymoon adventure. As noted by People, their post-wedding celebrations started with a couple days spent in French Polynesia, and then they made their way all the way down under to Sydney, Australia. There, the couple were spotted getting on and off seaplanes, jet setting off to secluded lunch spots, and taking water taxis to get to and from their destinations. To top off what seemed like a very action-packed vacation, Pippa and James were spotted scaling the Sydney Harbor Bridge in what can only be described as a thrill-seeking experience.
After that, James and Pippa continued to travel within the country, and spent three days in the Bamurru Plains in Kakadu National Park at a wild bush resort. From there, they traveled to Perth. Talk about a wild ride! It sounds like they needed another honeymoon after their honeymoon just to relax.
Pippa Middleton is very supportive of James Matthews' family foundation
The Matthews family was profoundly impacted by tragedy in 1999. According to People, James Matthews' brother, Michael Matthews, died at the young age of 22 while making his way down Mount Everest. He'd just become the youngest Briton to ever summit the mountain, and while he was a very experienced climber, he lost contact with his climbing team and perished in extreme weather near the mountain's peak.
Since his death, the Matthews family established the Michael Matthews Foundation, which holds events and races to raise money for its causes, including access to education. Pippa Middleton has been greatly supportive of the foundation, and even participated herself in one of its charity races in 2016: climbing the Matterhorn Mountain. "Although I have raised money in the past for the Michael Matthews Foundation, it has now become even more important to me and my family," Pippa revealed. "Although neither I nor my brother ever met Michael, we both share his spirit and passion for the mountains. We made this climb knowing he would have been there nudging us on, and we are honored to be supporting his memory."