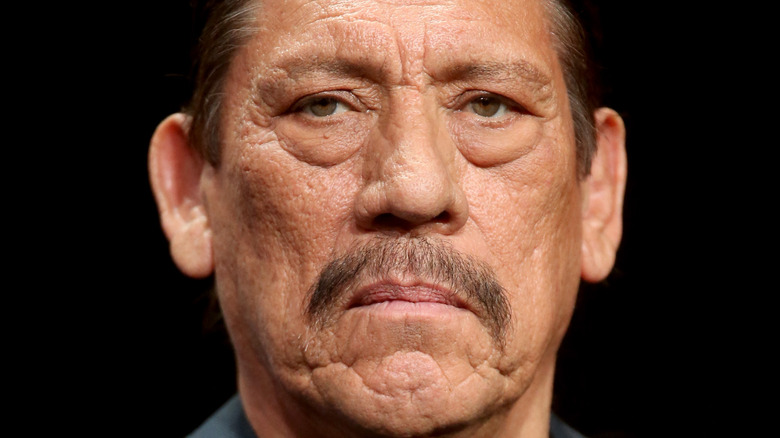 Danny Trejo has one of the most instantly recognizable faces in Hollywood. The actor, who has over a whopping 400 credits to his name, began acting in the mid-'80s, playing various criminals and all-around bad guys. You've seen him pop up in "From Dusk 'Till Dawn," "Heat," and, of course, "Machete," where he takes on the now-iconic titular role.
Interestingly enough, playing crooks shouldn't be too foreign for Trejo, as the Los Angeles-born star was, unfortunately, on the wrong side of the tracks before Tinseltown came a-knocking. "His name rang through every prison," details a documentary on the actor, "Inmate #1: The Rise of Danny Trejo," noting, "They knew he was coming, they always knew he was coming."
So, how does an ex-con go from spending his days in prison with murderers as his "best friends" (via Grantland) to acting in flicks with Robert De Niro and Mickey Rourke? As the "Desperado" star tells his younger fans (via BBC), "It doesn't matter where you start, it's where you end up." Let's take a look at the incredible untold truth of Danny Trejo.
Danny Trejo 'grew up on the streets'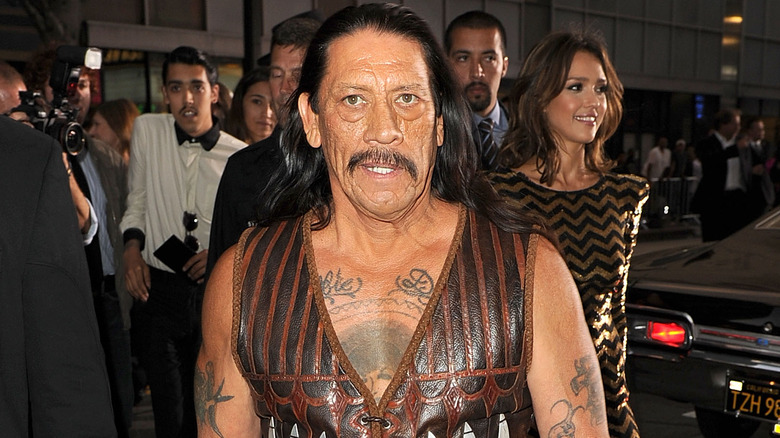 Danny Trejo has a pretty incredible rags-to-riches story. According to Grantland, the future action star grew up in the "rough" neighborhood of Pacoima in Los Angeles to his housewife mother, Alice, and construction worker dad, Dan. Unfortunately for Trejo, his most significant influence came from his uncle, Gilbert, who was six years older than him and became his "mentor" of crime, teaching him how to rob and getting him involved in drugs and alcohol.
"It was basically a ghetto," the "Spy Kids" actor revealed during an interview with "Wide Open with Tony Gonzalez." Explaining that he was living in "chaos" day in and day out, Trejo dished that he would get in fights all day — yet violence wasn't the only issue. Per Grantland, Trejo was a mere eight years old when he tried marijuana for the first time, and at age 12, he began dabbling with heroin.
Ironically enough, although Gilbert was an awful influence on the young boy, he also taught him how to survive — something that would come in handy during Trejo's countless stints in prisons across California. At 13, Gilbert began using Trejo as "his punching bag," and as the star told Grantland, "I had to learn to fight, or get my head beat in."
Danny Trejo has been in and out of prison since he was 12
Born in 1944, Danny Trejo didn't exactly have a warm and fuzzy nuclear family experience of the '50s. In reality, he wasn't home that often to experience anything remotely similar to it. As he revealed during a chat on "Wide Open with Tony Gonzalez," Trejo was only 12 or 13 years old when he landed in juvenile hall for the first time. Noting that he kept landing in the slammer for "everything," be it common law robbery or assault, Trejo explained that it was merely "the way of life."
As HuffPost details, from here, Trejo transitioned into more serious crimes, "robbing liquor stores with live grenades" and getting involved in "shootouts." Of course, spending time with his uncle Gilbert, whom he refers to as his "mentor," didn't exactly help the situation. "He was like the cool one," Trejo recalled to TheLipTV. "He was the one that always had the big wad of cash."
Thankfully, Gilbert "taught [him] everything" that would come in handy in prison (via Wide Open) — and Trejo definitely had the chance to sharpen his skills. "I've been in every prison in the state of California," the actor declared to Tony Gonzalez. In fact, according to Texas Monthly, Trejo was "in and out" of prisons "for more than half of his life" by the time the late '60s rolled around.
Danny Trejo the boxing champ
Probably one of the most important things Danny Trejo learned from his uncle and "mentor" Gilbert was how to fight. According to Grantland, the "Machete" star even grew up learning how to spar alongside Benny "The Jet" Urquidez — " a future world champion kickboxer." As Urquidez recalled to the outlet, "Danny never backed down. He was a natural. He had a big heart, and a strong jaw."
Sure enough, that strong jaw survived countless brawls in the California prison system. "I was lightweight and welterweight champion in every penitentiary I was in," Trejo told TMZ Sports before noting, "and I was in all of them." He got a bit more personal on Wide Open with Tony Hernandez, explaining to the former professional football player, "That was my goal. That's as far as it went."
Oddly enough, prisons weren't the only places where Trejo could show off his sparring chops. His skill came in handy later on, as well, as he transitioned into Tinseltown. Per Grantland, in the mid-'80s, Trejo stepped onto the set of "Runaway Train," where screenwriter Edward Bunker noticed the ex-con after having spent time with him in prison. Of course, Bunker knew of Trejo's skills with his fists and asked him to train the flick's star, Eric Roberts, for the fight scenes. The pay? $320 a day.
Cinco de Mayo in 1968 changed Danny Trejo's life
After spending time in many of California's jails in the 1960s, what happened next for Danny Trejo would change everything. As he explained to The Guardian, the actor took part in the 1968 Cinco de Mayo riots at San Quentin State Prison — one of the most dangerous penitentiaries in the world with "hundreds of death row inmates" (via Latin Post).
As Trejo tells his tale, he ended up in solitary confinement (he was moved to Soledad Prison) facing the death penalty on "three gas-chamber offenses." He adds, "they said I threw a rock and hit [a] lieutenant in the head," admitting that while he did throw a rock, he was aiming at someone else. Three months on your own is an awfully long time (Trejo got out of prison in August), and as he told Prison Legal News, he used it as a life-changing opportunity to start helping others. "It was like kind of like the culmination of my life," he recalls, adding, "It all culminated to being in the hole in Soledad, looking at a wall that somebody smeared s**t and wrote 'God Sucks' in human feces, and I'm butt naked, like this is me, that moment of clarity."
After getting out of "the hole," Trejo began going to Alcoholics Anonymous meetings in prison, eventually completing the program."…without AA and NA [Narcotics Anonymous] I wouldn't be here. Just like without God I wouldn't be here," he told LA Weekly.
Getting sober opened up Hollywood's doors for Danny Trejo
After his time in solitary confinement in California's deadly Soledad Prison (via LA Weekly), Danny Trejo dedicated his time in jail working through the Alcoholics Anonymous program, eventually completing all 12 rehabilitation steps. Making parole, he found work as a drug counselor at Western Pacific Rehab — which snowballed into an opportunity that Trejo himself didn't even expect.
As the actor recalled to The Guardian, in 1985, one of his clients phoned him in distress, explaining they needed Trejo to come to their place of work due to a large amount of cocaine being passed around. After giving Trejo an address in the "warehouse district," he recalls thinking, "he [probably] worked in a warehouse … [we'll] sit out in his car at break, smoke cigarettes, drink coffee and afterwards he would go back inside." When Trejo arrived, he found out he was on a film set for Andrei Konchalovsky's "Runaway Train."
What happened next was sheer luck: Trejo was "asked if [he] could act like a convict," and once the future star took his shirt off, the screenwriter recognized his iconic tattoos. As it turned out, both men spent time in San Quentin State Prison. Because of their connection, Trejo found himself hired "to train [actor] Eric Roberts how to box." As the action star told The Guardian, "I'd rather be paid to be the bad guy."
He's been sober for over 50 years
Danny Trejo wholly understood that getting out of jail was a sheer stroke of luck. According to The Hollywood Reporter, after landing in solitary confinement after a 1968 prison riot, Trejo was convinced he "was facing the gas chamber." As the actor tells it, "I remember asking God, 'Let me die with dignity. Just let me say goodbye.'"
Luckily for Trejo, the day never came, and he was miraculously released from prison in August 1969. "I made a promise to myself to start trying to do good," the star explains in his doc, "Inmate #1: The Rise of Danny Trejo." And as his fame grew, Trejo still managed to remain sober, focusing on keeping his promise. As he tells The Hollywood Reporter, "Everybody asks me, 'How do you stay so young?' I consider myself 48 years old. That's when my life started."
In May 2021, Danny Trejo was honored by the drug and alcohol treatment center, CRI-Help, in Los Angeles, having been "sober for nearly 53 years" (via Variety). He tells the outlet that his life has been "like a dream" since getting sober and getting out of jail. "I've got nothing to complain about. I've got nothing to fix."
Danny Trejo has 'the most recognizable tattoo in the world'
Danny Trejo is notorious for playing intimidating bad guys. According to his documentary, "Inmate #1: The Rise of Danny Trejo," for the first five years of his career, Trejo was merely playing bit parts as "inmate number one," "cholo number one," and "ese number one," yet his star power only grew, and he became much more recognizable.
It helps that Trejo has some pretty distinguishable tattoos, too — especially his chest piece. In fact, as he told Prison Legal News, "International Tattoo Magazine says it's the most recognizable tattoo in the world." In 2014, he gave a bit more insight about his piece while on The Howard Stern Show, telling the shock jock that he got the "Mexican lady with a sombrero" done by Harry "Super Jew" Ross while in prison. In a truly crazy tattoo origin story, Ross did Trejo's tattoo over time in three different jails, having followed the future actor whenever he got transferred to another prison.
Although Ross would go on to become exceptionally famous in the tattoo community, Trejo's piece was his first — and he wasn't exactly a fan. As Trejo quipped to Showbiz CheatSheet, "He would be like, 'Don't show that!' But I was like, 'Just shut up. This tattoo made you famous!'"
Out of the hundreds of movies Danny Trejo has done, Machete is his favorite
Danny Trejo has seriously been in a lot of movies. As of this writing, the actor has over 400 credits to his name on IMDb — and he's showing no signs of slowing down. So, out of all of those roles, does he have a favorite?
"Probably 'Machete,'" he told Prison Legal News. The eponymous character of the Robert Rodriguez flick actually has an origin story from another one of the director's movies: "Spy Kids." Per MTV, Machete was the uncle of the two lead kids, always helping to "save the day." Yet it was after a fake trailer for Rodriguez's and Quentin Tarantino's "Grindhouse" double-feature that really catapulted the suddenly-violent character into the mainstream. With the audience reception of the bogus trailer being so positive, Rodriguez eventually gave Machete his own movie in 2010.
Although they've worked together on a number of different films, it turns out that Rodriguez and Trejo aren't just buddies; they're family, too, as Rodriguez is Trejo's second cousin. As Trejo told MTV, "I didn't realize it until we were on the set of 'Desperado.' My family came down in Texas to visit me on the set, and we found out we were second cousins. I was like, 'All right, cuz.'"
Danny Trejo is on a mission to do good
After getting released from solitary confinement from the treacherous San Quentin Prison in 1969 (via CBS News), Danny Trejo realized he needed to make a massive change. As he tells The Guardian, getting paroled truly instilled his faith in God. "I remember saying, 'God, if you're there, everything will turn out the way it's supposed to,'" he recalled.
Since his release, the actor has truly been on a lifelong quest to pay things forward — and it seems that he's run into quite a bit of karmic luck, too. "Everything good that has happened to me has happened as a direct result of helping someone else," Trejo told LMT Online, further explaining his belief that God wants all humans to help one another.
And there's no doubt that it's exactly what Trejo has been doing. The actor has taken part in the Netflix doc, "Survivor's Guide to Prison" (via CBS News), and he revisits the same jails he once stayed at to talk about the dangers of crime life to those currently serving time. Most importantly, however, he's dedicated his spare time to working as a drug counselor for at-risk teens. As he reveals to The Guardian, "Even now, kids come up and say: 'Trejo, what's up? You helped me years ago.' So that's been a blessing."
Danny Trejo considers his kids his 'greatest accomplishment'
Danny Trejo truly loves kids. Along with his work counseling at-risk teens, he's also got five of his own children: Gilbert, Danielle, Esmeralda, Danny Boy, and Jose (via The U.S. Sun). "My kids are my greatest accomplishment," the actor gushed to Variety in 2021. "I just adore them," he added, before mentioning that if he "didn't get clean and sober," he never would have had them.
If that's not all, Trejo's "greatest accomplishment" is what keeps him motivated to stay in Hollywood. As he tells Texas Monthly, he views acting as "just a job" — one that helps him provide for his kids. And it looks like the acting bug has caught on with his offspring, too. According to the outlet, Gilbert directed his father in 2020's "From a Son," a tale of a father searching for his drug-addicted boy. Unfortunately, the story hits uncomfortably close to home, as Gilbert himself suffered through his own real-life substance abuse problems. Of his on-screen role, Trejo declares, "It's the biggest thing I've ever done."
Overall, it seems that family life suits Trejo — a far cry from his chaotic and crime-filled past. When Grantland's Amos Barshad went to visit the star for an interview, he described Trejo's neighborhood as "quiet" and "unassuming," while his home was a "modest California ranch."
Danny Trejo: an IRL superhero
Danny Trejo is always there for those in need. As he explained to the Hallmark Channel, every day, he tries to help someone, putting "thermal underwear, socks, [and] old shirts for the homeless" in the trunk of his car, and adding that it's simply the way he "[feels] good."
Well, the year prior, he must've been feeling really good after he helped save a family from an almost-life-threatening accident. According to The Washington Post, the "Machete" actor was driving in Los Angeles when he witnessed a car accident, resulting in an overturned SUV. As he ran to help a mother stuck behind her driver's door, he then realized the woman's mother and her son were in the backseat. The boy, who Trejo recalls had special needs, was "panicking," and as he smelled gasoline, the action star knew he had to act fast. "I said, 'We have to use our superpowers,'" Trejo recalled to the outlet of distracting the boy while another bystander rescued the grandmother. "I told him to flex with his muscles … I just kept the 'superpowers' game going and he flexed until we got away from there. I kept facing him away from what was going on."
According to the outlet, the scenario went viral. The boy, who wiped his shirt on Trejo's shirt, caused the actor to rip it off, meaning viewers got a chance to see what probably felt like an IRL scene from one of the star's action-packed flicks. Epic.
He's not really a fan of rambunctious pop stars
Danny Trejo is a tough dude with a rough past, so there's no doubt he'll be rolling his eyes at those who waste away their privilege. In 2013, the action star threw some shade at pop stars, calling out Justin Bieber's legal woes with his Ferrari. "There are a lot of people out there starving and you're out here racing around in a Ferrari being a brat," he griped to a radio station in Portland, Oregon (via HuffPost), calling the situation "sad."
It seemed that the following year, in 2014, Bieber was still goofing off, and Trejo still wasn't having any of it. According to USA Today, this time, the "Yummy" crooner was in the gossip rags after a "highly publicized egg vandalism incident." Giving the outlet a figurative eye roll, Trejo quipped, "Can you imagine going to jail and some hardened convicts ask you, 'What are you here for, kid?' and he goes 'Egging my neighbor's house.' They would beat the [expletive] out of him for wasting eggs."
Danny Trejo doesn't hate all tabloid darlings, however. In fact, during an interview with The Guardian, he revealed he texts Lady Gaga and sees her, too, calling her a "great girl." Who would've thought these two would be pals?
Danny Trejo has branched out into the food business
While Danny Trejo may have stumbled into his now-long-lasting acting career, he has another passion: food. Publishing his cookbook, "Trejo's Tacos: Recipes and Stories from L.A." in 2020, the actor told the Hallmark Channel that it was his mother who inspired him to pursue a culinary side-hustle. "My mom [was an] amazing cook," he gushed, adding that the pair would talk about owning a restaurant someday.
Well, that day finally came for Trejo, as he's not just a published cookbook author but a restaurateur, too. According to GQ, the star first opened up Trejo's Tacos (which has now grown into a franchise of nine restaurants), followed by Trejo's Coffee & Donuts, a bright-pink bakery with Trejo's signature scowling mug as its logo. As Trejo told "Wide Open with Tony Gonzalez," he even has a locale at an airport, which he jokingly says "kind of makes you legit."
Donuts aside, however, the "Con Air" actor told the Hallmark Channel that he wanted to try a new spin on Mexican food with his cookbook. "The Latino community has admitted that we have a problem with obesity," he explained, adding that his recipes have "dishes that are vegetarian but still taste … authentic." In a sense, it looks like Trejo is yet again out to do good — this time for his fans' bellies.