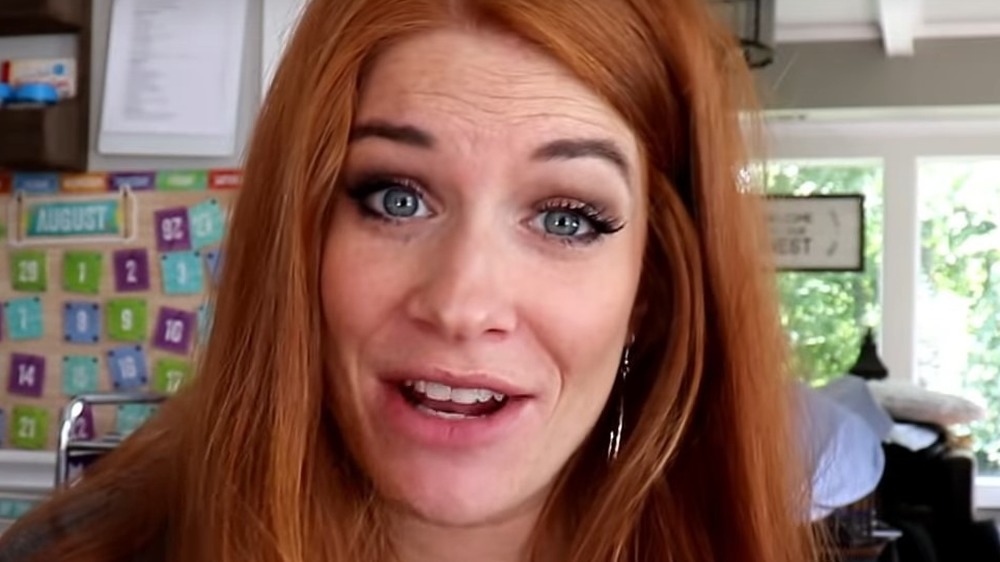 It's no secret that most shows on HGTV follow a similar and wildly predictable format: dissatisfied homeowners detail all the myriad problems with their existing abode so a show's hosts can swoop in and eradicate those problems with a much-needed renovation. This almost always begins with the hosts donning hardhats and brandishing sledgehammers to bash through walls, rip down cabinets, and the like.
That, however, is not the case with HGTV's "No Demo Reno," which boasts its premise right in the title. According to HGTV's announcement for "No Demo Reno," the only thing that host Jennifer Todryk demolishes is "the notion that major demolition is always necessary to create whole-home transformations." How is she able to accomplish this? Through a combination of savvy design tips and budget-conscious renovation ideas, with a goal of avoiding the removal of walls and maintaining a home's existing floorplan. "No-demo reno is totally the way to go," Todryk proclaimed in a teaser for the show, promising viewers she can deliver "that million-dollar reveal without any major demolition."
Find out more about this exciting entry into television's home renovation genre by reading on to discover the untold truth of HGTV's "No Demo Reno."
No Demo Reno's roots are in social media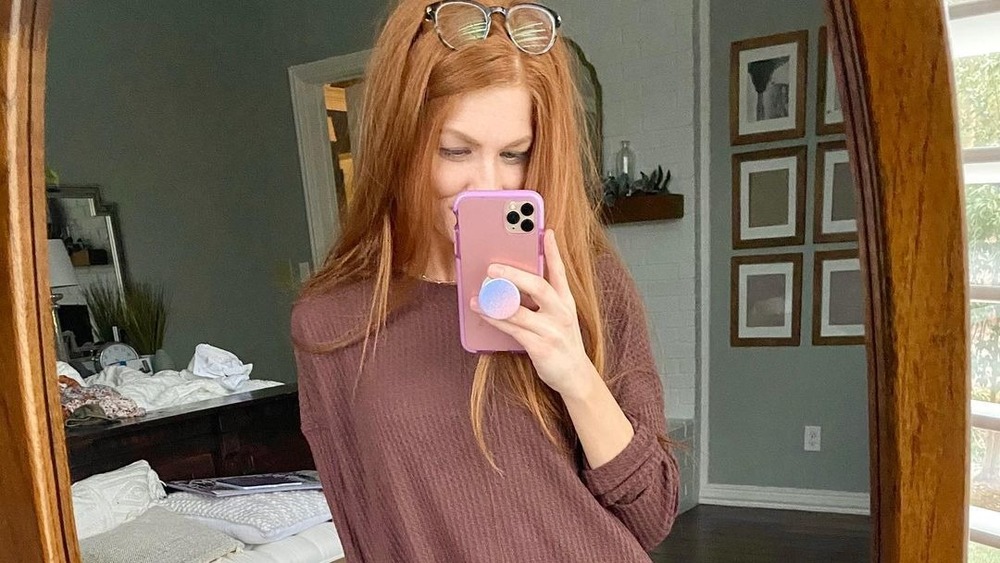 While Jennifer Todryk may be a fresh face to TV viewers, the host of HGTV's "No Demo Reno" is well known to the 800,000-plus followers on Instagram, where she's known as "TheRamblingRedhead." As the HGTV press release announcing the series pointed out, Todryk's fans "love her hilarious and extremely relatable take on motherhood as well as her savvy advice on home design, fashion and beauty."
Todryk's reputation as a social media influencer was a natural outgrowth of her successful blog. As she told DFW Child, she first started sharing her thoughts online because she "was just kind of in a funk" after having her second child. "I was a workaholic and I would bring my work home," she said, and she realized she "needed to create something, even if only my mom and my dad were going to read it."
She'd only been blogging for a few weeks when one of her posts went viral, leading to rapid growth on all her social media platforms — which ultimately attracted the attention of HGTV. The success she's experienced online, she explained, "definitely has given me a sense that I'm supposed to be here, like God wants me to do this…"
How No Demo Reno came to television
Making the leap from social media influencer to HGTV television personality isn't a transition that happens often. Speaking with DFW Child, "No Demo Reno" host Jennifer Todryk explained that she was contacted via Instagram by a production company, asking her to shoot some video of herself and a friend decorating homes for clients — something she wasn't actually doing for real.
Just as things were progressing, Todryk became pregnant with her third child. She recalled, "I'm like, This just isn't meant to be. I'm creating a business that I'm not even doing, technically, which didn't seem authentic to me." After turning the offer down, she revealed that the following month a different production company reached out with a very different opportunity. This company, she explained, offered to do all the heavy lifting, telling her they'd line up the homes and clients for her, and all she'd have to do was "literally show up."
The entire experience, she shared, was "quick, easy, painless." She added, "I just felt like God made it too easy. He was like, 'Here, dummy. I'm trying to get your attention.' It was a sign, and I did it, and it's been great."
No Demo Reno host Jennifer Todryk had to keep the show secret at first
When the pilot for what would become "No Demo Reno" was filmed, HGTV programming execs liked what they saw enough to order the show straight to series; typically, HGTV will shoot a pilot for its new series, air that as a special, and then gauge its perception and ratings before deciding whether to proceed.
However, Jennifer Todryk had to keep her exciting new television project under wraps. Back in September 2019, Todryk took to Instagram to reveal she was involved with a new series for HGTV, but that the title of the show "must stay a secret."
It wasn't until nine months later that Todryk revealed all. In a June 2020 Facebook post, Todryk spilled the beans. "This week pre-production is in full force with a plan to start shooting the rest of season 1 within a week," she wrote. Revealing she was "in total shock" when she learned the network "wanted the show to go straight to series," she admitted the only downside of that plan was that "y'all wouldn't be seeing the show for about another year." She did, however, promise "to make it completely worth your wait."
How Jennifer Todryk's misbehaving toddler ultimately led to No Demo Reno
Jennifer Todryk's path to television as star of "No Demo Reno" has been an unusual and unpredictable one, and it all started thanks to her blog. One blog post in particular, she explained in an interview with NBCDFW, paved the way for all the success and attention that would follow. That 2015 post, she revealed, came about when the then-mother of two became exasperated by her youngest, then a toddler.
"It was called, 'Top Six Wines to Pair With Your Child's Crappy Behavior,'" she explained. In the post, she shared such observations as, "Riesling pairs perfectly with an explosive poopy diaper." After the blog went viral, she received an offer to expand on the idea and turn it into a book. In 2017, that book was published, titled "W(h)ine: 50 Perfect Wines to Pair with Your Child's Rotten Behavior."
The book, she said, sold out three times on Amazon, which presumably allowed her to quit her job and focus on building her brand on social media. That, in turn, ultimately attracted the attention of HGTV, and "No Demo Reno" was soon born.
Why No Demo Reno's premise makes it stand out from other HGTV series
From "Windy City Rehab" to "Flip or Flop" to "Property Brothers," HGTV's home-renovation series typically begin with some sort of demolition, tearing down the old in order to build the new. In "No Demo Reno," however, the goal is to do as little demolition as possible — and preferably none at all.
"Changing a house's floorplan takes time and money," explained "No Reno Demo" star Jennifer Todryk in HGTV's announcement for the show. "It adds up quick and sometimes you don't need it. You can fall in love with your house all over again, but without the sweat and money that goes along with a full demolition." According to that announcement, the show's first season demonstrates just how well that can be done, providing the examples of two renos Todryk oversaw for families with youngsters. The goal: to enhance and modernize their homes without altering the existing floorplan.
As a teaser for "No Demo Reno" indicated, sometimes the show doesn't technically live up to its title, as the clip showed Todryk taking a sledgehammer and bashing out an area of wall beneath a staircase — transforming that unused space into a cozy, little children's playroom.
How Jennifer Todryk hopes No Demo Reno can change lives
By demonstrating how homeowners can transform their existing homes without bashing down walls and altering an existing floorplan, Jennifer Todryk hopes "No Demo Reno" not only changes the lives of the people she works with on the show, but also inspires viewers to do the same thing with their own homes.
"My favorite part about this job is showing people the potential in the homes they already own," she said in HGTV's announcement of the show. "Things that they never thought could be were there the entire time."
According to HGTV's "No Demo Reno" webpage, Todryk is accompanied on each of her renovation projects by a team of pros — which includes general contractor Tony Taveras and master carpenter David Piper. Working together, they all focus on the overarching goal to "save families time, money and stress while proving that it doesn't take a massive renovation to create a dream home."
Jennifer Todryk revealed the craziest part about filming No Demo Reno
As the mother of three small children with a booming social media enterprise and her own HGTV series, "No Demo Reno" host Jennifer Todryk has definitely had her hands full. Asked by DFW Child to single out "the craziest part" about shooting the series, she responded, "The kids. Having to worry about the kids, managing the kids."
An admitted neophyte when it comes to appearing on television, Todryk didn't realize that, when episodes are filmed, they're not necessarily shot in the same order in which they appear in the finished, edited show. "The way you film it, you have to remember, OK, this scene, we had already done this, but we hadn't done this yet."
In the midst of that, she confessed, she was also worrying about her kids, because, as a mother, "You're still worried about everybody else, even though you don't need to be. But that doesn't shut off because your husband's got it. It doesn't shut off." Ultimately, Todryk had to try to take control of her overactive brain and tell herself, "Shut it off. It's going to be alright."
No Demo Reno host Jennifer Todryk has shared her home decor tips on YouTube
Over the years, Jennifer Todryk has enjoyed sharing her home-decorating tips with her legions of social media followers, which is how she came to be tapped to host HGTV's "No Demo Reno." In addition to her numerous home decor posts on Instagram, Todryk also has her Life as a Rambling Redhead YouTube channel, which is chock full of family moments, motherly observations, and, of course, home decor tips.
One such video demonstrates how to "fall-ify" a living room, while another features a tutorial on how to style a fireplace mantel. In her mantel tutorial, Todryk admits that she hadn't been on YouTube "for a hot minute" because she'd been consumed with shooting her HGTV show. As she explained to viewers, she was hoping to create more "home decor tutorials" on her channel "because that's really where I started on Instagram, it's what I love to do, it comes easy and naturally for me, and I really want to share what I do with you guys…"
No Demo Reno was an out-of-the-box ratings hit
When "No Demo Reno" finally hit television screens, it proved to be an instant hit for HGTV. In a press release issued in April 2021, HGTV declared that "No Demo Reno" managed to nab more than 13.3 million viewers since the show's premiere less than a month earlier. In addition, noted the release, the show managed to become the top-rated cable premiere in its timeslot with households and a top-five cable premiere in the timeslot in seven different demographics.
"In just four weeks, Jenn Todryk has captured our imaginations with stunning home renovations that use savvy, cost-saving ideas — all without requiring full demolitions," boasted HGTV president Jane Latman. "She is like a cyclone of energy and creativity and already viewers can't get enough of her."
The series also did well on HGTV's digital platforms, the release stated. In fact, videos promoting the show wound up generating more than 940,000 views on HGTV's Facebook, Instagram, and Twitter accounts, along with an additional 320,000 page views on the network's website, HGTV.com. Meanwhile, the release added, the April 15 episode of "No Demo Reno" made history for the network as "the most-watched episode" on the HGTV GO app.
Contractor Tony Taveras is a competitive bodybuilder
Viewers who tuned in to HGTV's "No Demo Reno" came to know contractor Tony Taveras, who worked with series star Jenn Todryk on some of her renovation projects. While Taveras quickly became a fan favorite with viewers, what they may not know about him is that he's also a competitive bodybuilder who's competed in some of the sport's biggest events.
Among the titles he's won, reported NPC News Online, was the Men's Classic Physique award at the 2019 NPC Universe competition. According to Mon Ethos Pro Consulting, he works out six days a week, with a goal of someday competing in the Arnold Classic and Olympia competitions. "It's not about gaining weight and muscle," he said of his bodybuilding philosophy. "It's about learning and improving more and more." To prep for competitions, he added, Tavaras bulks up during the offseason and then sheds a staggering 50 pounds in just 14 weeks. It's during the offseason, he explained, "when the competitions are won."
Maintaining such an impressive physique does not come without sacrifice. "I get up at 4:30 in the morning," Tavaras revealed in a 2020 interview, noting that he was in the "ending phase" to reduce body fat and was doing 40 minutes of cardio "before I eat my breakfast."
Tony Taveras is also a successful entrepreneur
Tony Taveras is not only a champion at bodybuilding. Thanks to his appearances on HGTV's "No Demo Reno," he's a budding TV star, and he's also a wildly successful entrepreneur.
In an interview with Tomas Keenan's "Step It Up Entrepreneur" podcast, Taveras discussed his role as managing partner at Texas-based Linear Roofing, which he says has doubled in both its size and the revenue it's brought in for each of the previous five years. "There's no shortage of success," Taveras said of his philosophy of entrepreneurship. "People think that success is this limited resource, and they get jealous because someone else is being successful. But no, that just shows you the blueprint. You need to take a little bit of what they're doing and make it your own."
In fact, further expansion for Linear Roofing is in the works. In an Instagram post that Taveras shared in March 2021, he revealed he was working on expanding the company's reach beyond Texas to the East Coast. "This will be an incredible market for us as we now are becoming a national brand and authority figure in the industry," he wrote.