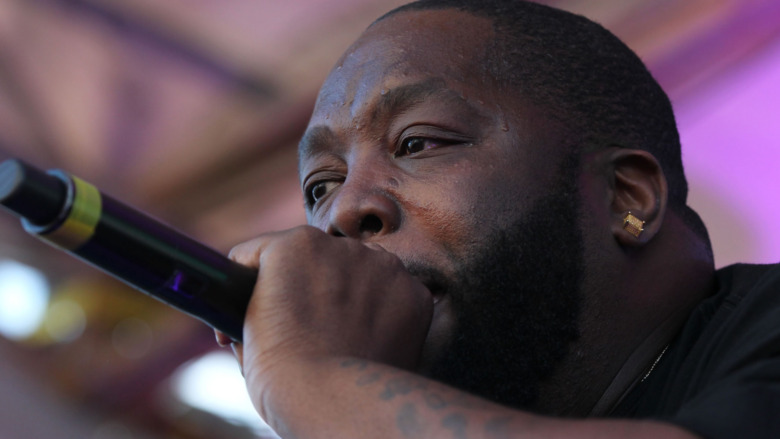 Jaime Meline and Michael Render, better known as El-P and Killer Mike of Run the Jewels, aren't exactly new kids on the rap block. The duo, which has been rapping together since 2013, came together after years of industry experience. Per NPR, El-P was a part of Brooklyn trio Company Flow, and he worked behind the mic, too, co-founding the record label Definitive Jux. Killer Mike, meanwhile, rose to prominence thanks to a feature on OutKast's "Stankonia" (Big Boi once told Trevor Noah on "The Daily Show" that signing Killer Mike was one of his "greatest accomplishments") and his own solo work.
That being said, the pair only reached the astonishing success they have now when they finally came together, and interestingly enough, they never expected it. As El-P told The New York Times, he and Killer Mike only thought they'd be making "a [expletive] mixtape as friends." Their self-titled debut album was met to "universal acclaim," per Metacritic, and even managed to get onto Billboard's Top R&B/Hip-Hop Albums chart.
Since forming Run the Jewels, the rap legends have successfully connected with their fans, weaving political and societal themes into their music with apparent ease. "I appreciate being in that moment with the people out on the streets and being the soundtrack to their moment," Killer Mike told NPR. This is the untold truth of Run the Jewels.
Run the Jewels is a subtle nod to an LL Cool J song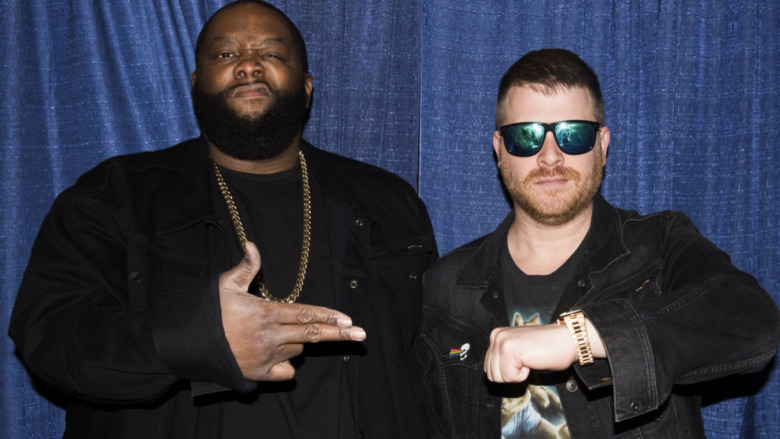 While Run the Jewels definitely sounds like a good name for a rap group, what the heck does it mean? According to El-P, the phrase is quite common in New York. As he told NPR, "If you were hearing the word run the jewels … you were in trouble."
More seriously, the rapper noted that the idea for their name came from a dark place, when he had "personally lost everything." Explaining that he was listening to LL Cool J's 1990 track "Cheesy Rat Blues" one day, he revealed that the lyrics truly resonated with him, as the artist was also rapping about "losing everything" and "being a rap star." If all of that wasn't pretty close to home already, LL finishes the song with the lyrics, "throw your hands in the air, wave them like you just don't care. But keep them there — run the jewels."
El-P notes that the song made him feel "bigger" and was "powerful" — something that their fans felt, too. "It became a life-affirming thing for them," added Killer Mike. Suddenly, "run the jewels" took on a different meaning for an entirely new generation.
Adult Swim played a big role in Run the Jewels' inception
Killer Mike and El-P were already industry veterans by the time they linked up to form Run the Jewels. As it turns out, it was thanks to Jason DeMarco, the vice president and creative director for Cartoon Network's "Adult Swim," that brought the two together (via Billboard).
As Killer Mike revealed to Thrasher Magazine, DeMarco linked the two men up in a studio, and after working on material for three hours, Killer Mike demanded they do a whole album. Eventually, after it was released, the pair went on tour. "El-P and Killer Mike opened for Run The Jewels," Killer Mike told Thrasher. "Then we'd come back out on stage as Run The Jewels, and for whatever reason, people went fu**ing nuts."
To this day, Run the Jewels know where they came from. "If Jason calls, we say yes," declared El-P to Billboard, adding that "he's like family." Sure enough, the rappers are close to "Adult Swim" and have collaborated with the company, releasing a "Rick and Morty" crossover music video in 2018, been a part of the network's "Singles Series," and even helped host a televised concert created to promote voter registration in 2020.