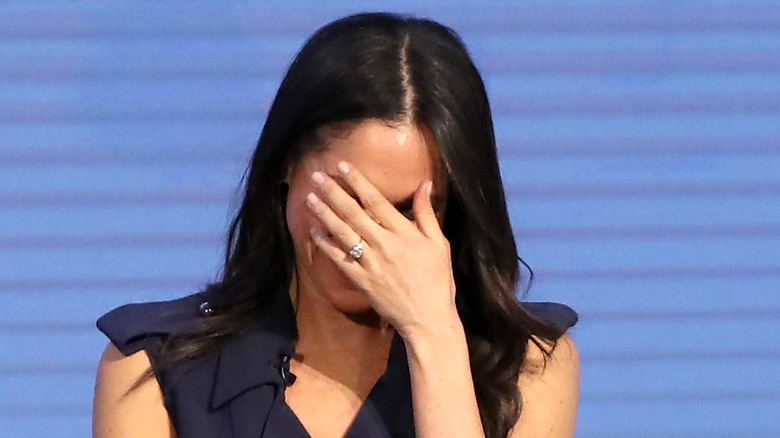 When you think of royals, you probably don't picture someone going au naturel in the makeup department. But more and more women are choosing to go without makeup these days. Even celebrities who are well known for their glam makeup — ahem, Christina Aguilera — are showing their bare faces on the covers of magazines. Alicia Keys has been absolutely rocking the look, even showing up on the red carpet sans foundation.
Keys, who has been fully committed to the #NoMakeup movement for years now, told Allure her philosophy on beauty, saying, "Beauty is from the inside out. My mother always said, 'Beauty is as beauty does.'" Keys also encouraged readers to define beauty for themselves, explaining, "It's your choice." That may be true, but does that notion apply to members of the royal family?
You may never see a photo of Queen Elizabeth without her makeup — sorry — but many royal women do actually go out in public without being dolled up. Need proof? Keep reading.
A rare makeup-free glimpse at Kate Middleton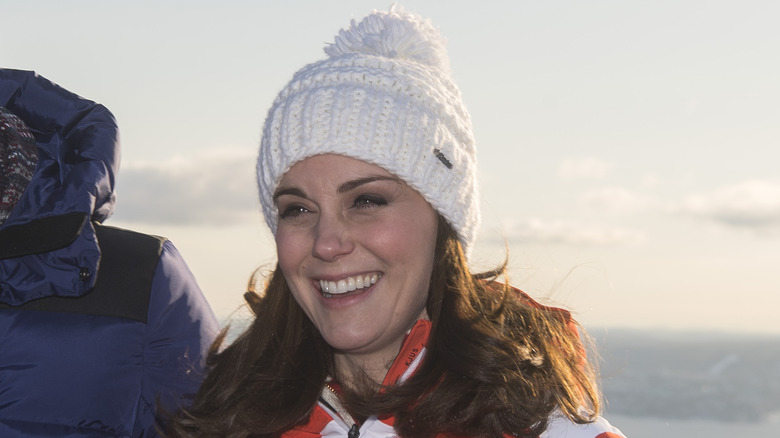 Although Kate Middleton is not one to sport winged eyeliner and false lashes — that would be amazing, though — she is normally seen out and about looking fresh-faced with the help of some foundation, blush, and eyeliner. Even while touring freezing cold Scandinavian countries, while also pregnant with her third child, Middleton was committed to her makeup. As is often the case with beauty products, though, her makeup proved it wasn't as committed to her.
A long day of official royal business in Oslo, most of which was outside, seemed to wreak havoc on Middleton's usual glow. Of course, Middleton still looked amazing (per usual) and she didn't seem to mind much. According to People, she even threw some snowballs at her husband, Prince William, which you'd have to imagine was the most adorable snowball fight ever. Could Middleton have taken a break to reapply her makeup? Probably. But it's pretty cool that she didn't seem to care. The show must go on, right?
Camilla Parker Bowles in her mistress years
While many have come around to Camilla Parker Bowles, it's hard to forget how she came onto the royal scene: as Prince Charles' mistress. As NBC News explained, she wasn't exactly beloved back in those days.
Despite the obstacles in front of her, Bowles, who is now married to Charles, has been working hard over the years to transform the public's perception of her. According to NBC News, she fulfilled 221 public engagements in just 2016 alone. Only her now-husband Charles and the queen participated in more. Not only that but Bowles has quite literally transformed.
Hello! magazine reported that the Bowles of the 1990s was very different than the Bowles of today. Back then, the paparazzi were more likely to find her wearing "loafers and old, patterned socks," which was a stark contrast from Princess Diana's glitz and glamour. Hello! also reported that one British newspaper in 1992 had the audacity to write, "She always looks as if she had just stepped off a horse. She never wears make-up and doesn't care too much about clothes." Ouch. You'd be hard-pressed to find a bare-faced Bowles these days, but she has never commented on why she made the change.
Sarah "Fergie" Ferguson: Prince Andrew era
As pictures prove, Sarah "Fergie" Ferguson — much like Camilla Parker Bowles — was not always the lover of makeup she is today. The similarities between her and Bowles don't end there, either. Ferguson was caught up in multiple controversies, including money troubles, a royal affair while married to Prince Andrew, and even her weight — not cool, people, not cool. It was during this tumultuous time in her life that Ferguson seemed to eschew makeup. Still, Ferguson has a good outlook on the past. In an interview with Swedish magazine Svenskdam (via People), she said, "If I could turn back time, I still wouldn't change anything."
While married to Andrew, Ferguson had two children — Princesses Eugenie and Beatrice. Not afraid to toot her own horn, Ferguson told the magazine, "I am very proud of my beautiful girls and we have a good relationship. They're evidence of good parenting, I'd say." Ferguson is frequently seen with her daughters, although now she's rarely without makeup.
Going makeup free isn't a gamble for Sarah Ferguson
Sarah Ferguson doesn't fear being photographed without her makeup on, particularly if she's in the midst of doing important work. As Hello! magazine reported in 2018, the Duchess of York went completely makeup-free during a charity trip to Janakpur, Nepal. Ferguson was working with Children in Crisis at the time and looked completely thrilled to be there. She did, however, turn up the glam while accepting an award for her charity work at the Filming Italy Sardegna Festival around that same time.
Fergie does what's necessary to age gracefully, admitting to the Daily Mail in 2019, "I've had a lot of help to look like this at 60!" However, the candid royal isn't a fan of Botox, preferring to look more like herself, which requires facial movement. She noted, "I don't like the thought of needles and am very glad if I look well and happy … I'm really happy to be open about what I've had done." Injections comprised of vitamins, minerals, and amino acids that tighten skin help the duchess continue looking radiant, whether she's done up to the nines or not, as is obvious from the candid photo above.
Just a smidge of eyeliner for Princess Eugenie of York
Princess Eugenie is a royal with style. Although she's usually all made up — not unlike her mother these days — she occasionally braves the world without one bit of concealer. When completing an overnight 63-mile long charity bike ride, she opted for only a little eyeliner and mascara, it seems. Can you blame her? A grueling ride like that would no doubt have taken her makeup off anyway.
By the end of the ride, Express reported that the princess raised nearly £10,000 ($14,080) for the Royal National Orthopaedic Hospital in London — a cause dear to Eugenie's heart. Just ten years earlier, Eugenie underwent a seven-hour spinal surgery to correct her severe scoliosis.
Imagine having had 8-inch rods in your spine, over inch-long screws in your neck, and then going on to ride over 60 miles — overnight — on a bicycle. And to look great doing so? Impressive doesn't even begin to describe her remarkable feat.
Princess Eugenie is a fan of going fresh-faced
She may be a royal, but Princess Eugenie worked from home during the COVID-19 pandemic just like everybody else. As People detailed, screenshots from the Anti-Slavery Collective showcased how Eugenie happily went without makeup during an important chat about the organization she co-founded in 2017. Eugenie actually works with several charities alongside her day job as the director of an art gallery. In fact, the busy working royal told Harper's Bazaar she frequently applies makeup in the car and has gotten pretty good at it as a result.
Eugenie always makes sure to remove her makeup before bed, noting, "I wash my face with Jo Malone Eucalyptus & Mint cleanser." Her makeup artist, Hannah Martin, who did her wedding makeup in 2018 too, told Hello! magazine that Eugenie's skin is primed using "a little Becca Backlit Priming Filter or Tata Harper Illuminating Moisturiser to instantly get that longed-for radiance." As she explained, "The soft pearl particles help to bounce and [reflect] light giving your skin that [lit] from within radiance." It certainly seems to be working!
Princess Beatrice of York was Plain Jane for a day
Princess Beatrice, the oldest daughter of Prince Andrew and Sarah Ferguson — and therefore ninth in line for the throne — shares a passion for fashion much like her sister, Eugenie. At times, however, that has led to bullying.
"Growing up in the public eye," Beatrice began when speaking at a charity event (via Express), "means that every embarrassing, slightly awkward growth spurt, or hilarious fashion moment are published around the world." Growing up royal may not be a problem many of us have, but almost everyone either knows firsthand or can imagine the effect bullying has on one's self-esteem.
Nevertheless, that doesn't stop Beatrice — or her sister — from going out in public donning untraditional outfits. In fact, the royal sisters are often photographed together, both sporting amazing dresses and tasteful makeup. When attending the 2012 Olympics, however, both sisters decided to forgo foundation. While Eugenie wore a hoodie and large sunglasses, Beatrice looked confident with her hair pulled back and no makeup. The girls cheered on their cousin, Zara Tindall, while she participated in the equestrian competition.
Princess Beatrice glows from within
Similar to her sister, Princess Beatrice frequently ventures out with her hair pulled back off her makeup-free face (even if neither of them look too pleased to be photographed in the process, which is fair enough). However, Beatrice also foregoes makeup in the line of duty. In May 2020, Hello! magazine reported she appeared completely fresh-faced while announcing the winner of Oscar's Book Prize, of which she has been a patron since 2017. According to the royal's friend and nutritionist Gabriela Peacock, Beatrice's glow comes from within, and Peacock noted that she encourages clients to stay well-hydrated (via People). As for beauty products, according to Redbook magazine, Beatrice uses Dr. Organic Snail Gel to keep her complexion youthful and bright.
Even when the royal steps out for a lunch date with friends, she's a master of casual chic. As Harper's Bazaar UK noted in May 2021, Beatrice looked amazing while en route to "exclusive eatery Scott's in Mayfair" in May 2021, opting for a Maje camel coat, black minidress, black tights, and Maje leather combat boots with her hair held back by a velvet headband and stylish sunglasses finishing it off perfectly. Subdued makeup completed the look for a lady more accustomed to going without if there's more important work to attend to.
The queen's granddaughter lives and breathes the #NoMakeup movement
Could Olympian Zara Tindall's ability to rock the no makeup look have inspired Princess Eugenie and Princess Beatrice to attend the 2012 games dressed down? It's hard to say but it's definitely not beyond the realm of possibilities.
Although she does not have an official royal title, Tindall is the queen's granddaughter, which also makes her the cousin of Prince Harry and Prince William. Despite being of the royal bloodline, Tindall has made a name for herself in quite a different way: as an equestrian — an Olympic equestrian. Pretty amazing.
Although you will see Tindall looking glamorous from time to time — like at her wedding for example — she seems equally comfortable going about her days with her hair pulled back into a simple bun and without any makeup on her face. And why shouldn't she? Her skin looks absolutely healthy and radiant. That said, please share your skincare secrets with us, Zara! We must know.
Lady Kitty Spencer's selfies are the real deal
If you happen to follow Princess Diana's niece, Lady Kitty Spencer, on Instagram, you'll know she loves the glam life. At just 27, Spencer began modeling for Dolce & Gabbana and she's been seen with heavy makeup in many of their advertisements. Although there's nothing wrong with that, she isn't always dressed to the nines and sporting smoky eyes, contoured cheeks, and red lipstick.
In one post, Spencer shared a selfie while on vacation in Royal Malewane, a safari lodge in South Africa, without worrying about being bare-faced. One Instagram user even commented, "You are so beautiful without make up!" while others told the royal she looked gorgeous.
She has also shared other photos of herself without makeup, including one en route to Perth and one while at the beach with friends. Spencer doesn't have to share her no-makeup selfies with the world, of course, but it's pretty cool that she does.
Meghan Markle wants you to see her freckles
In May 2018, Meghan Markle became royalty after marrying Prince Harry. Despite her more humble beginnings, it's difficult to find an unflattering image of Markle on the web — not that you should try to find one, of course. She seems to have a constant glow, whether she's wearing a full face of makeup or none at all.
These days, you'll often notice Markle with a bit of makeup on but she never goes overboard. There's a reason Markle prefers the barely-there or even no-makeup look: her freckles. "To this day," she explained in a 2017 interview with Allure (via Refinery29), "my pet peeve is when my skin tone is changed and my freckles are airbrushed out."
Markle's former hairstylist and makeup artist Lydia F. Sellers agreed, telling Refinery29 in an interview, "Every time I'd do her makeup, she'd say, 'Can we just make sure my freckles are peeking through? I don't want a ton of foundation.'" Way to embrace what you've got, Megs!
Amelia Windsor is a proud natural beauty
Lady Amelia Windsor has become something of a cult icon thanks to, as Marie Claire notes, her love of tequila, tattoos, and cheesy chat-up lines. The daughter of the Earl and Countess of St. Andrews is frequently spotted in London proudly displaying her blemish-free skin in all its glory. She revealed that using toner — or more specifically, Ren's Glow Tonic — has "totally transformed" her complexion. Her biggest makeup tip, in fact, is less is more, reasoning it's better to simply "look after your skin and protect it." She ensures "regular LED facials" are a part of her routine. Daily sunblock is also a must.
Considering how much time and effort Lady Amelia dedicates to taking care of her skin, it's unsurprising she's often seen without a dot of makeup on. The model admitted her take on beauty has changed over the years in an interview with Harper's Bazaar, explaining, "I used to spend a lot of time in the sun and I now realize that is just not a good idea." Clearly, she's not afraid to change up her routine to take care of herself and her skin.