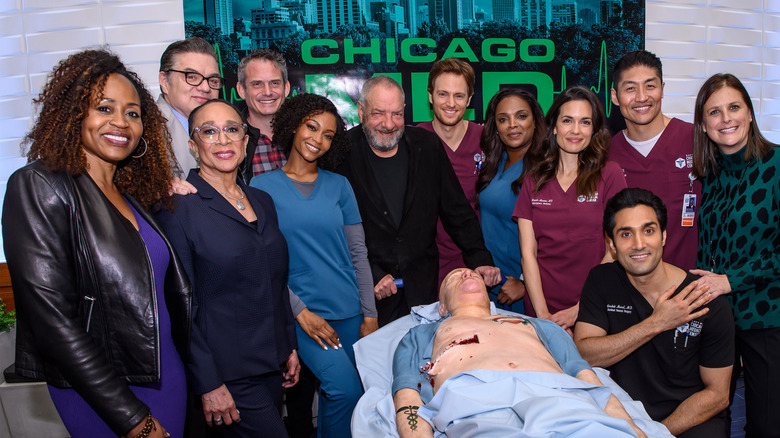 Will we ever tire of melodramatic medical TV shows? What seems like it should be a niche category has become a full-on genre, starting with "M*A*S*H, which ran from 1972 to 1983, and going all the way to "The Good Doctor," which began in 2017 (via Screenrant). In between those two periods, we've been graced with countless seasons of fan favorites like "Grey's Anatomy," "Call The Midwife," "ER," and "House."
One of the series currently airing is "Chicago Med," which belongs to the Dick Wolf-produced "One Chicago" franchise and follows the lives of the courageous doctors, nurses, and staff who all work in the Windy City's newest state-of-the-art trauma center (via NBC). It's chaotic, it's emotional, and it's a little bit bloody. However, what keeps fans coming back for more are the sizzling romances that get threaded throughout each episode. But when the show's cast members hang up their scrubs after a long day of filming, who do they come to? Are their romantic lives as sensational and steamy as the ones they fake on TV? Let's find out.
Brian Tee keeps thing private with wife Mirelly Taylor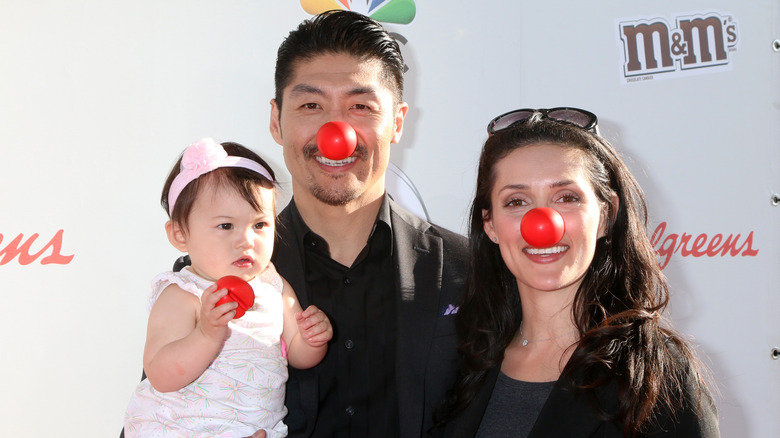 If not for the adorable content his wife, Mirelly Taylor, posts to social media, fans wouldn't know much at all about Brian Tee's love life. The actor, who plays Ethan Choi on the show, has been married to Taylor for many years but has for the most part kept his personal life hush-hush. That is, until the birth of his dear daughter, Madelyn Skylar, in 2015. At that point, the "Chicago Med" actor couldn't keep his mouth shut about what was going on behind the scenes (via Amo Mama).
"I guess every dad would imagine their daughter to be an angel baby, but I have to tell you that she's an angel baby," the newly-minted father told People shortly after the birth. "She's definitely feisty and has her own mind, but she doesn't necessarily cry." He also described his girl as "extremely patient" and an "old soul" who is "teaching us how to be parents." Can you say "daddy's girl"?
Long distance got in the way of more than one of Torrey DeVitto's relationships
Torrey DeVitto's love life, on the other hand, somewhat mirrors the complicated nature of her on-screen romances. According to Amo Mama, Devitto (who plays Natalie Meaning on the show) met fellow actor Paul Wesley on the set of "Killer Movie," and they said "I do" four years later. However, after DeVitto landed a small role on "The Vampire Diaries," the pair had to work and live states away from each other. They made it work for a couple of years, but the demise of the marriage came shortly after.
After that, Torrey began a relationship with actor and comedian Rick Glassman. But Torrey's gig in Chicago kept her far from her L.A.-based beau, and they called it quits after a year of dating. A few months post-breakup, the actress was snapped with the "Dancing with the Stars" pro Artem Chigvintsev. The talented couple made their relationship last for a whole trip around the sun before Torrey reportedly ended it. According to Us Weekly, long distance was the culprit yet again. The star went on to date fellow "One Chicago" franchise cast member Jay Halstead for a while, but confirmed her most recent romance with "Blue Bloods" star Will Estes in 2020, per Amo Mama.
Yaya DaCosta's relationship with her director beau had fans all kinds of confused
In 2012, news outlets reported that Yaya DaCosta, who plays April Sexton on the show, had divorced from her husband of two years, director Joshua Bee Alafia. Although she rarely talks about her personal life, DaCosta decided the clear the air in an Interview with Madame Noir that took place four years later. "I never got divorced because I was never married," the model-turned-actress said. "But I did have a child with someone, which is more of a commitment than marriages these days anyway." She also used the occasion to explain her reasoning for ending the relationship. "I broke up with him right after the birth because like I said, it was an enlightening experience," she said.
But here's where things get confusing: In 2015, Page Six reported that the former "America's Next Top Model" contestant filed papers for a contested divorce against Alafia in Manhattan Supreme Court. If they were never married, why would they need a divorce? The whole thing remains shrouded in mystery.
Nick Gehlfuss got married on Friday the 13th
Nick Gehlfuss, who plays Will Halstead on the show, somehow managed to pull a wedding together at the height of the COVID-19 pandemic, on Friday the 13th no less. He told People in December of 2020 that he and his partner, Lillian Matsudo, had a "big wedding in Ohio" right before a blizzard hit. But on the day of big fiesta, the weather was ideal. "It rained that day in the morning, which is good luck. And then it was perfect after that," the actor said. He also said he wanted to invite his castmates, but would've had to invite the entire franchise to make it fair. They congratulated him nonetheless. Co-star DaCosta gushed about the couple to People, saying, "We're so happy for Nick. We're ecstatic. She's unbelievably cool They're perfect."
Unfortunately, Gehlfuss had to spend what should have been his honeymoon promoting the upcoming season of "Chicago Med." He and Matsudo plan on heading to Japan for a proper honeymoon sometime in the near future, per People.
Colin Donnell had a Bachelor-themed wedding
According to Amo Mama, Colin Donnell met Patti Murin while they both worked on the theatrical drama "Love's Labour's Lost." He popped the question a year later, and the pair got married a year after that. But it wasn't your ordinary big day. You see, Murin is a die-hard fan of "The Bachelor" and its many spin-offs and dreamed of one day having her very own rose ceremony. Colin made that dream come to fruition by planning a wedding ceremony in the show's signature style. Thankfully, he didn't run off with his runner-up like some Bachelors we know (we're looking at you, Arie and Jason).
In early 2020, the couple shared the news that they were expecting their first child together. That July, Donnell took to Instagram to introduce his friends and fans to his precious daughter, Cecily Philips. He captioned the post with a sweet quote that read, "Life is not the things you do, it's who you're doing them with." Hear, hear!
Out of all of his co-stars, Oliver Platt has had the longest relationship
Although Oliver Pratt's "Chicago Med" character, Daniel Charles, has been married four times, Pratt took a stroll down the aisle only once. According to Celeb Live Update, Oliver Platt married his sweetheart Camilla Campbell, who works as a director of admissions at New York City's Grace Church School, in 1992. They share three beautiful children: Lily, who was born in 1995; George, who was born in 1997; and Clare, who was born in 1999.
The year his youngest was born, the actor told Tulsa World that he'd decided to turn his focus away from the stage and toward the big screen now that he had kids at home. "I've got a wife and three kids, so film is just the most viable thing for me right now," he said. "I still love the theater, but the commitment in time and energy to do live theater is so great, and, frankly, the financial rewards are just not as attractive. When you have a family, you have to think about those things. Platt, along with several of his co-stars, frequently shares photos of his familial crew on social media. We hope they keep them coming!