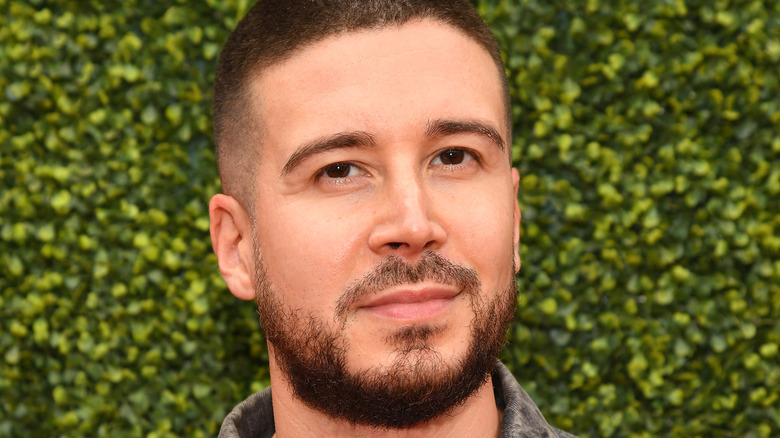 Vinny Guadagnino was the quietest guy in a house full of big personalities in the early days of "Jersey Shore." That's no longer the case. Over a decade in the spotlight, Guadagnino has blossomed from a shy 21-year-old into a self-assured, suave 33-year-old. He's stolen the hearts of many while still maintaining that mama's boy charm that made many fall for him in the first place.
Guadagnino's first public relationships were the clumsy hookups of the initial seasons of "Jersey Shore." He got together with castmate Angelina Pivarnick in Season 2 of the show. That season, he also hooked up with Nicole "Snooki" Polizzi for the first time. The two would come together again in Seasons 3 and 4 (per Life & Style Magazine).
There was also an encounter on the series that led to his first relationship while in the spotlight. He dated Romanian model Ramona Nitu after they met during the filming of Season 2 in Miami (per InTouch Weekly). He was into her, but it all came to a halt when she ghosted him for a date.
Vinny Guadagnino started dating Melanie Iglesias in 2012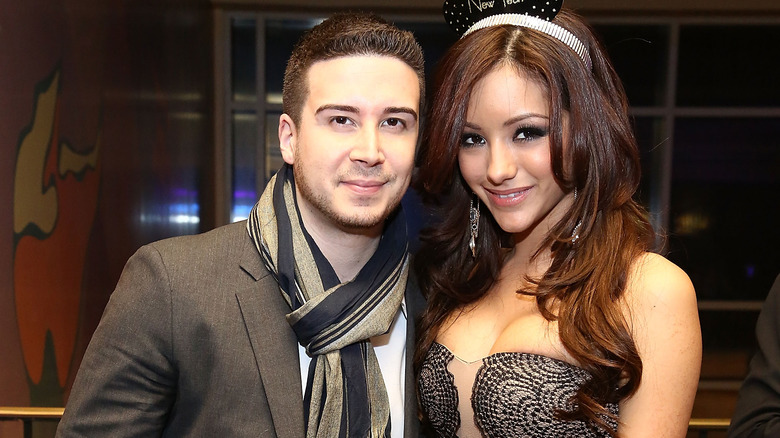 Vinny Guadagnino gave a relationship a shot in 2012 when he began dating his "Guy Code" co-star, Maxim model Melanie Iglesias (per InTouch Weekly). Though the two made a number of red carpet appearances at events during their time together, both kept things pretty quiet when it came to the relationship itself.
The couple was together for two years before a messy ending in which Iglesias went on a Twitter rant, claiming that Guadagnino cheated on her (per MStars News). His response was that there was more to the story than what she tweeted out.
To make matters more interesting, Guadagnino's mom stepped in to comment. She slammed Iglesias as "immature" for airing the couple's dirty laundry online. She also asserted that no one should be in a committed relationship at 25. Today, Iglesias has moved on to a career in the music industry.
Vinny Guadagnino and Elicea Shyann didn't last
In 2017, "Jersey Shore" fans were excited to hear Vinny Guadagnino and the gang were back on "Jersey Shore: Family Vacation." On that season, Guadagnino was dating model Elicea Shyann. She famously lashed out at Guadagnino and the show after episodes teased him flirting with other girls, until he ultimately cheated on her. Her since-deleted Twitter rant targeted people who enjoyed the show for taking joy in other people's pain (per The Ashley's Reality Roundup).
The pair broke up in April 2018. Guadagnino addressed the drama in an interview with Entertainment Tonight. "There was problems beforehand … [the show] is the type of thing that could really be the straw that breaks the camel's back," he explained. "Not because I'm out there doing anything, you don't talk to the person for a month because you don't have a cell phone, you don't have a TV … you don't have communication so, you're like calling them every other day … On the duck phone! You can't even hear them."
"Plus, we had a long distance relationship; she's from California, I'm from New York, which can already be impossible for somebody … so a lot of things just made us feel like, listen this can't happen right now, maybe down the line."
Vinny Guadagnino's fizzled relationship with Alysse Joyner
Vinny Guadagnino took a chance at finding love alongside his "Jersey Shore" bestie Pauly DelVecchio (better known as DJ Pauly D) on "Double Shot at Love" in 2019 (per IMDb). Contestant Alysse Joyner had some real chemistry with Guadagnino, and she ended up being the last woman standing.
The necessary evils of reality TV messed up things for the could-be couple, however. In order to not spoil the ending of the show for viewers, the two couldn't see each other between the time the show filmed and the time that it aired (per InTouch Weekly). In that time, he claimed the feelings between the two fizzled out.
Joyner told a different story. On Twitter, she shared her side, saying that Guadagnino wouldn't answer her texts, but she later found out he was texting another contestant from the show — Maria Elizondo.
Maria Elizondo and Vinny Guadagnino are now just friends
Maria Elizondo was invited back for the second season of "Double Shot at Love." There, she got another chance at love with Vinny Guadagnino. "It feels so weird to be around Vinny again," she said (per People). "I thought I would be able to just come and have fun with the girls and not care about Vinny, but that's just not the case at all."
Things got hot between Guadagnino and Elizondo on the show, but it didn't go the distance. There were no hard feelings at the end of this relationship, however, as Elizondo shared. She addressed rumors that she dated someone else after her time on the show. "I was seeing someone when I got home from filming for a few months. No it didn't work out but no shade to them lol it just wasn't good timing for me," she tweeted. "As far as my situation with Vinny: we are friends and I wish him genuine happiness."
Vinny Guadagnino's been linked to a new reality starlet
Most recently, Vinny Guadagnino has been linked to "Too Hot to Handle" star Francesca Farago. During July 2020, the two were spotted out together a number of times. They also exchanged some seriously flirty comments on Instagram, leading fans to believe they were in the throes of something new (per E! News).
Neither of the two confirmed or denied the rumors at the time. Since then, Farago has been linked to "The Only Way Is Essex" star Demi Sims. The two were spotted kissing on a beach in Mexico in early 2021 (per Page Six). The two seem to be going strong going into summer 2021, meaning that Guadagnino is definitely out of the picture.
As for the "Keto Guido," he's still looking for love. He recently filmed Season 3 of "Double Shot at Love," which will see Pauly D and girlfriend Nikki Hall help guide Guadagnino in his journey (per ScreenRant). It's unclear when it will air, but fans are keeping an eye on his Instagram activity for hints at who the lady in his life is.