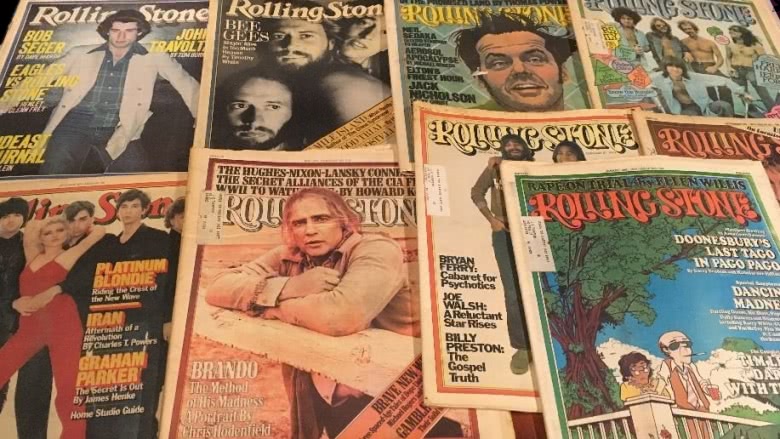 Rolling Stone is the music magazine that defined what your dad (or maybe even your granddad) thought was cool since it hit the stands around 50 years ago. It started in the hippie counterculture but had a more traditional journalist voice and focus of music over politics than contemporary underground mags that reeked of weird sex and incense. Even so, it has been accused of being frozen in the era of its heyday and blowing off modern innovations that could have worked in Rolling Stone's favor.
The origins of the magazine's name are needlessly vague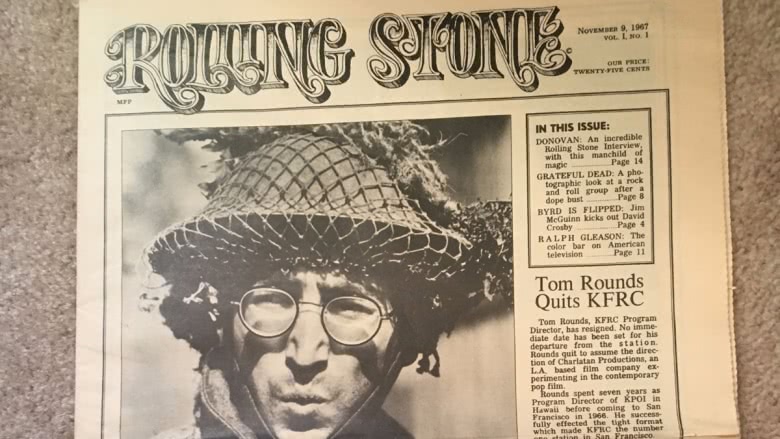 Rolling Stone magazine's first issue came out in November 1967, the autumn after the "Summer Of Love" that cemented the hippie movement as a thing. The reasoning for the name of the magazine was outlined in a fittingly rambling mess of an editorial note by founder Jann Wenner. It's an old saying and also a Muddy Waters song lyric but also a Bob Dylan song and also the name of a band. Fan magazines and trade press are pompous, anachronistic mythological crap, but Rolling Stone was here for every person who "believes in the magic that can set you free."
Dig it? No? Then you must be that moss the stone is rolling away from, or something.
There isn't much evidence of any legal dispute between the band and magazine that share a name. However, at one point, Mick Jagger tried to parlay "permission granted" from the former to latter for use of the name into publishing some cover stories, ad space, fashion tips, and whatever else (Star Trek fanfiction?) the drugs of the time were inspiring Jagger to write about. Unfortunately, only the initial letter from Jagger to Wenner survives from that correspondence, so there's no telling how it turned out.
Dr. Hook And The Medicine Show get on the cover the most passive-aggressive way
Dr. Hook and the Medicine Show was a weird country rock band known for songs that are almost definitely about drugs and being a writing outlet for the weirder thoughts of already weird children's poet Shel Silverstein. One of the earliest tracks that Shel "Yes the dude that wrote Where The Sidewalk Ends" Silverstein wrote for the band was simply called "The Cover Of Rolling Stone" and was about exactly what it sounds like. It laments the tale of a rock band who has enjoyed all of the earthly pleasures available to them except for an appearance on the magazine's cover.
It was silly but also kind of presumptuous for a band that hadn't even had their first hit. Hilariously enough, however, the song became enough of a hit that it caught the magazine's attention. Proving that passive-aggressiveness could go both ways, instead of taking a photo of the band, the March 29,1973, issue of Rolling Stone displays caricatures drawn of the core band members, dubbing them the "What's-Their-Names."
The '70s were weird, y'all.
George Harrison wrote a sequel to his most famous song to make a jab at Rolling Stone
1974 was a bad year for ex-Beatle George Harrison. After the success of his album Living In The Material World, which poised him to be THE ex-Beatle to keep an eye on, the stress of intensive touring and health problems (including an audibly strained voice) spiraled him off into a decade or so of the worst regarded work in his career.
Rolling Stone launched some pretty hurtful barbs about the direction Harrison's career was clearly going, and Harrison got back at them … sort of … through an embarrassment of a song called "This Guitar (Can't Keep From Crying)." The final release of Apple Records, it was a conscious throwback to the sounds that listeners (including Rolling Stone staff) had grown accustomed to from him, but it came from a bleak sardonic place that was new and alien and disconcerting. He was throwing it back in their face.
Unfortunately, even though the song wasn't that bad, inviting comparisons to his finest work doomed it to failure. The bleak tone the song and subsequent work such as his next album Extra Texture (Read All About It) drove away longtime collaborating bassist Klaus Voormann because the vibes got too harsh. And all this from "the nice Beatle!"
Rolling Stone was the jumping off point for the careers of a diverse cast of weirdos
It's hard to imagine, thinking of the now-slick Rolling Stone as the counterculture icon it once was. In its early days, it brought in a motley crew of terrifying and brilliant weirdos that changed the face of rock music and political journalism, photo, and film.
Certainly none of these weirdos was as terrifying as the late, great Hunter S Thompson, who serialized his masterwork Fear And Loathing In Las Vegas in the pages of the magazine, transmitting it and other pieces in at the oddest hours of the night on a grumpy outdated fax machine they had set aside for his work. Or at least he did when he wasn't blowing off deadlines drinking, losing his notes, or just not even bothering to turn in assignments. He was a genius, but that didn't make him easy to work with.
Fellow gonzo journalist PJ O'Rourke's gradual shift from hippie to right-wing libertarian frequently provided a humorous counterpoint to the largely left-leaning slant of the magazine, even as O'Rourke himself branched out into being the editor-in-chief of legendary humor magazine-turned-early multimedia giant National Lampoon.
Cameron Crowe joined the magazine when he was barely legal enough to do so, and parlayed his experience into a career in filmmaking with titles like Fast Times At Ridgemont High, Say Anything, Jerry Maguire, and Almost Famous, among others. Joe Eszterhas (Flashdance, Basic Instinct, Showgirls) also made a similar career change from journalism to film after his stint at the magazine.
And this bizarre streak of communal talent wasn't limited to just the writers. Longtime photographer Annie Leibovitz has captured some of the most iconic photos in music history and David LaChapelle's art-history inspired portraits are some of the most coveted in the fashion world. Considering owner/founder Jann Wenner has fired later staff for not praising Hootie and the Blowfish enough, it's amazing he held on to so much talent for so long.
The "John Lennon Tribute Cover" is one of the last photos of Lennon ever taken
The January 1981 issue of Rolling Stone, published a month and a half after the murder of John Lennon, had the now-iconic shockingly candid photo of a nude Lennon in a fetal position caressing his wife Yoko Ono, who was fully clothed. The fragile poignancy of the photo is amplified by how the photo itself was not only a bit of a fluke but was also one of the last taken of him before he died.
Photographer Annie Leibovitz was assigned to get a photo of Lennon alone, but he insisted that the photo be of him and Ono together. He was shot 12 hours after the photo shoot. Considering the photo is the last of them together, the last of John Lennon himself being taken by a fan shortly after signing an autograph for his killer Mark David Chapman, you can spook yourself bonkers considering the prescience of that urgent request.
The magazine has frequently been accused of being stuck in the 1960s
Being a product of the 1960s counterculture, Rolling Stone has frequently found itself seeming reluctant to abandon its own roots and vision decades later. Music changes and evolves, and a magazine wanting to continue reporting on it needs to turn in the tie-dyes and get with the program, grandpa.
But as the years went by, the magazine's "Best Album" list kept getting dustier and crustier until it became laughable. Like, sorry dad, but maybe not every Led Zeppelin album counts as "the best," and maybe some good albums came out after 1980 that weren't just vanity solo projects of former hippies. A whole book was written by Gen X and millennial rock journalists (some former Rolling Stone alumni) breaking down how every predictable fave album of the magazine secretly sucks. Take that, you old fogeys!
Owner Jann Wenner was publicly outed in 1995, sparking a discussion on ethics
In 1995, Rolling Stone founder Jann Wenner separated from his wife Jane, who at the time co-owned the magazine with him. This would have been scandalous enough, but he had done so to pursue a relationship with a man, making it front page news. As in front page of the Wall Street Journal, which also mused whether such a scandal would tank the magazine.
Thankfully, being the mid-'90s, when literally everyone was bisexual for at least a few months, he managed to keep his media empire relatively intact. However, it did open up a conversation on the ethics of publicly outing LGBT people in the press without their permission. Considering over two decades later the Gawker media brand was sunk in the aftermath of outing billionaire Peter Thiel, it's a conversation that clearly still needs hashing out.
Jann Wenner has blown some really great opportunities that could have advanced the Rolling Stone brand
Clearly, at some point, Jann Wenner had some serious foresight, founding Rolling Stone in the environment he did and latching on to this particular rock and roll spirit. However, many of his subsequent decisions read like a list of almost was-es that would make you tear your hair out.
For starters, he was offered and early share of MTV at the very ground floor that could have earned him billions. This was back when they had music videos! He was also an extremely late adopter for both Internet and Kindle/tablet availability for the magazine and articles, which now seems more appropriate from an old hermit in a shack who refuses to install electricity than from the owner of a respected rock and roll publication.
The "Boston Bomber" cover was one of their most controversial ever
Rolling Stone has had many controversial covers before, and technically this wasn't the first time they put someone involved with a mass-killing on the cover, but something was definitely … off about their cover featuring Dzhokar Tsarnaev, the "Boston Bomber." Maybe it was because they chose an airbrushed, soft-lit photograph that made him look like he was about to drop the hottest ballad-folk album of the year. Maybe it was because this was 2013, not the '70s, '80s, or even '90s, and critics insisted it would have been much more responsible to cover first responders or victims instead.
In any case, it caught a lot of attention, which was good for a magazine clearly beginning to struggle with social relevance decades after its peak, but it still seemed in extremely bad taste. The cover was kind of a bomb.
Jann Wenner also chairs the Rock and Roll Hall of Fame and some artists say he snubs them
Rolling Stone founder Jann Wenner chairs the Rock and Roll Hall of Fame, a position that has garnered a lot of controversy over the years. The induction process is secretive and has little transparency, leading to frequent rumors that Wenner himself holds a sort of puppet master role controlling who gets in.
A lot of seemingly deserving acts have been outright shunned. An insider confirmed that acts like Depeche Mode and The Cure may never get on the ballot, overlooking their pioneering electronic and dance music work to write them off as mascaraed misfits. LL Cool J has been nominated three times and turned down and turned down and turned down wow. Nine Inch Nails, The Smiths, Whitney Houston, Duran Duran, and The Replacements have all appeared on the ballot but have been turned down in favor of more fogey-friendly acts. Now where have we heard about Wenner maybe having a stuck in the '60s attitude about what makes good music? Oh, right.
A few artists have straight-up accused Wenner or other board members of snubbing them. Jon Bon Jovi, for one. Peter Tork from the Monkees has suggested the same, specifically calling out Wenner by name. Paul Stanley from KISS has also reserved some choice words for Wenner. Regardless of what you think of the quality of these acts, at least they are folks we've all heard of, rather than actual Hall of Fame inductees like early 1960s one-hit wonder Del Shannon, whom you may not have.