Being a child actor isn't easy. It's a life where the struggles of puberty are only matched by the pressures of the entertainment industry. While some child actors continue their careers well into adulthood, others find themselves on a different path. Sometimes, it's a desire to continue their education or pursue a new calling in life. Other times, it's simply a decision to leave Hollywood behind.
Here are 10 beloved child actors from movies and television who lead very different lives today.
1. Mara Wilson
Beginning her acting career at age six in Mrs. Doubtfire, Mara Wilson became a pro in front of the camera by the time most of us finish first grade. Wilson then racked up high profile roles in movies including Matilda and Miracle on 34th Street. By age 13, she discovered she had grown out of the child acting profession, both literally and metaphorically. Since then, she has gone on to graduate from NYU and pen her own memoir, Where Am I Now?: True Stories of Girlhood and Accidental Fame. At 33, Wilson has established herself as an accomplished journalist in her own right.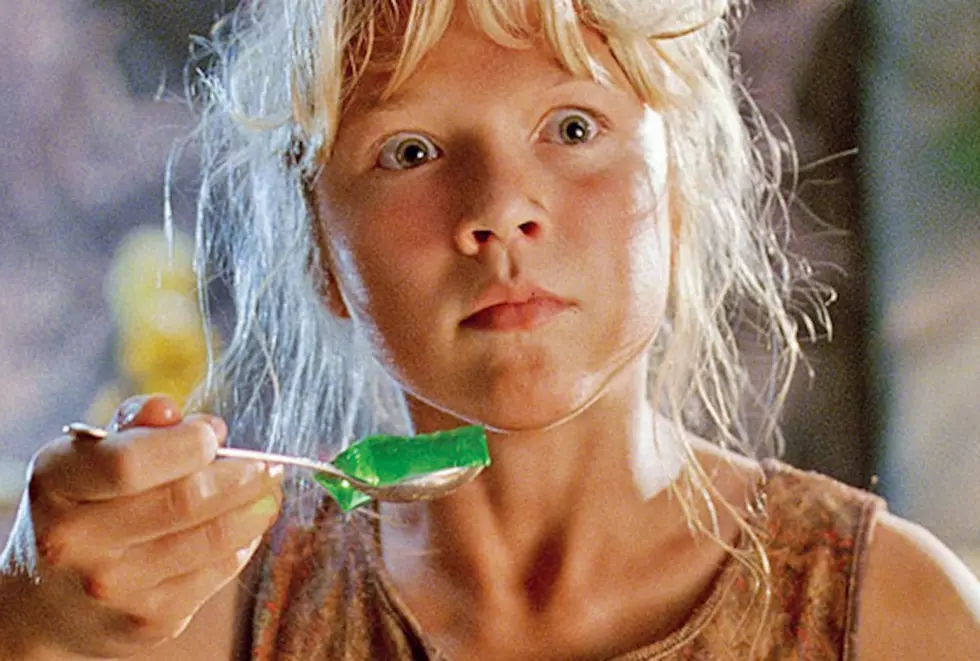 2. Ariana Richards
Ariana Richards is best known for playing Lex Murphy in Jurassic Park, a role she took on at just fourteen years old. Afterwards, she appeared in a few made-for-TV movies as well as a cameo in The Lost World: Jurassic Park, but Richards was compelled to continue her education. She graduated from Skidmore College in 2001 with a degree in Drama. These days, Richards spends her time and talents on fine art. A talented painter, Richards even runs her own art gallery in Portland, Oregon. "Sometimes I'm on the pulse of what's happening in Hollywood, but other times, I'm just totally absorbed by what I'm creating on the easel," she told the Wall Street Journal in 2011. Now 41, Richards is married with one son.
3. Jake Lloyd
It's not easy to take on the role of Anakin Skywalker at eight years old. Lloyd had big shoes to fill in Star Wars: The Phantom Menace, playing the kid-version of a character who would later become the villainous Darth Vader. But while his Star Wars credit should have made him popular with his classmates, the result was the opposite. "My entire school life was really a living hell," Lloyd told the Daily Telegraph in 2012. He retired from acting at age 12, unfortunately falling into trouble in his adult life. Lloyd, now 31, was arrested in 2015 for a reckless driving incident, eventually being transferred from jail to a psychiatric facility in 2016.
4. Jeff Cohen
Jeff Cohen will forever be known as Lawrence "Chunk" Cohen in Richard Donner's The Goonies. But despite his natural charisma and "Truffle Shuffle" dancing skills, Cohen's career took a different direction. He told The Guardian in 2015, "My first love was acting but puberty had other ideas. It was a forced retirement. I didn't give up acting. Acting gave me up." He went on to earn a business degree from UC Berkeley, eventually re-entering show business as an entertainment lawyer. Now 46, Cohen is a partner at his own Beverly Hills law firm, Cohen Gardner LLC.
5. Carrie Henn
Carrie Henn's entire acting resume consists of one credit — space orphan Newt in James Cameron's Aliens. At just nine years old, Henn won a Saturn Award for Best Performance by a Younger Actor. Despite her natural gift for acting, Henn chose to leave the entertainment industry behind. At 44, Henn has settled into her career path of choice. She's an elementary school teacher, and she has no regrets about not being an actor. "I would miss being in the classroom," Henn told People in 2001. "I love being in there with the kids."
6. Charlie Korsmo
Playing Robin Williams' son in a Steven Spielberg-directed sequel to Peter Pan is an impressive credit for a pre-teen to have. But after completing Hook at 13 years old, Korsmo felt a desire to return to school and a life of normalcy. "I suddenly found I didn't really have friends my own age anymore," he told People in 2018. After studying physics at M.I.T, Korsmo wanted to give acting another shot. He appeared in the teen comedy Can't Hardly Wait, but this ended up being his last on-screen role. Korsmo then earned a law degree from Yale and now teaches at Case Western Reserve University School of Law. Now 42, he lives with his wife and two kids in Cleveland, Ohio.
7. Jason Zimbler
Kids growing up in the 90s remember Jason Zimbler best as the most annoying younger brother on television, Ferguson on the Nickelodeon show Clarissa Explains It All. But as Zimbler neared college age, he left Hollywood for the University of Notre Dame. Zimbler got degrees in both business and theater directing, which helped him co-found The Re-Theater Instrument company in Portland, Oregon. As of 2011, Zimbler relocated to New York City to work for HBO as a software designer.
8. Amanda Bynes
At only 10 years old, Amanda Bynes was acting regularly on the sketch comedy show All That. It wasn't long before the producers recognized a true comedy talent. By the age of 13, she was starring in the The Amanda Show, which ran until 2002. Bynes went on to star in She's The Man, Hairspray, and Easy A before calling it quits at just 24 years old. "Being an actress isn't as fun as it may seem," she tweeted in 2010. "I don't love acting anymore, so I've stopped doing it. I know 24 is a young age to retire, but you heard it here first." Since then, Bynes has grappled with mental health and addiction issues.
9. Danny Lloyd
Danny Lloyd may have acted in one of the most iconic horror films of the 20th century, but he didn't know it at the time. Director Stanley Kubrick led Lloyd to believe that The Shining wasn't a horror film, but rather a drama about a family living in a hotel. The experience certainly didn't scare Lloyd away from acting, but he decided the profession wasn't for him anyway. He "retired" from show business at age 10. Now 48, Lloyd is an anatomy professor at Elizabethtown Community and Technical College in Kentucky. He made a quick cameo in the 2019 Shining sequel Doctor Sleep, his first acting role in 38 years.
10. Peter Ostrum
Peter Ostrum was only 12 when he was whisked away to Germany to film Willy Wonka and the Chocolate Factory. Ostrum was then offered a golden ticket to a career in Hollywood: a three-movie franchise deal. But by then, Ostrum's interests had shifted. Following his time filming in Germany, the family acquired a horse, sparking his love for animal care. Ostrum turned down the movie studio's offer, and instead went to veterinary school. "Acting was fine, but I wanted something more steady, and the key is to find something that you love doing, and that's what my profession has given to me," Ostrom told AVMA in 2000. Ostrum, now 63, continues to work as a veterinarian in upstate New York.
Gallery — The Best Performances By Non-Professional Actors:
Mya Taylor and Kitana Kiki Rodriguez, in Tangerine (2015)
With Tangerine, Baker did what few filmmakers telling transgender stories do – he sought out actual trans individuals to lead his film. Baker met Mya Taylor in the courtyard of the Los Angeles LGBT Center while researching the film. After a few meetings at a local Jack in the Box where she shared stories about her life as a sex worker, Baker cast Taylor and her real-life best friend Kitana Kiki Rodriguez as Alexandra and Sin-Dee, respectively. Both performances are full of authenticity, something often missing from portrayals of trans women onscreen. Taylor and Rodriguez bring a searing vivacity and realness to their characters, and their real-life friendship makes their character's bickering back-and-forth and supportive tenderness all the more believable. Their work in Tangerine is not simply a testament to their abilities as actresses, but also proof why trans people should be cast in trans roles – the layers of rawness to their performances can only come from a place of true understanding of what it means to go through life as a trans woman of color.
Sasha Lane in American Honey (2016)
Filmmaker Andrea Arnold has become known for her unconventional casting methods. Her Fish Tank star Katie Jarvis was spotted by Arnold's casting agent at a train station in the midst of a fight with her boyfriend, and for American Honey Arnold filled most of her cast with youths found in Walmarts and parking lots across the country. But the 22-year-old Sasha Lane was her biggest discovery yet, a girl Arnold spotted partying on the beach in Panama City for spring break. It's not just Lane's look – her tattoos, dreadlocks and bohemian laid-back aesthetic – that make her such a perfect fit the ever-curious Star, but the spirited energy she brings to the screen. There's a fiery wonder in her eyes and a fluctuating mix of fearlessness and timidity that makes her impossible to look away from. Next up Lane is working with Ben Wheatley, Desiree Akhavan and Nell Marshall for the Hellboy reboot, which will surely make for an interesting career to come.
Quvenzhané Wallis and Dwight Henry in Beasts of the Southern Wild (2012)
We may not think of Quvenzhané Wallis as a non-professional actor since she become an Oscar darling and went on to star in the remake of Annie. But when Wallis walked into a Louisiana public library to audition for Beasts of the Southern Wild, she was just five-years-old and had never acted in her life. She's a magnetic screen presence in the 2012 film, a spunky firecracker of energy with a heartbreaking sweetness and sincerity. It's one of the most moving performances from a child actor in recent memory. But Wallis isn't the only non-professional standout in the Benh Zeitlin film; Dwight Henry also gives a wonderful performance as Hushpuppy's father Wink. Before Beasts, Henry was a baker in Treme, New Orleans, and has continued his baking business while acting, appearing in 12 Years a Slave and The Birth of a Nation, among others films, since.
Arielle Holmes in Heaven Knows What (2014)
Similar to Tangerine, the Safdie brothers largely based the addiction drama's story on their lead actor's life as a homeless heroin addict on the streets of New York City. After spotting Holmes in Manhattan's Diamond District, the brothers met with her at a Chinatown restaurant to hear her story, then paid her to write a memoir, which she did using Apple Store computers. It became the source material for Heaven Knows What, in which Holmes plays Harley, a fictionalized version of herself, and all while Holmes was still in recovery. So many drug films rehash the same tropes of jittery, melodramatic junkies, but there's an unshakable realism to Heaven Knows What, partially due to their filmmaking style, but mainly thanks to Holmes' unwavering intensity. Bonus shoutout to Buddy Duress, also discovered through street casting, who gives incredible manic performances in both Heaven Knows What and this year's Good Time.
Alex Hibbert in Moonlight (2016)
The Chirons were all relatively unknown faces before Barry Jenkins' Best Picture winning film, but Alex Hibbert was the only ome of the three who'd never acted before (he did do some school plays). Hibbert's performance is all in his face and statue, his eyes laden with an ache and heartbroken dejection than sinks all the way down his spine into his slumped shoulders. In his most powerful scenes he hardly says a word – standing frozen as his mother (Naomi Harris) screaming slurs at him, and in that phenomenal final shot with his back to the camera. But his scenes with Mahershala Ali are the most affecting; when his Little asks Juan, "What's a fa—t?" it's a line delivered with both an innocent, childlike unawareness and the cautious fear of the answer to come. It's some deeply intelligent acting from such a young person. Hibbert's upcoming role in the Lena Waithe-scripted and Rick Famuyiwa-helmed Showtime drama The Chi is one to keep an eye out for.
The Cast of City of God (2002)
Whenever I think of movies with non-professional actors, Fernando Meirelles' City of God immediately comes to mind, and particularly the film's gang initiation scene. It's one of the most upsetting sequences I've seen in a film, where a sadistic drug lord forces a young child – literally, a toddler – to choose where he will get shot: the hand or the foot. Practically everyone in Meirelles' film is a non-actor, and you can feel the terror of their real-life surroundings in each of the performances.
Abraham Attah in Beasts of No Nation (2015)
I am one of the few who still believes Cary Fukunaga's Beasts of No Nation was one of the best films of 2015, and with much of the credit due to Abraham Attah's breakout performance. Discovered by Fukunaga while playing soccer in the streets of Ghana, the 14-year-old had never been on a film set before he played the 11-year-old child soldier. It's a devastating performance from an actor of any age actor, not to mention a disturbing one that involves his Agu witnessing and enacting gruesome violence and sexual assault. Luckily we got to see a lighter, more playful side of Attah in this summer's Spider-Man: Homecoming, and I can't wait to see whatever he takes on next.
Jacob Batalon in Spider-Man: Homecoming (2017)
Jon Watts' Spider-Man Homecoming is bursting with fantastic performances from lesser known faces, from the previously mentioned Attah to Little Men star Michael Barbieri. But Peter Parker's best bud is played by a guy we've never seen before. The 21-year-old Jacob Batalon made his acting debut as Ned in Homecoming. The Hawaiian native moved to New York City to study acting, and the superhero movie was his very first audition and role. Batalon's hilarious Ned is just one of the many gems from this year's Spidey reboot and he already has a few roles lined up next.
The Cast of Gomorrah (2008)
Matteo Garrone's 2008 film about the Naples-based crime organization the Camorra is largely made up of non-professional actors and Neapolitan locals from same crime-infested areas depicted in the film. Multiple actors were even arrested in real life for their alleged ties to clans within the Camorra. (This also happened with actors in the Gomorrah TV adaptation.) There isn't one singular standout performance, but Salvatore Abruzzese's 13-year-old delivery boy and Marco Macor and Ciro Petro's pair of young gangsters (pictured) are the most memorable. Like City of God, Garrone's film relies on untrained actors to emphasize the bleakness of their reality, both on and off screen.