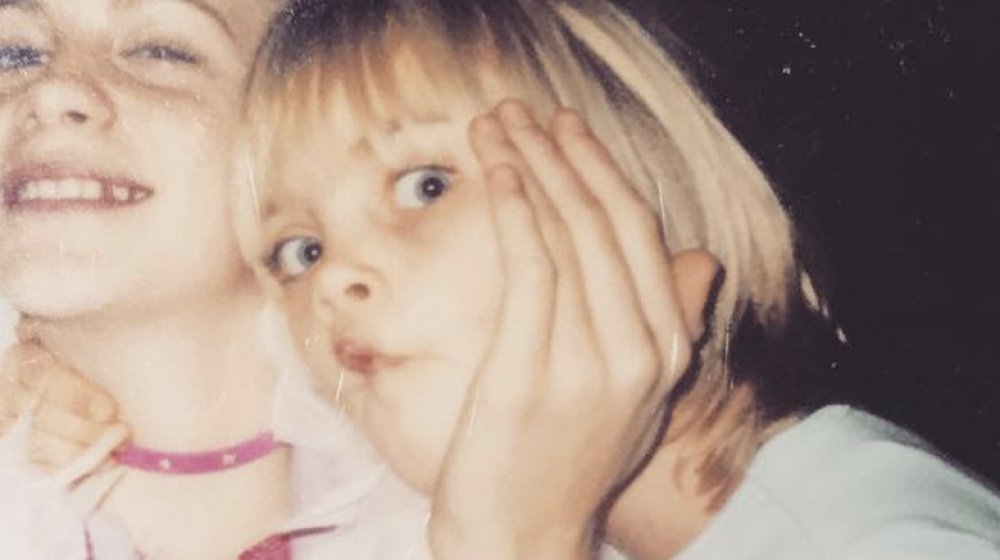 Cara Delevingne has certainly come a long way in her relatively short career. The British model and actress' first major job was in Burberry's 2011 Spring campaign (via Vogue). Since then, the multi-talented star has racked up an impressive list of modeling jobs and acting roles. She has modeled for global designer brands like Burberry, Chanel, Tory Burch, Oscar de la Renta, Dolce & Gabbana, and Marchesa, as noted by Evening Standard. She has appeared in A-list movies like Anna Karenina, Paper Towns, and Valerian and the City of a Thousand Planets. She even released a song in 2017, as reported by Vogue.
Despite her stunning career success, Delevingne hasn't always had a smooth ride. For instance, she has been honest about dealing with mental health problems, struggling in the modeling industry, and opening up about her identity. While it may not have been easy, Delevingne has weathered every change in her life gracefully. Want to learn more about how she became the woman she is today? Here is the stunning transformation of Cara Delevingne.
Cara Delevingne's mother had an addiction that shaped the model's childhood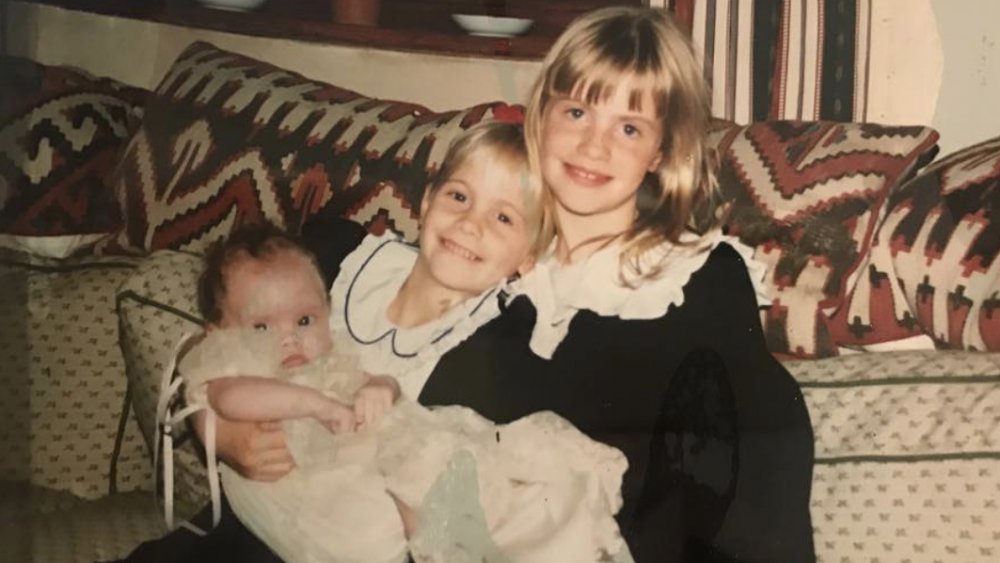 Despite her sparkling career, Cara Delevingne didn't always have an easy life. In fact, from a very early age, the star had to confront the realities of some very grown-up problems. It turns out, Delevingne's mother, Pandora, had a relapsing heroin addiction. Growing up with this shaped Delevingne's life forever.
She spoke to Vogue about the impact her mother's addiction had on her as a child. "You grow up too quickly because you're parenting your parents," she explained. She went on to add that she believes this type of addiction isn't something that can be resolved. "My mother's an amazingly strong person with a huge heart, and I adore her," she said. "But it's not something you get better from, I don't think."
Luckily, Delevingne had two sisters — Poppy and Chloe — to help her through her difficult childhood. She told Porter (via Glamour), "I don't know what I would do without them, it would be horrifying."
Cara Delevingne discovered her love of acting in a school play when she was 14
Even though Cara Delevingne enjoyed a career first as a model, it turns out she discovered her love of acting first. Delevingne explained her realization to Marie Claire in 2019, saying she was just 14 years old when she got to play a nurse in a school play. Her experience performing on stage caused her to have something of a lightbulb moment.
Apparently, Delevingne, while swept up in the moment, leapt off the stage when a fake bomb went off in a scene. It was only at the end of the play when she was taking her bows that she noticed her arm hurt. She had broken her wrist without even realizing it! She explained, "Suddenly all this feeling came into my arm. I was like, This is the power of acting." Sounds like this one pivotal moment in Delevingne's childhood defined all of her future ambitions.
Cara Delevingne struggled with a sudden onset of depression as a teen
Cara Delevingne has been quite open about her personal battle with mental health issues over the years. It turns out, her experience with depression began when she was young. The star opened up to Vogue about how depression hit her suddenly as a teen. Apparently, she was just 15 years old at the time. "All of a sudden I was hit with a massive wave of depression and anxiety and self-hatred," she confessed. It got to a point where she would slam her head into trees and scratch herself until she bled as a way to cope with her feelings. "I just wanted to dematerialize and have someone sweep me away," she said.
She was given strong medication and taken to therapists, but nothing seemed to help much. According to Delevingne, she ended up in a terrible cycle of feeling guilty about her mental health and then feeling even worse because of that. While Delevingne learned to manage her depression, the harrowing experience certainly shaped her as a person. "It's a huge part of who I am," Delevingne told Vogue.
Entering the fashion world gave Cara Delevingne a "slightly ridiculous" break from her mental health issues
Cara Delevingne eventually dropped out of school, in part due to her severe depression, as reported by Vogue. When she started modeling, she found the experience actually gave her a little break from her mental health issues. Apparently, Delevingne found modeling to be exactly the distraction she needed at the time. She explained to Elle, "Of course, no one can outrun depression … But, at first, fashion seemed like a slightly ridiculous other world." Apparently, she thought the industry might be like the movies Zoolander and The Devil Wears Prada — we certainly understand why living in those movies would feel a little ridiculous!
Most people would assume that the modeling world would be an anxiety-inducing place for people with depression. However, it sounds like the fashion industry gave Delevingne — one of many celebs who completely transformed their look by changing their eyebrows — a much needed change that gave her some respite from the depression that plagued her as a teen.
Cara Delevingne struggled as an unemployed model… until she met Christopher Bailey
It's hard to imagine Cara Delevingne struggling in the modeling world. After all, her successful career has included projects with Burberry, Chanel, Tory Burch, Oscar de la Renta, Dolce & Gabbana, and Marchesa, among others, as noted by Evening Standard. However, it wasn't always smooth sailing for the young model. She explained to Vogue how she didn't find much work when she was starting out. In fact, she faced some seriously harsh rejections in her first year. "The first time I walked into Burberry the woman just said, 'Turn around, go away,'" Delevingne explained.
Everything changed for Delevingne when she met Christopher Bailey, Burberry's design director. Bailey cast Delevingne in the spring 2011 campaign for Burberry when she was 18, and everything seemed to fall into place. Suddenly, she was the "It girl" of the fashion world. It's pretty hard to imagine Delevingne being turned away from Burberry, considering she eventually became the face of the company and one of the most beautiful supermodels in the world.
Cara Delevingne believes that finding a group of model friends helped her survive as a model
Once Cara Delevingne was on the rise, the pressures of fame could have easily become too much to bear — especially for someone with a history of depression and anxiety. However, Delevingne was lucky enough to find a support network that transformed her experience as a model for the better.
Delevingne's group of model friends, which included Jourdan Dunn, Karlie Kloss, and later Kendall Jenner, became something of a media sensation, but it's clear that the friendships weren't just for show. The star told Elle how friend (and rockstar Mick Jagger's daughter) Georgia May Jagger, a seasoned professional with the paparazzi, taught her to be careful about how she looked in public, telling her to never leave a club with her shoes in her hand.
And Delevingne clearly appreciated her model friends, becoming a fiercely loyal friend herself. In 2015, she told Buro, "Friendship is one of the most important things to me." It's nice to know that the young women were so supportive of each other!
Modeling eventually became too much for Cara Delevingne's mental health struggles
Even though Cara Delevingne's modeling career was going incredibly well, she eventually reached a point where the job lost its luster, and her depression reared its ugly head once again. She explained this bout of depression in detail to Porter. Apparently, it came when she was 22 in 2014 and had just won her second award for Model of the Year at the British Fashion Awards. The star traveled to Los Angeles, but decided not to take any medication. Instead she coped by writing songs and poetry. And soon enough, she started acting.
Discussing the end of her full time modeling career, Delevingne put it to Elle like this: "But a few years in, I realized it wasn't good for me, physically or emotionally, and I'd have to try new, different things." She got her breakout acting role in the 2015 movie Paper Towns.
She explained to Time that modeling made her lose sight of "what it meant to be happy," as reported by BBC News. Luckily, since transitioning to a career in acting, Delevingne's mental health has improved. She explained, "It's taken time, but now I realize that work isn't everything and success comes in many forms." We're so impressed with Delevingne's healthy career transition.
Cara Delevingne originally struggled with acting because of her modeling experience
While Cara Delevingne's transition to acting was wonderful for her mental well-being, starting out in a brand new industry can be hard — even for a famous model! It turns out Delevingne initially found her new career pretty difficult. She candidly told Elle, "Honestly, fashion really f**ked me when it came to acting." She recalled being on set for her first film, the 2012 movie Anna Karenina, and that the director kept saying to her, "Cara, you're modeling again. Stop trying to look pretty." Delevingne explained, "Modeling makes you know where the camera is at all times, and you have to forget that when you're acting."
Over time, Delevingne became more comfortable as an actor and learned to forget that the camera was watching. She told The Project that she thought she could make the same successful model-to-actor transition that Charlize Theron once made, as reported by the Daily Mail.
It took Cara Delevingne years to go public about her sexuality because she "didn't want to feel different"
These days, most fans know that Cara Delevingne identifies as pansexual, meaning she is attracted to all genders. "I'm attracted to the person," she told Variety in 2020. She's one of many celebs who identify as pansexual.
However, she hasn't always been comfortable with talking about her sexuality to the press. When Delevingne spoke to Marie Claire, she confessed that she spent years refusing to acknowledge her attraction to women. She explained that she "didn't want to feel different." But denying her feelings only made her feel like she "didn't belong." In 2016, the star confessed to Vogue that she even used to use the word "gay" as a bad word when she was a kid, noting that all her friends did the same, too.
Since embracing her sexuality, she came to realize that, "We're all liquid — we change, we grow."
Meeting Ashley Benson helped Cara Delevingne love herself
When Cara Delevingne started dating Pretty Little Liars star Ashley Benson, the internet went completely crazy. Even though the couple broke up — which was devastating for many of their fans, as Pride reported — Delevingne certainly took a lot from the relationship. She described how Benson forced her to open herself up to love to Porter, saying, "She's the first person that has said: 'You can't push me away. I'm going to be nice to you, I love you.'" Needless to say, their relationship was special.
Delevingne eventually professed her love to Benson publicly in her moving acceptance speech for The Trevor Project's Hero Award. She gushed, "She is one of the people that helped me love myself when I needed it most and I really needed it. She showed me what real love is and showed me how to accept it, which was a lot harder than I thought."
While we are obviously sad that the two split — here's the real reason Cara Delevingne and Ashley Benson broke up — we love seeing that Delevingne's self-love grew thanks to the relationship.
Cara Delevingne didn't always keep her relationships private, but she's turned over a new leaf
While we all loved hearing about Cara Delevingne and Ashley Benson's relationship, it turns out that living in the public eye can take its toll. In 2019, Delevingne explained to Elle that her love life is "sacred." She shared her need for privacy in more detail to Variety. Apparently, Delevingne has found it hard in the past to keep her relationships normal. She said, "I've always felt bad for anyone I've ever been in a relationship with," noting, "It's very hard to maintain the normality in it."
Dealing with overly public relationships taught Delevingne to be careful with her privacy. She went on to explain to Variety, "I think it's why I tend to keep my private life a lot more private now, because that public thing can actually ruin a lot of things." According to Variety, Delevingne's relationship with Benson came to an end partly because of the public nature of their relationship. Hopefully Delevingne can continue to learn new ways to maintain some privacy and normalcy in her future relationships.
Cara Delevingne pushed herself physically for her demanding role in Carnival Row
In 2019, Cara Delevingne starred in the Amazon Prime series Carnival Row. In the sweeping fantasy series, Delevingne played Vignette, a "spunky fairy." Delevingne told Marie Claire that the role was her most complex to date. It was the "first [thing] I've done where I'm really full-blown acting," she explained. In addition to flexing her acting chops, Delevingne also had to learn a few new skills for the demanding role.
Apparently, the star forced herself to do her own wired flying stunts. She explained, "If I hadn't done them, I wouldn't have been able to get there emotionally." She added, "Physicality to me is a very important way of expressing emotions." According to the Evening Standard, she had a few accidents on set and had to defy her agent's wishes to keep doing the stunts — talk about commitment to the role!
Cara Delevingne's drastic hair transformation reflects how much she has grown
Cara Delevingne has certainly gone through plenty of personal changes in terms of her career, her relationships, and her self-care. But what about her physical transformation? Anyone who remembers the early days of Delevingne's career is sure to recall the star's long, luscious blonde locks. However, in April 2017, Delevingne took to Instagram to reveal her newly shorn pixie cut.
The star spoke to talk show hosts Kelly Ripa and Ryan Seacrest about her haircut. "I've always been very attached to having one haircut," she said. "I think I wouldn't have done it without the opportunity of doing it for a film." She added, "It grows back!"
Even though Delevingne was initially unsure about her new look, she ended up sticking with the shorter style for over a year. The fact that Delevingne was able to try something new with her hair just goes to show how far she has come since her modeling days when she sought approval for her looks (via Time).
Cara Delevingne has learned to take care of herself and find "balance" in her life
After years of tumultuous mental health struggles, Cara Delevingne has finally found some stability. Apparently, her balanced lifestyle is a new addition to her life. In 2019, she told Marie Claire that she had started meditating every morning, She also likes to keep things fresh and interesting by avoiding doing "habitual things," and she learned to become aware of the signs of addiction. She said, "I shouldn't do the same thing every day, apart from breathing and eating." For fun, she goes rock climbing, skydives, races cars, and does escape rooms. But not everything in her life is so extreme, of course.
In 2020, she took to Instagram to post a series of images of herself doing yoga poses. In her caption, she explained that yoga keeps her "balanced and [focused] and sane." We're so pleased to see the star taking care of herself both physically and mentally.