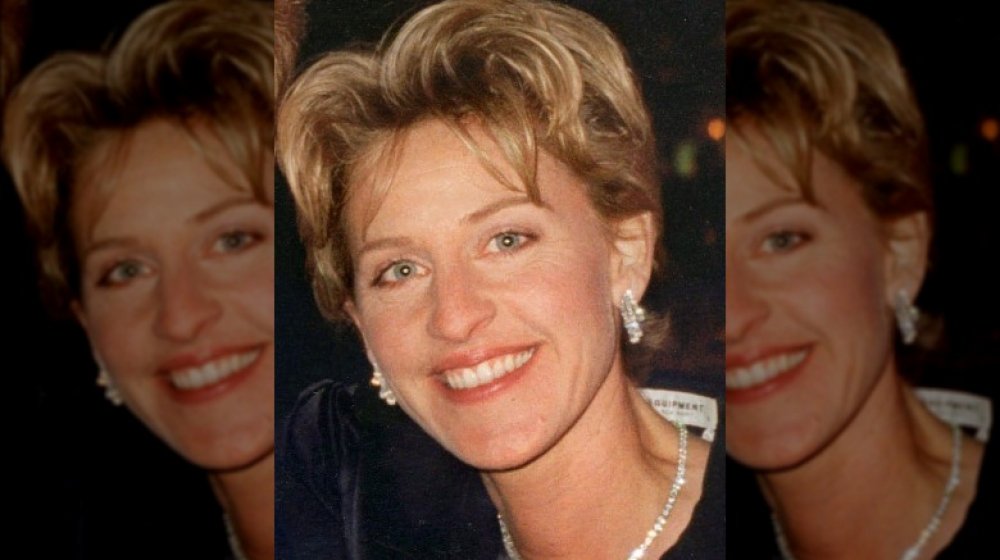 Ellen DeGeneres has experienced some serious highs and lows in her decades-long showbiz career. Throughout it all — from the controversy that ignited around her sexuality to her unparalleled success as host of one of television's all-time most popular daytime talk shows — DeGeneres has never lost sight of the reason for her fame: her gift of making people laugh.
The star has won numerous Emmys, 20 People's Choice Award (more than any other person), the prestigious Mark Twain Prize for Humor, and the even-more prestigious Presidential Medal of Freedom, presented to her by President Barack Obama in 2016. The awards on her shelf only give tell part of her story, though.
DeGeneres has experienced so much success over the years that fans can be forgiven for forgetting that she was a judge on American Idol. She also hosted the Oscars — twice! — and this was after experiencing so much blowback by coming out of the closet that she feared her career was over. As she continues her reign as the queen of daytime television and expands her reach as a producer, the time is ripe to take a closer look at the stunning transformation of Ellen DeGeneres.
Ellen DeGeneres spent her early years in New Orleans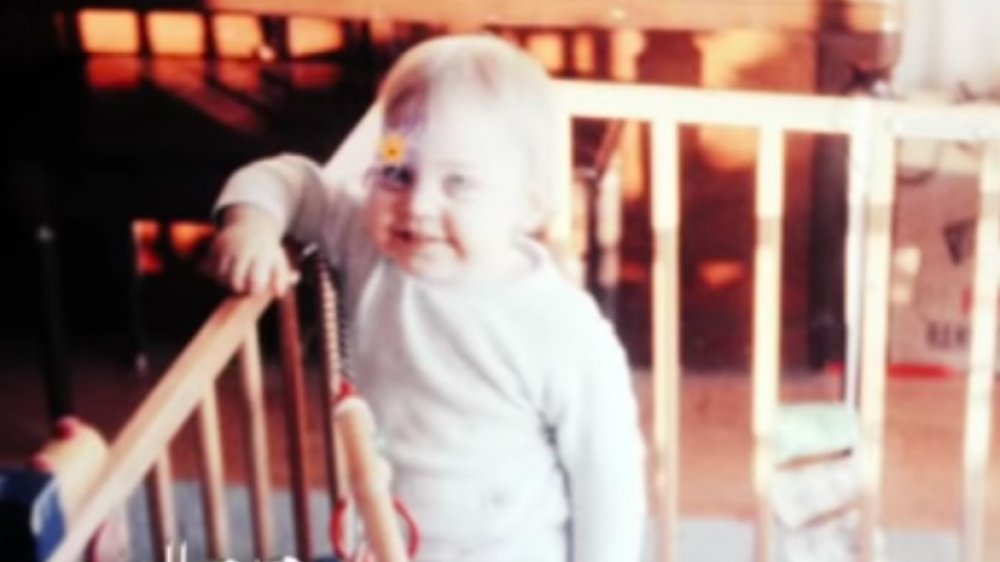 Ellen DeGeneres was born in 1958 in New Orleans, Louisiana, and grew up in the Big Easy suburb of Metarie. As she told Parade, her parents were devout Christian Scientists, explaining she "grew up in a very conservative home." Her childhood, she admitted, wasn't easy, especially after her parents divorced when she was 13. Her mom, she said, "went from being my mother to being somebody I was watching date men."
After graduating high school, DeGeneres attended the University of New Orleans — but dropped out before completing her first semester. "School just was not interesting to me," she admitted. According to TV.com, DeGeneres then wound up working a series of menial jobs, including painting houses, selling vacuums and shucking oysters, until 1981 when friends convinced her to perform standup comedy at a coffee shop's amateur night.
Bitten by the comedy bug, DeGeneres continued to perform, honing her act and building a following. In 1982, reported the Wall Street Journal, DeGeneres competed in Showtime's "Funniest Person in America" competition — and won. Her comedy career was off and running, but she had no idea that she was only a few years away from a life-changing big break.
Ellen DeGeneres has The Tonight Show to thank for her big break
In 1986, Ellen DeGeneres' popularity on the standup comedy circuit had grown, and on November 28 of that year she made her first appearance on The Tonight Show, performing a bit she'd been developing about what it would be like to pick up the phone and call God.
The routine got huge laughs, and an invite to take a seat on host Johnny Carson's couch. In comedy circles, being invited to chat with Carson was nothing less than an anointment. When she sat, Carson praised her act as "very clever and very fresh." While Carson had called plenty of comedians over to take a seat, this time it was historic — the first time ever that comedian was a woman.
For the 27-year-old, the whole thing seemed eerily preordained. "It was exactly when I wrote that bit that I knew I was gonna be on Johnny Carson, and I knew that he was gonna call me over and I was gonna be the first woman in the history of the show to sit down," she told Makers. "So, when it happened, it was kind of all part of the plan."
Ellen DeGeneres found sitcom stardom
Propelled by her Tonight Show appearance, the next few years saw Ellen DeGeneres' stardom rise. According to IMDb, she made her TV debut in 1989, guest starring in an episode of the Fox sitcom Duet. Later that year, she reprised the same character, Margo Van Meter, in the Duet spinoff Open House. Although the show was cancelled after one season, it gave DeGeneres her first role as a series regular. In 1992, she was again cast as a series regular, playing a "funny nurse" in sitcom Laurie Hill, also axed after a single season.
While the shows may have failed, Hollywood took notice of DeGeneres' undeniable talent. In 1994, ABC cast her in the lead role of neurotic bookstore owner Ellen Morgan in new ensemble comedy These Friends of Mine. Initial reviews were middling, with Entertainment Weekly calling the show "unnervingly self-conscious" while hoping the comedian would elevate the show "into something worthy of her."
When the series returned for a second season, ABC retooled the format and changed the title to Ellen to avoid confusion with a new NBC sitcom called Friends. With a new title and more focus on DeGeneres' character, Ellen became a top-20 hit.
Ellen DeGeneres was a star on the rise
While Ellen DeGeneres was becoming one of television's most popular comedy stars thanks to her eponymous sitcom, she was also broadening her Hollywood options. After making her big-screen debut with a bit part in 1993's Coneheads, she catapulted to the top of the marquee for her next role, the 1996 comedy Mr. Wrong.
In the film, DeGeneres stars as Martha Alston, who's single but doesn't necessarily want to stay that way. When she meets handsome and charming Whitman Crawford, playd by Bill Pullman, she believes he's the man of her dreams. As she gets to known him better, she discovers he's actually a dangerous lunatic.
Reviews were decidedly mixed. While Variety called Mr. Wrong a "hip, smart yarn," adding that "DeGeneres' comic timing and dramatic instincts fill the big screen in a way not apparent from her television work." However, the San Francisco Chronicle called it "dreadful." Moviegoers tended to agree with the Chronicle's assessment, and avoided the movie. According to Box Office Mojo, Mr. Wrong brought in a mere $12.8 million at the box office — not exactly a blockbuster number. Luckily, Ellen was still on the air, but ratings were softening.
This is why Ellen DeGeneres decided to come out
Despite her growing fame, Ellen DeGeneres kept her private life concealed. The reason for that became apparent when she appeared on the April 14, 1997 cover of Time, with the headline confirming whispered rumors: "Yep, I'm Gay."
Those three little words kicked off a media maelstrom. On April 25, DeGeneres was interviewed by Diane Sawyer for 20/20 (via ABC News), explaining the rationale behind opening up about her sexuality despite the damage it could do to her red-hot career. "I decided this was not going to be something that I was going to live the rest of my life being ashamed of," she declared.
Two days later, she appeared on The Oprah Winfrey Show. Asked if she was "nervous or what," DeGeneres admitted that indeed she was, with her shaky demeanor answering for her. "Everyone thinks I'm a freak," she candidly admitted. DeGeneres also confessed she hadn't expected the media coverage of her revelation to be as massive as it became. "I knew that it would be big," she told Winfrey, "but I had no idea that it would be this big."
Ellen DeGeneres came out a second time
On the same day as her interview on The Oprah Winfrey Show, Ellen DeGeneres came out all over again, this time on Ellen. In an episode featuring guest star Laura Dern, her character, Ellen Morgan came out as gay, hilariously blurting out the revelation into the microphone of an airport loudspeaker, causing confused looks from passengers in the terminal.
The episode, which also featured Oprah Winfrey in the role of therapist to DeGeneres' character, was treated like an event. According to Associated Press, ABC charged increased advertising rates for the broadcast, which drew an impressive — but hardly record-setting — 42 million viewers. Still, the episode was a momentous moment in television history. While there had been gay characters on television before, this marked the first time a series' star and the character that star portrayed had come out as openly gay.
In 2017, DeGeneres reunited with Winfrey and Dern on The Ellen DeGeneres Show to discuss the episode. "For those words to come out of my mouth for the very first time, to say 'I'm gay,' even rehearsing it, I would burst into tears every single time," recalled DeGeneres, adding that "it really was a charged moment."
Ellen DeGeneres' comeback was stalled by backlash
Prior to Ellen's 1997 coming-out episode, ratings had been dropping. And while that episode was among the season's most-watched shows, ratings stayed flat. The following year ABC decided to cancel the show. While ratings were one factor, backlash was another, with the Los Angeles Times reporting that the Southern Baptist Convention had called for a boycott of Disney, which owned ABC. In addition, several advertisers had pulled out of the show over viewers' perceived "discomfort" over the character's sexuality.
In her 20-years-later Ellen reunion with guest stars Oprah Winfrey and Laura Dern, Ellen DeGeneres pointed out that Dern — who played an openly gay woman in the controversial episode — "didn't work for a year," simply because people thought the actress was gay. "I hurt straight people through this," DeGeneres marvelled.
If the show was being hit with backlash, you can imagine how the woman who Moral Majority founder Jerry Fallwell dubbed "Ellen Degenerate" was personally feeling. "I wasn't sure if I was going to work again," DeGeneres told Out. "Time is a strange thing. I was at rock bottom and out of money, with no work in sight. But one step at a time, it gets better."
Ellen DeGeneres was in a controversial relationship
After coming out, Ellen DeGeneres began a very public relationship with actress Anne Heche, who at the time had just co-starred with Harrison Ford in the movie Six Days, Seven Nights. As Heche recalled for Yahoo! Style, she and DeGeneres went together to the film's premiere, where "we were tapped on the shoulder, put into her limo in the third act and told that we couldn't have pictures of us taken at the press junket. And both she and I were fired that week."
The couple's high-profile romance created headlines and controversy and, when they finally split up in 2000, DeGeneres was devastated. As she told the Los Angeles Times, "it was the first time I've had my heart broken, and it was in a big way." Adding insult to injury, Heche quickly moved onto another relationship — with cameraman Coleman Lafoon, whom she married in 2001 and divorced in 2007.
In addition to heartbreak, DeGeneres also admitted to the publication that she felt "betrayed" by Heche. "I don't want to be a part of a soap opera anymore," she declared. "I was in something that I thought was real."
Ellen DeGeneres just keeps swimming
A 2001 TV comeback attempt never quite materialized, with Ellen DeGeneres' 2001 CBS sitcom The Ellen Show cancelled a few months after it premiered. She did, however, win rave reviews for hosting the 2001 Emmy Awards during a tense time, weeks after the 9/11 terror attacks on the World Trade Center and the Pentagon.
DeGeneres' full-fledged comeback wouldn't arrive for a couple of years, but when it did it was with a vengeance. First up: the release of Pixar's Finding Nemo in May 2003. The adorable story of a grumpy clownfish, voiced by comedian Albert Brooks, who searches for his missing son with a scatterbrained pal named Dory — winningly played by DeGeneres — became a box-office sensation, earning $940 million worldwide.
The success of Nemo was a godsend for DeGeneres, who told People later that same year, "I went through a phase, whether it was true or not, where my perception was, 'Everyone hates me now' and it felt horrible." This newfound acclaim, she admitted, was not something she took for granted. She added, "Right now I'm in such a good place, and I'm so grateful for every step of the way because it makes me appreciate this time even more."
Ellen DeGeneres found talk show success
In September 2003, Ellen DeGeneres launched a syndicated daytime talk show, entering a highly competitive market that results in far more failures than successes. "What I feel like is, we're starting a relationship," DeGeneres told viewers in the monologue for the debut episode of The Ellen DeGeneres Show. "And I've committed myself to this relationship, I'll be here every single day, and I'm hoping you also will commit yourself to being here every day, and if you're not, or you're gonna be late, please call me."
DeGeneres proved to be a natural at the format. Her easygoing nature and sharp wit — and let's not forget her endearingly goofy dancing — quickly won over viewers. Her sexuality was old news, no longer an issue with viewers.
Not only did The Ellen DeGeneres Show become a hit, it became arguably the biggest show in daytime. In 2017, reported Gold Derby, the show won its 10th Daytime Emmy, breaking its tie with The Oprah Winfrey Show to officially become the most awarded daytime talk show in Emmy history. In a uniquely ironic twist of fate, DeGeneres' history-making Emmy win came exactly 20 years to the day of her coming-out episode of Ellen.
Ellen Degeneres and Portia de Rossi forever
Ellen DeGeneres and Portia de Rossi met in 2001, but sparks flew when the two reconnected at VH1 's Big in '04 Awards in December 2004. After that, the two were inseparable. Within months, they had moved in together and officially came out as a couple. "It's the first time that I've known in every cell of my being that I'm with somebody for the rest of my life," DeGeneres told People in November 2005.
In 2008, the Supreme Court of California legalized same-sex marriage, and DeGeneres and de Rossi got married shortly after. Getting married "is not something we've ever taken for granted," de Rossi told People. "That we get to do this, it means a lot." Added DeGeneres: "I'm the luckiest girl in the world. She's now officially off the market. No one else gets her. And now she'll cook and clean for me."
The couple celebrated their 10th wedding anniversary in 2018, with DeGeneres taking to Instagram to share a photo and video montage from their nuptials. "This was such a special day for us," she wrote in the caption.
Ellen Degeneres' Oscar selfie broke Twitter
Ellen DeGeneres had previously demonstrated her skill emceeing award shows, serving as host of the 2001 and 2005 Emmy Awards and hosting the Grammys twice. In 2007, she was asked to host the Academy Awards — and her performance was well reviewed. The Los Angeles Times highlighted such memorable bits as heading into the audience to do some vacuuming in the front row and pitching director Martin Scorsese a screenplay she'd written, described as "a cross between Goodfellas and Big Momma's House."
DeGeneres returned to host the Oscars for a second time in 2014. Once again, she left the stage and went through the audience for more clever comedy bits, this time delivering pizza to nominees and assembling a group of A-list stars — including Meryl Streep, Bradley Cooper, Julia Roberts and Jennifer Lawrence — for an epic selfie. When she posted that selfie on Twitter during the show, recalled NPR, it was retweeted nearly 2.6 million times, officially becoming the most-retweeted tweet ever.
In fact, the traffic generated by DeGeneres' selfie quite literally broke Twitter. According to NPR, "Twitter sent out an apology because all of the retweeting disrupted service for more than 20 minutes after 10 p.m. ET."
Ellen DeGeneres returned to standup
While Ellen DeGeneres had been focusing on her daytime talk show and various other projects, she had let standup comedy fall by the wayside. In 2018, DeGeneres announced she'd be hitting the road for a brief three-city tour, performing standup for the first time in 15 years. Those shows formed the basis for a Netflix comedy special, Ellen DeGeneres: Relatable, released at the end of that year.
DeGeneres had not lost a step, with the theme of the special riffing on the insane level of success she'd experienced since her last standup special, jokingly hoping that audiences will still find her relatable now that she was ridiculously wealthy. In one routine, recalled Vulture, DeGeneres jokes about living in a house so large that her friends get lost.
To demonstrate, she helps an imagined friend find the front door by offering directions to head "down the hall, past the Medal of Freedom, past the Emmys, past the People's Choice Awards, past the Kids' Choice Awards, the Teen Choice Awards, the Mark Twain Prize, the Peabody, take a left at the gift shop, and that is the front door."