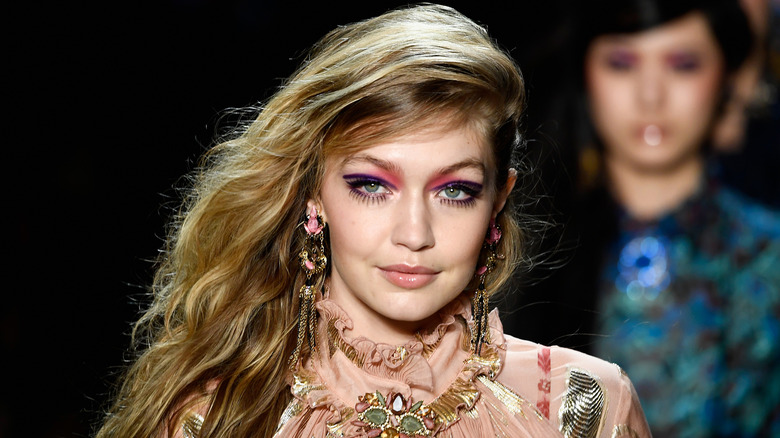 Gigi Hadid is one of the most recognizable faces in today's fashion industry — and this gal is just getting started. Since making her runway debut walking for Desigual at the 2014 New York Fashion Week, the fresh-faced supermodel has made some serious strides in her relatively young career.
From GUESS campaigns to the coveted Victoria's Secret catwalk, to being named International Model of the Year at the 2016 Fashion Awards, Hadid knows what it takes to succeed in the notoriously cut-throat fashion industry. Perhaps Hadid's international success can be attributed to those high-fashion modeling genes of hers — her mother, after all, was one of the 1980's top models. Or perhaps she's worked crazy hard to get where she is today — and doesn't plan on stopping anytime soon. Yeah, that sounds about right.
Here's a look at the stunning transformation of one of world's most beloved supermodels — from photogenic tot to one of Forbes' highest-paid working models. We have a feeling this gal is one to watch.
She hasn't always gone by Gigi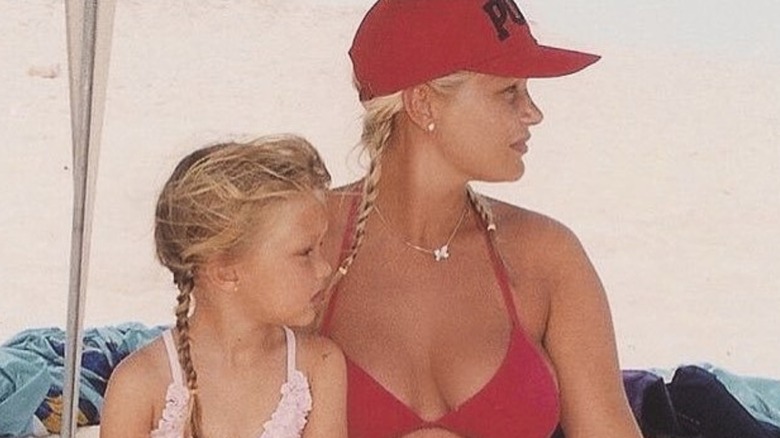 She might have one of the most recognizable names in the modeling world today, but that name we all recognize is actually relatively new.
Supermodel Gigi Hadid was born on April 23, 1995 to parents Mohamed and Yolanda Hadid under a different name than her current mega-famous moniker. Her given name is so far removed from the catchy, four-letter "Gigi," that you probably wouldn't be able to guess what it is if you tried. It's not Genevieve, or Georgia, or Gianna, or any other name you might think would be the inspiration behind her cute nickname. Gigi Hadid's real name is — drumroll, please — Jelena Noura Hadid.
That wasn't on your list of guesses, was it?
So, how did "Gigi" become a thing? Well, she got it from her mama. "My mom was called that as a kid by her mother when she was younger, but only around the house," Hadid told Vogue, recalling how an elementary school teacher once asked her mother what nickname she could call Jelena. "My mom was like, 'I call her Gigi sometimes," the supermodel said. "And the name stuck."
Gigi Hadid comes from a model family
It seems Gigi Hadid came by supermodel talents honestly. Her mother, Yolanda Hadid (of Real Housewives of Beverly Hills fame), was a supermodel herself back in the '80s. And good genes aren't the only things Hadid inherited from her model mom — it appears she acquired her mother's work ethic, as well! In the "About Me" section of Yolanda Hadid's website, the former supermodel dishes how exactly she got her start in the industry — and what she did to make the most of it. "I was disciplined, focused, and motivated," she writes. Nothing was going to stop me from being successful and succeeding in the industry in which I had landed."
Yep, Gigi Hadid got it from her mama — and so did her little sister, supermodel Bella Hadid! You probably recognize Bella from her work on the runway (hello, Dior and Givenchy), Victoria's Secret, and her super adorable (and highly publicized) romance with "Can't Feel My Face" singer The Weeknd.
Gigi Hadid appeared in French Vogue when she was 5 — by accident!
Some people just have that inexplicable "thing." Gigi Hadid is one of those people who was just meant to be a star — and all the evidence you need is Hadid's totally inadvertent first photoshoot within the pages of French Vogue.
In October 2017, the supermodel took to Twitter to ask her fans for help finding a very specific picture from her childhood. "SOS! Looking for that photo of me when I'm really young (5 maybe?) when I got caught in a French [Vogue] photoshoot … [anyone] have it?" Hadid pleaded (via Teen Vogue).
Fans to the rescue! A Hadid super-fan swiftly responded to Hadid's call for help, photo included. The adorable picture features a high-fashion model serving some serious face on the streets of Paris with a pint-sized Hadid standing in the forefront of the picture, clutching an Eiffel Tower figurine and serving — well, a different kind of face.
As confused as little Hadid may have looked in the photo, it was clear — even then — that this gal was born to be in front of the camera.
Keeping 'em "Guessing"
Gigi Hadid has a resumé that would make even the most seasoned models look like newbies. In fact, it's quite possible that Hadid has modeled for some of your favorite brands. The blonde bombshell has walked the runway for celebrated designers Dolce & Gabbana, Moschino, Tom Ford, Michael Kors, Tommy Hilfiger, and Victoria's Secret — just to name a few. But working with some of the biggest names in the industry ain't no thang for this gal. After all, when your first real modeling gig is as a GUESS girl, everything else is smooth sailing from there.
According to Sports Illustrated, Hadid was discovered by GUESS co-founder Paul Marciano when she was just 2 years old. Her first GUESS campaign ran two years later in 1999, featuring a toddler Hadid looking too cool for school in a denim jacket and bandana. Since her GUESS debut, Hadid has starred in many other campaigns with the California-based denim company. And if Marciano has any say in the matter, she'll likely star in many more.
"From day one I said, 'She's going to be a star,'" Marciano told The Hollywood Reporter. When you know, you know!
2014: The year when everything started happening
Since she's pretty much been a GUESS girl from "day one," it only makes sense that Gigi Hadid channeled another mega-famous GUESS gal for her big break into the high-fashion world.
In 2014, Hadid starred in an enchanting spread for CR Fashion Book titled "American Fairy Tale." The Bruce Weber-shot spread featured Hadid clad in bikinis, denim jeans — and not much else. Add those beautiful blonde locks into the mix, and it's hard not to be reminded of another blonde supermodel. Does Kate Upton ring a bell, anyone?
The fairytale-inspired spread wasn't the only big thing to happen in Hadid's career in 2014 — the supermodel also made her Fashion Week debut that very same year. "[Fashion Week] was crazy; I got to walk with my idol Candice Swanepoel," Hadid gushed to The Cut. "She was in front of me in the lineup. It was just unbelievable."
Considering Hadid is one of the most recognized faces in fashion today, it's safe to say her Fashion Week debut was a success.
Earning her wings
Gigi Hadid has experienced quite a metamorphosis since taking the fashion world by storm. In fact, she even sprouted wings — Victoria's Secret Angel wings, to be exact.
In October 2015, it was announced that Hadid would be walking in Victoria's Secret's December runway show — and no one was more thrilled to hear the surprise announcement than Hadid herself. The supermodel took to her Instagram page to express her excitement with an adorable black and white photo of the star in (happy) tears after finding out. "Couldn't keep back my tears," the star captioned the photo. "Anyone that grew up with me knows that getting this show has been a dream of mine forever!"
But the good news didn't end there for Hadid. Just one year after her Victoria's Secret Fashion Show debut, the sultry supermodel received one of the highest of runway honors — her Victoria's Secret Angel wings. In a super cute video posted to Lady Gaga's YouTube channel, Hadid tries on her very first pair of VS Angel wings with the 2016 show's musical guest, Gaga, and her supportive sister (and fellow Victoria's Secret model) Bella Hadid. We're not crying — you're crying!
"I didn't want to lose any more weight"
Being an ultra-famous supermodel may seem like it's all fun and games, but celebs deal with their fair share of unpredictable challenges and hardships that are out of their control — just like us regular folk. For Gigi Hadid, one of those hardships has been learning to live with an autoimmune disorder called Hashimoto's disease.
In December 2016, Hadid hosted a panel with fellow celebrities Aly Raisman, Ruby Rose, Zoe Kravitz, and Lena Dunham, revealing her diagnosis and dishing on how exactly it's affected her life. "I have Hashimoto's disease. It's a thyroid disease, and it's now been two years since taking the medication for it," Hadid revealed (via Elle). "So for the VS show I didn't want to lose any more weight, I just want to have muscles in the right place … and if my butt can get a little perkier, then that's good."
Symptoms of Hashimoto's disease include fatigue, sluggishness, memory lapses, muscle pains, and even depression — so it's a good thing this super busy star was able to receive the medical care she needed to keep chugging along!
Model behavior
Gigi Hadid is more than one of the world's most beloved supermodels — this gal is a role model in the truest form.
First things first — don't expect Hadid to conform to the super-skinny supermodel stereotype anytime soon. In an interview with Daily Mail Australia (via E! News), Hadid revealed her surprising (and inspiring) thoughts on what having a positive body image means to her, saying that she wants to be a "healthy role model." She said, "I can have like, you know, the body for a certain runway show if I need to," adding, "But that doesn't mean that I'm doing it in an unhealthy way."
It seems that Hadid's peers in the industry have taken note of her — ahem — model behavior. At the 2016 Fashion Awards, Hadid was named International Model of the Year. "[The award] was voted on by 1000 people that I worked with [in 2016]," Hadid said. "I don't think half of them said, 'Gigi's pictures were the best of my pictures this years,' but maybe they said, 'I had a great day shooting with Gigi. She gave all her energy."
Don't mess with this girl!
If there's one thing you can be absolutely certain about regarding Gigi Hadid, it's that this girl is not one to be trifled with. If your name happens to be Vitalii Sediuk, you've already learned this lesson the hard way.
During Milan Fashion Week 2016, Hadid was minding her own business (and looking as stylish as ever) when "prankster" Sediuk crept up behind the supermodel and lifted her off her feet. Sounds terrifying, right? Hadid thought so, too. In an op-ed piece for Lenny Letter, the young star said she felt "in danger" during Sediuk's prank attack. So Hadid gave the self-proclaimed prankster exactly what he deserved — a swift elbow to the face.
People were quick to praise Hadid's quick thinking and reaction time in the face of perceived danger, but the model insists she's not a hero. "It was just what I had to do," she wrote in Lenny Letter. "I want girls to see the video and know that they have the right to fight back, too, if put in a similar situation."
The couple that works together… doesn't always stay together
Zayn Malik, of X-Factor and One Direction fame, and supermodel Gigi Hadid made their debut as a couple on the 2016 Met Gala's red carpet after months of speculation amongst fans and media outlets (especially after that super steamy "Pillowtalk" video). They looked happy-as-ever and completely in love with one another — something that would continue for two years (despite a brief break shortly after their Met Gala appearance).
The two have always spoken highly of each other — Hadid even told ES Magazine (via E! News) in September 2016 that she and Malik were best friends. "We both feel we can talk about anything and learn a lot from one another," the supermodel gushed.
Sadly, the cute couple's love story came to an end in March 2018, according to statements on both Hadid and Malik's Twitter pages. "I'm forever grateful for the love, time and life lessons [Zayn] and I shared," Hadid wrote to her fans. "I want nothing but the best for him and will continue to support him as a friend that I have immense respect and love for."
Gigi Hadid found her way back to Zayn Malik after some time apart
When Gigi Hadid confirmed her split with longtime partner Zayn Malik in 2018, many fans were hopeful the famous couple would soon reunite. However, in 2019, Hadid seemed perfectly happy living the life of a single gal in New York City — even having a public summertime romance with The Bachelorette's Tyler Cameron.
Still, Hadid's flirty fling with the reality TV star wasn't enough to make fans think she'd fully moved on from her former One Directioner beau. After Hadid and Cameron broke things off, rumors started swirling that the supermodel was in the process of getting back together with Malik. And in 2020, those rumors were confirmed when Hadid took to her photography Instagram on Valentine's Day and posted a picture of Malik. "HEY VALENTINE," Hadid captioned the photo. Added the supermodel, "Z on the farm [December] 2019."
One thing's for sure — no matter how much Hadid has changed throughout the years, her feelings for Malik have never seemed to falter.
Gigi Hadid enjoys letting her hair down on her family's farm
As a supermodel, Gigi Hadid is expected to look stylish, polished, and chic at all times. Of course, having to be perfectly put-together every day likely sounds absolutely exhausting to any "normal" person. And as it turns out, Hadid also gets tired of having to appear a certain way for the cameras.
In an March 2020 interview with for Harper's Bazaar, Hadid revealed the many lessons her family's Pennsylvania farmhouse had taught her. "The farm has really made me remember, and bring back to my life, my most simple pleasures," Hadid said. She continued, telling the publication, "It's allowed me to fill my days off with the little things that make me happy … without having to worry about things like what I'm wearing or how my hair looks, or being photographed or seen that day."
Added Hadid, "Being away from the city and the public eye makes me feel like a kid again, and that freedom has been really healing for me." We're happy to hear this gal has wide open spaces where she can unwind!
Gigi Hadid has defended herself against fans who claim she altered her appearance
Gigi Hadid is one of the most iconic supermodels of her generation, with distinct physical features that have become trademarks of sorts — including her round face and super-arched brows.
Apparently Hadid's features are so distinct that some fans of the supermodel believe she tweaked her natural features to attain her famous look. However, according to the supermodel herself, she's au naturel. In a May 2020 Instagram Live video with makeup artist Erin Parsons (via Refinery29), Hadid defended herself against rumors claiming she'd purposefully altered her appearance, saying, "People think that I shape my brows…" She continued, insisting, "If you look at baby pictures of me, I've had these crazy arched brows since I was born!"
Hadid also told Parsons that some fans think she's had cheek fillers applied to her face to give it a more rounded shape. She revealed, "I have never injected anything into my face." Added the supermodel, "I feel like I'm too much of a control freak that I'm like 'What if it goes wrong?'"
Gigi Hadid announced she was pregnant
Gigi Hadid is one of the world's most recognizable supermodels. However, during an April 2020 episode of The Tonight Show, Hadid revealed to host Jimmy Fallon that she was also on her way to becoming one of the world's most recognizable super-moms. "We're very excited and happy and grateful for everyone's well-wishes and support," Hadid told Fallon, confirming she and partner Zayn Malik were expecting a little one.
"I'm trying [to be present for every part of it]," the supermodel continued. Hadid added, "It's a nice silver lining to be able to be home and together and really experience [pregnancy]."
In May 2020, Hadid took to Instagram to post a sweet dedication to her own mother, Yolanda Hadid — who will no doubt be around to help guide her daughter through the ups and downs of motherhood. "Happy Mother's Day to the one I'll do my best to emulate," Hadid captioned the photo of her toddler self sitting next to a pregnant Yolanda. She continued, writing, "I love you beyond words … You are a superhero!"