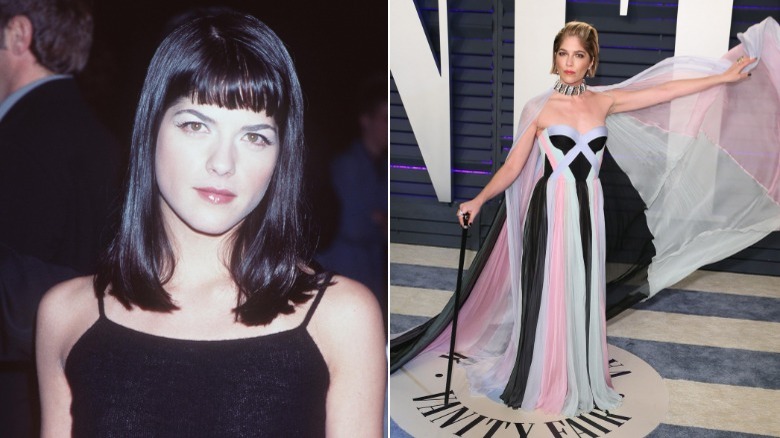 Although Selma Blair has flown under the radar for a few years, she re-emerged in the news following her October 2018 announcement that she'd been diagnosed with Multiple Sclerosis (a condition that damages the brain, spinal cord, and other nerves). In the wake of her announcement she's opened up and spoken publicly about her health struggles — and she's been getting some much-deserved positive attention from the media as a result. From her feature article in Vanity Fair to her interview with Robin Roberts on Good Morning America, the actress and mom is very much in the spotlight in 2019.
As we all know, though, no one just magically winds up in the Hollywood spotlight, with or without health challenges — it takes years of hard work, persistence, and determination to get there. Blair has been acting for a long time, and she's undergone a stunning transformation since she first began her career.
She's originally from Michigan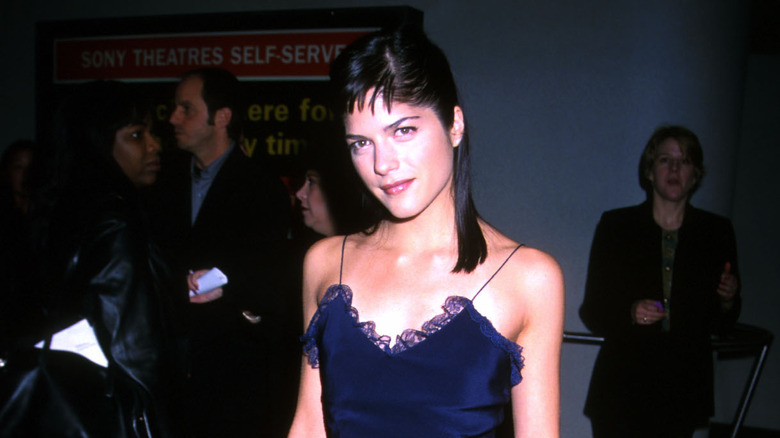 Born Selma Blair Beitner outside Detroit, Michigan, in 1972, Blair is the youngest of four girls. Her parents divorced when Selma was 23; after her parents split, she dropped Beitner as her last name and legally became Selma Blair. She went on to spend her freshman year of college at Kalamazoo College before transferring to the University of Michigan.
When it came to her post-collegiate life, she told Dark Horizons: "I wanted to be a ballerina, a horse trainer, and then I wanted to be a photographer. …I just never thought it was feasible for a girl from Michigan to ever make it to the stage or screen and tell a story." After graduating with a double major in English and Psychology, she moved to New York City to pursue either acting or photography, noting that her mother "helped me pack my suitcase and I moved up to New York about a week" after she graduated, and she arrived not knowing "if it would be photography that hit or acting." She started taking acting classes, and the rest is history.
1999 was her breakout year
Blair landed what would be her breakout role as Cecile Caldwell in 1999's Cruel Intentions. The film, despite its mediocre reviews, wound up winning the 1999 Teen Choice Award — and Blair, whose role was opposite Sarah Michelle Gellar, Ryan Philippe, and Reese Witherspoon, won the 1999 MTV Movie Award for Breakthrough Female Performance.
After Cruel Intentions, Blair was on her way. She was cast in the WB television series Zoe, Duncan, Jack, and Jane in 1999, followed by another role alongside Witherspoon in 2001's Legally Blonde. Cast as preppy Vivian Kensington, Blair's star continued to rise in the wake of the film's success. She starred in 2002's raunchy comedy The Sweetest Thing alongside Cameron Diaz and Christina Applegate, later telling Entertainment Weekly that "I think I got my part by default because nobody wanted to go in and have [male genitalia stuck in their mouth]" during one of the movie's funniest scenes. "I was like, 'It's Cameron Diaz and Christina Applegate, are you f—ing kidding me? …I really do think I was cast by default." Nonetheless, the movie, and Blair's role in it, wound up being hilarious!
She endured sexual harassment and assault
In 2017, Blair spoke out about assault and harassment by director James Toback, whom she'd met with at the start of her career. As Blair told Vanity Fair, in that 1999 incident, Toback told her to come to his hotel room after she arrived for a meeting that her representatives had arranged. After telling her, among other things, that he would be her mentor, he demanded that she prove her trust in him by taking off her clothes.
"I told him I was uncomfortable. But he continued to coax me — saying that this was in no way a come-on. This was part of training. He wanted to make me a good actress. He wanted to make me comfortable," she explained. "I thought, 'Well, my representation sent me to see him. He must be really important. …I do remember looking down at the script and seeing my bare chest and not being able to focus on anything but the words and my face being so hot and puffy and feeling so ashamed." Toback then assaulted her, and he threatened to have her abducted and murdered if she told anyone what had happened.
She's been in TV shows and independent films
Blair has largely preferred to star in independent films. While she did star in the 2003 rom-com A Guy Thing as Karen, and 2004's Hellboy as Liz Sherman, a tortured woman with telekinetic powers, the bulk of her other film work has focused on playing complex, controversial, and occasionally dark roles in films like Kill Me Later (2001), Storytelling (2001), The Killing Gene (2007), Feast of Love (2007), and Columbus Circle (2012).
In a 2003 interview, Blair said that while her previous roles were "very much supporting and character driven, even if they are rather inconsequential roles… I don't mind. I take every role very seriously." Nonetheless, she also noted, "I have something in common with these roles that I am playing for studios. …I tend to play these tightly wound girls that kind of come undone and that is the comedy in them."
In addition, Blair has dipped her feet into television acting. She starred opposite Molly Shannon on NBC's Kath & Kim, which aired from 2008-2009, and later starred with Charlie Sheen on FX's Anger Management.
She's been married and divorced
Blair's love life has also evolved considerably over the years. After dating fellow actor Jason Schwartzman in the early 2000s (during which time, it turns out, her Legally Blonde costar Matt Davis confessed that he had a "huge crush" on her while they were filming — oh, the missed opportunity!), she later married actor-musician Ahmed Zappa in 2004. Blair and Zappa, who got married only six months after they started dating, tied the knot in a ceremony hosted at late actress Carrie Fisher's home in Coldwater Canyon, California. However, their union didn't last, and the couple divorced in 2006.
After her split from Zappa, she dated Johnny Messner and, later, her Cath & Kim co-star Mikey Day. In 2010, she began dating fashion designer Jason Bleick, and the two welcomed a son, Arthur Saint Bleick, in 2011 before parting ways in 2012. She's been linked to David Price since 2018.
Being a mom is her most important role
After Arthur's 2011 arrival, Blair shifted her focus more towards motherhood, and she's very clearly a very committed mom. In an interview with The Glow in 2012, she explained that "I don't think any other miracle could have grounded me in this way — I appreciate every second I'm in his company."
Indeed, Blair has dedicated herself to raising Arthur, noting that even famous people can struggle with mom guilt (ah stars, they're just like us). "As a mom, there's almost a shame in feeling too attached, like there's something shameful in saying, 'My kid is my life these days,'" she said. "There's a time and a place, especially when they're this young. Let yourself enjoy it. I wish people talked about the love more." In fact, she noted, "I look forward every morning to the first thing he'll say. I literally smile at night, and sometimes wake up in the middle of the night smiling knowing that I'm going to get to see him in the morning."
She struggled to adjust after the birth of her son
Following Arthur's birth, Blair began to struggle with her health and with the overwhelming demands of being a working single mom. Although she and Bleick continue to co-parent, they split when Arthur was about a year old. In a 2012 interview with TV Week (via the UK-based Express), she opened up about how hard it was to balance the competing demands of work and motherhood. "Somehow I was just hanging on," she said. "But then it caught up with me — totally — and, since then, I've just fallen apart. 'I need to get myself back together so I can go back to work so I can pay for a house for this baby.'"
However, the new-mom sleep deprivation certainly didn't help her feel up to the task. "I'm seriously sleep-deprived; I can barely put a word together. I have not functioned," she said. "I'm definitely struggling right now, like so many mums who are trying to be as close to their child as they can and get back to work. It's such a common problem, but you feel like you're the only one in the world." Moms everywhere can relate.
She returned to television in 2016
In 2016, Blair was tapped to play Kardashian-Jenner matriarch Kris Jenner in FX's The People Vs. OJ Simpson. While the role only had her appearing in a handful of episodes, she not only got to play a part she found interesting, she also "gained a friend that I cherish" in Kris Jenner. "She's a warm and generous and open and giving woman," she told E! News.
It turns out the two ran into each other on at a red carpet event just after Blair had been cast as Jenner — and they totally hit it off. "We hugged and took pictures together, and then we arranged to talk," she told Refinery29. "She invited me over, but I thought, I'll talk to her on the phone. We talked for a really long time. I just fell in love with her. …I feel like Kris is like a sister I could tell anything to, truly, I trust her with anything." What a treat to gain not only a great job, but also a great friend.
Speaking out about sexual assault
Blair began speaking publicly about her experience with James Toback in 2017 — but before she began doing so, she told Vanity Fair that she "felt so powerless and scared. …I kept thinking, 'Okay, is there a big actress who is going to come out so that she can be the face of this? I want to bring as much awareness to this harassment as possible because I want Toback to be held accountable."
Scared he would sue her if she spoke out, she told The Guardian that she instead communicated with fellow women through direct messages on social media. "But I was still afraid because I was the only one who was somewhat known, so I thought this is all gonna be on me, this lawsuit. I won't be able to put my kid through school." It's a terrifying prospect, especially for a single mom, to know that speaking up might get her blacklisted — or, worse, put her in physical danger.
Speaking up against Toback was a turning point
Once she learned that there were 38 other women accusing Toback of similar acts, it inspired her to speak up. "[People like Toback] are so protected and entitled and sick, and he's a real predator," she told W Magazine. "So I was like, I'm not going to leave these women hanging in the wind — if I lend any face to them, then I'll do it for them and for us."
Speak up she did, and the number of women who came forward to discuss similar incidents with Toback exploded. After the ordeal ended, she told Vanity Fair that it was one of two experiences in recent years that had transformed her. "I did think of my experience with James Toback and how shaming that was and how angry I was to have to be silent for so long because I was afraid. …Just being free of that shame was huge." More power to you, Selma.
She began facing her health challenges
Blair began struggling with her mental health after Arthur's 2011 arrival. Speaking at the Alliance of Moms' Raising Baby event in 2017 (via Us Weekly), Blair said that "I did not have a support system. I was an older, tired, single mom. …As much as I loved my child, I was really lost… lost for for, like, four-and-a-half years. I kind of hit rock bottom."
A turning point came in 2016, when she was removed from a flight from Cancun to Los Angeles after a bizarre outburst. "She was met by paramedics at LAX as soon as her plane arrived," an official explained to People. "It looks like she had taken a combination of prescription medication with alcohol. We don't know what sort of prescription medications." Seated in first class, Blair suddenly began crying, saying "He burns my private parts. He won't let me eat or drink. He beats me. He's going to kill me." She was taken to the hospital after the flight landed. Yikes!
She turned her life around
She addressed the incident immediately, telling Vanity Fair that "I made a big mistake yesterday… that caused me to black out and led me to say and do things that I deeply regret. I take this very seriously. …[I] am filled with shame over this incident." In an interview with The Talk (via People), she revealed that the event — which she described as "terrifying" and "humiliating" — inspired her to get, and stay, sober. "I keep it alive in me every day," she said. "I forgive myself, but I keep it alive like this" as a reminder of why she no longer drinks.
Since then, she has spoken openly about her experiences. In a 2018 Instagram post, she revealed that she'd had postpartum depression for four years, saying that she had "battled alcoholism and depression and anxiety. …I am now winning that battle." Happily, On July 21, 2018 she wrote that she was "[two] years sober. …I prayed for a miracle at my lowest points. I am a living miracle."
She was diagnosed with multiple sclerosis in 2018
In October 2018, Blair announced that she'd been diagnosed with multiple sclerosis (MS) following years of symptoms. "I have had symptoms for years, but was never taken seriously until I fell down in front of [my doctor] trying to sort out what I thought was a pinched nerve. I have probably had this incurable disease for 15 years at least," she wrote on Instagram.
The Mayo Clinic describes MS as "potentially disabling disease of the brain and spinal cord." It is a progressive disease that attacks the nervous system and, as Blair noted, it's incurable. In an interview with Robin Roberts on Good Morning America, Blair explained that "Ever since my son was born, I was in an MS flare-up and didn't know, and I was giving it everything to seem normal. …And I was self-medicating when he wasn't with me. I was drinking. I was in pain. I wasn't always drinking, but there were times when I couldn't take it." Thankfully, now that she has a diagnosis, she doesn't have to push herself so hard in an effort to appear normal and healthy.
She felt relief after her diagnosis
Even though she'd been symptomatic of her illness for many years, she tried hard to make it seem like she was okay. "I wanted [my doctor] to think I was doing well, even though I would say, 'I'm beyond tired. …I can't stay awake," she told Vanity Fair. "I had been so embarrassed by some events in my life, whether it was drinking or immature behavior, that, as a mother, I wanted to prove I was great even when I was telling someone I had problems."
The guilt and shame continued to build, and as she she said in her interview with Roberts, "I was ashamed and I was doing the best I could and I was a great mother, but it was killing me. …And so when I got the diagnosis I cried with some relief. Like, 'Oh, good, I'll be able to do something.'" Describing the moments after her diagnosis, Blair said she "had tears, [but] hey weren't tears of panic. They were tears of knowing I now had to give in to a body that had loss of control, and there was some relief in that."
She's finding purpose in her illness
Not surprisingly, she's experienced many ups and downs in the wake of her diagnosis, and, as she wrote on Instagram, she's experienced a lot of grief. Life with MS "is uncomfortable. It is a stadium of uncontrollable anxiety at times," she explained, and "I do my best. But I choke with the pain of what I have lost (riding) and what I dare hope for. And how challenging it is to walk around."
That said, she's also made it clear that she doesn't believe in self-hosted pity parties. "I do not feel sorry for myself in life. At all," she wrote on Instagram. "I believe in unraveling the necklace to make it useful again. And sometimes the knots are tight and difficult to undo. So we must be gentle with our traumas." As she also told Vanity Fair, "when I read comments on Instagram from people who were suffering, whether it was from MS, or anything, I thought, holy sh*t, there's a need for honesty about being disabled from someone recognizable."
She's become a new kind of icon
In January 2019, in her first red carpet appearance since she announced her diagnosis, she attended the Vanity Fair Oscars Party sporting a custom-made cane. The cane, which held a pink diamond and had a custom monogram, perfectly matched her dress, and she and immediately became a vision of adaptive fashion chic.
A self-confessed fashion-junkie, she told Vanity Fair about the need for disability-friendly fashion. "I would like to partner with someone like Christian Siriano on a line for everyone," she said. "It can still be chic. You shouldn't have to sacrifice style. Like, let's get elastic waistbands to look a little bit better." Happily, Siriano seems to be on board. In an interview with People, he said "Selma and I talked about it. …I was like, 'Well maybe this is something that is needed in a way,' so we'll see."
Ultimately, Blair explained to Vanity Fair, "There's no tragedy for me. …I'm happy, and if I can help anyone be more comfortable in their skin, it's more than I've ever done before." If that's not resilience in action, we don't know what is.