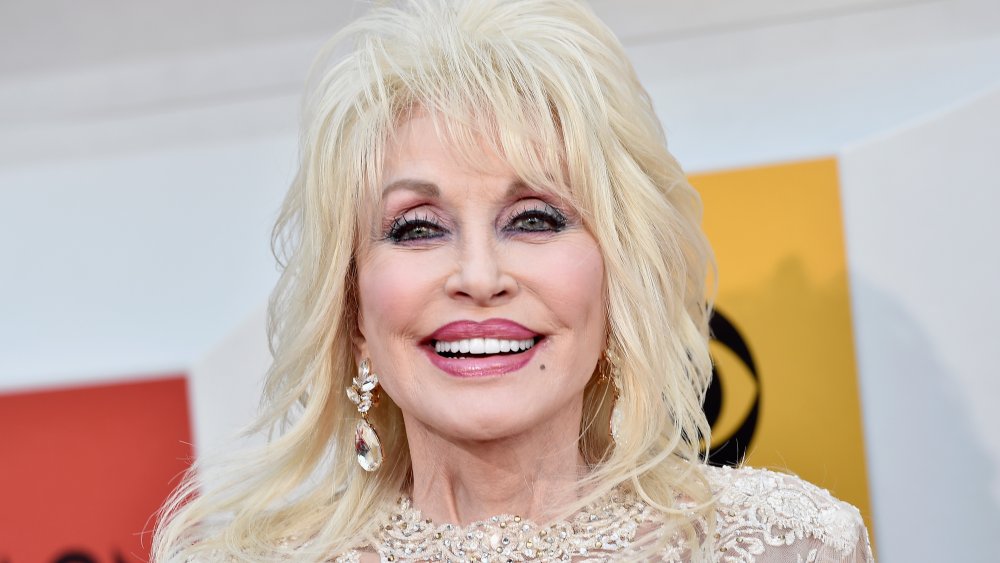 While Disneyland is officially "the Happiest Place on Earth," the actual happiest place on Earth — or at least in the Great Smoky Mountains of Tennessee — has to be Dollywood. The sprawling entertainment complex bears the name of its owner and spokesperson, Dolly Parton — the glamorous, witty, and approachable actress/singer-songwriter beloved by virtually all of America since she first became famous in the early 1970s. Only a handful of humans ever become wealthy, prominent, or interesting enough to get their own theme park, and Parton is one of them. Since 1986, Dollywood has delighted millions of tourists with its thrill rides, attractions, and folksy appeal that could only come from the congenial Parton. It's also one of the most overlooked amusement parks, as places like Disneyland, Disney World, and Six Flags seem to hog all the attention. Dollywood is a unique place with a wild story, so here's a lot of stuff you didn't know about America's most down-home entertainment destination.
'Herschendwood' doesn't have the same ring to it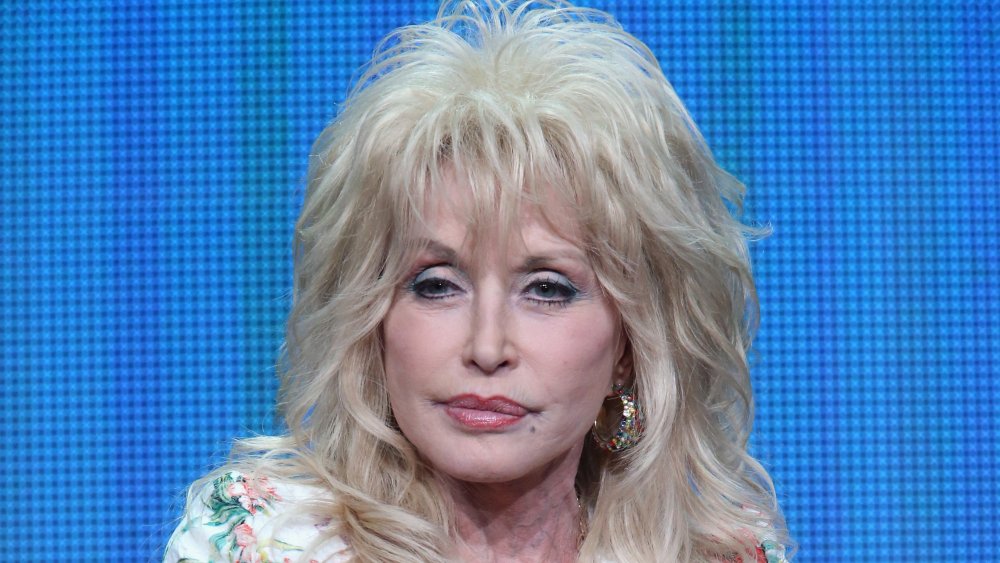 Even after Dolly Parton poured a substantial fortune into the theme park in the mid-1980s and agreed to be its (very recognizable) face, Dollywood isn't the property of the woman who wrote both "I Will Always Love You" and "Jolene" on the same day. Parton is merely a co-owner and a partner in the business, albeit an active and hands-on one. The Dollywood complex is owned primarily and operated by a family destination conglomerate called Herschend Family Entertainment. Like Disney or Six Flags, Herschend controls a vast portfolio of theme parks and tourist traps, of which Dollywood is simply one entry. The company also controls Silver Dollar City, Talking Rocks Cavern, and White Water in Branson, Missouri. Plus, there's Wild Adventures and Stone Mountain Park in Georgia, aquariums in Cincinnati and New Jersey, and various theme restaurants (including Dolly Parton's Stampede), campgrounds, and resorts.
From Rebel Railroad to Dollywood
Dollywood opened its gates in 1986 to a very welcoming public. In fact, traffic was backed up for six miles. It's not the first time there was ever a theme park in Pigeon Forge, Tennessee, however. Dollywood sits atop what's basically an amusement park graveyard. The makings of Dollywood were first opened in 1961 as a modest, family-run, 19th-century-themed park called Rebel Railroad. It offered little more than a general store, a blacksmith, and a coal-run steam engine ("Klondike Katie," pictured above) that took visitors on a ride through the Great Smoky Mountains.
In 1970, Cleveland Browns owner Art Modell bought Rebel Railroad and renamed it Goldrush Junction. Just six years later, he unloaded it to the Herschend family, who rebranded it Silver Dollar City, a second iteration of their attraction of the same name in Missouri. Superstar celebrity Dolly Parton bought into Silver Dollar City in 1986 with an eye toward helping the Herschends expand and popularize the park from small regional attraction into a top-tier destination. And it worked. In its first year as Dollywood, the park brought in 1.3 million guests, an increase of 75 percent from the previous year.
Hooray for Dollywood
Celebrities do a lot of things with their ridiculous wealth. Some blow it on cars, jewelry, and hot tubs, as depicted on MTV Cribs. Others invest their money in wealth-building ventures, like Jay-Z's one-time ownership stake in the Brooklyn Nets, for example. But Dolly Parton made a somewhat out-of-left-field choice in 1986 when she took some of the money earned from writing and singing "9 to 5" and starring in 9 to 5 to buy a portion of a relatively obscure Southern theme park called Silver Dollar City. Parton did it to make good on a promise she made to herself long ago.
"I always thought that if I made it big or got successful at what I had started out to do, that I wanted to come back to my part of the country and do something great," Parton said during a speech at a Dollywood 25th anniversary celebration in 2011 (via Mashable). Parton was raised only a few miles away from Dollywood's locale of Pigeon Forge in Sevierville, Tennessee, the fourth of 12 kids. And come back and give Parton did. The entire Dollywood enterprise has injected millions into the local economy and employs about 3,000 people, making it the biggest source of jobs in the area.
It's bigger than you think
Dollywood is situated in Pigeon Forge, Tennessee, which isn't a semi-tropical and well-trafficked tourist-attracting locale like those of Disneyland and Disney World, which are located in Southern California and Florida, respectively. It takes about 45 minutes to get to Dollywood from the nearest airport, in Knoxville, Tennessee, which is all to say that Dollywood isn't the first thing that comes to mind when someone says "massive theme park."
But it should be, because Dollywood is positively and surprisingly gargantuan. The amusement park, with its 40 thrill rides and long lines, is just one part of an interconnected network of attractions that spans 150 acres (roughly the original size of Disneyland). Right next door (or thereabouts) sits the Splash Country Water Park, another amusement park called Wildwood Grove, the DreamMore Resort and Spa, some rental cabins, and two over-the-top, Medieval Times-like dinner shows: the Stampede Dinner Attraction and Pirates Voyage. Altogether, Dollywood welcomes about 2.5 million visitors every year, making it the most visited ticketed destination in Tennessee.
The people vs. Dollywood
An amusement park requires lots of people and lots of technology, and as neither man nor machine is perfect, there are going to be some mistakes. And mistakes at a theme park means there's a chance for serious injury. It's par for the course, but people have reportedly gotten themselves seriously hurt at Dollywood on occasion.
According to TMZ, in December 2018, a female guest of the park boarded a bus-like trolley to take a ride back from the amusement park to her lodgings at the DreamMore Resort at the end of the day. However, the woman attests that the conditions weren't great, with fog, rain, and darkness combining to make for a windshield that was difficult for the driver to see out of … and then he slammed into a concrete pole that he didn't see. The woman sued, and according to her filings, she and five other riders experienced injuries, which were treated at a local medical center. (Another victim sued in 2019, alleging that the trolley driver was drunk at the time of the incident.)
However, Dollywood's lawyers were busy with another suit over a different mishap in 2018. Per TMZ, a woman served papers after claiming she endured a compression fracture and other injuries to her spine after something went wrong on the RiverRush Water Coaster at Splash Country. The woman was "propelled off the seat and she then fell down into the raft, striking her spine on the hard surface." Which, yeah, doesn't sound like a fun day at the park.
The one person you'll never encounter on a Dollywood ride
For more than 30 years now, Dolly Parton has been an active co-owner in Dollywood, the Tennessee amusement park and assorted associated properties that bear her name. She's given the park her image, her money, and her time. She's most likely visited the park, both to protect her investment and greet her adoring fans, dozens of times. And yet there's one thing Parton won't do when it comes to Dollywood — she refuses to board any of the park's several dozen thrill rides.
"I don't ride the rides. I never have. I have a tendency to get motion sickness. Also, I'm a little bit chicken," Parton told The New York Times in 2019. But that's not the only reason behind Parton's aversions to roller coasters. As it turns out, another reason she avoids rides is that they might literally damage her image. "With all my hair, I got so much to lose, like my wig or my shoes. I don't like to get messed up. I'm gonna have some handsome man mess it up. I don't want some ride doing it." Well, okay then.
Of course, that doesn't mean Parton stays out of Dollywood entirely. Up until 2011, she kept a small, well-furnished apartment inside the park.
The theme park's connection to eagles
Dollywood is a living, working example of good old American themes and values in action. Nestled within the fabled Great Smoky Mountains, the park is operated by thousands of people who live in nearby small towns under the employ of a sweet and folksy country music legend. How much more American could Dollywood get? Well, the answer to that is "plenty." As it turns out, the place is positively swimming in bald eagles, the official symbolic bird of the United States of America. After all, the Dollywood grounds jut up against the Eagle Mountain Sanctuary, home to the largest number of needy bald eagles in one place in the entire U.S.
More than two dozen eagles — which are "non-releasable," meaning they're disabled and would be unable to live in the wild on their own — call the Eagle Mountain Sanctuary home. It's a 400,000 cubic feet area perched on the side of a tree-covered hill. Staff feed, water, and, once a year, medically treat the birds via five enclosures, including a breeding ground called the "Pick a Mate" section. Baby eagles resulting from those pairings are released into the wild to boost the natural populations of the bird. One couple in particular, Independence and Franklin, have given life to a whopping 30 new eagles. And Dollywood guests can see all this from inside the theme park. After all, Dollywood works in partnership with the American Eagle Foundation (the organization in charge of the sanctuary), so the park isn't just about fun rides and food. It's also about taking care of America's most beloved birds.
Cool T-shirt, now leave
Back in March of 2011, Olivier Odom walked into Splash Country, Dollywood's water park, with her wife and the kids of a friend in tow. Odom wore what most people wear to a water park: a T-shirt. However, she was barred from entry by a gate attendant because of the words written on her shirt. And what was written there, you ask? Well, the shirt said "marriage is so gay," a quippy statement proclaiming Odom's support for same-sex marriage (like her own).
Things got intense when the Dollywood worker ordered Odom to turn the T-shirt inside-out or not enter the park at all. "Thousands of times a day, our front-gate hosts are asked to enforce our dress code policy," Dollywood public relations direction Pete Owens told The Advocate (via The Atlantic). "It doesn't have anything to do with who the people are or what their belief system is," adding that the policy is more about preventing "one of our guests being offended by something someone else is wearing." Odom told an NBC outlet that she "was curious what he found offensive about the shirt. If it was the fact that it had the word 'gay' on it, or that it was in conjunction with the word 'marriage.'"
Odom sent a letter of complaint to Dollywood, which was answered, personally and publicly, by Dolly Parton. "Everyone knows of my personal support of the gay and lesbian community," Parton said in a statement (via CNN). "Dollywood is a family park, and all families are welcome."
You can go to church at Dollywood
Since its attached to one of the most flamboyant, charismatic country stars of all time, Dollywood is a pretty unique place. As a result, guests who visit Dollywood are able to visit some one-of-a-kind attractions, or at least ones that are rarely found at other big corporate theme parks elsewhere in the United States. For example, it's pretty rare to find a church within walking distance of a roller coaster, and yet Dollywood is home to the Robert F. Thomas Chapel. It predates the site's run as Dollywood, as it was built and opened in 1973, when the park was still known as Goldrush Junction. It's designed in the style of a church one would find in Appalachia in the early 1900s, and it hosts weekly Christian religious services each Sunday during the Dollywood season.
So who's Robert F. Thomas? He's the doctor who delivered baby Dolly Parton in 1946, although interestingly, the chapel was named in his honor before Parton bought into the theme park. He was a beloved doctor in the area who helped lots of families besides the Partons. Yeah, it's a pretty crazy coincidence. But in addition to the church, Dollywood also features the Grist Mill, an actual working grain processing facility. Constructed in 1982, it was the first new mill built in Tennessee in more than a century. Dollywood visitors can buy cornmeal processed right there in the Grist Mill.
The interesting reason why there's no recycling at Dollywood
With thousands of visitors trekking through each day and buying food and drinks that come in disposable paper and plastic containers, amusement parks generate a massive amount of waste. Dollywood, of course, has plenty of trash cans scattered around its grounds, but curiously, there are no opportunities for guests to recycle or compost the eligible parts of their trash. That doesn't mean Dollywood is contributing to slow buildup of garbage that will one day consume the planet, however. It just prefers to do its part for the green movement off-site, and away from the eyes and off the minds of visitors.
Dollywood utilizes the local Sevier Solid Waste Composting Facility. All of the refuse from Dollywood arrives at the plant mixed together — trash, recyclables, compost, all thrown into the same cans — for processing. SSW mixes it all up with biosolids and into a digester it goes for three days. During that time, anything organic gets separated out and turned into compost. After that, the compost heads to sifters, and anything inorganic remaining, as well as recyclable stuff, is sorted and and sent to a recycler. Dollywood is one of the biggest clients of the Sevier Solid Waste Composting Facility, which is definitely features an innovative and progressive method of dealing with trash. In fact, it was one of the first of its kind when it opened for business in 1991, and it greatly cuts down on the amount of garbage that would otherwise head to rot in a landfill.
Going to Dollywood is for a good cause
Not only did Dolly Parton want to give back to the community where she was raised with a world-class theme park and thousands of jobs, but she also wanted to funnel profits into charitable causes that help out needy locals. For years before Dollywood opened, Parton donated money to the nearby Sevier County High School's band to be used for scholarships, but the country star wanted to do more.
So in 1988, just two years after Dollywood opened, Parton helped create the Dollywood Foundation. Numerous Tennessee high school kids received scholarships by way of the charity, and in 1995, the Foundation expanded its reach to early education around the country. Dolly Parton's Imagination Library grew out her Foundation, and it sends free books to any kid whose loved ones sign them up. Cooler still, the books keep coming from birth until they start school. Parton's charitable organization branched out again to include the My People Fund, which notably donated $200,000 in 2016 to eight volunteer fire departments that fought off wildfires in Tennessee. In other words, both Parton and Dollywood are doing a whole lot of good in the world.