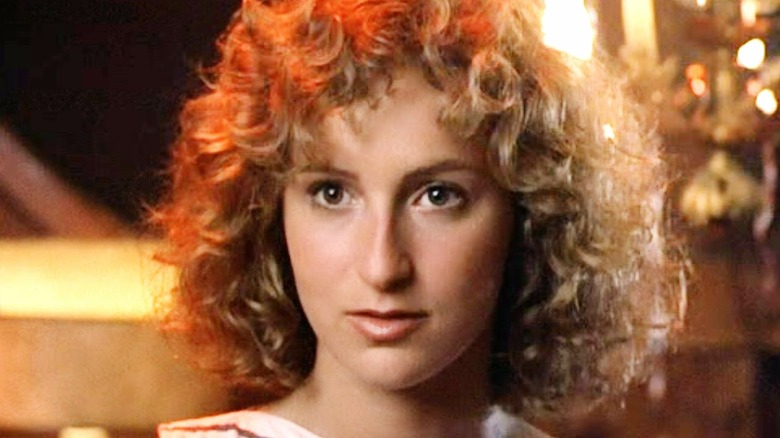 "Nobody puts Baby in the corner!" This iconic line from Patrick Swayze's Johnny Castle is just one of the many memorable moments to come out of the 1987 dance film "Dirty Dancing." And thanks to the film's legendary soundtrack and impressive dance sequences, the summer romance between Johnny and Baby has endured over the years and is now considered today to be one of the most essential dance films in all of cinema.
While the film's dancing and choreography are the main selling point, the success of "Dirty Dancing" wouldn't have been possible without the strength of its cast. In the three decades since the film's release, many of the cast members have gone down very interesting career paths. While some went on to achieve massive stardom and continue to work today, others went down quieter roads with more unique projects or settled down outside of the spotlight.
Here is what happened to the cast of "Dirty Dancing" after release.
Jennifer Grey – Frances "Baby" Houseman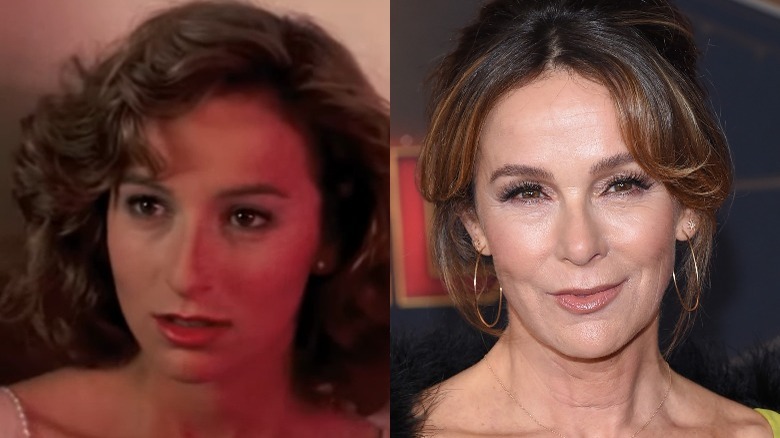 Jennifer Grey was already an established actress before taking on the role of "Dirty Dancing" protagonist Baby Houseman. She made a splash playing Jeanie in "Ferris Bueller's Day Off" and had previously starred alongside Swayze in "Red Dawn," meaning that their chemistry was already there. Though "Dirty Dancing" did launch Grey into superstardom, she wasn't exactly able to enjoy the fame after she got involved in the infamous Matthew Broderick car collision that happened around the film's release.
Still, Grey continued to work in Hollywood, appearing in guest roles for several movies and television series, and even doing voice work for animated shows like "Phineas and Ferb." She married "Marvel's Agents of S.H.I.E.L.D." actor Clark Gregg in 2001 and had a daughter named Stella, but the two divorced in 2021.
One of her most notable projects in recent years was winning the 11th season of ABC's "Dancing With The Stars," in which she competed against the likes of Kurt Warner and Michael Bolton.
Patrick Swayze – Johnny Castle
Thanks to films such as "The Outsiders," "Youngblood," and "Red Dawn," Patrick Swayze was already a known figure in Hollywood. But the role of troubled yet charming dance instructor Johnny Castle was one of the defining roles of his career, helping him land several other major roles in films like "Point Break," "Ghost," and "Road House," as well as various television appearances. Highlights of his later career include a memorable turn in 2001's cult classic "Donnie Darko."
Unfortunately, Swayze's numerous health issues became a problem for him later in life, and the actor died of pancreatic cancer in September 2009 at the age of 57. Swayze's final role was in the drama film "Powder Blue" alongside Ray Liotta and Jessica Biel. Swayze is survived by his wife Lisa Niemi, who also appeared in several of his films. The duo even starred together in the 2003 dance film "One Last Dance," which Niemi wrote and directed.
Jerry Orbach – Jake Houseman
Well-known Broadway actor Jerry Orbach played Baby's father Jake Houseman, a doctor who is initially untrustworthy of Johnny and forbids Baby from spending time with him. A veteran of both the stage and the screen since the '50s, Orbach received praise for his roles in "Guys and Dolls" and "Chicago," and won the Tony Award for his performance in "Promises, Promises."
Orbach continued to work after "Dirty Dancing" released. Most people know him today as Detective Lennie Briscoe on the original "Law & Order," where he was a main cast member for 12 seasons and appeared in several of the franchise's spin-offs. Orbach was also an accomplished voice actor, most notably providing the voice of Lumiere in Disney's "Beauty and the Beast."
Orbach played the role of Briscoe up until his death of prostate cancer in 2004 at the age of 69, his final appearance coming in the spin-off series "Law & Order: Trial By Jury."
Cynthia Rhodes – Penny Johnson
Before Baby came into his life, Johnny Castle's main dance partner was Penny Johnson, played by Cynthia Rhodes. An accomplished dancer and singer, Rhodes got her first film role as a dancer in the musical "Xandau." This paved the way for several other dance roles in other musical films, including "Flashdance" and "Staying Alive." She even landed a starring role opposite Tom Selleck in the Michael Crichton film "Runaway" before her role in "Dirty Dancing."
After her appearance in "Dirty Dancing," Rhodes continued to appear in music videos with her husband, musician Richard Marx, and was briefly a member of the pop group Animotion. Rhodes and Marx eventually got married in 1989 and had three children together, but the two divorced in 2014.
After the birth of her children, Rhodes retired from performing to focus on her family. Her final acting role to date was the 1991 film "Curse of the Crystal Eye."
Kelly Bishop – Marjorie Houseman
Baby's mother, Marjorie Houseman, was played by actress Kelly Bishop. Like Jerry Orbach, Bishop is a veteran theater actress who has been working consistently in Hollywood since the '60s. She gained recognition for her Tony Award-winning performance in "A Chorus Line" before playing the role of Marjorie.
After the release of "Dirty Dancing," Bishop continued to work in theater, film, and television. Modern day audiences know Bishop well for her role as Emily Gilmore on "Gilmore Girls," a role she played for all seven seasons of the show as well as the Netflix revival "Gilmore Girls: A Year in the Life." Some of Bishop's other notable television roles include Fanny Flowers on the ABC Family drama "Bunheads" and her portrayal of Eleanor Lambert on Netflix's "Halston."
Outside of acting, Bishop was married twice. Her second husband, former ESPN and CNN talk show host Lee Leonard, died in 2018.
Jane Brucker – Lisa Houseman
While Baby was busy falling in love with Johnny, her sister Lisa was getting mixed up with some bad company. Specifically, the man that got Cynthia Rhodes' Penny pregnant, which caused Penny to miss the important dance competition that brought Baby and Johnny together.
The actress who played Lisa, Jane Brucker, only had two acting credits on television before landing her role in "Dirty Dancing," and even wrote the song that her character performs in the film. After the movie's release, she continued to act in small roles for television, but she seems to have left the spotlight. Her last acting credit was a 2009 short titled "Holding For Miss Kelly."
In her private life, Jane married actor Brian O'Connor in 1986 and had a daughter named Sally, but the two divorced in 1993. She is currently married to photographer Raul Vega, and the two have a daughter named Rachel.
Jack Weston – Max Kellerman
The resort where Baby and her family stay during the film, and the place of Johnny's employment, is owned by Jake's old friend, Max Kellerman. Kellerman was one of the last film roles for actor Jack Weston. Prior to "Dirty Dancing," Weston began acting at a very early age before joining the army. After serving his country, he set his sights on Broadway and was eventually nominated for a Tony Award for his role in the Woody Allen play "The Floating Light Bulb."
Like many theater actors, Weston eventually transitioned to film and television. Some of his most notable film roles before "Dirty Dancing" include the Alan Alda film "The Four Seasons" and his Golden Globe-nominated performance in "The Ritz." He starred on two short-lived sitcoms, "My Sister Eileen" and "The Hathaways," and made guest appearances on shows like "Gunsmoke" and "The Twilight Zone."
His last role was in the 1988 sci-fi comedy "Short Circuit 2." He died from lymphoma in 1996.
Max Cantor – Robbie Gould
It's safe to say that Max Cantor's Robbie Gould is the main villain of "Dirty Dancing." Not only is he the one who gets Penny pregnant at the beginning of the movie, but he also refuses to help pay for the abortion she needs while also making advances on Lisa. His despicable actions only get worse when he lets Johnny take the fall for Penny getting pregnant after Jake forbids Baby from seeing him, and ends up rejecting Lisa by sleeping with a married woman.
After his role in "Dirty Dancing," Cantor worked on one other film, 1989's "Fear, Anxiety & Depression," before leaving acting entirely to pursue a career in journalism. He ended up working for The Village Voice in New York City, writing about the city's drug problems. Sadly, Cantor died in 1991 at the age of 32 due to a heroin overdose.
Neal Jones – Billy Kostecki
Johnny's cousin and closest friend Billy is always there when you need him. Portrayed by actor Neal Jones, Billy was the one who introduced Baby to Johnny, and even scheduled Penny's abortion appointment for her, even though the procedure ended up getting botched.
Billy Kostecki was Jones' first major role as an actor. Since the film's release, Jones has enjoyed consistent work in both film and television. He has appeared in small roles for big films like "G.I. Jane" and "The Devil's Advocate," and enjoyed recurring roles in shows like "Rescue Me" and "Law & Order: Criminal Intent." One of his more substantial roles was on the HBO miniseries "Generation Kill," where he played Sgt. Maj. John Sixta for all seven episodes.
Jones hasn't appeared on screen much lately. His most recent acting credit was in a 2011 short titled "Carbone: Breaking Point."
Miranda Garrison – Vivian Pressman
Near the middle of the film, Robbie Gould ends up sleeping with a married woman named Vivian Pressman, who goes for Robbie after getting rejected by Johnny. Vivian also plots revenge against Johnny by accusing him of stealing her husband's wallet in an attempt to get him fired, but the lie is eventually exposed when the real thieves are caught.
Pulling double duty while playing Vivian, Miranda Garrison also worked as an assistant choreographer for the film alongside Kenny Ortega, who would go on to direct "High School Musical." Garrison continued to work both in front of and behind the camera after the film's release, choreographing several musicals such as "Selena" and "Evita."
Garrison was also featured in two "Dirty Dancing" related projects in later years. The first was working as the choreographer for the 2004 prequel film "Dirty Dancing: Havana Nights," which starred Diego Luna and featured a cameo appearance from Patrick Swayze. The second was as a judge for the British reality competition series "Dirty Dancing: The Time of Your Life."
Wayne Knight – Stan
"Dirty Dancing" was one of the first credited roles for actor Wayne Knight, playing entertainment staff member Stan. His star power only rose from there, appearing in several big films like "JFK" and "Basic Instinct" before landing his iconic role as Dennis Nedry in Steven Spielberg's "Jurassic Park." But Knight is perhaps most well-known for his roles as Newman on "Seinfeld" and Don Orville on "3rd Rock from the Sun."
In addition to several live-action film and TV roles, Knight has also lent his voice to animation. From major films like "Hercules" and "Toy Story 2" to children's cartoons like "Xiaolin Showdown" and "Catscratch," Knight's voice has been a part of many people's childhoods.
Knight has enjoyed steady work still to this day. His latest live-action film, "12 Mighty Orphans," is scheduled for release in June 2021. His most recent voice acting credits include guest spots on "Harley Quinn" and "Infinity Train."
Charles "Honi" Coles – Tito Suarez
Among the entertainment at the summer resort is the music of Tito Suarez. The character only appears at the very beginning and end of the film, and aside from a brief conversation with Max Kellerman, doesn't have much in the way of memorable dialogue. Still, his impact on the world of "Dirty Dancing" is undeniable.
Tito Suarez was played by Charles Coles, a professional tap dancer who was big in the 1940s thanks to his partnership with fellow tap dancer Charles Atkins. Coles was also a Broadway performer, winning the Tony Award in 1983 for his performance in "My One & Only." He had small roles in several films such as "Rocky II" and "The Cotton Club," appearing as both himself and as a fictional musician. "Dirty Dancing" was his final film role, but he continued to perform throughout the years.
Coles died in November 1992 after a battle with cancer. He was eventually inducted into the Tap Dance Hall of Fame in 2003.