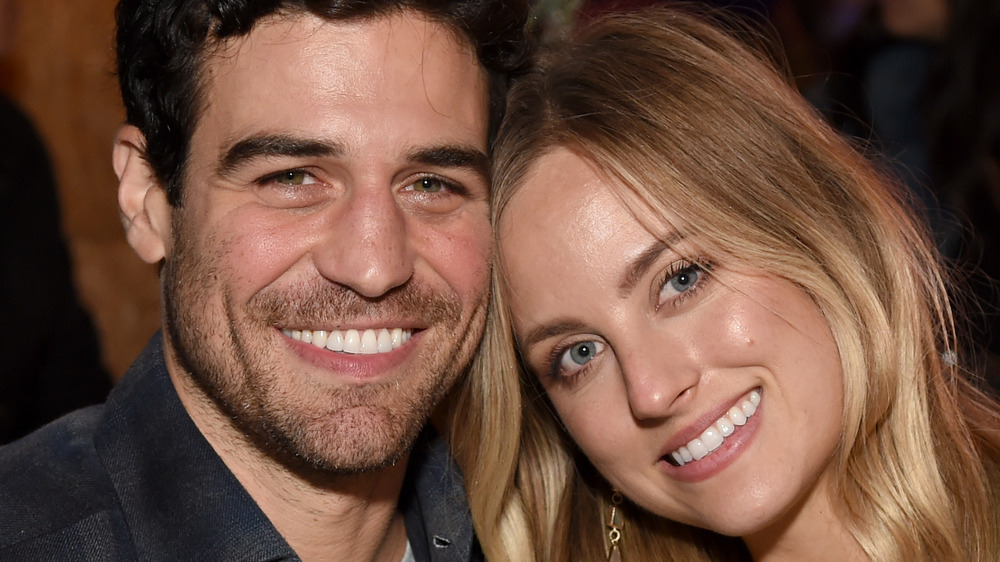 Most fans of the Bachelor franchise know that despite the line, "I've seen this journey work" uttered by contestant after contestant, the reality dating show doesn't typically end with wedding bells. After all, only one leading man from The Bachelor's 25 seasons is married to the person he proposed to during the season's finale — not exactly the best track record. So for fans looking for more success, the obvious answer is Bachelor in Paradise, the summer get-away dating show that brings former contestants of The Bachelor and The Bachelorette together on the beach to find love.
Additionally, some would argue that Bachelor in Paradise is more entertaining than a regular season in the franchise. It brings back both fan favorites and villains, and gives people a second chance at love — and there have been quite a lot of couples who made it out with a romantic partner (some for life).
Bachelor in Paradise was halted in the summer of 2020 due to the coronavirus pandemic, but it will be back in summer of 2021. So until then, we're answering the question that so many out there want to know: how many Bachelor in Paradise couples are still together?
Together: Raven Gates and Adam Gottschalk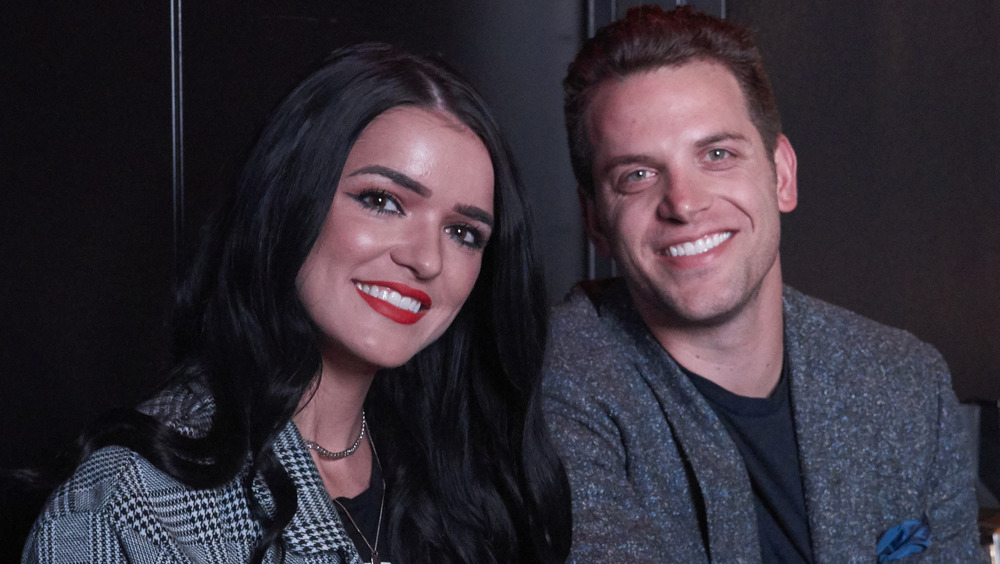 Raven Gates was a beloved fan favorite during Nick Viall's season of The Bachelor, and it really didn't come as a shock when she made her way down the steps to the Bachelor in Paradise beach. Gates stole the heart of Adam Gottschalk, a favorite from Rachel Lindsay's season of The Bachelorette, and the two really did hit it off. Adam didn't propose to Raven during their Paradise season, but waited until May 2019 to pop the question.
The duo quickly started planning their wedding, but as noted by People, they had to postpone time and time again due to the coronavirus pandemic. "We were supposed to be married three times by now and haven't yet," Raven lamented in September 2020. "My brother asked me over the weekend, 'Are you married yet? Have you just not went ahead and eloped at this point?' And I'm like, 'No, we're waiting it out.'" Raven added, however, that having to wait for the wedding of their dreams would be worth it, and that she and Adam would be more than prepared for their big day.
On April 16, 2021, the two finally tied the knot. "I couldn't have imagined it any other way," Raven told People.
Broken up: Chris Bukowski and Katie Morton
There's no Bachelor Nation without Chris Bukowski; he's been on The Bachelorette, Bachelor Pad, and three seasons of Bachelor in Paradise. And it looked like the third time was the charm, because Chris met Katie Morton, a beloved contestant within the franchise (and winner of best eyes we've ever seen). According to Us Weekly, the two attracted each other's attention early on — and despite a rockier season of Paradise with a lot of hesitation from Chris — he proposed to Katie during the season finale.
However, it wasn't meant to be, because just four months later the two had ended their engagement. "We've reached a point in our story where we agree it's best to go our separate ways. We have chosen to love and respect each other as friends because that's the base of our relationship, and it's what is most natural for us," they wrote on Instagram. Katie has since moved on and has been dating soccer player James Rowe (via Us Weekly). Chris has only posted a handful of ads and updates on his Instagram, so if he's moved on with another relationship, he's keeping it under wraps.
Tied the knot: Jade Roper and Tanner Tolbert
If there's one couple that just screams Bachelor in Paradise success story, it's Jade Roper and Tanner Tolbert. Any fan of the franchise knows that "Jade and Tanner" are dropped during serious conversations about how the show "works" for people, but to be fair, they are a great example of a Paradise romance gone right. According to People, the pair met during the 2015 season of Bachelor in Paradise and got married in 2016. Since then, they've been pretty busy growing their family.
As of publication, Jade and Tanner have three kids: daughter Emerson (who goes by Emmy, which is the sweetest thing in the world) and two sons, Brooks and Reed. And to keep Bachelor Nation on its toes, Jade revealed that she and Tanner haven't closed the door on the possibility of baby No. 4. "Maybe we could just have another," Jade told People in March 2021. "Four would be a great number. They'd have the buddy system! There's just something special about the mother-child bond and I just love it." However, the two changed their tune a couple months later. "I think I'm out," Tanner told Us Weekly, noting, "I'm not saying never. I'm just saying like 10 percent chance of having more."
Called it quits: Joe Amabile and Kendall Long
"Grocery store Joe," Joe Amabile stole our hearts, there's no question about it. The Chicago native was briefly on Becca Kufrin's season of The Bachelorette, and even though he went home on night one, he captured Bachelor Nation's attention. So when he found love with the lovely Kendall Long during Bachelor in Paradise, it seemed like every fan of the show let out a collective sigh of relief. After all, the two seemed pretty perfect for each other.
But sadly, it wasn't meant to be for Kendall and Joe. They announced their shocking split, made even more surprising given that they'd just moved in together and were getting a dog. During an episode of her podcast, Down to Date, Kendall said that she absolutely didn't see the breakup coming. "I thought Joe and I were going to literally be married," she explained, as noted by People. "If anyone knows me, I'm not the person that plans my wedding and I was literally doing that with Joe." Ouch, be still our Bachelor hearts.
Engaged: Kevin Wendt and Astrid Loch
We love Kevin Wendt and Astrid Loch. They are, without question, an underrated Bachelor in Paradise couple and have been giving us consistent, loving updates about their relationship since their time on the show. The duo didn't get engaged while on Paradise, as Kevin popped the question later on in their relationship, but they're now (as of publication) planning their wedding.
Of course, the coronavirus pandemic threw a curveball in their wedding details, and Astrid took to Instagram in July of 2020 to give her followers an update about their ceremony plans. "We've decided to postpone to November 2021 and weirdly enough we're actually okay with it," she wrote. "We realized it was time to take a step back and reevaluate our priorities. And as much as I was disappointed at first… it's been a great reminder of why we're getting married in the first place." Astrid added that 2021 was theirs for the taking.
Since the update, the duo have shared insight into their lives, pictures of their sweet pup, and have updated fans on Kevin's career as a firefighter. And in May 2021, they announced they were expecting a baby. These two are the best. There, we said it.
Tragically ended: Carly Waddell and Evan Bass
This one was shocking and it still hurts. Bachelor in Paradise's poster couple, Carly Waddell and Evan Bass, split up after being married for three years and literally no one in Bachelor Nation saw it coming. The two seemed to have a fairytale story: they met on Paradise, got married, had kids, and their names got thrown around in Paradise conversations because what they had just seemed to be perfect.
But clearly, that was not the case. According to People, Evan told Carly that he wanted to get divorced, and even though they'd been going to therapy to try to work out their problems, their efforts didn't save their marriage. In a video on YouTube thereafter, Carly talked about the split and what happened between them. "We tried for a really long time to make it work," she said. "I always told him that if he wanted out then it was his call because I'm just a person that would never be out. So, what are you gonna do? If somebody doesn't want to be with you, they don't want to be with you." This is just ouch on every single level.
Married: Jared Haibon and Ashley Iaconetti
Not a lot of women have the tenacity of Ashley Iaconetti, because even though her relationship with Jared Haibon had its fair share of ups and down, she just knew that he was her person.
According to Us Weekly, Ashley and Jared met during the second season of Bachelor in Paradise, and although Ashley knew in an instant that Jared was the one, he wasn't on the same page. They didn't leave the beach together, and even made it back to Paradise for Season 3, and again didn't leave together. These two were the definition of an on-again, off-again relationship.
To the relief of Bachelor Nation, Ashley and Jared finally announced that they were together (officially) in May of 2018. They then took to YouTube and posted a lengthy video about their relationship, giving Bachelor Nation a lot of the answers to the most pressing question: what on earth happened between them? Jared admitted that while he didn't think things were over for him and Ashely after Paradise, it was a "slow burn." It seemed to pay off, because the two tied the knot in 2019.
Not built to last: Chris Randone and Krystal Nielson
Chris Randone and Krystal Nielson were both painted as villains on The Bachelorette and The Bachelor, respectively, so it wasn't altogether surprising when they fell into each other's arms during Bachelor in Paradise. Dubbing themselves "Glitter and Goose," Chris and Krystal got married in August of 2019, and their wedding aired on ABC. It seemed like the Paradise dream scenario, but unfortunately, things went downhill.
In February of 2020, Krystal announced on her Instagram that she and Chris would be taking a "conscious separation" — Chris went to Florida, Krystal stayed in California, and they said that they'd be "open to where our heart calls us to be next." But clearly their hearts — or at least Krystal's — took her elsewhere; she revealed in November of 2020 that she was expecting a baby with her boyfriend, Miles Bowles. As noted by People, Chris reacted to the news, saying that it was "icing on the cake for feeling truly broken." He added, "I'll continue to follow my heart and let God guide my path in finding an incredible woman to build and grow with." Krystal welcomed her baby in April 2021.
Going strong: Hannah Godwin and Dylan Barbour
Fan favorite Dylan Barbour went to Bachelor in Paradise with one person in mind: Hannah Godwin. From day one, he just knew that she was the lady that he wanted to get to know, and it was excruciating to watch Hannah flip flop between Dylan and Paradise's player Blake Hortsmann.
According to Us Weekly, Hannah and Blake had a previous connection before Paradise started filming, so it certainly seemed like an uphill battle for Dylan. But Hannah eventually saw that Dylan was the man who was all in for a relationship with her, so she called off her fling with Blake and got together with Dylan. He popped the question at the end of the season, and the two got engaged (much to the relief of Bachelor Nation).
Hannah and Dylan started off their engagement with a bit of a long distance relationship — she was in Los Angeles and he was in San Diego — but due to the coronavirus pandemic, they moved in together. "Luckily, we're both easygoing so being trapped together in sweats all day with my BFF isn't a bad day," Hannah said. We're glad these two worked out.
Ended things quickly: Demi Burnett and Kristian Haggerty
Demi Burnett and Kristian Haggerty made history within the Bachelor franchise as the first same-sex couple to get engaged. Demi, a favorite within Bachelor Nation, went on Bachelor in Paradise even though she had a connection with Kristian, an outsider who'd never once graced the scene. After a brief fling with Derek Peth, Demi got back together with Kristian, who'd flown to paradise specifically to reignite their relationship. The two got engaged at the end of the season, and they seriously looked so in love.
But as noted by Us Weekly, it really wasn't built to last; Demi revealed what went wrong while appearing on the podcast Almost Famous, hosted by Ben Higgins and Ashley Iaconetti. "I wasn't in it, and she was so in it," Demi explained. "She was so good to me and that would make me feel guilty 'cause I was like, 'I'm not feeling the same anymore and I feel bad that I don't feel the same anymore because I made a commitment to you. I feel like a garbage human being.'" Demi added that she "kept trying" to make it work, but it wasn't meant to be.
In it for the long haul: Dean Unglert and Caelynn Miller-Keyes
A beauty queen and a self-proclaimed van guy might not seem to have a lot in common, but it was truly meant to be for Dean Unglert and Caelynn Miller-Keyes. The two met on Bachelor in Paradise in the summer of 2019, and despite a very rocky start (that involved Dean leaving paradise, only to come back to win Caelynn over), the two have been going steady ever since.
While the status of their relationship is a little unknown — there have been a lot of rumors about whether or not they're married — Dean and Caelynn are a true Paradise success story. What's the secret to their success? According to Dean, it helps that he can be his true self around Caelynn. "I can be my dirtiest, grungiest self — doesn't matter," Dean said on his podcast, Help! I Suck at Dating, as noted by People. "She still loves me and accepts me and appreciates me for being that. I think that's the biggest thing." Additionally, Dean said that he's been able to be completely honest with Caelynn about his flaws, faults, and everything in between. Love these two.
Not meant to be: Taylor Nolan and Derek Peth
It seemed like Taylor Nolan and Derek Peth were meant to be. She was the contestant who coined the term "emotional intelligence," and he was the guy next door type who was easy to get along with. So it really didn't come as a shock when Derek popped the question in front of the live studio audience during the finale of Bachelor in Paradise.
But alas, another relationship bit the dust, and Taylor and Derek called it quits in 2018. As noted by Refinery29, the broken-up duo released a statement at the time of their downfall, saying that they'd put "everything" into making their relationship work. But it seemed like things were a little bit more complicated, and Derek finally opened up about it. "It was very stressful at the end," he confessed while appearing on The Morning Toast. "I continue to process [the breakup] all the time."
Derek made it back to paradise and sparked a (failed) relationship with Demi Burnett, and Taylor reappeared in the headlines after controversial tweets from her past caught up with her (via People).
Moved on: Tayshia Adams and John Paul Jones
Tayshia Adams and John Paul Jones seemed like an odd pairing — she was one of the most sophisticated ladies on Bachelor in Paradise, and he was the human embodiment of a golden retriever. But they hit it off, and spent a lot of their time together.
According to Refinery29, Tayshia ended things with JPJ as their run on Paradise came to a close; during the finale, Tayshia revealed that she had second thoughts. The two revisited their relationship after Paradise, but ultimately broke up in October of 2019. And it seems like everything happens for a reason, because given the fact that Clare Crawley's season of The Bachelorette ended so quickly (she got engaged to Dale Moss after about five minutes on the show), Tayshia stepped in and became the Bachelorette.
Tayshia was hands down one of the best leads in franchise history, and ended up getting engaged to the ever-charming Zac Clark. The two have been together ever since, and while they're doing long distance as of publication — Tayshia has been selected as one of the new hosts of The Bachelorette – they continue to make time for each other. Cute.
Called it off: Marcus Grodd and Lacy Faddoul
This is for the OG fans of Bachelor in Paradise. Marcus Grodd and Lacy Faddoul had a proclaimed "whirlwind romance" on Paradise, but despite their connection and their television-aired wedding, their marriage fell apart in what seemed like seconds. As noted by Life & Style, Marcus and Lacy left paradise and he quickly departed for basic training, as he was serving as a Marine. But when he came back three months later to reunite with Lacy, she had "pulled away" from him. "I wanted to move in together but she recommended that I find my own place," Marcus revealed. "It feels like she's a runaway bride. We had this fantastic relationship, and then it totally vanished. It was like she ran away."
To make matters even crazier, it turns out that Marcus and Lacy's wedding wasn't a legally binding ceremony. "When we came back, we were supposed to start the paperwork. But she stalled," Marcus continued. "I feel duped."