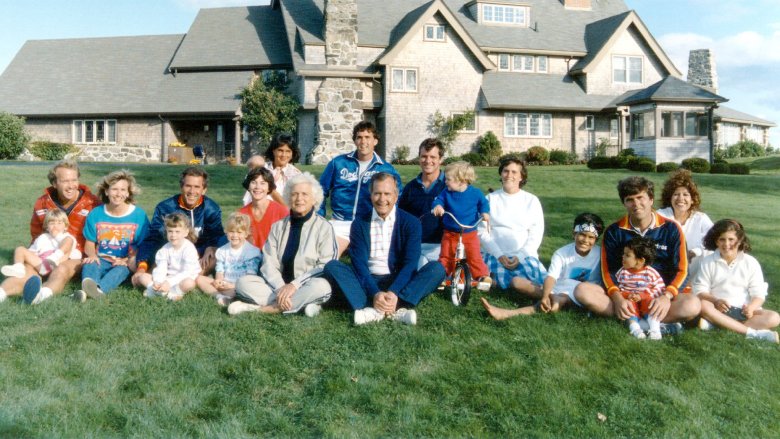 George H. W. Bush and Barbara Bush's five children, George W. Bush, Jeb Bush, Neil Bush, Dorothy Bush Koch, and Marvin Bush, have all accomplished a lot during their lives. Most of them have gone on to pursue a career in politics or business, but perhaps one of their greatest achievements is giving birth to (or adopting) well-rounded children, who also happen to be incredibly good looking.
Jenna Bush Hager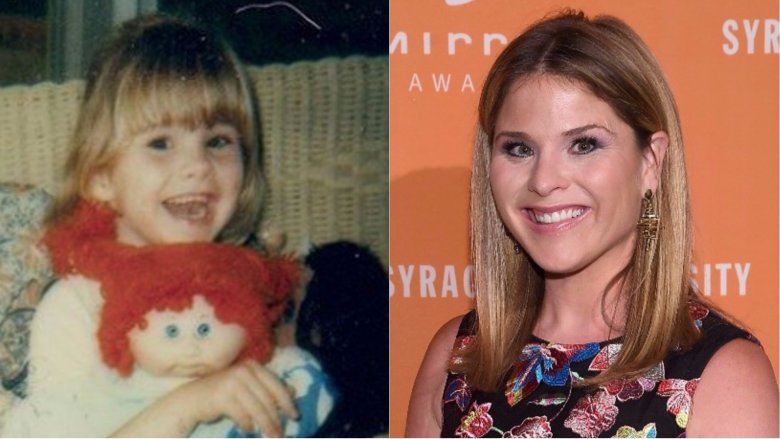 Jenna Bush Hager is one of George W. and Laura Bush's twin daughters. Jenna has been married to Henry Chase Hager since 2008, and together they share two daughters, Margaret Laura "Mila" Hager and Poppy Louise Hager. In 2017, the family was mentioned as part of
People magazine's "World's Most Beautiful Families of 2017" segment.
Jenna is definitely one of the most well-known Bush grandchildren because she's a national talk show host and works alongside BFF Savannah Guthrie as a correspondent for the Today show.
Barbara Bush
The second twin daughter of George W. and Laura Bush is Barbara Bush (and if you recognize that name it's because it's also her grandmother's name). Barbara is slightly older than and her twin Jenna and while these women are definitely not identical, there is no denying that they are both absolutely gorgeous.
Barbara is passionate about global healthcare and is the co-founder and CEO of the non-profit organization Global Health Corps. She is also the coauthor, along with her sister, of the book Sisters First: Stories from Our Wild and Wonderful Life, which sheds light on what it's like growing up in the White House with recounts of their lives and more intimate stories.
George P. Bush
Like his father Jeb Bush, George P. Bush has also dabbled in politics, but he is a man of many talents. George, whose mother is Columba Bush, is also a Texas Land Commissioner and has served as an intelligence officer with the U.S. Naval Reserve.
He spoke to Time magazine about his political inspiration and while he is proud of his family's public service, outside of them he claims to "look to Winston Churchill for inspiration." He added, "He was a scholar, a man of the arts, and the world's most resolute leader during WWII in the face of Nazi Germany."
But career and politics aside, another thing that you should know about George is that he is a real looker with a smile that can melt hearts!
Noelle Bush
Jeb Bush has one daughter with Columba Bush and her name is Noelle Bush. While Noelle was blessed with good genes, she has had a hard life and has struggled with substance abuse.
Because of her father's political career, Noelle's struggles became public knowledge and Jeb has previously addressed them during an emotional interview with the Huffington Post saying, "She went through hell. And so did her mom and so did her dad. And it was in a private setting, but then it became very public when I was governor. And it wasn't easy."
John Ellis Bush Jr.
John Ellis Bush Jr., also known as "Jebby," is the youngest of Jeb and Columba Bush's three children and was born in 1983. In 2015, Bloomberg headed an article stating that "Jeb Bush (Jr.) Has a Very Bright Political Future," and that same year he was active in campaigning for his father to become the next president of the United States.
Speaking of campaigning with his father, Bush Jr. told Washington Post that he was ready to be hands on. "I basically told him I was all in and happy to do whatever he wanted me to," he said. And while politics are interesting and all, most people probably want to know what he looks like now that he's all grown up and, much like his brother, he does not disappoint in the looks department.
Pierce Mallon Bush
Pierce Mallon Bush is Neil Bush's son from his first marriage to Sharon Smith. He was born in 1986, making him the middle child in his immediate family.
Pierce is the CEO of Big Brothers Big Sisters Lone Star, a non-profit organization whose aim is to help children by pairing them one-to-one with volunteer mentors. According to the website for Big Brothers Big Sisters, Pierce's responsibilities include fundraising, budgeting, and helping the organization to meet its strategic goals. As for Pierce's looks? There's no mistaking that Pierce is Neil's son and they both have the same strawberry blond locks and captivating smile.
Lauren Bush Lauren
Lauren Bush Lauren (she married David Lauren in 2011) is one of Neil Bush's daughters with Sharon Smith. She was born in 1984 and, while she was always an attractive child, in adulthood Lauren is simply drop dead gorgeous. But then again, all the women in this family are incredibly beautiful. However, Lauren is so much more than just a pretty face, and she's also the CEO and co-founder of FEED Projects, which she started in 2007.
She is passionate about her work and gave an interview to Shinola's The Journal in 2016 explaining why she chose to address the overwhelming problem of world hunger. She revealed that despite millions of people around the world starving, she believes it is a problem that can be fixed.
"There is enough food produced each year to feed everyone on the planet," she said. "That's why FEED is focused on the issue of hunger. We know what the solution is; and until everyone on the planet has the nutrition needed to grow, learn and thrive, FEED will continue to support programs that focus on widening access to food in the most vulnerable places around the world."
Ashley Bush
The second daughter of Neil Bush and Sharon Smith, Ashley Bush, was born 1989. Unsurprisingly, she looks a lot like her sister and is also striking. Ashley is extremely talented and is a producer whose work includes mostly shorts, but she has also worked as a crew member on the Netflix film Beasts of No Nation and has created a web series about women working in the Northeast.
She gave an interview to Huffington Post about her experience on the web series, and explained that "seeing and understanding how various women juggle their careers and their homes has been extremely inspiring and empowering."
Sam LeBlond
George H. W. Bush's only living daughter, Dorothy Bush Koch, is a philanthropist and an author, but she is also the mother of four children. Her oldest is her son, Sam LeBlond, who she shares with first husband, William LeBlond.
Sam works as an account manager with Premium Distributors and has great respect for his grandfather. In fact, during an interview with Parade magazine, he revealed the one quality that he admires most about H. W. Bush is his selflessness. He said, "I mean, I look at his ridiculously distinguished career — but even after that, he could have done anything, [but] he embraces his Points of Light Foundation and that's based on service and service to others. And it's just kind of amazing — that selflessness."
As for his own life, on September 25, 2016, Sam married Lee Bobbitt in Lubbock, and his family and friends joined the couple to celebrate. Wedding guests included his cousins Jenna and Barbara Bush, and everyone looked to be having a fantastic time. He also appears to have a love of bow ties, something which has clearly not changed from his teenage years to now.
Ellie LeBlond Sosa
Ellie LeBlond Sosa is Sam's younger sister and daughter of Dorothy Bush Koch and William LeBlond. She's all grown up now and absolutely gorgeous. But aside from her looks here's what you should know about Ellie: she is married to Nicholas Sosa — who she met in Kennebunkport, Maine — and she thinks of her grandparents' love as a beautiful example of what marriage should be like.
George W. H. Bush and Barbara were married in 1945, and are still together. Speaking of their relationship during an interview with The Maine Mag, Ellie said, "They're still just so in love and you can see it in everything they do. My grandfather doesn't say as much these days, but the facial expressions? We're always laughing when we're around him."
Georgia Grace "Gigi" Koch
Georgia Grace "Gigi" Koch is Dorothy Bush Koch's daughter from her second marriage to Bobby Koch. Gigi was born in 1996, which makes her the youngest of all of Dorothy's children.
Unlike her older siblings, not too much is known about Gigi. She also has a brother, Robert David Kochand even less is known about him, so it appears that that these two prefer to live a more private life, away from the public eye. While it's incredibly hard to track Robert down on social media (so no photos here, sorry) we do thankfully know what Gigi looks like. And she is a lovely young woman with dark hair and big green eyes.
Charles Walker Bush
The youngest of Barbara and George H. W. Bush's children is Marvin Bush. Marvin has a son, Charles Walker Bush, whom he shares with his wife Margaret Conway Molster. Charles was born on December 12, 1989 and was adopted by the couple.
Charles has gone on to join the United States armed forces, and appears to view his grandfather as a role model. In an Instagram post, he paid tribute to his grandfather on his birthday, writing, "Happy 91st Birthday to this stud. If I can grow up to be even half the man that he is, then I'll have done it right."
Marshall Bush
Marshall Bush is beautiful, and while you could easily mistake her for a Bush by blood, she was actually adopted like her brother. She spoke about this during an interview with Parade, saying that although she and the rest of the Bush family are not biologically related, that doesn't mean that she and her brother don't feel 100 percent a part of the family.
She said, "So my brother and I have a little bit of a different perspective, just because we aren't actually blood-related. You would never know. We have never, not for one second, been treated any differently, and that's been pretty awesome." In November 2015, Marshall married Nick Rossi.