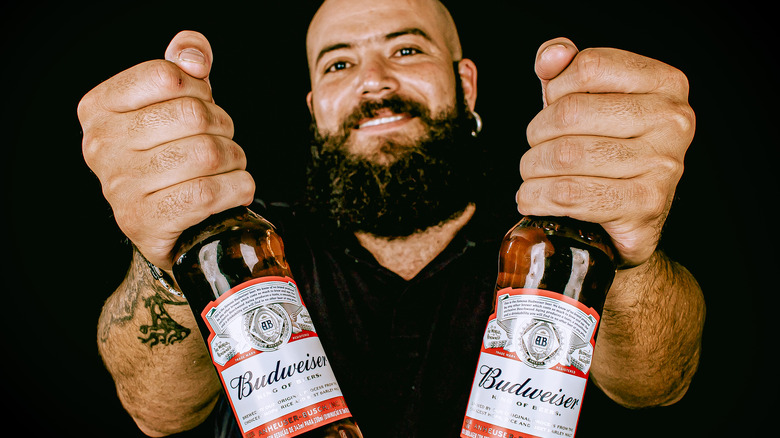 "When you say Bud, you've said a lot of things nobody else can say… When you say Budweiser, you've said it all!" If you are old enough to remember this jingle from 1970, you're old enough to sip a cold one and hum the epic "When You Say Bud" song while reading this. Not surprisingly, the self-proclaimed "King of Beers" brewer has actually been around for generations, going all the way back to the 1850's. Two men, Eberhard Anheuser and Adolphus Busch, teamed up to transform Anheuser-Busch from a simple neighborhood brewery into the well-known beer maker America knows and loves today.
Anheuser-Busch has indeed long been a family company. Writer Sanford Wexler says that the hiring of CEO Patrick Stokes in 2002 was the first time in the company's history that someone other than a family member was put in charge. But with one of every two beers sold in America bearing an Anheuser-Busch label, the conglomerate clearly remains on top, from impressive sales to its legendary Super Bowl ads that have ingrained themselves into American culture.
Such fame has not been without its share of tragedies, however, as generations of the Anheuser-Busch families have endured their own personal troubles. Read on for the tragic history of the Anheuser-Busch dynasty.
Eberhard Anheuser was a soap and candlemaker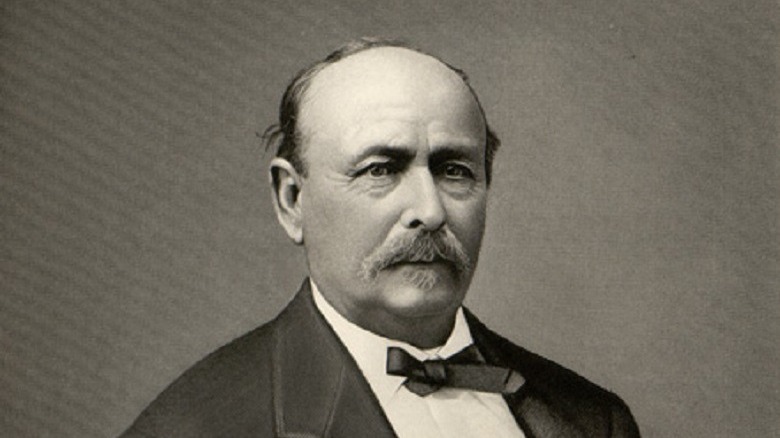 According to Immigrant Entrepreneurship, Eberhard Anheuser was born in 1806 in what later became Germany. He was married with children when he came to America and landed in Ohio in the early 1840's. He initially worked as a candle maker and in the soap manufacturing business before moving to St. Louis, Missouri. By 1852, Anheuser had partnered with Lawrason Riggs of Riggs & Co., manufacturers of candles, lard oil, and soap. But he would pursue a whole other business endeavor following the death of his wife, Dorothea, in 1854.
In 1860, one of Anheuser's clients, the Bavarian Brewing Company, went into bankruptcy. Rather than lose money on what the company owned to him, Anheuser purchased it instead and renamed it the E. Anheuser & Co. Bavarian Brewery. He also met up with a young brewery supplier, Adolphus Busch, who had also immigrated from present-day Germany. Busch soon took a liking to one of Anheuser's daughters, Lilly. Busch's brother Ulrich, meanwhile, fell in love with another of Anheuser's daughters, Anna. The couples were wed in a double ceremony in 1861. And when Anheuser began having trouble making ends meet at his brewery a few years later it was his son-in-law, Busch, who would eventually step in as his new partner.
Adolphus Busch inherited both money and a work ethic
Adolphus Busch was an excellent marriage prospect for Lilly Anheuser. He had first immigrated to New Orleans in 1857 before making his way to St. Louis. He was working as a steamboat inspector when his father died two years later. Young Busch inherited a large amount of money, enough to open his own brewery supply business. Anheuser had to have admired the man's work ethic; Busch would later advise working for others "faithfully and loyally and with untiring energy," and "to give his employer double what he is paid for." Just after his marriage to Lilly Anheuser, Busch also served in the Civil War for three months and received an honorable discharge.
Upon his return from the war, Busch rejoined his father-in-law's brewery business in 1864, says NBC News. City directories show him as a co-owner of Anheuser's company, and he was able to buy out a third owner in 1865. He also encouraged continuously reinvesting the company profits, resulting in increased sales amounting to 8,000 barrels of beer during 1865 alone. But it was not until 1874 that Busch and Anheuser became partners in any official capacity. Two years later the most famous of Anheuser and Busch's brews, Budweiser "Lager Beer," premiered. In 1879, the company was finally renamed Anheuser-Busch.
Eberhard Anheuser died of painful throat cancer
By 1880, annual production at Anheuser-Busch had increased to an amazing 141,163 barrels. The company was now well known across America, but the elderly Anheuser had long been in "failing health" when the St. Louis Globe-Democrat reported his death on May 3. The newspaper also noted him as the "originator in this city of bottled beer on a larger scale." According to Findagrave, Anheuser officially succumbed to throat cancer. He was buried in St. Louis' Bellefontaine Cemetery, with only a small marker bearing his name.
Eberhard Anheuser left a sizeable estate that included valuable stock in his company as well as $7,426.07 in cash alone — nearly $200,000 in today's money. Adolphus Busch and another son-in-law, Peter Schoettler, oversaw the estate. Anheuser's wealth was left to his children, the exception being his son William with whom he had issues dating back to when the two partnered to form the E. Anheuser & Son soap company for about five years. Exactly what the problem was remains unknown, but William only received one dollar from his father's estate. At the time, William was married and had children. He later worked as a German professor at Washington University, and died in 1901.
Tragedy in the Busch family
With Eberhard Anheuser's estate settled, Adolphus Busch became president of Anheuser-Busch. In his time as head of the company, says NBC News, he would become the first to incorporate refrigerated railroad cars to transport his beer and built a beautiful mansion next to the brewery to keep an eye on things. By 1885 the company was the leading brewery in St. Louis, and Busch was the first brewer to sign a labor union agreement when workers went on strike in 1891. By the late 1890's everyone in America was drinking Budweiser. But while Anheuser-Busch flourished, Adolphus Busch's family life remained difficult.
Although Lilly Busch gave birth to 13 children between 1862 and 1884, three girls died as babies, one son died at the age of 15, and three other boys had succumbed to "appendix-related medical conditions by mid-adulthood." One of them, Carl, was born with disabilities and remained an invalid for life. The only son to survive into adulthood was August Anheuser Busch.
In 1905, the Busch's left Missouri to winter in a mansion (pictured) on "Millionaire's Row" in Pasadena, California. Most notable was their 14-acre garden which the public was invited to enjoy. And when Adolphus and Lilly celebrated their golden wedding anniversary in 1911, the Los Angeles Herald was one of several newspapers to cover the affair — especially the gift of a $200,000 crown presented to Lilly by her husband.
The death of Adolphus Busch
In 1906, Adolphus Busch caught pneumonia, which would cause him health problems for the rest of his life. By 1913, says Immigrant Entrepreneurship, he was still in bad health when he sailed to Germany to visit his vacation home. After falling ill on a hunting excursion, Busch died in his sleep. Left behind was an estate valued at around $60 million as August Anheuser Busch Sr. took over his father's company. Although his body was not brought back to America until 1915, Busch's funeral was quite extravagant. Afterwards, Lilly Busch resumed traveling to Germany. And that's when the trouble really began.
According to Medium, Lilly finally returned to America in 1918 to claim Adolphus's estate. The "Alien Property Law," however, had allowed California's government to seize the property. Lilly, they said, was a "German American" whom they feared would exhibit "pro-German sentiments." The Marysville Daily Appeal was one of several newspapers to report the seizure of the Busch estate as Lilly ultimately proved "she was indeed a loyal citizen of the United States" and got her property back. Ten years after Lilly's death in 1928, Busch Gardens closed at the Pasadena mansion. Today's Busch Gardens in Florida, however, remain as a tribute to the Busch family.
Adolphus Busch's grandson was kidnapped
According to Findagrave, Adolphus "Buppie" Busch Orthwein was the son of Adolphus Busch's daughter Clara, who inherited a portion of her wealthy father's estate. Even with Prohibition and the onset of the Great Depression in 1929, Anheuser-Busch had managed swimmingly, selling off real estate and inventing the first refrigerated box truck to keep afloat. But author David Stout notes that the success of companies like Anheuser-Busch spurred several kidnappings for ransom. The Busch family was one such victim.
On New Year's Eve in 1930, 13-year-old Buppie was riding in the family limousine when a "masked gunman" jumped atop the car, ordered the driver out, and drove away with the boy inside. The family formed a search party, and by morning the kidnapping was front page news. As the frantic search unfolded, the family offered a reward for any information about him.
Buppie, meanwhile, was taken to a house, tied to a chair, and a bag placed over his head. The family was contacted the next day. No ransom was demanded, however — just the news that Buppie was being returned unharmed. His kidnapper, Charles Abernathy, turned out to be a poor father of seven himself, and had even fed the boy during his ordeal. Abernathy fled but was later apprehended and sent to prison.
August Anheuser Busch Sr. killed himself
As Buppie Orthwein's family healed from his kidnapping, August Anheuser Busch Sr. was suffering his own troubles. After taking over Anheuser-Busch in 1913, he built a chateau at the family estate Grant's Farm, founded the Bridlespur Hunt Club, heavily supported the troops during World War I — and unwittingly inherited growing issues within the beer industry. In 1920, when national Prohibition hit, it was Busch who diversified the company, produced rail cars and concocted non-alcoholic beverages and even ice cream to survive. By the time Prohibition ended in 1933, less than 200 breweries were left in America.
Things only got worse in 1934 when Busch began suffering from "heart disease, dropsy, and gout." Dr. P.E. Rutledge would later testify that he gave the ailing man morphine one night in February, after which Busch asked his chauffeur to "turn on the radio 'and get some music.'" But as the chauffeur did so, he heard a shot ring out. Busch had shot himself just below the heart, leaving a note reading "Goodbye precious mama and adorable children." The brewery magnate's funeral was so large that police had to keep people from stealing mementos from the grave. Busch's estate was quite large too, and his son, August "Gussie" Busch, would later take over Anheuser-Busch.
Gussie Busch suffered family troubles too
According to St. Louis Today, August "Gussie" Busch Jr. took over Anheuser-Busch in 1946. Bill Knoedelseder, whose family knew the Busch's and who wrote "Bitter Brew: The Rise and Fall of Anheuser-Busch and America's Kings of Beer," described him as kind and fun yet vindictive, an "alpha Busch" with "unbridled" appetites and even a "barroom brawler." Yet he was also a natural at selling beer, and actually bought the St. Louis Cardinals in 1953 as a business move against a competitor. Life may have been sweet for Busch, but it wouldn't last.
In 1974, Busch's youngest child, eight-year-old Christina, was being driven home from school when the vehicle she was in was involved in an eight-car accident. Christina and the chauffeur were killed. Thankfully, Christina's brother Andrew survived. But shortly after Christina's funeral another of Gussie's children, August Busch III began conspiring against his father to take over Anheuser-Busch, says Forbes. And when Gussie tried to sell the company to R.J. Reynolds instead, according to "Under the Influence: The Unauthorized Story of the Anheuser-Busch Dynasty," Busch III successfully "ousted his father in a 1975 boardroom coup."
August Busch III was not Gussie Busch's only wayward son
In 1976 another son, Peter Busch, made the news after he killed his own best friend. Author Peter Hernon says Busch was "infatuated with guns" and had already accidentally shot himself in the leg when he met up with David Leeker, the son of So Good Potato Chip Company's president. The pair were at Grant's Farm when, according to Busch, he tossed a loaded Colt .357 handgun on his bed and it went off, striking Leeker and killing him. Leeker was buried at St. Louis' Valhalla Cemetery as the investigation continued.
In the end, the police concluded that the gun was actually within just a few feet of Leeker's face when it discharged. Busch was charged with manslaughter. Hernon explained that despite the charge and Busch's guilty plea, the man never even served a day in jail. He did, according to the Seattle Times, get five years' probation. Not everyone was happy with the verdict. "You can get away with murder if your dad owns St. Louis," sneered Worker's Power magazine. The unscathed Busch eventually moved to Florida, where he ran a "lucrative beer distributorship."
August Busch IV involved in a fatal car wreck
In 1983, August Busch IV, the son of August Busch III, was a student at the University of Arizona at Tucson when his black Corvette crashed at what the locals called "Dead Man's Curve." Hours later, sheriff's deputies found the body of bartender Michele Frederick near the rolled car, who had apparently been ejected from the vehicle. Inside the Corvette was a wallet, jacket, and revolver belonging to Busch, and the car was registered to him. Deputies forced their way into Busch's home and found him with a sheet around his waist and dried blood on his chest.
The Seattle Times says Busch was treated for a skull fracture. But his blood and urine samples were inexplicably lost and he was never charged with anything, says NBC News. Then in 1985, Busch was driving erratically when he led police on a chase in St. Louis until they shot out his tire. When he explained he thought kidnappers were chasing him, the officers changed his tire for him and let him go. Soon after, Busch joined Anheuser-Busch as chief of marketing; in 2006, the company announced he was replacing his father as president and CEO. But more trouble was ahead.
Anheuser-Busch was forced to sell
When August Busch IV was made president of Anheuser-Busch in 2006, the company was stumbling. Production had peaked in 1988 when 50.4 million barrels of the beer were sold. During the 1990's, Busch IV had initiated some stellar marketing ploys, including the Budweiser frogs. And in 2001, Bud Light surpassed Budweiser as the number one beer in America. Add the successful Super Bowl commercials beginning in 2002, and here was a company that was clearly on top.
Then, for the first time in company history, an outsider of the family, Peter Stokes, was hired to run things. Two years later, Miller Beer filed suit against Anheuser-Busch, claiming employees were putting Bud stickers on Miller products in stores. By the time Busch IV took over, liquor was now outselling beer. New products, including Jekyll and Hyde liquor and an "alcoholic energy drink" failed miserably. And then, in 2008, InBev of Belgium presented a $46.3 billion takeover bid. In spite of Busch IV proclaiming no such sale would "happen on his watch," his hand was inevitably forced as the sale became final at $52 billion. News of InBev's purchase included words like "devoured" and "hostile takeover" as Busch IV was deposed.
August Busch IV's girlfriend died at his home
As August Busch IV reeled over the takeover of Anheuser-Busch, yet another tragedy developed. In December 2010, the Tampa Bay Times reported that the beverage heir with the "good looks, money and a bevy of beautiful women" found his girlfriend, Adrienne Nicole Martin, dead in her bed at his St. Louis home. It was a double whammy, seeing as author Julie MacIntosh had just published a scathing new book, "Dethroning the King: The Hostile Takeover of Anheuser-Busch, an American Icon." Busch said he believed Martin may have overdosed on Trazodone, which she had been taking to help her sleep, and authorities verified there were no signs of foul play.
Martin, reported the Seattle Times, was a model who wanted to be an art therapist and help children. Her death deeply affected Busch IV, who called the incident "the saddest thing I've ever dealt with." And as reporters capitalized on his extravagant, sometimes wild lifestyle, even his ex-mother-in-law was quick to defend him as a hard working man. Busch himself said the sale of Anheuser-Busch sent him into a deep depression, a condition that was still apparent as late as 2017 when he was arrested in an intoxicated condition while trying to fly his helicopter in his own residential neighborhood. Eight dogs, guns, and prescription drugs were found on board.
Film studios yearn to air the Anheuser-Busch saga
Not surprisingly, film and television producers have caught a big whiff of the amazing, often tragic story of Anheuser-Busch. In July of 2019, American Craft Beer announced the premier of "Kings of Beer," a documentary which was co-released by Budweiser. The hour-plus show focused on "six of Budweiser's top brewmasters" who strive to make the best beer in today's competitive market. Months later, Deadline reported that 101 Studios was also producing a "drama," "Under the Influence," which was based on and titled after Peter Hernon and Terry Ganey's 1991 book.
Although Hollywood Reporter explained that "Under the Influence" would emphasize Anheuser-Busch's "entrepreneurial spirit and business acumen," throughout history, the project has yet to come to fruition. Instead, viewers have had to settle for an MTV-produced reality-TV series, "The Busch Family Brewed," whose first season aired in 2020. Although the show starred actual descendants of Adolphus Busch's family, The Diamondback noted the show "falls flat," and that each 20 minute episode "often felt like an hour." There is no news yet whether a second season will air.