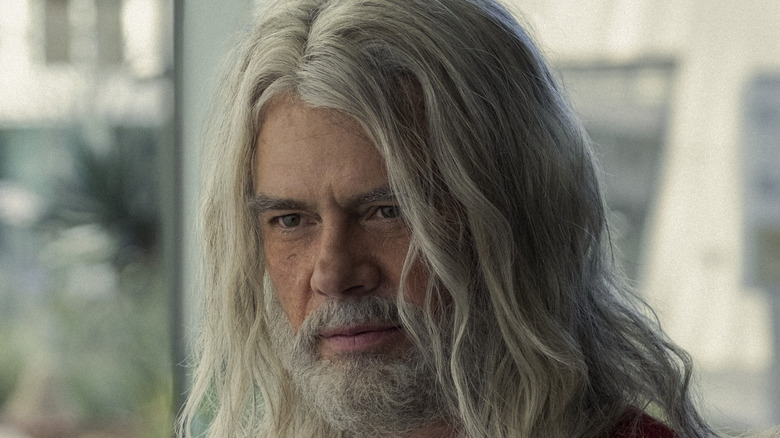 Long gone are the days when superhero fans had to hide their comic books under their mattresses to avoid getting called a nerd. Now, being a nerd is a badge of honor. Anyone who isn't caught up on the latest Marvel or DC blockbuster is now the outcast, and it's a new age for comic book content.
But DC and Marvel aren't the only major players in town anymore. Between series like "The Boys," "The Umbrella Academy," and now "Jupiter's Legacy," superhero fans are getting more and more on-screen options when they're in the mood for some caped crusading. Mark Millar's comics, "Jupiter's Legacy," got the Netflix TV series treatment in 2021 with a short 8-episode season that toggles back and forth between 1929 and the present. The show follows Sheldon and Grace Sampson as they pass the superhero torch onto their son Brandon — and try to convince their wayward daughter Grace to stop ditching her superhero duty for the occasional glamor of model life.
However, getting the show to the small screen wasn't always smooth sailing. It took years to make Millar's vision a reality from when Netflix acquired his comic book company, Millarworld in 2017. Between the heavy hitters who helped Millar make his comics a reality and inspiration from a certain space princess, there's a lot of drama and little-known facts to discover about "Jupiter's Legacy."
Stan Lee offered advice to Mark Millar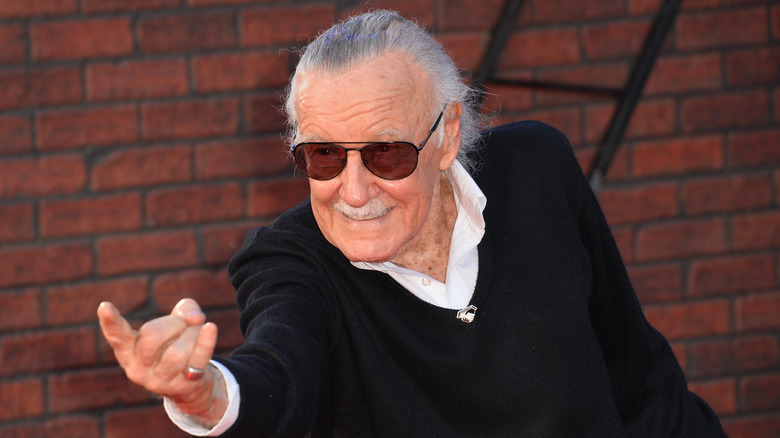 When Stan Lee gives you comic advice, you take it. Mark Millar worked for Marvel when Lee encouraged him to break from the company to create his own content.
Lee co-created Marvel's most iconic characters, but he never owned his own Marvel work — which led to a much lower pay cut from Lee's characters than he deserved. Lee (via Entertainment Weekly) even sued Marvel in 2002, dismayed with the meager cut he received from the first "Spider-Man" movie.
Wanting to help Millar avoid the same mistakes he made, Lee coached the budding comic book writer to write for himself instead of a large company. Speaking with Business Insider, Millar revealed the contents of an interview he had with Lee. On the success of Millar's Marvel books, Lee said, "That's great, but you should do your own characters instead of doing mine. I didn't do Superman and Batman and Tarzan and Sherlock Holmes. I went off and did the X-Men."
Lee hinted at his financial struggles regarding rights, adding, "Financially, now it's so much better for you guys than it ever was for me. You could own the rights to your own movies and books. You could license this stuff to people, like toys. If I had the opportunity you've had, I'd have killed for it." If you own the characters you create, you get to control their destiny — and any profits made from them. Given the success of "Jupiter's Legacy" and Millar's other Millarworld creations, it seems like it was a pretty good call.
Netflix snagged Millarworld for a hefty sum
It's not often that a major studio buys an entire company, but that's precisely what happened with Mark Millar's Millarworld company in 2017 when Netflix bought the whole shebang for around $40 million. Of course, the acquisition includes all of Millar's comic works from the company beyond "Jupiter's Legacy" — including Hollywood staples like "The Magic Order," "Kick-Ass," and "Kingsmen." Given the success of the latter franchises, it wasn't a huge risk for the streaming giant.
Given that the acquisition happened in 2017, what took so long for the series to end up on Netflix? Millar told The Hollywood Reporter that he focused on the series' quality rather than how quickly he could get it out. He candidly said, "You can do it fast, or you can do it brilliant. That's my philosophy. We were starting from scratch. Remember, you have to find the right showrunners, and it's a really, really competitive market because there is so much content." He added later, "With Netflix, the energy is enormous, and it feels like everything is being greenlit all the time."
Still heeding Stan Lee's advice, Millar made sure that he would remain president of Millarworld even after the acquisition. During an interview with Netflix, Millar noted, "When my wife, Lucy, and I sold Millarworld to Netflix in 2017, our first priority was 'Jupiter's Legacy.' We had flirted with the idea of a movie, but Netflix afforded us the chance to make this adaptation as big and deep as it needed to be[.]"
Crafting a legacy on screen
Mark Millar's "Jupiter's Legacy" Netflix debut was a long time coming. After heeding Stan Lee's advice, Millar conceptualized the series in 2008, but the first issue wasn't published until 2013. Millar handled the words while Frank Quitely covered the series' illustrations, and Pete Doherty took on the lettering. Millar told The Hollywood Reporter that the "Jupiter's Legacy" comics span over 20 issues, noting that it's the longest thing he's published. However, the Netflix series covers five issues over a single eight-episode season.
Compared to comic book universes like DC and Marvel, eight years between publishing the first comic and landing a massive Netflix deal for the series isn't exactly a long wait time. Some comics take decades to get to the big (or small) screen, so getting it done in less than a decade is impressive. Not that "Jupiter's Legacy" is Mark Millar's first foray into Hollywood — the writer's work was adapted into several massively popular film series, including the "Kingsman" franchise and "Kick-Ass."
It was only a matter of time before "Jupiter's Legacy" added to the ranks. And let's face it: right on the heels of a global pandemic and economic disaster, 2021 was the most appropriate year that a series covering financial ruin and ethical dilemmas could come out.
James Gunn told Millar not to make Jupiter's Legacy a movie
Few directors have had more success with superhero movies than James Gunn. The director brought "Guardians of the Galaxy" to the big screen, later picking up where David Ayer left off with DC's "Suicide Squad" sequel. So when Gunn gave Millar advice about "Jupiter's Legacy," he listened.
While "Jupiter's Legacy" was initially conceived as a trilogy film series in 2015 with Lorenzo di Bonaventura in a production role, Millar discarded the plan with a push from Gunn. During an interview with Den of Geek, Mark Millar revealed that Gunn told him that the comics "could never work as a movie." Much of Millar's success comes from listening to those who have come before him. Millar told Den of Geek, "The smartest guy in the world is James Gunn," so of course, he was more than willing to listen.
Millar noted, "Six issues of a graphic novel are roughly about an hour and 10 minutes of a movie. For something like an eight-part drama on TV, you really have to flesh it out." The extra time allowed for a fully fleshed-out backstory that unravels in real-time during the show. "It just goes a little deeper than what I had maybe two panels do," Millar added.
Carrie Fisher: The galaxy's greatest inspiration
The late Carrie Fisher (self-rescuing Princess Leia Organa) inspired generations of fans since she began saving Han and Luke in 1977's "Star Wars: A New Hope." And while her character was (and is) certainly a breath of fresh air, Fisher herself is even more of an inspiration. The actress is well-known for her love of flashing her middle finger and her patented "I don't care what anyone thinks" attitude. She showed generations of young girls and women that being themselves is the only way to live.
Yet Fisher didn't only inspire the women who tuned into the series. Fisher's personality was the building block for Mark Millar's character Chloe in "Jupiter's Legacy." Bad Girl, Chloe (Elena Kampouris) gives off some real Fisher vibes in the series — especially Fisher at her low points — and it's not hard to see how the iconic actress inspired the character. Millar told The Guardian that "I remember reading 'Wishful Drinking' and Carrie saying her mum was Debbie Reynolds and her dad was Eddie Fisher -– and, even though she was Princess Leia, she felt she could never live up to them." Fisher indeed grew up in the spotlight, and yet she felt overshadowed by not only her parents but her own character — as so many people failed to see her as anything else.
In typical Fisher fashion, she wasn't all that impressed when Millar eagerly told her the part she played in shaping Chloe at "The Force Awakens" premiere. Millar noted that she brushed him off with a sentiment like, "That's very interesting. Now go get me another drink." We lost a real one in Fisher.
The Godfather Part II inspired Jupiter's Legacy
Most TV shows with heavy backstory take an episode or two to lay out the origin story when delving into the characters' histories — but Mark Millar had other ideas with "Jupiter's Legacy." Instead of spending a minute (or 40) delving into the history of the first superheroes in the "Jupiter's Legacy" canon, we get to watch the historical origins of the Union of Justice members unravel throughout the series. Jumping between past and present, the series dips into its characters' Great Depression backstory, covering their respective history when it's relevant in real-time.
So, what exactly influenced Millar to take this route? During an interview with The Wrap, he revealed that "The Godfather Part II" provided the inspiration for the series' woven time jumps. According to Millar, the idea was pitched by Steven DeKnight, the original showrunner. Comparing Sheldon and Brandon's storyline, Millar said, "You have Michael Corleone and Vito Corleone's story being told at the same time." And that's precisely how he formed the father-son timeline in "Jupiter's Legacy."
Millar explained to The Wrap, "The 'Godfather II' structure shows the father and the son at the same age. And that's the same thing that's been done here, to show the young characters and the old characters at the same age and essentially making the same mistakes." While it's always a risky move in terms of hitting cohesion, the back-and-forth time jumps work for "Jupiter's Legacy."
The Jedi Council vs. the Union
"Jupiter's Legacy" has an infinite number of comic book parallels. However, the deepest connection that Skyfox/George Hutchence actor Matt Lanter sees might not be what you'd expect. The actor noted the similarities between his "Jupiter's Legacy" character and his role as Anakin Skywalker on "Clone Wars" — and the outdated rules that plague the heroes of both worlds. Lanter chatted with Looper during an exclusive interview, where he compared the rigid nature of the Jedi Council to the strict rules of the Union in "Jupiter's Legacy."
He said, "The Jedi Council seems antiquated and just doesn't apply in every situation anymore. And the Jedi Council is so black and white [in its thinking]. I think Anakin realized that things aren't black and white. In fact, there are shades of gray, and that's exactly what's going on in 'Jupiter's Legacy.'" In both cases, these unwavering rules lead to the downfall of an otherwise relatively moral hero.
"I think any good villain has justification and legit justification as far as they see. Even Anakin — I mean, aside from killing little kids — was justified in what he was doing. He thought he was doing the right thing," Lanter continued. "He thought everyone else around him was corrupt. Sheldon Sampson, played by Josh Duhamel, really sees the Code, that is, the truth, the way, and the light. It is black, or it is white — good or evil. And I think George Hutchence sees shades of gray." Anakin, as noted, also saw shades of gray — and we all saw how that turned out.
The snow was unplanned
The fickle beast that is Mother Nature something that almost every series or movie deals with at some point during shooting. Now, when she decides to do something unexpected, production has two options: Roll with it, or halt production. Luckily for "Jupiter's Legacy," when the skies opened for a dramatic snowstorm, the weather only enhanced the scene's euphoric, otherworldly quality.
During an exclusive interview with Looper, cinematographer Nicole Hirsch Whittaker — director of photographer for several episodes of "Jupiter's Legacy" — revealed the perils of filming in an unpredictable Canadian climate. In one episode in particular, "Omnes Pro Uno," the weather wasn't cooperating, leading to heavy — and unscripted — snowfall. Whittaker explained, "The snow was just a happenstance. We were shooting that whole scene where they get to the trees, and trees start popping out of the ground."
She added, "We all went back to our hotels and woke up in the morning, and there was two feet of snow on the ground, which is very Canadian. We were like, 'Oh my gosh, there's a snowstorm.' So basically we got to set, everybody talked about it and decided this is an island that's alive, so let's embrace it." Instead of letting the snow beat them, Whittaker revealed, "So they started writing, and within an hour we had a new script." Luckily for fans, the surprise snow lends an incredibly realistic backdrop to the scene. Given that the characters head to the island to claim their superpowers, they deal with a whole host of challenges — now including weather.
The Depression and the Recession
The first flashback we get in "Jupiter's Legacy" kicks off the events of The Great Depression as the stock market crashes. While it's undoubtedly a fascinating point in American history, it's a unique time period to place the origin story of a group of slowly aging superheroes. However, the period makes sense given the year in which Millar began writing the comics. 2008 marked a steady economic decline, leading to a financial crisis of the likes we haven't seen since the Great Depression. The two financial disasters even shared a similar name: the Great Depression and the Great Recession.
While Millar is Scottish, even Scotland faced its own economic meltdown with the Royal Bank of Scotland. The repercussions trickled down to the country's economy the same way events did in the United States. Millar told The Hollywood Reporter, "When I sat down to do this — it was three years before I actually [wrote] it, during the financial crash in 2008 — I said, 'I'm not going to do this unless I can make it the greatest superhero story of all time.'" He noted that it was a bold statement, but it was all or nothing for this comic book writer.
Setting the superheroes' origin stories in the late '20s with Great Depression ties certainly set the story apart from many of its counterparts. The choice roots the series in a reality that almost everyone can relate to and offers a unique vantage point to cover.
Boomers vs. Millennials
If you haven't seen Boomers and Millennials clash at the dinner table or on social media, you're living in a rare sphere where people don't constantly yell at each other. (Where can we sign up?) For everyone else, you might have noticed some generational similarities between reality and fiction when you binged "Jupiter's Legacy."
That's not exactly an accident. Mark Millar told Deadline that the real-life clash between Boomers and Millennials inspired the conflict between the parents and kids in "Jupiter's Legacy." The show covers disagreements on everything from morals and ethics to disappointments and judgments about career choices. Sound familiar?
He explained in the Deadline interview, "So, that becomes a great Boomers vs. Millennials ethical argument, which is a big part of 'Jupiter's Legacy.' You know, like a lot of young people now are like, now, I'm not crazy about the world I'm inheriting from my parents." He added, "So, I love the fact that nobody's right and nobody's wrong." Well, that's debatable, depending on who you ask — which, in fairness, is the point.
The future of comics
So, where exactly does Millarworld, and more specifically, "Jupiter's Legacy," fall in the comic book landscape? If you ask Matt Lanter, he'll tell you that it's the future of comics — and deserves a spot at the top with DC and Marvel. In fact, we did ask Matt Lanter during a Looper exclusive interview. He said, "I think five years from now, everyone's going to know that it's Millarworld, it's DC, and it's Marvel. So get to know these characters now, be the first on the train and have fun with it, man."
That's a pretty big claim, but it's not without its merit. The series had a rock-solid debut on Netflix, coming in at number one during (and after) its release. Additionally, Millar's 2010 film "Kick-Ass" brought in $48 million, and "Kingsman: The Secret Service" raked in $128.2 million. "Kingsman" numbers are well within the range of some early MCU projects like "Captain America: The First Avenger," which brought in $176.6 million.
With Millar's massive deal with Netflix, including projects like "Jupiter's Legacy" and "The Magic Order," things are looking pretty bright for Mark Millar and his comic book franchises. The fact that Netflix bought Millar's entire comic book company means the streaming platform sincerely believes in it — and we haven't seen that kind of investment since Warner Brothers bought DC Comics and Disney bought Marvel. So it's already up there with the Big Two in that regard, having been one of just three times in recent memory that a major Hollywood player bought an entire comic book universe.
Jupiter's end
As we've seen with the MCU and DCEU, there's no shortage of stories waiting to be told when film studios decide to tap into comics characters' legacies. With plenty of source material waiting to be mined, "Jupiter's Legacy" seemed poised to enjoy a multiple-season run on Netflix — but any hopes may have had for follow-up installments were dashed in early June of 2021, when Millar announced that the cast had been released from its contracts.
Although Millar indicated that he hadn't quite given up hope for more "Jupiter's Legacy" onscreen at some point, in the short term, Netflix's decision means the show has been canceled. On the bright side, this frees Millar up for other projects, like the upcoming "Supercrooks" series he's set to debut for the platform. It's still a bitter pill to swallow for viewers who came to love the "Jupiter's Legacy" characters throughout the show, but they can always turn to the comics for more stories — the latest chapter of the saga, "Jupiter's Legacy: Requiem," was already set to begin arriving in comic shops when the show's cancellation was announced.