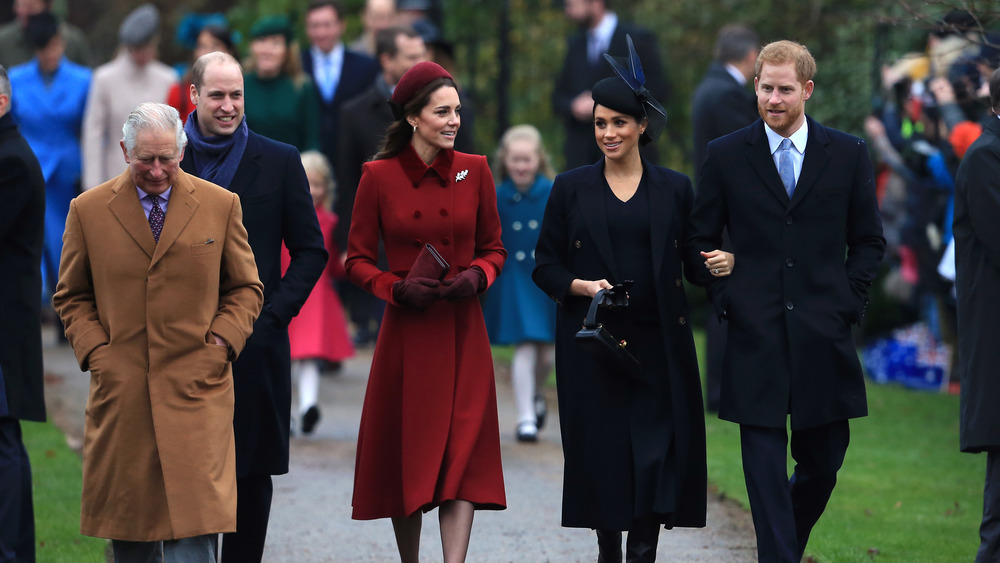 Meghan Markle made a splash in Britain's royal family — she was an American, is biracial, had been married and divorced, and she captured Prince Harry's heart very quickly. Like all familial additions, it didn't come as a shock when the royals took their time to get to know Markle. After the couple tied the knot and carved a place in the royal family for themselves, rumors of tension came to light.
It was not at all a surprise that tabloids speculated tension between Markle and Kate Middleton, who had been the royal family's golden girl for years, but what was shocking was the rumored frustrations between Markle and Prince William. Britain's two young princes had been incredibly close throughout their childhoods and lives together in the spotlight, so the awkward energy between them and their spouses threw everyone for a loop.
Since Markle and Harry have left the royal family and have moved to the United States, more whispers regarding tension between Markle and William have come to the surface. With reports of William questioning Markle, William's supposed concerns regarding the couple's quick timeline, and Markle and Harry's departure from Britain, there's a lot to unpack. Here's everything you need to know about Prince William's frustrations with Meghan Markle.
This statement by Prince William supposedly took a jab at Meghan Markle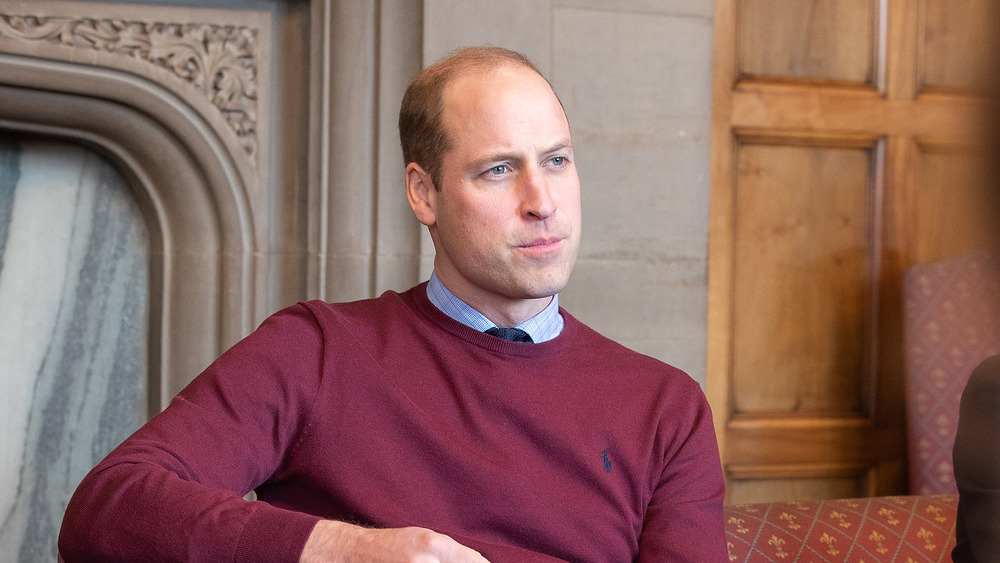 When Meghan Markle and Prince Harry's relationship came onto the public scene, both were subject to some pretty intense media coverage. And as time progressed, the paparazzi wouldn't leave Markle alone. As such, Harry made a powerful public statement, saying that Markle was subjected to a "wave of abuse and harassment" and that it needed to stop. As noted by Express, another statement was released by Prince William weeks later about Markle's invasion of privacy. It was rumored William supposedly did not agree with Harry's rebuking of the press.
"The Duke of Cambridge absolutely understands the situation concerning privacy and supports the need for Prince Harry to support those closest to him," the statement read, but according to royal biographer Sean Smith (via Express), it was the first time that a message released by William indicated that not everything was peachy between him and Markle, as well as him and Harry.
"It was the very opposite of a powerful endorsement," Smith concluded. The messaging exchange would become just the tip of the iceberg.
A move that sparked rumors of tension between Prince William and Meghan Markle
When Prince Harry and Meghan Markle took a break from their public lives in August of 2018, it didn't come as a huge shock. But what did spark rumors of tension was when Harry and Markle announced that they would be moving out of Kensington Palace and moving to Frogmore Cottage. So what was the big deal? Well, as noted by Vanity Fair, they had been living in the Kensington Palace apartment next door to Prince William and Kate Middleton, so the move and its implications left a lot of talk of conflict in the air.
The Sun noted at the time that "there has been a bit of tension between the brothers," adding, "Now Harry and Markle don't want to live next to William and Kate and want to strike out on their own." And if things weren't strained already, it seems as though William and Middleton did not get closer to Markle and Harry after they got married. According to Omid Scobie and Carolyn Durand's book Finding Freedom (via Elle), the senior couple apparently didn't once visit the newlyweds at their Oxfordshire country home, even though the invite was there. Yikes.
Prince William apparently was 'worried' when Meghan Markle and Prince Harry began dating
It might sound dramatic, but Prince William allegedly thought the monarchy was threatened by Prince Harry and Meghan Markle's relationship. As Robert Lacey wrote in Battle of Brothers: The Inside Story of a Family in Tumult (via People), "William worried that his brother was moving too fast in his courtship — and he did not shrink from saying as much when Harry started talking about getting hitched to Meghan quite soon."
According to Lacey, William supposedly confronted Harry in late 2016/early 2017 and "couched his question in terms of apparent concern for Meghan." The author speculated that William's "concern" stemmed from his own relationship, as he had vetted Kate Middleton for years.
"'Waity William,' of course, took so long to commit to Kate for the sake of the monarchy. He had been auditioning her for a job all those years," Lacey wrote. "So Harry could not help but wonder whether Wills was really concerned about his personal happiness — or whether he was … thinking about the makeup and fortunes of 'the Firm' whose boss he would become one day?" Well, that sure sounds juicy.
Despite any tensions with Prince William, Meghan Markle tried to get along with Kate Middleton
Despite her husband's supposed frustrations with Meghan Markle, Kate Middleton tried to build a relationship. A source told Vanity Fair that Markle and Middleton were doing what they could to find middle ground and get along as much as possible. "Kate and Meghan are very different people and they don't have a lot in common but they have made an effort to get along," the source divulged. "Any issues are between the brothers."
Body language experts Adrianne Carter and Amana Walker broke down the relationship between Markle and Middleton for the Daily Mail, and after close examination, found that their dynamic started off very friendly. When commenting on the princes' outings with their partners in 2017, Walker said, "The princes are happy — and that is reflected in Kate and Meghan. This is clearly a new friendship and they are both trying hard … Their body language clearly says 'we're friends.'"
But by the fall of 2018, the experts said that the dynamic between the foursome was very different. "The distance is showing us they are clearly not as close as they were," they claimed. "Both men look like they would rather be anywhere else but here."
Prince Charles seemingly tried to calm things down
You know it's bad when parents get involved in your drama, and that was the case for Prince William and Meghan Markle. As noted by Vanity Fair, William's supposed dissatisfaction may have stopped him from welcoming Markle to the family, and Prince Harry picked up on it. A source told Vanity Fair that Harry confronted William and told him that he wasn't doing nearly enough to make Markle feel accepted.
"Harry felt William wasn't rolling out the red carpet for Meghan and told him so. They had a bit of a fall out which was only resolved when Charles stepped in and asked William to make an effort," the source claimed. "That's when the Cambridges invited the Sussexes to spend Christmas with them." Awkward.
It seems that even Prince Charles' efforts apparently couldn't persuade William to come to terms with Markle, because when the princes' father invited the foursome to the Castle of Mey in the summer of 2018, William and Middleton declined, saying that they had prior arrangements. Word to the wise, don't let it get to a point where your parents have to break up the fight.
An expert claimed Prince William was very displeased with the way Archie's birth was announced
It's a joyous day when a baby is born, at least you'd think so. But according to reports, the day that Archie Harrison was born apparently was not a celebratory day for Prince William, who was supposedly upset over how Meghan Markle and Prince Harry handled the announcement of the birth.
In his book Battle of Brothers: William and Harry –- The Inside Story of a Family in Tumult (via Us Weekly), author Robert Lacey wrote that Harry and Markle waited until Archie was born to make the official announcement through the Palace. It wasn't until Harry, Markle, her mother Doria Ragland, and baby Archie were on their way home from the hospital that the news broke about the birth.
So what was William upset about? Well if history shows us anything, it's that royal births are treated as a big deal. All three of William's kids were shown off to the press outside of the hospital after their birth, which was not the case for Harry's child. Lacey alleged that William "did not think too highly of Harry and Meghan's 'prima donna' maneuvers to conceal the birth of their son." Eesh.
Prince William and Kate Middleton didn't meet Prince Harry and Meghan Markle's baby right away
Hearing that Prince William might've been less than thrilled about the way in which Prince Harry and Meghan Markle announced Archie's birth breathes new life into what happened after. As noted by Marie Claire, William and Kate Middleton weren't exactly first in line to meet Archie, and they chalked it up to busy public schedules. When attending the King's Cup Regatta launch, William was asked about his new nephew and was pressed about when they would meet.
"Obviously thrilled, absolutely thrilled, and looking forward to seeing them in the next few days when things have quietened down," William said. "I'm very pleased and glad to welcome my own brother into the sleep deprivation society that is parenting … I wish him all the best and I hope in the next few days they can settle down and enjoy having a newborn in their family and all the sort of joys that come with that."
We'd love to think it was truly a packed schedule that stopped William and Middleton from making a trip over to meet the little guy, but with the rumors of tension between the foursome swirling around, it's hard to know what the reality of the situation was.
According to inside sources, Prince William and Meghan Markle got along when they first met
Interestingly enough, authors Omid Scobie and Carolyn Durand wrote in their book Finding Freedom that Meghan Markle and Prince William's relationship apparently started on a good note (via Elle).
"Meghan thought that William would no doubt want to know everything about her — and her intentions," they wrote. "She was self-aware enough to understand that the brothers were wary of women who were more interested in their titles than their well-being. And she couldn't have come from a more different world than that of William."
The authors speculated that because of that reality, Markle prepared herself to be grilled by William. But the first thing William said to her was that he was looking forward to getting to know "the girl who has put that silly grin on my brother's face," and from that moment, the two got along very well. So what caused everything to go downhill? Scobie and Durand found that Markle and William only met a "handful of times" before things got very serious between her and Prince Harry, and apparently, that's why things took a supposed turn.
Prince William reportedly expressed his concern about Meghan Markle to his close aides
Despite their initial relationship being friendly, Prince William's concerns about Meghan Markle rose to the surface just a few months into her relationship with Prince Harry. As noted in Finding Freedom (via Elle), William apparently told his aides that he was very concerned that Harry was rushing things with his new girlfriend.
Authors Omid Scobie and Carolyn Durand reported in their book that William "privately voiced concerns to aides about the speed at which Harry's relationship was developing with a Hollywood actress he hadn't known for long." Oof.
A source claimed to the two authors that William was coming from a place of concern more than anything and was worried that the relationship would not last. "They've both developed a radar to detect that type of person [people taking advantage of them]," the source said. "As William didn't know a whole lot about Meghan, he just wanted to make sure that Harry wasn't blindsided by lust."
Prince William's alleged doubts about Meghan Markle supposedly caused a rift
Prince William's supposed issues with Meghan Markle allegedly just about exploded when he confronted Prince Harry, according to Finding Freedom (via Elle). A source told authors Omid Scobie and Carolyn Durand that William told Harry to "take as much time as you need to get to know this girl," and this apparently did not go over well. "Harry was pissed off," the source claimed. "Pissed off that his brother would ask such a thing. Some felt it was an overreaction. But then this totally sums them up as people — William, the calm and rational one, and Harry, who can't help but take things far too personally."
The sentiment that Harry was overreacting was not shared by all the sources that Scobie and Durand spoke to, because a friend of Harry's divulged that the younger prince saw "through William's words" and said that the eldest brother "was being a snob." Allegedly, as a result of the fight, William and Kate Middleton stopped inviting Harry to their home, and the brothers distanced themselves from each other. "[Harry] knew Meghan was right for him," a source said, clearly indicating that the prince would go to great lengths to protect his relationship.
The royals didn't seem so warm and fuzzy at this official event
Tensions between Prince William and Meghan Markle seemed to reach new heights in March 2020, as noted by Elle. After revealing to the world that they would be stepping back from their royal duties in January 2020, Markle and Prince Harry made one last appearance as working royals when they attended the Commonwealth Day service, and the energy between William, Harry, Markle, and Kate Middleton seemed pretty icy in the photographs.
Body language experts Adrianne Carter and Amana Walker told the Daily Mail that the tension was very palpable, and was coming from all parties.
"Harry is clearly angry and is showing it by avoiding eye contact and giving cursory glances and words to William," Walker said. "Meghan is overcompensating … and if Kate is happy to see Meghan, she is not showing it. She is seated the furthest away from Meghan and shows no affection from beginning to end. It's as if Kate would be glad to see the back of her." We do not envy that situation at all.
Prince William was reportedly 'blindsided' when Meghan Markle and Prince Harry left
Some of the world was shocked when Prince Harry and Meghan Markle announced that they would be stepping away from the royal family; those who had been paying attention to the mounting frustrations weren't caught off guard. But as noted by Us Weekly, a source claimed Prince William and Kate Middleton apparently had no idea about Harry and Markle's plans and did not anticipate the news at all.
The source told the magazine that "William was blindsided by Harry and Meghan's decision and statement," clearly suggesting that it was not a conversation that the foursome had before the announcement. "William is incredibly hurt," the tipster continued, "but at the same time he has his own family to focus on and is trying to move forward with his life."
As reported by Us Weekly, William and Middleton apparently were not the only members of the royal family that had been kept out of the loop about Harry and Markle's plan. Royal expert Richard Fitzwilliams told Us Weekly that other royal family members did not know about the statement and were just as caught off guard. "This really is extraordinary," Fitzwilliams said about the decision. "It's totally irresponsible."
Why did Prince William skip Prince Harry's virtual birthday celebration?
The coronavirus pandemic kept many people away from their loved ones and from celebrating occasions in person, so when Prince Harry's birthday rolled around in 2020, Prince Charles and Queen Elizabeth put together a virtual celebration for him so the family could be together. A sweet gesture, right? Well, it got awkward quickly, because Prince William and Kate Middleton did not attend, and, as such, sparked renewed rumors that William's drama with his brother and Markle was still looming.
A source told The Mirror that "William sent his birthday best wishes," and that "there was some excuse made about why he wasn't there." The outlet also noted that on Harry's birthday, William was spotted visiting a bakery in London. The Mirror's source shared, "Meghan baked a cake and Harry blew out candles. Archie made them laugh when he also blew them out," but claimed that the celebration "was a bit awkward that William and Kate weren't there."
A tragic loss apparently led Prince William to cast any supposed drama aside
Tragedy can bring people together, and Prince William sidelined his frustrations over Meghan Markle and Prince Harry when Markle suffered a miscarriage. She shared her harrowing loss in a column written for The New York Times and garnered praise for her bold transparency and willingness to share such a deeply personal struggle.
"I knew, as I clutched my firstborn child, that I was losing my second," she wrote. "Hours later, I lay in a hospital bed, holding my husband's hand. I felt the clamminess of his palm and kissed his knuckles, wet from both our tears. Staring at the cold white walls, my eyes glazed over. I tried to imagine how we'd heal."
The tragic loss of the couple's baby clearly was enough for William to bridge their differences, because as reported by The Sun, "Harry was supported by brother William and father Prince Charles in the dark days that followed." The Sun also disclosed that the couple informed the queen and the palace about the miscarriage shortly after it happened, and a source close to the royal family said, "There is understandable sadness in the family."