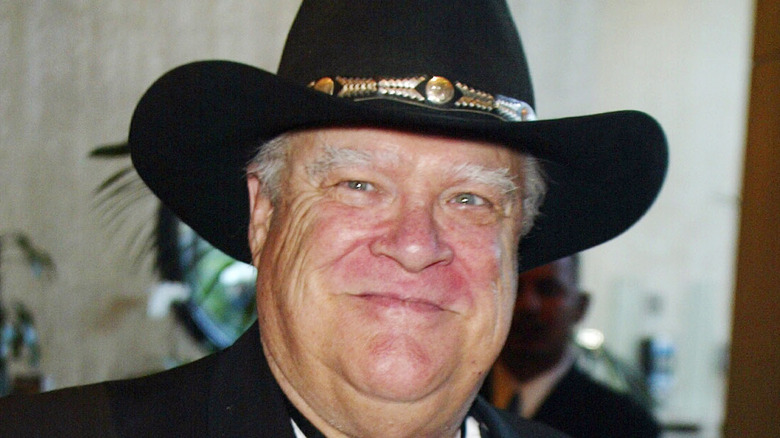 ABC is hoping to recapture the magic of "The Wonder Years" for a new era when they reboot the series this fall with a whole new family, the Williamses. The Arnolds will be a hard act to follow, however, as the original series (which ran for 115 episodes from 1988-1993 and racked up 28 Emmy nominations with 4 wins), enjoyed endless adoration from fans young and old during its run
The original show was about Kevin Arnold's heartfelt memories and nostalgia, and ultimately became just that for the viewer — fond TV memories and nostalgia. Who could forget his jolly old grandpa, who was great at gift giving, but terrible at driving? Or Kevin's math teacher, who wanted him to find the answers in his head instead of in the back of the book? Or that beautiful English teacher he had a crush on, who would take him out of his comfort zone in order to get into hers? Those characters will stay with us forever, even if some of the actors who played them are no longer with us.
So it is, with the warm nostalgia "The Wonder Years" created weekly better than perhaps any other show ever, that we look back on actors from the original series you may not know passed away.
David Huddleston (Grandpa Arnold)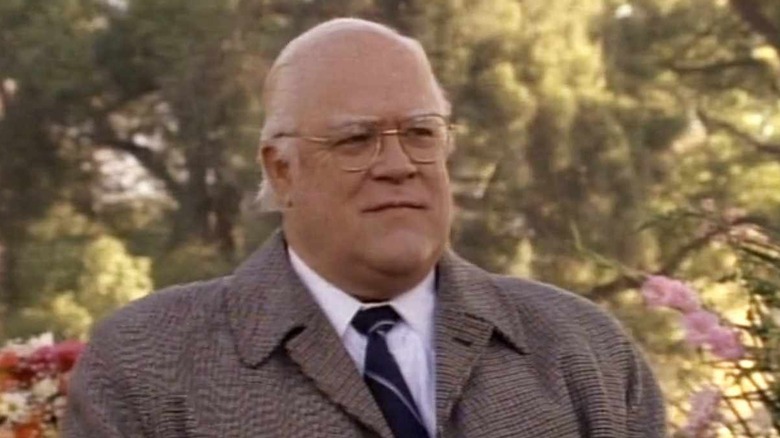 When Grandpa Arnold "would blow into town" he would bring gifts (and corny jokes) for his grandkids, agita for his son Jack and in the end, life lessons for all.
Kevin described his grandfather on the show as a "Hercules in bifocals. Superman in suspenders. Ageless. Timeless. One man in a million. You could always count on him." His first gift was a puppy, which turned Kevin into a pawn while exposing deep seated-rifts between his father and his father's father. Due to bad driving and multiple accidents, his next gift would be handing over his last car so Kevin could have his first. As the youngest Arnold said, "not all gifts are simple. Some battles are fought out of love." Grandpa impressed upon him the meaning of family, mortality, and that sometimes Hercules can age and get old.
Air Force veteran David Huddleston played many "big" roles in life, but he only received one Emmy nomination in his career and it was in 1990 for playing Grandpa Arnold. Other sizable roles "with a twinkle in my eye" included playing the title character in "Santa Claus: The Movie" and in the Coen Bros' "The Big Lebowski" (which was actually the second time, after the 1972 western "Bad Company", that he butted heads with Jeff Bridges). The Coens' had seen Huddleston on stage before, making his Broadway debut with a Drama Desk-nominated role in the 1984 revival of "Death of a Salesman" opposite Dustin Hoffman and John Malkovich. He initially turned down the mayoral role in "Blazing Saddles," but Mel Brooks convinced him otherwise and it was "probably the most fun I ever had on a set." Huddleston met his future wife, Sarah Koeppe, when she was assistant casting director on the "Santa" movie. They exchanged their vows in 1999 at the famed Tunnel of Love Drive-Thru in Las Vegas.
Huddleston died from complications of heart and kidney disease in 2016, at the age of 85.
Steve Gilborn (Mr. Collins)
"Teachers never die. They live in your memory forever." These were Kevin Arnold's thoughts after encountering his 8th grade algebra teacher Mr. Collins, who also stuck in the minds of viewers who watched Steve Gilborn delicately play him in a 3-episode arc.
Mr. Collins was short on niceties and long on division. "He was a math machine. All math, all the time, with the chalk marks to prove it." By the time Kevin was able to figure out that he wasn't there to be his friend, but to be his teacher, it was too late to thank him, as he had suddenly passed away.
What Mr. Collins had left Kevin behind with was a chance to redeem himself, and a way to go through life knowing that "every problem contains its own solution." "Wonder Years" showrunner and writer Bob Brush captured the poignancy of his character and the "Goodbye" episode in saying, "There are almost mythical elements in that story, in terms of killing off the hero so that you can then be your own hero. That's kind of essential to all the great myths."
Inspiring the next generation of thinkers wasn't just something Gilborn pretended to do on screen, melding minds as a professor at Stanford, University of California, Berkeley and Columbia University. His acting career went from stage to television, later playing Ellen DeGeneres' dad on her sitcom, Mike Brady's boss Mr. Phillips in "The Brady Bunch Movie," and lending his voice as the "Father" of the spaceship in "Alien Resurrection." He even flexed his educational muscle with Fred Savage's brother Ben, as a TV quizmaster on an episode of "Boy Meets World."
Gilborn died in 2009 at the age of 72.
[Fun fact: 17-year-old Robert Downey Jr's stage debut was opposite Gilborn in the play "Alms for the Middle Class." In the audience for one of the performances was a 15-year-old Philip Seymour Hoffman, who was further inspired to pursue a career in acting after watching Downey at work.]
Wendel Meldrum (Miss White/Mrs. Heimer)
Kevin's crush on his Junior High English teacher Miss White (Wendel Meldrum) had him signing up for extracurricular activities that he hoped would lead to a different kind of activity with her, outside of the classroom.
Despite having no interest in theater, he followed his heart and signed up to be in a civil rights-focused school play Miss White wrote — only to have his heart broken when he discovered she had a boyfriend more age-appropriate. Later, Kevin would be at her side when she needed to be rushed to the hospital to deliver her baby. In 2013, Meldrum reflected on her time on the show: "The writing, cast and directing team were all seeking to capture such a lovely world that was guided and held to specifics by the most wonderful creative team of Carol Black and Neal Marlens."
Meldrum, a Canadian dancer and actor, brought a quiet beauty to many TV roles in the 1980s and '90s, including stints on "Knots Landing," "Punky Brewster," "Family Ties," "Northern Exposure," and "The Commish." She forever made a mark on the medium and with audiences when she played the low-talker Leslie, who convinced Jerry to wear a puffy shirt she had designed on "Seinfeld." Meldrum returned in the series finale to testify against the Fab Four in one of the highest-rated series finales of all time.
She later found success as the matriarch on the series "Less Than Kind," winning two Canadian Comedy Awards for her efforts. In 2014, she penned the storybook for grownups "What Is a Woman?: …Because It's Absurd to Be One on Planet Earth, Etc."
After a brief illness earlier this year, she passed away at age 66.
Jean Speegle Howard (Jane Gustafson)
It took until the antepenultimate episode of the "The Wonder Years" for the audience to finally meet Norma's parents, Karl and Jane Gustavson. The Arnolds headed to Norma's hometown for her high school reunion, and mom and pop Gustavson had not only kept their house looking the same since their daughter left, but wish her life was frozen in that past as well. Mom Jane (Jean Speegle Howard) was especially keen on Norma rekindling her relationship with former high school flame Doctor Roger, who seemed a little bit more accomplished than furniture salesman Jack.
Howard knew something about being a proud mom, as she gave the world actor Clint, and actor/director Ron (who then had her granddaughter Bryce Dallas Howard). Ron said he inherited his mother's "organizational tendency" as a "ringleader" and her can-do spirit.
At the University of Oklahoma, Jean Speegle studied acting and met future husband Rance. She eventually gave up her career to raise children, but was lured back to appear in seven of Ron's films (including his very first, the short "Old Paint" from 1969). Other features included "Cocoon," "Gung Ho," and "Apollo 13" playing the mother of astronaut Jim Lovell. She also had several non-Ron related roles, including four oddly named ones on the series "Unhappily Ever After" — Mrs. McGillicuddy, Mrs. Lewcowitz, Miss Mugglesworth and Mrs. Neezballs.
Howard died of complications from heart and respiratory illness in 2000 at age 73.
Maxine Stuart (Mrs. Carples)
Maxine Stuart made her one-and-done appearance on "The Wonder Years" really count, both to audiences and her career.
In the episode "Coda" (Season 2, Episode 7), Kevin described his cigarette dangling piano teacher Mrs. Carples thusly: "She wasn't exactly a poster child for the American Lung Association, but you could say what you thought to her, which was kind of neat." The character pushed Kevin to go the extra mile in a way that few others did, assigning him the same piece as prized student Ronald Hirschmuller (Joseph Dammann), Pachelbel's Canon in D Major. After Kevin bows out of the recital, the narrator Kevin woefully reflected 20 years later that he remembered every note of the piece, but couldn't remember how to play it anymore.
For her work as Mrs. Carples, Stuart was nominated for an Emmy in 1989, as an "Outstanding Guest Actress In A Comedy Series." At the time she said, "I don't expect to win, but it will look good in my obit." She didn't win, but true to her prediction, it did make it into her obit. Also mentioned was her unforgettable (yet unseen) bandaged-up "ugly" role in the classic "Twilight Zone" episode "Eye of the Beholder." "I wasn't pretty enough [to be the actual face underneath the bandages], so they used Donna Douglas. It was reasonable of them but it was certainly an irony in light that it was about conformity," Stuart recalled.
Not listed in her obit is the amazing tidbit that she appeared in the first ever play written for the small screen, 1940's "The Faker." It was screened by RCA founder David Sarnoff as he tried to raise money and awareness for the new medium of television.
Ben Slack (Mr. Ermin)
Mr. Ermin (Ben Slack) was described as "the Genghis Khan of lawn care. He had a lawn the size of Wyoming."
When we first met him at the Cooper's tropical-themed BBQ, Kevin's dad was trying to get his son a clean (lawn) cut job with him for the summer. The next season, Ermin employed Kevin and his newly formed band, the Electric Shoes, to play at his daughter Amy's birthday. Neighbor complaints about loud music almost derailed their debut show, but the attendees shouted to "let them play," and they became rock and roll legends for one night. In his final appearance, Mr. Ermin snuck off to the Arnold basement during their annual Christmas party, caught red/green handed with a different kind of grass — the one you smoke.
Ben Slack was hardly a slacker, performing on Broadway and in theater productions around the country, and had close to 100 film and TV roles between his uncredited first one in 1973's "Serpico" and his last credited one in 2001's "Shooting LA." He played Edith's alcoholic, unemployed cousin Floyd Mills on "All In The Family," therapist Dr. Cleveland in the horror film "Society," and appeared in the pilot for "St. Elsewhere." Slack was also an acting coach with his "The Mechanics of Being an Actor" class.
The Baltimorean was a big Orioles fan, enjoyed going to games and collecting team memorabilia. He also liked classical music and researching his family's genealogy.
Benjamin Hess "Ben" Slack III died of heart failure in 2004 at the age of 67.
Charles Tyner (Mr. Nestor)
The first day of 9th grade was a complete disaster for Kevin — Winnie wasn't there, bullies were on the prowl and his class schedule was out of whack.
When he discovered "industrial arts" on the docket and descended to the depths of the school to try and get out of it, he found hard-of-hearing shop teacher Mr. Nestor (Charles Tyner) — who agreed to let Kevin drop his class, but only if he could beat him in arm wrestling. Spoiler alert: It didn't work out.
Eccentrics and off-beat drummers were parts thin nosed and bodied Charles Tyner was often cast in. The WWII vet studied under Stella Adler and made early splashes on Broadway, alongside Paul Newman in Tennessee Williams' 1959 play "Sweet Bird of Youth" and Kirk Douglas and Gene Wilder in 1963's Broadway version of "One Flew Over the Cuckoo's Nest." He clashed with Newman again as Boss Higgins in "Cool Hand Luke," with Bud Cort in "Harold and Maude," Burt Reynolds in "The Longest Yard," and also appeared in "Pete's Dragon." He worked with such greats as Alfred Hitchcock, Sydney Pollack, Clint Eastwood, John Hughes, and yes, Fred Savage.
Tyner died in 2017 at age 92.
Dustin Diamond (Joey Harris / Joey Lapman)
Dustin Diamond took a brief break from playing Samuel "Screech" Powers on "Saved By The Bell" to dork it up in a different hallway, in an entirely different decade.
On "The Wonder Years," Diamond appeared as two different Joeys. As Joey Harris in the episode "Loosiers," he was the "kid with no self-respect," who, as Coach Cutlip's "lapdog," was overeager to brown nose the P.E. teacher. A season later, he joined the boy's 8th grade "Glee Club" as Joey Lapman. Lapman/Diamond's voice was about as poorly honed as his basketball game.
While Diamond's "Wonder" roles were relatively subdued, he could never escape the zany "Saved by the Bell" work that would define his entire career. From a "Celebrity Boxing" bout that had him beating on Horshack from "Welcome Back Kotter" to a 2009 tell-all book about his time "Behind The Bell," he was often on bad terms with his former castmates, which is perhaps why he wasn't asked to join them for the "Saved By The Bell" reboot on Peacock. He died earlier this year of cancer, at age 44. Tributes from his former costars poured out, and they plan to honor him in the second season.
Pat Crawford Brown (Mrs. Ruebner)
Most teens don't think too hard about their future, and that's why counselors of guidance, like Mrs. Ruebner, are employed by schools to stir up ideas in students' heads.
When Kevin met up with Mrs. R. (played by Pat Crawford Brown), she was happy to hear that he (lied and) was not related to Wayne Arnold. When she asked about his interests, Kevin held back from replying "cars, girls, sports, and girls," and copped to reading the classics as an answer, so she suggested he should think about college. In order to do so, he took the SATs a season later — with Mrs. Ruebner as the test proctor.
Brown was right at home at the fictional McKinley High School, being an English teacher herself for decades at Carson High School in California. After her husband passed away in 1976, she turned her focus to her true passion — acting, and worked in theater before landing a part in the 1985 TV movie "Do You Remember Love." Never the lead, she played her fair share of waitresses, cashiers, housekeepers and elderly ladies. Her niece and cheerleader, folksinger Christine Lavin summed up her Aunt Patsy's talents as "a master at turning these small parts into memorable bits." Those bits included doing her own singing as a choir nun in "Sister Act" and its sequel, Mrs. Thorkelson on "Coach," Ida Greenberg on "Desperate Housewives," and Mrs. Cassini on "Gilmore Girls." She even appeared in a superhero movie, talking Colin Farrell's ear off in "Daredevil", leading him to flick a peanut into her mouth, causing her to choke to death.
After a long (not peanut-related) illness, Brown died in 2019 at age 90.
Paul B. Price (Mr. Katz)
Mr. Katz's socially active social studies class gave Kevin the perfect opportunity to get super social, passing notes back and forth with new crush Lisa Berlini (Kathy Wagner) in the final episode of Season 1. Mr. K, played by Paul B. Price, presented a slide show on pollution, while quoting apt songs of the day — "Where have all the flowers gone?" and "How many roads must a man walk down?" Kevin ignored what he was saying until he took pause when teach spoke of "excess" and "going one step too far," which he may have been doing with Lisa.
Paul B. Pierce may not have had an excessive career, but a varied one as both an actor and writer for stage and screen. He wrote, starred and directed the short film "1501 ½," which won a prize at the Berlin International Film Festival in 1971. He played the "chubby chaser" Claude Perkins in Terrence McNally's bathhouse romp "The Ritz" on Broadway, and in the film version that followed in 1976. He was the latter part of the comedic duo "Wally and Ralph" that yukked things up on "Sesame Street" from Seasons 3-5. He acted in and wrote episodes of "Empty Nest," as well as penning a trio of "Laverne & Shirley" shows.
Billie Bird (Woman)
In the series finale, Kevin had his heart broken by Winnie one final time, and was left with "no car, no money, and no place to go."
Kevin was directionless until an elderly couple (including wife Billie Bird) gave him a lift — not only in the form of a ride, but in spirits too. Bird's appearance (and kind smile) marked the final guest spot in the entire series.
Billie Bird Sellen's "Wonder Years" pit stop ended up being one of her final parts in a long and winding road of a career. From vaudeville to light opera, plays to movies ("Sixteen Candles," "One Crazy Summer," "Home Alone") and TV ("Benson," "Dear John"), she even had a nightclub act in Vegas. Bird entertained troops in Vietnam — just another stop where she sang, acted and entertained audiences far and wide. For her time spent overseas, Bird became one of the few women to be made an honorary member of the Green Berets. She played a lot of music and instruments, including the "organ, marimba, clarinet, guitar, banjo — you name it," and in her free time enjoyed reading and making her own wardrobe, "I've knitted my way around the world."
Bird died in 2002 of Alzheimer's disease at the age of 94.