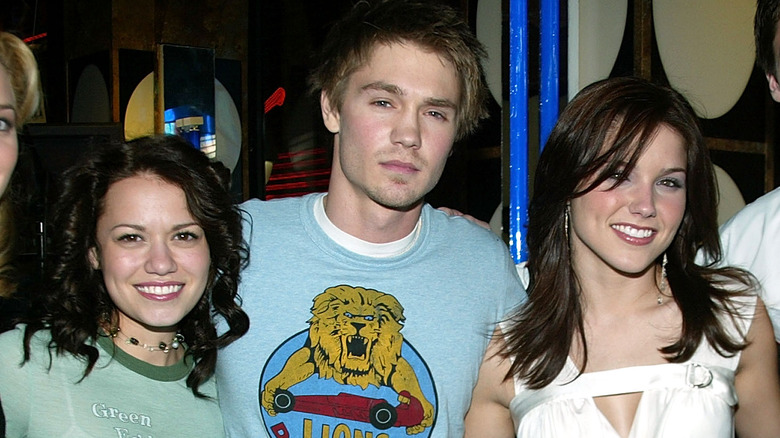 "One Tree Hill" was a huge part of our collective consciousness for almost a decade, its soapy stories of romance, intrigue, and basketball powering through nine seasons of must-watch television. Similar to "The O.C.," which also began in 2003 but only lasted four seasons, the show was responsible for launching the careers of a whole bunch of hot young things. Among other actors, "One Tree Hill" featured Chad Michael Murray, Sophia Bush, and "Laguna Beach" Lothario Stephen Colletti.
The years have been kind to the "One Tree Hill" crew, with most finding their footing in the comfortable world of TV — including one who found it in another super-hot teen show. Several branched out into movies, and one even boasts a successful country music career. With the series that made them in the rearview, the future looks bright. To paraphrase Gavin DeGraw's still insanely catchy theme song, they don't wanna be anything other than what they've been trying to be lately (apologies since it's now stuck in your head).
Chad Michael Murray (Lucas)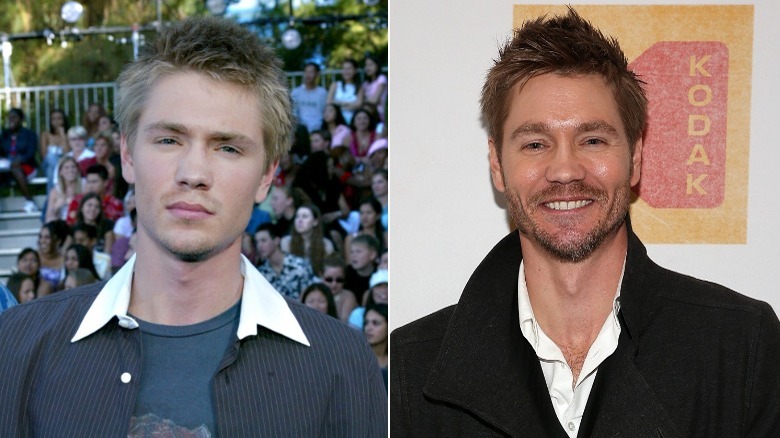 Blonde hunk Chad Michael Murray played heartthrob Lucas, so it's unsurprising his career trajectory found him frequently playing the brooding hot guy in the likes of "Freaky Friday," opposite Lindsay Lohan, "A Cinderella Story," opposite Hilary Duff, and even horror remake "House of Wax," opposite Elisha Cuthbert (and one Paris Hilton).
The year 2019 saw Murray returning to his soapy roots, and the CW, in a big way as a new cast member on mega-hit "Riverdale." Playing sexy cult leader Edgar Evernever was a dream come true for Murray, who told Vanity Fair, "As an actor, it's kind of on that list of things like, 'You want to play a cult leader?' The answer is always yes."
The actor, who's also appeared in "Agent Carter," "Sun Records," and "Star," described returning to the teen pantheon as "trippy," but he relished the opportunity to branch out a little bit, as, "Lucas was very much the moral compass of 'One Tree Hill,' and there [was] really no opportunity for me to step outside those boundaries."
Notably, Murray is married to actress Sarah Roemer and has two kids (via People).
Sophia Bush (Brooke)
Chad Michael Murray's onscreen, and former IRL, paramour Sophia Bush had a similar journey after "One Tree Hill," finding her footing in "Chicago P.D.," "Law & Order: Special Victims Unit," and "Chicago Med." She revealed to Dax Shephard on his "Armchair Expert" podcast that her relationship with Murray was exploited by the "One Tree Hill" producers. According to Bush, producers were "really deeply inappropriate" and even "ran TV ads about it [the breakup]." The "Love, Victor" actor claimed her personal life was used for storyline purposes too, sharing, "I think they kind of lived for the drama."
She joined fellow cast and crew members in accusing producer and series creator Mark Schwahn of sexual harassment in a letter published by Variety. Speaking to The Guardian, Bush described a pattern of intimidation on set, explaining, "We all just thought it was pathetic. It was upsetting. For some women, it escalated enough that it was traumatizing." She noted, "We wanted to just make a very united and clear statement that we all went through this."
Hilarie Burton (Peyton)
Sophia Bush's longtime BFF Hilarie Burton, who starred alongside her as Peyton on their hit show, has appeared in "Grey's Anatomy," "Extant," and the "Lethal Weapon" TV series in the years since "One Tree Hill" wrapped. Speaking to Refinery29, Burton reflected on why she and Bush have remained close for so long, noting they had, "All these male bosses telling us how teenage girls should act and feel … I think when you're in the trenches with someone … once you're past it, there's a bond there you can't deny."
Burton confirmed to Refinery29 that she wouldn't be up for a "One Tree Hill" reboot. And, as she explained to Cosmopolitan, the show arguably wouldn't get made in the same incarnation nowadays due to its representation of young women. As Burton, who also signed the letter accusing showrunner Mark Schwahn of sexual harassment alongside Bush, advised, "I think it's incredibly important for shows that have a strong female presence, particularly shows about teenage girls, have at least fifty percent representation in that writers' room. It's vital."
The actress is happily married to fellow TV star Jeffrey Dean Morgan, and has two kids. She memorably played Lucille, the late wife of her husband's character, on "The Walking Dead."
Bethany Joy Lenz (Haley)
Looking back on "One Tree Hill," the one thing Bethany Joy Lenz wishes she could change is how perfect Haley was. However, perhaps unlike her female castmates, she blames herself. Speaking to Bustle, Lenz described her younger incarnation as insanely stubborn, admitting, "I pushed a little too hard sometimes for Haley to not have as many flaws as maybe the writers wanted her to." The actor reckons this might have given teen viewers unrealistic expectations for romantic relationships, noting, "There was a strange pressure there."
However, Lenz still adores her most famous character. "She was the grounded one, the one who at the end of the day really knew who she was and what was important," the actor gushed. Since departing Tree Hill, Lenz has appeared in lots of big-name shows, including "Dexter" and "Grey's Anatomy," as well as a few holiday TV movies like "Poinsettias for Christmas" and "A Valentine's Match."
As for showrunner Mark Schwahn, who got fired from his position on "The Royals" following the allegations made against him, Lenz told Entertainment Tonight, "I feel like that's the best thing that could have ever happened to him. … I hope he has that reckoning with himself and maybe can turn things around."
James Lafferty (Nathan)
James Lafferty was the raven-haired counterpart to Chad Michael Murray's blond, all-American guy, and he's in no denial about how "One Tree Hill" kickstarted his career in a very real way. Speaking to Romper, Lafferty credited the show with developing another skill aside from acting, too: "The cool thing about being on 'One Tree Hill' that was different from the rest of my life was that I got to learn how to be a filmmaker." He joined forces with former co-star Stephen Colletti to collaborate on a project called "Everyone Is Doing Great," in which the two play struggling actors.
Lafferty and Colletti were incredibly hands on, crowdfunding the thing into existence, while Lafferty served not only as star but also as writer, director, and producer. They always knew they'd work together again, but, as Lafferty explained to Romper, it was all about finding the right project. "We didn't just wanna put things out there," he shared, adding, "And then, you know, once 'Everyone Is Doing Great' started rolling we were like this is great, this is the one."
Elsewhere, Lafferty appeared in Season 1 of Netflix's super-spooky TV series "The Haunting of Hill House," as well as "Underground," "Crisis," and "The Right Stuff."
Lee Norris (Marvin/Mouth)
Lee Norris, aka Marvin or "Mouth," has one of those recognizable faces that's just everywhere. Over the years, the actor has been featured in a ton of great stuff, including movies like "Zodiac" and "Gone Girl," as well as another hit teen show, "Girl Meets World." He joined the cast of "The Walking Dead" in 2017, telling Skybound that it'd been a long time coming, joking when the time finally came, "I got an email from my agent one day asking if I'd be interested in this little arc for two episodes and I said, 'Absolutely. How quickly can I get to Atlanta?'"
Looking back on his career, Norris noted he's "always played these either like nerdy or kind of quintessential good guys" and he was ready to "switch it up and do something a little bit different." The actor also expressed an interest in directing. In an interview with Teen Drama W***e, he opined, "I don't typically like to take something on until I feel like I've learned every possible thing about it, and directing is such a huge task… But, yeah, I'd be interested in that eventually."
Paul Johansson (Dan)
Hot Dad Dan, played by Paul Johansson, was a divisive presence on "One Tree Hill," but his death in Season 9 hurt fans regardless. In the years since, the actor has appeared in a variety of TV shows, including "CSI: Crime Scene Investigation," "Bones," and horror fantasy series "Van Helsing." In 2015, he joined "Mad Men," telling Uproxx he "lit up" upon initially reading the part, explaining, "All the scripts were very interesting and you could see that Ferg [his character] is immediately a presence, and that's cool." As a massive fan, he was thrilled to even be given the opportunity, admitting, "I was giddy when I got the call."
Still, "One Tree Hill" was a very special experience. As reported by Stars and Celebs, at the 2015 EyeCon Return to Tree Hill 2 convention in Wilmington, North Carolina, Johansson gushed, "I loved playing Dan Scott. It was the most fun ever." However, that very same year, BuzzFeed reporter Susan Cheng wrote a damning report about the actor, suggesting he might not actually be as far from his villainous onscreen characters in reality. Johansson responded to the publication's request for comment with a letter from his lawyer.
Antwon Tanner (Antwon/Skills)
In keeping with several of his co-stars, Antwon Tanner's career after "One Tree Hill" has focused almost entirely on television work, with appearances on the "Get Shorty" TV series, "Lucifer," and "Rizzoli and Isles," among others. The year 2014 saw him branching out in a big way as Jason on the Adult Swim comedy series "Black Jesus."
Tanner also joined forces with his former co-stars Hilarie Burton, Danneel Ackles, and Robert Buckley to make festive flick "The Christmas Contract" in 2018, deadpanning to Entertainment Tonight at the time that it was like "a paid vacation" for them. Burton, meanwhile, joked that in the next film maybe her character and Tanner's will finally get together, suggesting there might be more projects in the cards for the group. "I've joked that I want to be the Judd Apatow of Christmas movies and just continue working with my friends and just trade places," she said.
Barry Corbin (Coach Whitey)
When "One Tree Hill" debuted, all eyes were on Chad Michael Murray, Sophia Bush, and the rest of the core cast, but veteran actor Barry Corbin was arguably the biggest name on the cast list. He's enjoyed a helluva career over the past 40 years, including starring in everything from "No Country for Old Men," "Modern Family," "The Ranch," and "Blood and Oil." Speaking to The AV Club, Corbin noted the role of Coach Whitey came easily, even though he had no interest in basketball.
"I got out to North Carolina. Well, the guy who was really handling and staging all the games, this real coach, said, 'Would you like to come watch us run some plays?' I said, 'No, not particularly,'" Corbin recalled. "He said, 'Well, if you don't watch us run plays, you're not gonna know what's happening.' I said, 'I'm not gonna know what's happening anyway. All I've got to do is look like I know what's happening.'" Corbin noted that the coach admitted that the actor was "the best TV coach he'd ever had."
Craig Sheffer (Keith)
Poor Craig Sheffer's character had to suffer the indignity of being murdered by Dan (Keith reappeared in dream sequences for the remainder of his tenure on "One Tree Hill"). The actor hasn't been as prolific as some of his co-stars in the years since, but he hasn't completely dropped off the radar either. Sheffer has appeared in "CSI: Crime Scene Investigation," "Major Crimes," "The Mark," and "Destruction Los Angeles," among other projects.
In 2016, he spoke to Shock Ya about his role in "Code of Honor," a movie in which Sheffer plays a special ops operative's former protégé who works as an FBI agent. The actor jumped at the role because the script was "such a page-turner," adding, "I had no idea what was going to happen in the end. Even then, I wasn't absolutely sure what truly happened." Laughing, he added, "I thought something that was that unpredictable was very exciting. There was a lot of room to create a character who's a tortured former special forces guy who's now following this madman."
Moira Kelly (Karen)
Actress Moira Kelly had an impressive career prior to landing on "One Tree Hill," appearing in "Twin Peaks: Fire Walk With Me" and voicing adult Nala in "The Lion King." Still, the teen soap was a major moment for her. Since finishing up on the show, she's appeared in "Numb3rs," "Drop Dead Diva," and "The Resident," as well as TV movies like "A Smile as Big as the Moon," "Deadly Sorority," and "Girl in the Bunker."
Speaking to Goose Talk in 2011 about playing Nala, Kelly was effusive, describing it as "a lovely experience." The actor joked about why she was eventually chosen for the role after a grueling audition process, noting, "With the character of Nala, she was very sensible, very nurturing and for them I think it was more the quality of voice that they were looking for; a sort of authoritative voice but with a lot of warmth. My children will definitely say I have the authoritative side [laughs]. I don't know about the warmth."
Stephen Colletti (Chase)
Stephen Colletti was already a household name when he joined the cast of "One Tree Hill," having previously starred on hit MTV reality show "Laguna Beach: The Real Orange County." He's appeared in a variety of TV movies and TV show since then, including "All About Christmas Eve," "Suicide Note," and "Hit the Floor," as well as re-teaming with Lafferty for their crowdfunded short "Everyone Is Doing Great." In an interview with Us Weekly, Colletti described the project as "more of a grounded look at people who have success in the entertainment industry and what is closer to the reality of their living as opposed to what's projected…"
The actor admitted it was difficult to find work after "One Tree Hill." "It was tough. It was actually really, really hard, adjusting back into the [audition] rooms. I thought I was gonna be confident, but auditioning is brutal," he admitted. Colletti wouldn't rule out a reboot of the show, telling Us, "I would totally be down for that. I don't get sick of it. … I'm gonna always be out here saying, 'Let's get the movie, let's get the show, let's get the reboot going. I'm in.'"
Danneel Ackles (Rachel)
Danneel Ackles (née Harris) tussled with other characters frequently as Rachel on "One Tree Hill." Since leaving the show after the fourth season (she made guest appearances in subsequent seasons), the actress settled down with "Supernatural" star Jensen Ackles. The happy couple are also parents to three children.
On making her return to acting on the show that made her husband a star, Ackles told Variety, "Jensen knows… all of the little nuances that make the show so great, so I just really leaned on him more than ever." She added, "He is the show, and he knows that, so I just really leaned on him for direction, so if everyone hates it, it's all his fault."
The actress also reunited with some of her "One Tree Hill" family for "The Christmas Contract" in 2018, telling Entertainment Tonight, "This one was like a good opportunity to come back." She noted, "It was a chance to get to work with people we hadn't worked with in different ways." Ackles also joined those who accused Mark Schwahn of sexual harassment in 2017, as reported by Variety at the time.
Jana Kramer (Alex)
Following in the footsteps of her wild onscreen character, actress Jana Kramer became a bona fide country musician in her own right. Speaking to Taste of Country, Kramer explained she sees her music as a way of empowering other women. "Last night at a show a girl wrote on her phone, 'You saved me,' and I literally got so choked up that I almost started sobbing," she revealed.
But Kramer's life hasn't been all positives. She had a difficult relationship with her first husband, telling People he nearly killed her when she was barely 20 years old. The actress and musician also weathered a very public cheating scandal with her second husband (from whom she later separated in April 2021), as reported by E! News. Still, she survived, telling Taste of Country that she wants "to show women out there that it can be done," noting, "That you can be an amazing mom, be a career-driven woman and also do something that you love and that you want to make time for yourself as well."
Acting wise, Kramer has been featured in "Support the Girls," "Christmas in Mississippi," and lots more. She also signed the letter against Mark Schwahn along with her castmates.
Austin Nichols (Julian)
Much like many of his ex-castmates, Austin Nichols has enjoyed a TV-centric career since saying goodbye to "One Tree Hill." The actor has appeared on "The Walking Dead," "Bates Motel," "Ray Donovan," "The Village," and "Walker," among other shows. Nichols spoke to Entertainment Weekly about the death of his "Walking Dead" character, describing his final day on set as "probably one of the most fun and most fulfilling."
The actor found his role as the duplicitous Spencer to be the most challenging of his career, noting, "I feel like my job as an actor is to find a reason why he's doing these things and make it all work. … But it was tricky to play him and it was frustrating." He added, "He always kept me guessing."
On what he will miss most about working on the show, Nichols said the cast and fans alike, sharing, "I've never been a part of something that connected with so many millions of people and it's just really cool to talk to people on the streets and see how much people love it."
Barbara Alyn Woods (Deb)
Deb had quite the time on "One Tree Hill," from parenting burgeoning sports star Nathan to struggling with addiction and even attempting to kill her ex-husband, Dan, at one point. The grandmother's sweet connection to little Jamie enamored her to viewers after a rocky road onscreen. Behind the scenes, the duo was just as close. As the Daily Mail notes, actress Barbara Alyn Woods wished Jackson Brundage, who played Jamie, a happy birthday in 2020, sharing a shot of the them together and writing, "Happy birthday Jackson!!!! Love you!!!!"
As IMDb details, Woods was already well-established when "OTH" came along and she's worked consistently in the years since. Speaking to StarTrek.com in 2016, Woods, who had appeared in an episode of "Star Trek: The Next Generation" in 1989, noted of her approach these days, "I am trying to squeeze in work for myself whenever I can. I have three daughters who are full-time working actresses, so it's very important to me to be on set with them as often as I can, which means being very choosy when it comes to which projects I accept." Indeed, as TVLine reports, in 2021, Woods was cast in the "Chucky" spinoff TV series alongside daughter Alyvia Alyn Lind. Clearly being picky paid off.
Jackson Brundage (Jamie)
Jackson Brundage was just 7 years old when he took on the role of Jamie Scott on "One Tree Hill" in 2008, so, naturally, in the years since it wrapped, he's branched out considerably. According to IMDb, Brundage has stuck mostly to TV in the intervening time, starring in "Friends with Better Lives" before nabbing recurring roles in "See Dad Run" and animated show "Harvey Beaks." Speaking to Hollywood the Write Way in 2010, the actor — who was then 9 years old — expressed a desire to direct some day, opining sagely, "I would like to do it. I can't put enough work hours to do it now but I have provided ideas for the directors." He also admitted the hardest part of playing Jamie was tapping into his emotions, which was exhausting.
It was clear how much the character meant to fans of the show when Brundage turned 19 in 2020 and social media was loaded with comments from people who couldn't believe he'd grown up so much (via the Daily Mail). Over on Instagram, the actor frequently shares shots of himself enjoying the outdoors with friends and generally, as he told Hollywood the Write Way all those years ago, causing mischief.
Robert Buckley (Clay)
As TV Guide notes, when Robert Buckley joined the cast of "One Tree Hill" as sports agent Clay, his reputation as a frequently shirtless hunk on shows like "Lipstick Jungle" preceded him. Buckley was incredibly grateful to join the ranks of the hit CW show, gushing, "I've never had the experience of having so many loyal fans so present and so visible. … I didn't have any idea of how strong and vocal the fan base was, but they have one heck of a large following." Since "OTH" went off the air, he's kept busy acting on the CW's "iZombie" and starring in movies for a network with its own rabid fanbase: Hallmark.
In early 2020, Buckley told MediaVillage, "I love Hallmark movies, and I love Christmas movies, so I always thought there was a natural synergy to work with Hallmark." Buckley subsequently broke boundaries when he starred alongside "Mean Girls" star Jonathan Bennett in Hallmark's first-ever holiday movie with an LGBTQ+ storyline. Speaking to The Hollywood Reporter in 2020, the actor shared that he didn't think twice about taking the job since he wanted to work on a movie that meant something. Regarding the storyline about a gay married couple, Buckley noted simply, "It's about time."
Kate Voegele (Mia)
Snagging a role on "One Tree Hill" was, obviously, a major moment for all people involved, but for Kate Voegele, in particular, her "OTH" gig appears to have been the peak of her acting career. Voegele played Mia Catalano on the hit show, and, as per IMDb, she hasn't appeared in anything since. The "OTH" star has continued to speak out on the series, however, with Variety noting in 2017 that Voegele joined a group of 18 women in publicly calling out sexual harassment on set. The former actress, who also runs the blog We the Dreamers with her sister, also wrote a song, "Shoot This Arrow," in support of the cause. She described it as "an anthem for everyone who needs the courage and strength to speak up about what they've been through and for anyone who has ever felt taken advantage of, abused, or manipulated."
Music is evidently Voegele's focus since her "OTH" days, but, in fact, it was actually her goal all along. As Entertainment Weekly reported, the singer-songwriter was a teen struggling to get any attention for her music when producers cast her as Mia, the first musical artist signed to Peyton's fledgling record label. Many of Voegele's own songs were featured on the show, which catapulted her up the iTunes chart. The rest is history.
Tyler Hilton (Chris Keller)
Although "One Tree Hill" fans know him as the dreamy Chris, for Swifties, Tyler Hilton will always be the crush from the "Teardrops on My Guitar" video, and it seems the two shared a sweet friendship. As Entertainment Tonight noted, when the actor and musician first moved to Nashville, he stayed on Taylor Swift's family houseboat while getting acclimated.
Aside from playing dreamboats on the small screen (he also appeared on Halle Berry's show "Extant"), Hilton portrayed icon Elvis Presley in "Walk the Line" and, in the years since "OTH" concluded, he's appeared in Lifetime movies "Christmas on the Bayou," "The Christmas Contract," and "A Christmas Wish." Music remains Hilton's first love, however. He even wrote a song, "Don't Feel Like Christmas," that was featured in "The Christmas Contract" (via The Boot).
Notably, Hilton got sober in 2019 and became a father that year too. He told ET Canada that both have impacted his life considerably, allowing him to look outside of himself. Of working on "OTH" for all those years and why the show continues to resonate with viewers, Hilton gushed to Hollywood Life, "They're some of the best actors I've ever worked with … there's so much real love there, and familial love there, that maybe that's something that comes across."
Bryan Greenberg (Jake)
Following "One Tree Hill," which was his most high-profile job at the time, actor Bryan Greenberg certainly wasn't hurting for work. He enjoyed recurring roles on TV in "The Mindy Project" and "The Tick," along with movies like "Vice" and "The Kitchen." Greenberg opined to The Hollywood Reporter, "I just want to be challenged. I just want to work with good people. I've never been a person to say, 'This is the kind of thing I'm looking for.' You just can't as an actor. I feel like you've got to take it as it comes."
Greenberg confirmed to Hollywood Life in 2018 that the cast of the hit teen drama remains close. In 2020, he even reunited with former co-stars Sophia Bush and Danneel Ackles at a Golden Globes afterparty. He's also staked a claim for himself as a musician, admitting he rediscovered a love of performing on stage and creating music after turning away from both for ages.
Quarantining with wife Jamie Chung during the COVID-19 pandemic proved troublesome, however, with the two joking on Instagram that spending so much time alone together would ruin their marriage, as Us Weekly noted. Fortunately, they still appear to be together and in love!
Torrey DeVitto (Nanny Carrie)
Sometimes even the best jobs turn out to be more than you expected, which was certainly the case for Torrey DeVitto, who played babysitter-turned-kidnapper Nanny Carrie on "One Tree Hill." The actress admitted to Bustle she had no idea what Carrie was going to become. DeVitto has no issue with fans recognizing her for that character either, noting, "It's amazing. Honestly, I get recognized more for her still more than any other thing I've ever done." The actress has stayed busy ever since, even crossing paths with former costar Sophia Bush on "Chicago P.D."
Elsewhere, she found a home on "Chicago Med," telling The Nerds of Color that the role allowed her to step into a more adult space in her career, following the likes of "OTH" and "Pretty Little Liars," on which she appeared on and off for seven years. The actress said, "I feel like I've gotten to do some really interesting characters, fun characters, and strong characters. But I love finding those little nuances and how characters maintain strength amidst all those little flaws and quirks; I find that to be really fascinating." She also expressed a desire to produce more during a 2020 interview with Glitter magazine.
While she announced she'd be stepping away from "Chicago Med" in 2021, we're sure we'll see her in more projects soon enough!
Ashley Rickards (Sam)
When Ashley Rickards was cast as Sam Walker on "One Tree Hill" in 2008, she knew nothing about the show. But, as the actress confessed to Seventeen magazine the following year, Rickards soon became a total fangirl. Gushing about her time working on "OTH," Rickards enthused, "I love shooting it, everything about it. The cast is great to work with and I learned so much from acting techniques from different ways to shoot things. If I ever want to direct something — which I do want to do! — I've learned from them." She did end up directing a couple episodes of MTV's "Awkward," on which she played the lead.
In 2012, Rickards revealed to Vulture that she's dipped her toe into screenwriting too. The talented multihyphenate also quipped, "I'm sort of a reverse Method actor. In my personal life, I become my characters. After 'One Tree Hill,' I started dressing in Converse and ripped jeans and hoodies. On 'Awkward,' it manifests in how I speak." Rickards found another home on TV in series "ctrl alt delete," and she also enjoyed a recurring role in superhero show "The Flash." Evidently, the sky's the limit for this lady.