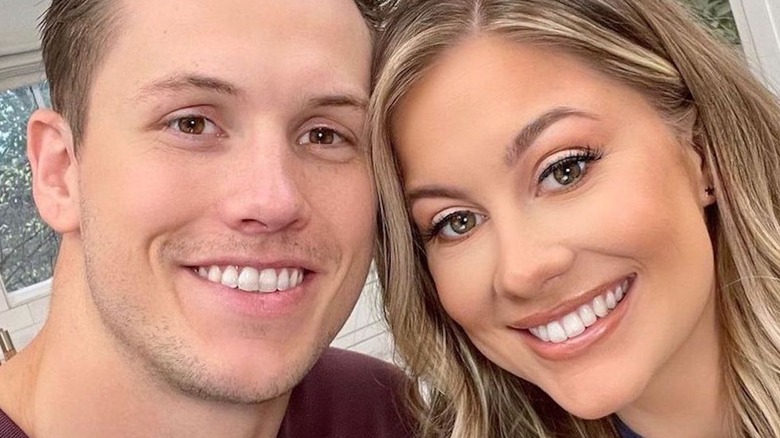 Shawn Johnson first captured our hearts as an impressively strong and talented Olympic gold medalist who once frequently graced our TV screens. After marrying football long snapper Andrew East in April 2016 and becoming Shawn Johnson East, she's returned to our hearts and minds. The dynamic and adorable couple are known for openly lifting the veil and welcoming fans in on some of the intimate details of their marriage, sharing the ups and downs on social media, their family YouTube channel, and their relationship-focused podcast.
From the outside, Johnson and East seem to have a pretty solid marriage. In fact, as it turns out, "couple goals" might be a more apropos name for their podcast than "Couple Things" because the pair's marriage truly seems to be the epitome of #couplegoals. That being said, it's certainly not all sunshines and rainbows.
Keep scrolling to find out what you need to know about Shawn Johnson's marriage.
They started dating after Shawn slid into her future hubby's DMs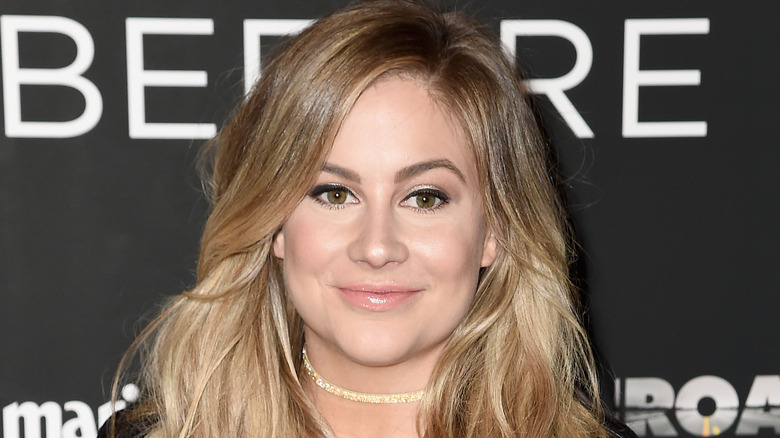 Ever wonder who made the first move? Spoiler alert: It was Shawn Johnson. On a January 2020 episode of "Couple Things with Shawn Johnson and Andrew East," the gymnast revealed what went down. At the 2012 Olympics, Johnson went to watch her friend compete in a cycling race. She spent the long race chatting with her friend's teammate, Guy East, who happens to be Andrew East's brother. The football player's brother waxed poetic about East and eagerly tried to set Johnson and East up.
Johnson's friend said to her, "If you could go on a date with anyone right now, who would it be?" In a flash of uninhibited dreaming, Johnson said, "Well, how about this Andrew East guy?" Since it should come as no surprise that Johnson is a "doer" (after all, you don't become an Olympic gold medal winner by just sitting back), she took to Twitter (fueled by a little wine), clicked that powerful, little DM envelope, and typed, "Come to LA?"
Elated upon receiving the DM, East texted his dad who encouraged him to go. (Side note: East revealed that the only reason he created a Twitter in the first place was to be able to contact Johnson.) When Johnson woke up the next morning, it seems safe to say she might have had a few regrets. "I was like, first, what have I done? Second, who is this guy who just gets a random text message at midnight saying fly across the country and he does it?"
Apparently, Johnson freaked out so much she tried to ghost him when he was there!
Shawn Johnson and Andrew East announced they're having another kid in 2021
In January 2021, the Easts announced via Instagram that they were expecting their second child. A few months later in March 2021, decked out in white jumpsuits and standing in front of huge white balloon letters spelling "EAST," Shawn Johnson and Andrew East awaited getting pelted with colored paint from squirt guns. "So we show up, and I am so nervous. I'm shaking. I feel nauseous. My hands are sweating … It was crazy. I didn't think I was going to be that excited — it was just like, 'Oh, we're doing a gender reveal, cool' — but the day of, I was super hyped," East said.
The couple's closest family and friends served as a gender-reveal firing squad, shooting paint to splatter either pink or blue over the jumpsuits and signs. The result? A beautiful blue river of paint, revealing that Johnson and East were expecting a son.
So, after their son joins the crew in the summer of 2021, do the pair plan on having more kids? "We wanted a boy and a girl at some point, no matter the numbers, you know, on either side. "Are we done having kids?" Johnson asked East. Only time will tell, but Johnson and East's excitement for their son is palpable. "I am so excited. I do not know what to do with a boy," Johnson said. "We need all new stuff now, but it's exciting!"
Shawn Johnson and Andrew East do monthly relationship check-ins
In a March 2020 episode of "Couple Things with Shawn Johnson and Andrew East," Shawn Johnson and Andrew East discussed how they use monthly, scheduled conversations to discuss how they are feeling, how they think things are going between them, and what they need from one another. The check-ins officially began when Johnson noticed that every time East wanted to have some sort of big, relationship-defining talk, he asked if they could go to Frothy Monkey.
Though she kind of dreaded it at the time, Johnson said she realized it was actually cool and productive to have "safe check-ins," where they can openly give each other feedback and discuss what they need. East said these sorts of constructive discussions help them grow into "who they are meant to be."
There are ground rules, though. Johnson said they never do them at home. This helps ensure that their sacred home space isn't tainted with any stress that might come up, and it helps create a defined border around the check-in time and regular life. Their second rule is to schedule them in advance rather than jump into one spontaneously. This helps them go into the conversation with a calm, neutral mind rather than an emotionally riled-up state.
As for your chances at spotting this power couple at Frothy Monkey? Slim to none, at least for now. They take to other coffee shops because Johnson admits she's still a bit scarred from too many stressful talks there in their early days.
Shawn Johnson and Andrew East went through a miscarriage before having their daughter
Shawn Johnson suffered a miscarriage before she and Andrew East had their daughter, Drew Hazel. After the loss, it took the Easts nearly two years to really heal as a couple and feel unified and be ready to try to get pregnant again, per People.
"With any miscarriage, it's such a loss because the second you find out you are pregnant, your mind just switches. You become a parent," said Shawn on the "Hot Marriage. Cool Parents" podcast. She described the rollercoaster of emotions they had to navigate personally and in their relationship. "It was a time of a lot of tension because of emotion, and we didn't know how to navigate it," she admitted. "I felt so sad and guilty that I had done something to lose this child."
Ultimately, the couple healed and were blessed with their daughter in 2019. According to Shawn, "It definitely brought us closer. It caused more arguments — just with frustrations — than we've ever had in our entire relationship, but it also ended up bringing us closer together in learning how to love each other and support each other through hard times."
They argue, and believe it's healthy to argue
If you think that the best marriages are always smooth sailing, think again. The Easts say they argue — not infrequently — but think that arguing is normal and healthy in any relationship with a significant other. In a January 2020 episode of their podcast, Shawn Johnson and Andrew East revealed there are three things they argue the most about: their roles, parenthood, and feeling unappreciated.
While it might seem surprising that they know their top three hot-button issues, this awareness is deliberate. Johnson and East think it's helpful to identify triggers and patterns in arguments because doing so can help prevent disagreements from spiraling into emotional blowups. In the East household, the biggest trigger for a small disagreement to spiral into a full-out spat is being overtired. "We are well aware that we argue and we fight when we are sleep deprived, and over things we are passionate about, and emotional about, and attached to," Johnson said, which might be why differing opinions about parenting Drew can land them in hot water.
East admitted that he wasn't initially sure if it was normal to argue, but learning that it is brought him peace. Their constant fighting during wedding planning, for example, prompted him to research whether other couples find the process overly stressful as well. "Realizing that that's normal to have arguments puts me at ease about whatever the topic is just because it's like, 'Oh, this isn't a make-or-break thing. This is just a normal thing that causes conflict.'"
They believe in the importance of understanding one another's love language
Love languages have certainly been among the biggest buzzwords of the past few years. The brainchild of Gary Chapman, "love languages" refer to how people prefer to receive and show love. Shawn Johnson and Andrew East believe that recognizing your spouse's love language is a sure-fire way to help eliminate the dreaded "unappreciated feeling" and can reveal a possible source of frustration.
"By default, I think whatever your love language is, is how you try to love your significant other," Johnson said in a March 2020 episode of their podcast. "However, your significant other's love language could be completely different or opposite from yours and if you don't actively try to remember, 'I have to actively try and remember I have to show him love in a different way.'"
Curious how the Easts stack up? Before taking the test, East and Johnson both thought they personally received love from quality time and physical touch. Johnson thought East received love from words of affirmation. East thought Johnson thrived on qualify time and words of affirmation. The verdict? They were wrong across the board. Johnson's order from most to least important is: acts of service, quality time, physical touch, words of affirmation, then gifts. East prefers acts of service, gifts, quality time, touch, and lastly, words of affirmation.
Shawn Johnson and Andrew East believe in scheduling romance
Part of having a happy and successful marriage is keeping the romance and spark alive. Relationships have to be nurtured, and the Easts are big proponents of scheduling deliberate times to remember to slow down and appreciate one another. Because of this, particularly during pregnancy and now that they have a child, Shawn Johnson and Andrew East believe that it is important to schedule date nights where they can just focus on being a couple. Thanks to babysitting help from their parents, they've been able to uphold this tradition since having Drew Hazel. Their special night of the week? Thursday.
"We schedule every Thursday night from 5-9 as date night for Shawn and Andrew," East said on former Bachelorette Kaitlyn Bristowe's "Off the Vine" podcast. "Even two nights after we came home from the hospital!" Johnson added. "And some of those date nights we go out of the house completely pissed at each other, but we come back happier."
They have a podcast called Couple Things With Shawn and Andrew
Podcast lovers, rejoice! Since the very end of 2019, Shawn Johnson and Andrew East have been hosting a relationship podcast, where they share the ins, outs, and intimate details of their own marriage and relationship history. On "Couple Things with Shawn and Andrew," the Easts speak candidly and vulnerably about the ups and downs of married life and their relationship history. They also infuse plenty of funny memories and amusing moments in their day-to-day lives.
The other big focus of the relationship podcast is interviewing other famous and everyday couples to dig deep into what makes their relationship work, what their struggles are, and what they are working on as a couple. Some of the notable couples they've talked with include country music singer Luke Combs and his wife, Nicole Hocking; Kaitlyn Bristowe and Jason Tartick from "The Bachelor" franchise; and professional athlete power couple Lindsey Vonn and P.K. Subban, who have since called it quits.
They also post videos of each episode, so you can watch all the smiles and looks of adoration they exchange.
Shawn Johnson dated one of Andrew East's good friends before they got together
Though Andrew East and Shawn Johnson officially met through East's brother, Guy East, Johnson actually had another connection to East that pre-dated that introduction. As Johnson confessed on their podcast, she had actually dated one of East's good friends and teammates before getting together with her now hubby. The catch? Neither Johnson nor East's teammate had ever told the football plater.
In fact, it wasn't until Johnson and East had been in a relationship for two years that she finally came clean. "We were two years into dating — two years! — and this was just haunting me," Johnson said. "And I thought for sure it was over … But, I told you. And you took it great." She continued, "It was a short conversation; you ended up leaving. About five hours later, I got a text from Andrew asking me if I wanted to go paint-balling with the Vanderbilt football team." The catch? When she got there, the teams were already formed. East was captain, as was the teammate Johnson had dated. East appointed Johnson to her ex's team.
"All I can say is I've never I've never been so bruised in my entire life — just lit up — because there was a sniper on the other team just shooting me up the entire time, and that was my boyfriend!" Johnson said. "At the end of the game, I was like, you know what Andrew? Touché. Touché."
They say that having a baby changed everything
Shawn Johnson and Andrew East admit that as much as they adore their daughter, Drew Hazel, even the ultimate blessings have their challenges. In fact, they shared that adding their daughter to their tight duo made them essentially need to start all over as a couple. "It's changed our relationship in every way possible. I think it's the biggest obstacle in a marriage or relationship because you have to figure out how to keep each other first in order to both be good for her," Johnson said on Kaitlyn Bristowe's "Off the Vine" podcast.
East shared that they needed to relearn how to communicate, what their hobbies and passions are, and even how they give and receive love. Johnson said that giving birth changed her primary love language since life as a mom is so hectic and busy. East now wins the most brownie points for acts of service to help ease Johnson's load. "It makes me feel seen and loved if I come home and bottles are washed and laundry is done!"
In a Katie Couric interview, the couple revealed that they have a brand new routine now and are no longer night owls! That being said, they have kept date night sacred. "When you have a baby, there are more opportunities for resentment and to be mad at each other, so for us to have weekly date nights and put that aside and sit across from each other, and look each other in the eye is really important," East told Kaitlyn.
They are open with each other about their mental health struggles
You can say that Shawn Johnson and Andrew East are each one another's biggest fan, and with that comes unconditional love and support. They put this into practice by talking openly with one another about their mental health challenges and pasts. On a February 2020 episode of their podcast, Johnson said, "We think it's really important to talk about baggage because it teaches your significant other that 'I respond this way because' whereas some people believe, 'let's not talk about the past, and let's not talk about exes and how we got here because I just want to date the person that's here.' But there's so much to a person based on what you've gone through."
Johnson has dealt with an eating disorder, due, in part, to the perfectionism and physical critique of being an Olympic gymnast. She found peace through therapy. East has had struggles with anxiety, which began with the pressure that came from being long snapper when he was the top pick out of Vanderbilt and drafted by the Kansas City Chiefs. East found that the sole focus on football put too much stress on him. His performance suffered so severely that he soon got cut. "I spent like three months literally just hanging out on the couch. I was in a slump. You get in this echo chamber of somber thoughts," he said on the "Ellie + Jared" podcast.
They've always been cute together
The many swoon-worthy moments that fill Shawn Johnson and Andrew East's Instagram feeds will have you scrolling with "all the feels" for hours on end. However, we get the sense that their cuteness isn't just magnified to cultivate a social media "highlight reel."
Rather, the Easts seem like a genuinely cute couple. For example, when they were just dating and East was finishing his master's degree, they only had a little time together to hang out. East would come to Johnson's apartment at 9 p.m. after a long day, armed with a bag containing her favorite snack — honey crisp apples. Johnson said this little gesture made her feel loved. "It meant so much to me, and it was so little. It was the sweetest thing. It made me feel so special."
Perhaps the apples were the way to her heart because Johnson was the one that initiated the first "I love you." Andrew shared the story, "The way she first told me 'I love you' was when I was going to Vanderbilt. She Post-It-Noted my entire dorm room — every inch, like in 'Bruce Almighty.' And then on one Post-It Note at the bottom of my closet, she wrote, 'I love you.'"
"I went to Walgreens like twelve times," Johnson said, laughing. "And you never said you found it; you didn't say anything. But then I was in your dorm room one day and saw you had taken the Post-It Note off and put it on your notebook." And the rest is history!