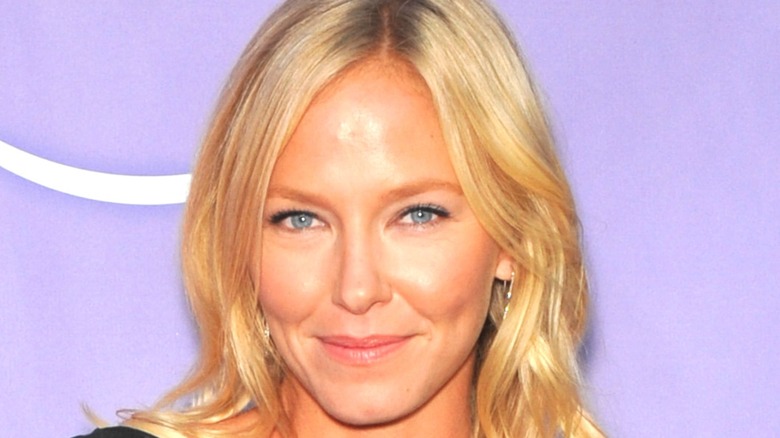 Kelli Giddish is an actress who is best known for portraying Detective Amanda Rollins on NBC's "Law & Order: Special Victims Unit," having joined the show a decade ago in its 13th season. It's a career-making and likely career-defining performance, and although there had been rumors she may have been preparing to exit the series, there has been no confirmation that Giddish is planning on going anywhere any time soon. And why should she? The crime drama, which premiered in 1999 as the first spin-off of "Law & Order," remains incredibly popular with fans.
However, the road to landing the role of Rollins wasn't necessarily smooth sailing.
Like many actors, Giddish worked her way up from humble beginnings. To get a complete look at her career, from her childhood spent acting in school plays to a woman more than capable of holding her own opposite Mariska Hargitay on the longest-running scripted primetime TV show in history, here is a detailed look at Giddish's on-screen transformation.
Kelli Giddish started acting as a young girl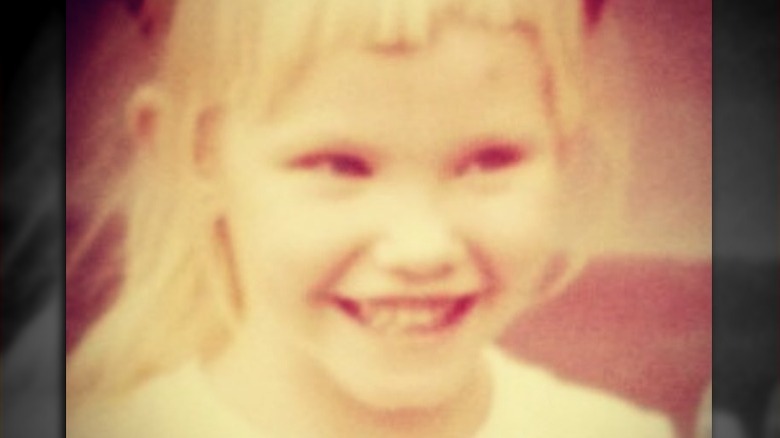 Born and raised in Cumming, Georgia, Giddish began performing as a child, appearing in school plays beginning as early as first grade. But it was her high school drama teacher, Yatesy Harvey, who motivated her and helped her hone her craft. "I did her drama camp, which might sound cheesy to the people who don't know what it was, but she took about 20-25 kids to the north Georgia mountains or wherever she could find a house that was willing to rent to 25 middle and high schoolers for a week every summer," Giddish told the Forsyth County News, the local paper of her hometown, in 2017. "She just inspired a fierce curiosity and very high standards of what acting was and how much dedication it took and rehearsal and we would do plays every night."
"She had full confidence in us as teenagers and treated us with the utmost respect," Giddish said. "When people treat you like that when you're that young, you kind of say, 'Oh, ok, they are listening to me and I need to step up and actually earn the respect that they're showing me.'"
Upon graduation from high school in 1998, Giddish took what she learned from Harvey and put it to use at the University of Evansville in Indiana where she majored in performance arts. As a senior, she was named an Irene Ryan Award finalist (via NBC). As described on the Kennedy Center website, the awards provide "recognition, honor, and financial assistance to outstanding student performers wishing to pursue further education," and finalists are invited to perform at Kennedy Center.
Like many aspiring actors, Giddish moved to New York after college, where she landed roles in a few plays, including "Bobbi Boland" opposite Farrah Fawcett. But television soon came calling.
All My Children gave Giddish her start
Giddish's big break came in the form of Diana "Di" Henry on the ABC soap opera "All My Children," which ran from 1970 until 2011. She joined the series in March 2005 in a storyline that saw Di arriving in Pine Valley and pretending to be the beloved character Dixie Cooney Martin, who had been presumed dead after a car wreck in a storyline that took place a few years prior. However, it was eventually revealed, after the storyline was poorly received by the show's fans (via Soap Central), that Di was actually Dixie's younger half-sister. Perhaps the main reason the Di-is-Dixie storyline was so controversial was that Giddish was actually younger than Jacob Young, the actor who portrayed Dixie's on-screen son JR Chandler.
Unfortunately for Giddish, her time on "All My Children" was relatively brief, at least in terms of a soap opera. After her character was unmasked as Di and Cady McClain returned to the series as the real Dixie, Giddish's screen time decreased and she was eventually written out of the series in September 2007. However, Giddish learned a lot from her time on "All My Children." During an interview at the 2017 Monte-Carlo Television Festival, she said soap operas were where she learned the value of a good work ethic. "There's so much dialogue because you do eight episodes a week," she said. "Now we do one episode every eight days. It's completely different."
She then appeared in back-to-back network procedurals: Past Life and Chase
After leaving "All My Children," Giddish made the rounds as a guest star, appearing in shows like FX's Emmy-winning "Damages," the CBS drama "Without a Trace," and ABC's remake of the U.K. series "Life on Mars." Then, in 2009, she was cast as the lead in a new network crime series, "Past Life." In the Fox show, which debuted at midseason and revolved around reincarnation, Giddish portrayed Dr. Kate McGinn. Unfortunately, the series was swiftly pulled from the network's schedule amid rapidly declining ratings, per The Hollywood Reporter.
The following season played out in a similar fashion: Giddish snagged the lead role in the NBC drama "Chase," about a team of U.S. marshals based out of Texas. Giddish portrayed Annie Frost and each episode found the team chasing down another fugitive. Although the network initially picked up the show for a full season of 22 episodes, that number was eventually cut to 18 as it continued to struggle in the ratings (via The Hollywood Reporter). The series was eventually pulled from NBC's primetime schedule in February 2011 and was officially canceled later that year (via Entertainment Weekly).
Giddish soon landed a recurring role on The Good Wife
Beginning in 2011, Giddish had a small recurring role on the critically acclaimed CBS drama "The Good Wife." She portrayed Sophia Russo, one of Kalinda's (Archie Panjabi) lovers who also happened to be married. Series co-creator Robert King told TV Line that the writers had hoped to up Giddish's screen time during the show's third season by having her character be part of a love triangle, but the plans to give her more to do were ultimately foiled when Giddish landed her role on "SVU."
However, she did appear in one episode of Season 3 and then later reprised the role again in the show's Season 6 premiere, which saw Kalinda spend the night with Sophia after believing Cary (Matt Czuchry) blew her off (we eventually found out he was actually arrested and in jail instead). In all, Giddish appeared in four episodes of the show.
All of this led Giddish to Law & Order: Special Victims Unit
After portraying a victim in a 2007 episode, Giddish joined the cast of "Law & Order: SVU" in 2011 as a series regular at the same time Warren Leight became the showrunner. "I had met him when I was doing a play development conference when I was 18, and it's so crazy because the seeds you sow when you're trying to do acting — it's a silly metaphor — but you don't know when they're going to come into fruition, and this one happened to really come into bloom," she told the Forsyth County News.
Giddish has been with "SVU" ever since. Her character, Det. Amanda Rollins, is a gambling addict who moved to New York from Atlanta. She was introduced in the show's 13th season alongside Danny Pino's Nick Amaro. The two actors were brought in to fill the void left by exiting star Christopher Meloni (who has since reprised his role in a new spin-off). In an interview with TV Guide at the time, Giddish said she was excited to join the series because of the "prospect of re-invigorating a franchise that's been so well-known and so well-liked, and then to be the shaker and mover."
A decade later and with more than 200 episodes under her belt, Giddish is still going strong as Rollins. The show's writers even chose to include Giddish's real-life pregnancies in the show, so her character is now also the mother of two daughters.