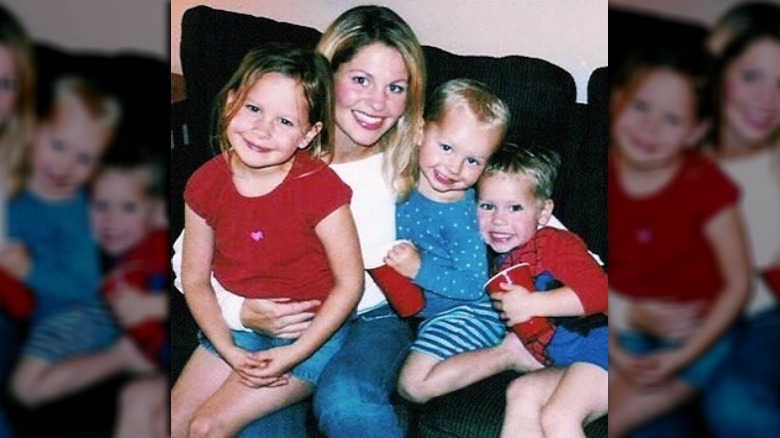 Everyone knows Candace Cameron Bure — at least, if you came of age in the late 1980s and early 1990s, as chances are that Full House was one of your must-watch shows. The sitcom, on which Candace stared as D.J. Tanner, launched the careers of many celebs, including Mary-Kate and Ashley Olsen, who spent their childhoods on the show.
Fast-forward a few decades, and you'll find that Candace, while she has aged incredibly well, has started sharing the family spotlight. In particular, her daughter Natasha Bure has been making all kinds of waves with her growing list of accomplishments and interests. Plus she looks so much like her mom that they could be sisters!
So what is Natasha Bure up to now? Has she diverged from her parents' moral path or is she a chip off the old block? Has she gotten herself into any Hollywood shenanigans? Here's everything we know about Natasha Bure, who really has grown up to be gorgeous.
Natasha Bure was Candace Cameron Bure's firstborn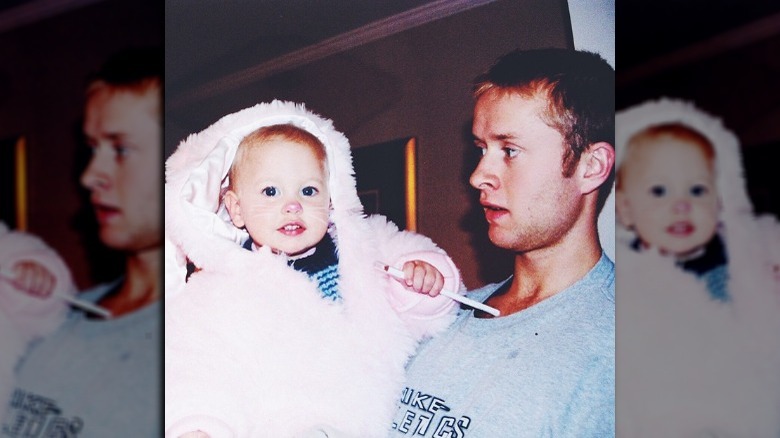 Candace Cameron Bure married hockey player Valeri Bure in 1996. According to fellow Full House cast member Dave Coulier, who introduced the pair, sparks flew from the very beginning. "When Valeri first saw Candace, he just blushed," he told People magazine. The couple went on a date the next day and were engaged within a year, according to Us Weekly.
After the big wedding, the Bures decided to start a family. And on Aug. 15, 1998, they welcomed their first child, Natasha Bure, into the world. Two other children followed, as noted to Woman's Day: Lev, two years later, and Maksim, two years after that.
By the looks of it, Natasha enjoyed a happy childhood, and she has expressed gratitude for her family — especially her mother. "I'm so glad God gave me you as a mom, because Lord knows no one else would have been able to handle me," she said in an Instagram post. Who wouldn't have been happy with such a charmed childhood?
Like mom Candace Cameron Bure, Natasha Bure is Christian to the core
Religion has been extremely important to Natasha Bure for as long as she can remember, which she affirmed in an interview with Harvest Show International. "My faith in general has just been a huge part of my life ever since I was born," she shared. That's no exaggeration, either. "I grew up in a Christian household, I was raised by Christian parents, I went to Christian school all the way up to tenth grade, so pretty much my entire life was always surrounded by it," she continued. No wonder it means so much to her.
Natasha doesn't do anything without thinking about her faith first. "I think with anything that I do and continue to do, I would want it to reflect me and my faith and the person that I truly am," Candace Cameron Bure's daughter said in an interview with Fox News.
She's not at all shy about being a hardcore Christian either, thanks to her mother's example. In an interview with NBC News, Bure said her mom is "very outspoken about [faith], so it's obviously encouraged me to be that way." Looks like the apple didn't fall too far from the tree.
Candace Cameron Bure's daughter, Natasha Bure, felt pressure from an early age
It might be glam growing up in a celeb family, but it's not all glitz all the time. In fact, Natasha Bure felt pressured to be perfect from a very early age. In an interview with Harvest Show International, she said, "Growing up, I was always very conscious of how I looked, how I dressed, how I acted — I always wanted to be cool because society tells us, 'oh, this is how you're supposed to look, this is how you're supposed to act.'" But that mentality wasn't healthy for Candace Cameron Bure's daughter, as it caused her to fixate too much on her image. She continued, "I was constantly in my own head always caring about what other people thought about me." Sounds exhausting!
In order to break out of that mindset, Natasha had to do some serious soul-searching. "I really had to get in touch with myself and know where I stand with my morals and what I believe in, and really stick to that instead of… following into peer pressure," she shared. That in turn helped her to cultivate her authenticity, which is super important to her.
Mom Candace Cameron Bure wasn't always Natasha Bure's BFF
Natasha Bure didn't have a buddy-buddy relationship with mom Candace Cameron Bure growing up — quite the opposite, actually. In an interview with Fox News, Natasha said, "I think for a long time my mom was just strictly my mother… we did not have a friendly relationship… she was somebody who was disciplining me and, you know, setting rules in our house." Or, in a nutshell, as Natasha told Entertainment Tonight, "She's hip, but she's strict. Like, she's definitely strict." That pretty much sums it up!
But Natasha's not mad about how she was raised, or salty about the experience. "I'm so happy that she set those rules in place," she continued. Those rules helped her develop into the person she is today.
Natasha says she and her Fuller House star mom are more chummy now that she's older and that they spend time together as friends — mostly. "There's still going to be that mother-daughter boundary," she noted.
Candace Cameron Bure's daughter, Natasha Bure, became a social media starlet
Natasha Bure is no stranger to the internet. "I love social media. I love Twitter, Instagram," she declared in an interview on The Rachael Ray Show. And she's been on both of those platforms for some time, developing a solid presence for her followers. Her Instagram is chock full of selfies, throwback pictures of her and her family, Full House references, and some ultra-glam fashion shots. For that, she's garnered 440,000 followers at the time of this writing — pretty impressive!
Candace Cameron Bure's daughter maintains an active presence on her YouTube channel as well. There you can find a wide variety of content, from makeup tutorials to vlogs with her friends to music videos. The verdict? Wholesome.
Her Twitter account is more casual than her other social media presences. Like the rest of us, she complains about traffic, shares relatable gifs, and gushes about her favorite shows. We doubt she'll be giving up social media any time soon.
Candace Cameron Bure's daughter, Natasha Bure, entered the modeling world
When you're born beautiful, it seems only natural to enter the modeling world. That's just what Natasha Bure did, and pretty early on to boot. "I actually started modeling when I was pretty little," Candace Cameron Bure's daughter revealed to Naluda magazine. Just how little? "I have little Polaroid test shots of me when I was 5 or 6. I took a break from it when I was around 10, and now I just model for fun," she added.
However, that doesn't mean she's written off the prospect of a professional modeling career. "I would love to get back into it though. It's such a great art form and creating different looks for photography is always fun," she continued.
Natasha once got some sagely modeling advice from none other than one of the most beautiful supermodels in the word Gigi Hadid — talk about modeling royalty! She told People magazine that Hadid, who went through a stunning transformation, said, "The only advice I would give is to just walk like you're walking on the street." Natasha noted that she took that advice to heart.
Natasha Bure, Candace Cameron Bure's daughter, has pitch perfect pipes
If you recognize Natasha Bure but can't quite put your finger on why, chances are you saw her perform on Season 11 of The Voice. During a blind audition, she wowed judge Adam Levine, who selected her to be on his team after she performed a cover of the Elvis Presley classic "Can't Help Falling in Love."
Although Candace Cameron Bure's daughter was eliminated after a battle round with Riley Elmore, she looks back on the experience fondly. "I had a great experience on the show, meeting other artists and becoming best friends with them. I learned so much about myself during that season and I am so glad I was able to be a part of it," she shared with Naluda magazine. That's a super enlightened takeaway. Clearly, the girl has some serious poise.
Natasha's vocal resume includes more than being a contestant on The Voice, too. She performed with Grammy award-winning Christian pop duo for King and Country live in concert, and she also posts videos of cover songs on her Youtube channel.
Lights, camera, action! Like mom Candace Cameron Bure, Natasha Bure acts
As if singing and modeling weren't enough, Natasha Bure also has a blossoming acting career. For starters, she appeared in a commercial for Whimzy Pets when she was a kid — talk about a throwback!
Additionally, in 2017, she acted in a film for the Hallmark Channel, entitled Switched for Christmas, along with her mother. "I was blessed to be a part of it, and I would love to continue doing these types of films," she said of the experience in an interview with iHollywoodTV.
Even though Candace Cameron Bure starred in the movie, she stressed that she didn't want to get too involved with her daughter's acting on set. "It was really important to me to make sure I let the director do their job and not give Natasha any acting notes," she told The Christian Post. Who knew she was capable of turning off her famous maternal instincts?
Natasha Bure also acted in the 2019 movie Faith, Hope, & Love, a Christian romance film. We can't wait to see what she does next!
Candace Cameron Bure's daughter, Natasha Bure, wants people to "be real"
Of Natasha Bure's many accomplishments, arguably the most impressive is that she wrote and published a manuscript at 18 — something most people never do at all, let alone as a teenager. The book, entitled Let's Be Real: Living Life as an Open and Honest You gives wisdom and advice to girls and young women. She told Naluda magazine, "I wanted to use my platform to bring light to topics that teens struggle with every day," such as dating, peer pressure, body image, and matters of faith.
The book's core message is that authenticity and being true to yourself is of paramount importance. "It's all about being real, being open, and being honest. There is nothing better than doing just that," she shared with The Christian Post. "Living a life that is authentic makes having fun, making friends, and pursuing passions so much easier!" she added.
Candace Cameron Bure's daughter really had to open herself up to the world when writing this book, which wasn't exactly easy. "I want to be real with other people and not make my life seem like its filter perfect," she revealed to Naluda. That's so refreshing in the Instagram age.
What Candace Cameron Bure's daughter, Natasha Bure, dreams for her future
Even though she has so much under her belt already, Natasha Bure has some ambitious plans for the future. Candace Cameron Bure's daughter told Naluda magazine in 2017, "I see myself hopefully on some sort of music tour, releasing music, performing, and being in the most creative zone I've ever been in," all in the next five years. Clearly she's not slowing down anytime soon!
Bure also has a more personal wish in her five-year plan. "Hopefully, I'll have a boyfriend by then as well," she revealed. That's right — Bure has beauty, brains, and endless ambition, but alas, she hadn't found Mr. Right just then — or even had a boyfriend at all in 2017, according to Entertainment Tonight.
So what's she looking for in a partner? We don't know much yet, but she did tell Entertainment Tonight that she's "looking for someone funny." Let the speculation commence!
Natasha Bure, Candace Cameron Bure's daughter, is all about family
Now that Candace Cameron Bure's daughter, Natasha Bure, is old enough to live on her own, you might wonder if she's more invested in building relationships with her friends than she is spending time with her relatives. But even though she's fled the nest and is all grown up, she is still a family girl, through and through. "Family is everything," the celeb kid proclaimed in an interview with The Christian Post. "Stick by your family and support them through the tough times, and the great times."
That's not to say that Natasha Bure thinks that her family is perfect, or that they always have a great time together. Rather, her family is just like any other, even though they're super tight — and famous. "I've definitely experienced ups and downs in my family," she continued. "It's always so important to put in the effort and have a positive outlook."
College was never in the cards for Candace Cameron Bure's daughter, Natasha Bure
There's a lot of pressure on kids in America to get good grades in high school so they can get into a good college, as noted by Forbes. But that wasn't something that Natasha Bure experienced, as things worked a little differently in her home due to their unique situation. "I just never thought that that'd be something that I would do," she explained in an interview with Parade. "Mostly, because neither of my parents went to college, so I never really had that influence."
Additionally, given that Candace Cameron Bure's daughter has chosen to work in the entertainment and music industries, college just isn't a necessity. Plus, schooling hasn't been a super positive experience for her anyway. "I felt like, for me, school was always the enemy," she continued. "You have to have super, super good grades to be able to get a worker's permit to act, and so I just always felt like school wasn't on my side. Ultimately, I'm happy with my decision to just do my own thing." That makes total sense, Natasha!
Candace Cameron Bure's daughter, Natasha Bure, isn't tempted by Hollywood trappings
Making the decision to go into the movie business meant that Natasha Bure will be exposed to all that Hollywood has to offer — and not all of it aligns with her religious values. But Candace Cameron Bure's daughter isn't all that worried about it, as her moral compass is solid and she knows what she both wants and doesn't want out of her career. "I think because of that I don't really get tempted too much in Hollywood," she revealed in an interview with Fox News. "I'm pretty secure in who I am and what I believe in and what I stand for."
Natasha knows how the pressure to conform can be, as she's watched her mother go through it before. "There's so many things out there, and it's a very hard industry, so I think when she put her foot down on some things, it was definitely hard," she continued. "I personally have not experienced that in particular, but I think that if I was offered something that was kind of uncomfortable, I definitely would have the same take on it."
What's going on in the love life of Candace Cameron Bure's daughter, Natasha Bure?
When it comes to her children finding their forever people, Candace Cameron Bure is ready. The proud mama is extremely pleased with the people her children have become, as they have good heads on their shoulders, according to her. "They're all looking for good people to hang out with, or date, looking for a wife, looking for a husband and I'm proud of that," she shared in an interview with Us Weekly in November 2019. She added, "I wish that they would date more in a sense. That sounds so weird!"
But that doesn't mean she wants her kids to rush into something with the wrong person. And the Bure family standards are pretty high! "Natasha hasn't brought anyone home yet… because no one's good enough for papa and that's a really good thing," she continued. "Everyone's got to live up to that standard."
Natasha Bure had a pretty funny reaction to her mother's public comments on the matter, which she posted on her Instagram page. "You heard it here first. 'No one's good enough," she wrote in the caption.