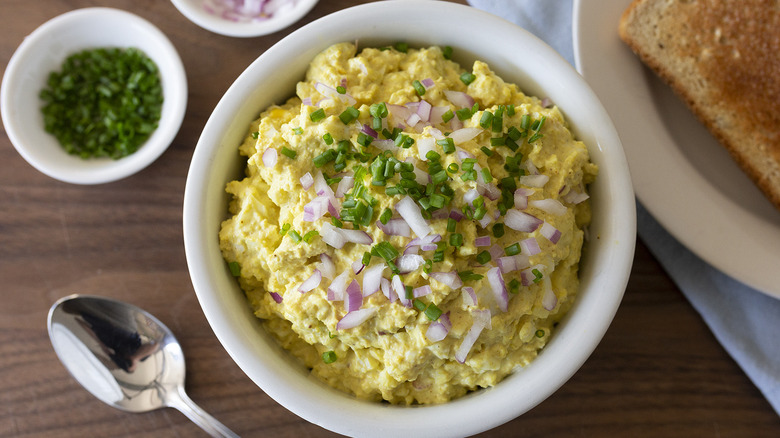 There's nothing much more refreshing to prepare and have for lunch than fresh, cold, delicious egg salad. If you're looking for a new egg salad recipe that's basic without being too basic, we have something divine that may be eggs-actly what you're looking for. If you're a fan, you may already have your standard, to-the-point egg salad recipe that you love whipping up for sandwiches, but this may very well become your new family favorite go-to that you'll really want to prepare all the time.
We got this recipe from food blogger and recipe developer Melissa Johnson of Best Friends For Frosting. What's the spin in her otherwise pretty standard egg salad recipe, might you ask? Johnson gives us the scoop. "I love Indian food and thought it would be fun to introduce these flavors to egg salad," she explains. "The curry powder makes the recipe unique." And unique it is, whether it's served in a scoop on a bed of lettuce or made in a sandwich on your favorite bread.
This is a salad you'll want to make and have on the ready in your fridge. So keep reading if you want a breakdown of each step so you can prepare the perfect egg salad with a twist, an excellent option for weekday lunches, in addition to weekend picnics, potlucks, and cookouts. Scroll all the way to the bottom if you just want to cut to the chase and get straight to the recipe.
Gather the ingredients to prepare this egg salad with a twist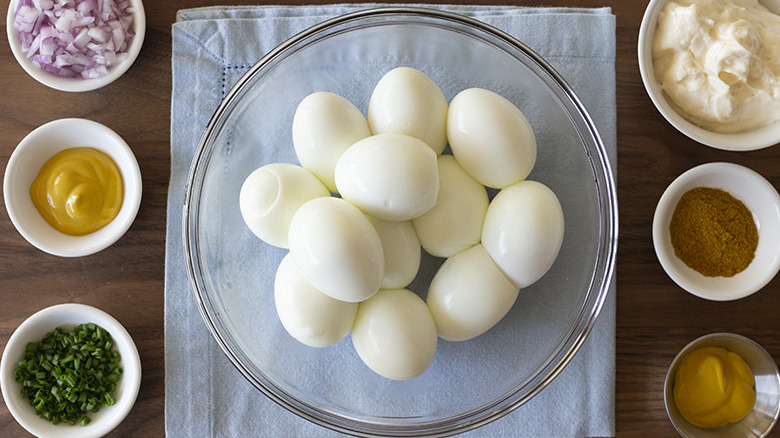 The ingredients you will need for preparing this egg salad with a twist recipe are really very simple, and a lot of it happens to be things you might already have in your pantry and fridge.
For this egg salad recipe, you'll need 12 hard-boiled eggs, 1 cup of mayonnaise, 2 teaspoons of yellow mustard, 1 ¼ tablespoons of curry powder, 2 tablespoons of chopped red onions (for the actual egg salad and to garnish on top when it's finished, 1 tablespoon of chopped chives, and some salt.
If you head out to the store for any of the ingredients, be sure to pick up some of your favorite bread, rolls, or crackers, along with sliced pickles and some yummy potato chips to round out your serving plates. You'll be all set to present a really great lunch or even light supper once you're done whipping up this dish.
We suggest measuring out and organizing everything you'll need so it's ready to go when you start assembling the egg salad recipe.
Boil the eggs
First off is making your eggs for your egg salad. Boiling eggs can be surprisingly tricky, but this recipe makes it pretty easy.
You're going to start by placing the 12 eggs in a pan with water. Plan to fill the pan just enough to cover all of the 12 eggs so they're all fully submerged beneath the water. Bring the water to a boil, then remove the pan from the heat. Set the pan on a non-active stove burner, cover the pan, and then let the eggs cook for 12 minutes. Set a timer so you know they won't sit for too long — 12 minutes is just the right amount of time.
Next, gently drain the eggs in a strainer over the sink after they've cooked for 12 minutes.
Peel and chop the eggs
Once the 12 eggs are finished boiling and the water is drained, the next step is to peel them and roughly chop or smash them in a medium sized bowl, as shown in the photo.
Also, it's worth noting that after draining the eggs, there is an extra step you can take to save your fingers from the heat of the boiled eggs. According to Johnson, "You can peel the eggs right after cooking them. Drain and then submerge in cold water to cool them down so they are not too hot on your hands."
Otherwise, you can just wait for the eggs to cool down naturally before peeling them, but if you're hungry, that will be an act of serious patience. So go with the route that works best for you, either one will work fine. Your egg salad will be delicious regardless of how you peel them.
Mix the mayo, mustard, curry, and onion with the eggs
Once all the boiled eggs have been peeled, chopped, and added to the medium-sized bowl, you can add all of the other ingredients to the mix. This is where the plain ole' boiled eggs become egg salad (with a twist, of course).
Add the mayonnaise, mustard, 2 tablespoons of chopped red onion (basically all of the ingredients besides chives and the reserved red onion for garnish) to the eggs in the bowl, then mix everything thoroughly. At this time, you can also add the salt, according to your own preferences and taste.
Now that all the ingredients have been thoroughly combined in the bowl, your bowl of egg salad will be looking super amazing, and you will want to dig right in and taste it.
Garnish the egg salad, and serve
Be excited, because your fresh, cold, and delicious egg salad with a twist is ready to serve! Garnish the egg salad with additional chopped red onion and the chopped chives. Of course, both of those toppings are optional. If you'd rather not garnish at all or add more, feel free to go with your own preference.
As we said earlier, you can make up sandwiches on your favorite bread, or serve your egg salad in a scoop on a bed of lettuce. It's great to add some sliced pickles and your favorite chips to each plate to make a really awesome presentation for each member of the family.
Egg salad sandwiches are great for picnics or hikes. Simply wrap them up, and pack them in a cooler on ice. When it's time to eat them, they will be the perfect treat to enjoy.
How long will this egg salad keep after you make it? This egg salad should stay fresh for three days in the refrigerator, per Johnson. So it's definitely an option for meal prep if you're looking to have something ready to eat on busy workdays. It's so easy to pull it out and scoop some into a container or make yourself a lunch. If you don't want the carbs, you can even roll your egg salad in strips of romaine lettuce.
Once you whip up this egg salad, it will be a family favorite, so enjoy!
12 eggs
1 cup mayonnaise
2 teaspoons yellow mustard
1 ¼ tablespoons curry powder
2 tablespoons chopped red onion (plus more for garnish, optional)
1 tablespoon chopped chives
salt, to taste
Place the eggs in a pan with water, bring them to a boil, then remove the pan from heat. Cover, and let cook for 12 minutes.
Peel the eggs and roughly chop or smash them in a medium-sized bowl.
Add all the ingredients besides the chives and reserved red onion for garnish to the eggs, and mix thoroughly. Add salt to taste.
Garnish with additional red onion and chives.
Serve the egg salad on bread or with crackers.