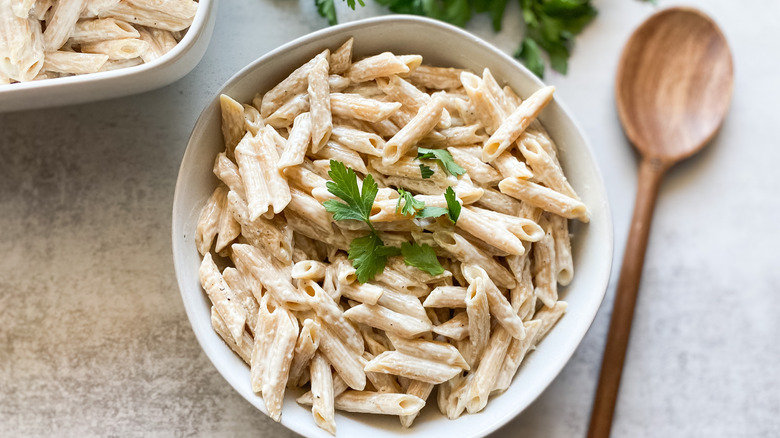 The best kind of recipe to have on hand is one to prepare a quick and easy dish that's so tasty, you could probably eat it every other day of your life without ever tiring of its taste. If you're looking for that kind of recipe, then creamy garlic butter pasta is a great dish to consider. Recipe developer and private practice registered dietician Kristen Carli of Camelback Nutrition & Wellness describes this pasta dish as being "so creamy and delicious — it's very decadent." You won't have time to think of anything but the yumminess as you savor and enjoy every bite, but you will have plenty of time for other things during the day thanks to this meal's amazingly quick prep time. You can prepare the sauce while the pasta boils, and you can have this dish whipped up from start of prep to served and ready to enjoy on your table in less than 20 minutes. Yes, you heard that right — and we think we have your undivided attention now!
And while a true delight served on its own, this dish is also a beautiful base for cannellini beans, chicken, cooked broccoli, peas, kale, and so forth. It can easily be made into a complete meal, whether you mix other ingredients in with the pasta or serve them on the side. "I love to pair this with a side salad or roasted veggies," says Carli, adding, "You can add a side of protein if you wish."
Gather your ingredients to prepare creamy garlic butter pasta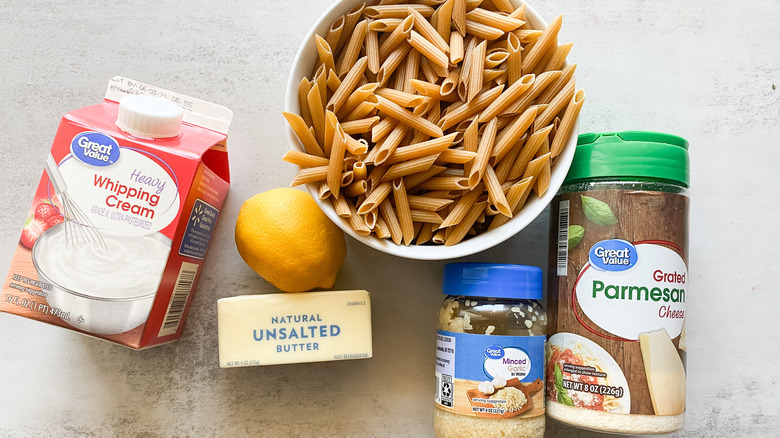 Now it's time to discuss the ingredients you will need for this recipe. It's really not much of a mystery where all the richness and flavor comes from in this dish, is it? The recipe calls for a pound of penne pasta (Ideally it's great to use a whole wheat pasta, although you can use any regular pasta or favorite noodle shapes you happen to like as well.) that will be served with a sauce that's prepared with unsalted butter, some minced garlic, lots of heavy cream, plenty of grated Parmesan cheese, some salt and pepper, and lemon juice. Most of these items are things you probably already have on hand.
Don't forget to pick up or grab from your garden a bit of fresh parsley to chop and use as a perfect garnish when you are ready to serve it up, along with some red pepper flakes for any guests or family members who like things spicy. You can, of course, simply leave the red pepper flakes on the table for anyone who wants to use it. But the fresh parsley will add great color and that oh-so-professional touch, so that's an important ingredient.
Cook the pasta, and start the sauce
Start off this recipe by cooking the penne pasta (or whichever noodle you have decided to use). To do so, bring a large pot of water to a boil, ideally with some salt and a bit of oil added, and then add the pasta. Cook it according to the directions on the package, stopping when the noodles are slightly al dente, and then drain the pasta, and set it to the side to use in a moment. If you won't be ready to coat your cooked pasta in sauce for a few minutes, run some cool water over it and/or toss it in oil to help stop its cooking process. The oil will help it from sticking together as well.
For the next step in the process, in a medium sauce pan, add together the cream, garlic, and butter. You're going to bring the mixture to a simmer, then stir it until the butter is melted and combined.
Finish the sauce, coat the pasta, and enjoy
As soon as the butter has fully melted and is combined well into the simmering sauce, remove the saucepan from heat. Now it's time to add in the Parmesan cheese, and stir to mix everything thoroughly. Be sure to keep the ingredients moving until the cheese has fully incorporated. "Make sure to remove the pot from the heat when you add the cheese so it will melt, but not burn," says Carli.
Next, add the salt and pepper to your butter sauce, and stir it up well to combine them. Then, add in the lemon juice, and stir to mix that in as well. Finally, pour the sauce you mixed up over the cooked pasta, and stir to coat all of the noodles thoroughly.
Your pasta dish is now complete! Put it in a fun serving bowl, and then garnish the dish with your fresh parsley and, if you'd like, some red pepper flakes. As mentioned earlier, if you'd like to simply place the red pepper flakes on your table so everyone can add their own to their plate, that's fine, too.
Serve this with a delicious side salad, and you have yourself a meal to be remembered.
How to make this dish vegan-friendly
To take this recipe one step further, if you'd like to have a rich, creamy pasta dish without using the cream or butter, no problem! There are lots of vegan alternatives to butter to consider, like Earth Balance, to name one ubiquitous example. But when it comes to a vegan heavy cream substitute, you may be wondering where to look.
For starters, check out your local grocery store. Several brands make vegan heavy creams, such as Silk and Califia Farms. You can also easily make your own vegan heavy cream. According to Healthline, one way to do this is to combine one part silken tofu and one part soy milk. Another is to blend two parts soy milk with one part olive oil. Coconut cream is another option, although it may add more sweetness than you want.
1 pound whole grain penne noodles
1 cup heavy cream
1 tablespoon minced garlic
5 tablespoons unsalted butter
½ cup grated Parmesan cheese
1 teaspoon salt
½ teaspoon pepper
2 tablespoons lemon juice
Bring a large pot of water to a boil, then add pasta and cook according to package directions. Drain, and set aside.
Meanwhile, in a medium sauce pan, add the cream, garlic, and butter. Bring to a simmer, and stir until the butter is melted.
Remove the saucepan from heat, add the grated Parmesan cheese, and stir to combine until the cheese has been fully incorporated.
Add salt and pepper to the butter sauce, and stir to combine. Then, add the lemon juice, and stir again.
Pour sauce over cooked pasta, and stir to coat.
Garnish with parsley, and serve.