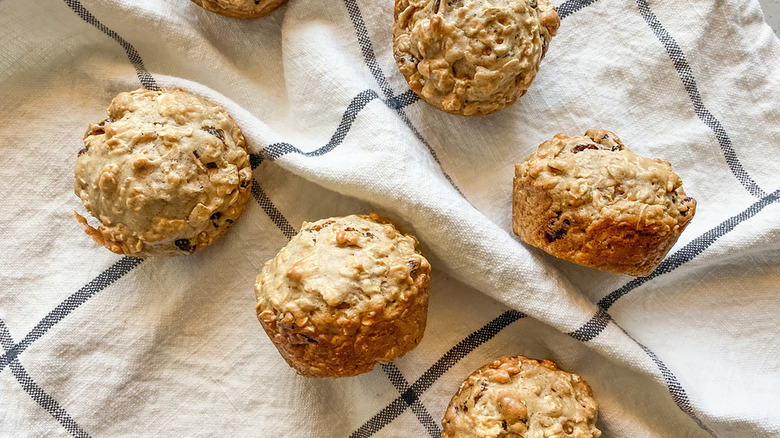 Say hello to your new favorite breakfast treat! These easy oatmeal raisin muffins are quick to make and will start your day off on the right foot. Created by recipe developer and private practice registered dietician Kristen Carli, these muffins are just sweet enough to brighten your morning but provide enough nutritional value to actually be a beneficial morning meal. Carli herself loves eating these for breakfast. "They are a great option for a grab-and-go breakfast on your way out the door!" she tells us, explaining that they are perfect for breakfast on a busy morning.
Because these are so simple to make, they're a great baking project for a Sunday afternoon to prepare for the week ahead. Once prepared, you can keep them in a sealed container on the counter so they're ready for you on your way to work or school on a weekday morning. In an ideal world, these muffins are great warmed up in the microwave, but if you have a busy morning, the muffins are just as delicious at room temperature while you get ready to start your day.
Ahead, find out the step-by-step process for making the muffins and prepare to be amazed at how truly easy they are to whip up.
Gather all the ingredients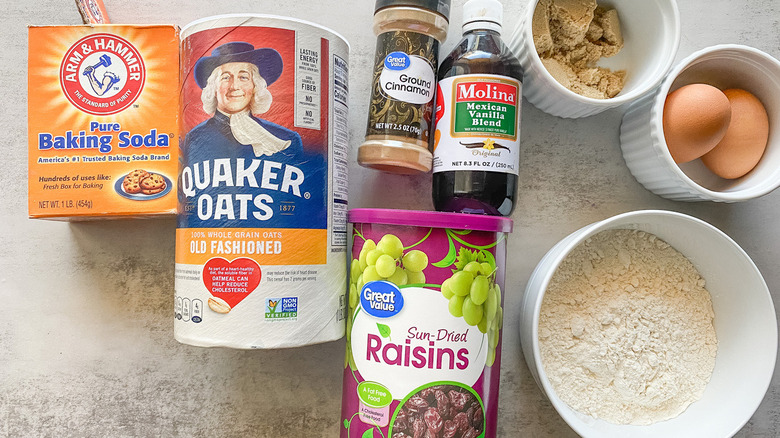 Start by getting together all the ingredients you'll need for these oatmeal raisin muffins. This recipe requires eggs, brown sugar, vanilla extract, all-purpose flour, baking soda, cinnamon, salt, old-fashioned oats, and raisins.
You will also need either muffin tin liners or cooking spray for the muffin tin. At this point you can go ahead and preheat your oven to 350 degrees Fahrenheit as we get started, so it has plenty of time to preheat. Prepare the muffin tin by either putting in liners or spraying it with nonstick cooking spray.
Start with mixing the wet ingredients
Using a stand mixer or hand mixer, beat together the eggs, brown sugar, and vanilla. You only want to mix these until they're just combined and no longer than that.
If you don't have a stand mixer or hand mixer, you can use a whisk to combine everything until just mixed. This should not take very long to come together. Once combined, turn off the mixer (or stop whisking) to prepare for the next step.
Mix the dry ingredients separately
Put your wet mixture aside and start on the dry ingredients. Combine the flour, baking soda, cinnamon, and salt in a separate medium-sized bowl. You can mix these with a whisk or spoon until just combined.
Pour the dry ingredients into the bowl with the wet ingredients and turn the stand mixer on low, mixing until just combined. This should happen quickly.
If you're using a hand mixer, do the same and mix until just combined. If you're whisking by hand, pour the dry ingredients into the bowl and whisk until the mixture has fully combined.
Fold in the oats and raisins
Take your bowl off the stand mixer and pour in the oats and raisins. Use a rubber spatula and fold these ingredients into the batter until it's all combined. Again, you don't want to over mix your batter as it can become tough, so gently fold the oats and raisins in and stop mixing as soon as they're properly folded in. It should all come together fairly quickly.
While you're doing this, be sure to scrape down the sides of the bowl to make sure all the ingredients are incorporated.
Place the batter in the prepared muffin tin
It's finally time to bake! Using a cookie scoop, an ice cream scoop, or even just a spoon, scoop the batter into the greased or lined muffin tins. Fill them about 2/3 full. The batter should make 12 muffins.
Place the muffin tin in the preheated oven and bake for 15 minutes. Once out of the oven, allow the muffins to cool slightly before removing them from the pan and eating.
Enjoy your muffins!
These muffins will hold for up to 5 days at room temperature, as long as you seal them in an air-tight container or plastic bag. You can also freeze these to make them last even longer. Just make sure they're sealed in an air-tight container or a freezer bag before stowing them away. If you freeze them, you'll want to eat them within a couple months. When you're ready to enjoy them, simply take them out of the freezer, thaw them, and eat. You can also pop them in a toaster oven or in the microwave for a few seconds to warm them up before eating!
4 eggs
½ cup brown sugar
1 teaspoon vanilla extract
1 ½ cup all purpose flour
1 teaspoon baking soda
1 teaspoon ground cinnamon
½ teaspoon salt
3 cups old fashioned oats
½ cup raisins
Preheat the oven to 350 degrees Fahrenheit. Spray a muffin tin with nonstick cooking spray or line with muffin tin liners.
In the bowl of stand mixer, add the eggs, brown sugar, and vanilla. Mix until just combined.
In a separate medium bowl, add the flour, baking soda, cinnamon, and salt.
Add the bowl of dry ingredients to bowl of the wet ingredients. Mix until just combined.
Add the oats and raisins to the mixture by folding them in using a spatula.
Scoop out batter into muffin tin, filling the cups ⅔ full.
Bake for 15 minutes.
Allow to cool slightly before removing from the pan. Enjoy once cooled!