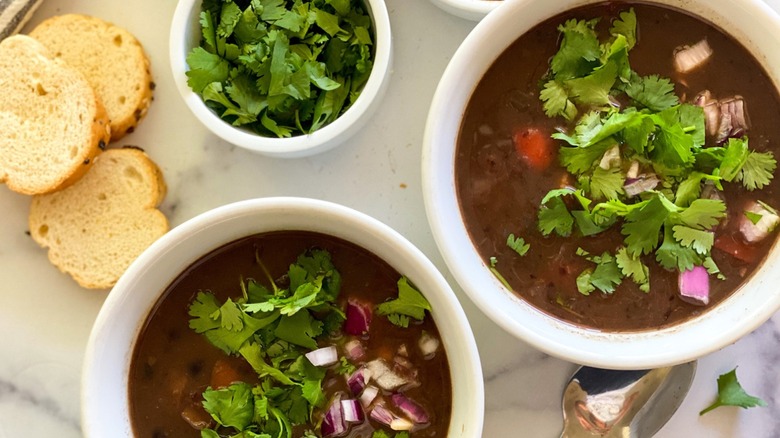 If you've ever been out and in need of a quick, satisfying, and moderately healthy lunch, you've probably stopped by a Panera Bread. The fast casual spot specializes in soups, salads, and sandwiches, and has earned a large fanbase in the process, with over 2,000 locations throughout North America.
There's likely been a time where you're sitting at home, unable to stop your feelings of yearning for a black bean soup from Panera. But something, whether it's the desire to save money or eat healthier by cooking at home, prevents you from going out and satisfying that craving. Good news: you can recreate that magical Panera black bean soup at home, thanks to a recipe from wellness coach Miriam Hahn. This black bean soup uses the Instant Pot, so it's quick. Not only that, but the process is easy and uses wholesome ingredients you probably already have on hand, like dry black beans, carrots, garlic, celery, and bell pepper.
Your mouth is probably watering by now, so here's how to make this comforting black bean soup that tastes just like you ordered it from Panera.
Assemble your soup components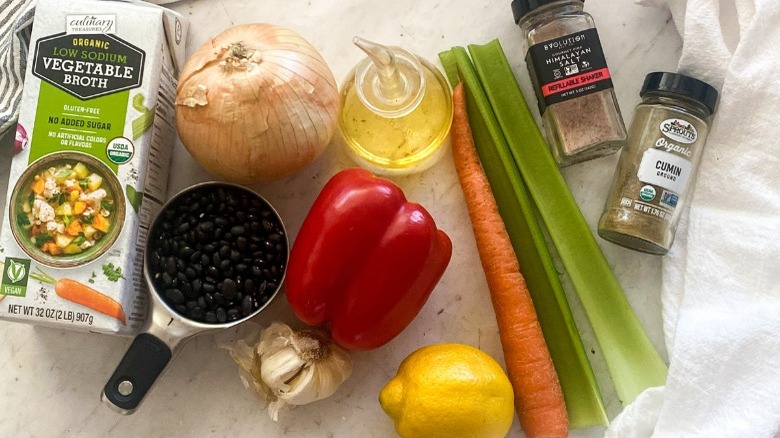 Like every recipe, this one starts with ingredients, and it's important to make sure you have everything you need ahead of time. For this Panera copycat black bean soup, you're going to need 3 cups of vegetable broth, 1 yellow onion, 1 red bell pepper, 1 carrot, 2 celery stalks, 3 cloves of garlic, dry black beans, avocado oil, and the juice of half a lemon. The seasonings you'll need are just cumin and salt. Everything should be easy to find at your local grocery store — you might even have everything you need in your kitchen already!
Get your veggies chopped
Start by prepping your veggies. Since this is a soup, you'll want everything to be relatively bite-sized, so chop the onion and pepper, dice the carrot and celery, and mince the garlic cloves. You can arrange each veggie in its own bowl for bonus mise en place points, but since you'll be adding all the veggies at once, it's not required.
While you're at it, go ahead and prep any toppings you're using. Hahn suggests red onion, cilantro, avocado, and lime wedges, but you can use whatever suits your fancy.
The cooking process begins
It's now time to turn up the heat. Specifically, turn on your Instant Pot to "saute" mode, and heat your avocado oil. If you don't have avocado oil, Hahn says you can use olive oil, but notes "I use avocado oil because it has a higher smoke point and cooks well at high heat."
Once the pot is nice and warm, add all the chopped veggies and garlic and let them cook down for about 5 minutes, stirring every so often. Then, press the "cancel" button.
Let your Instant Pot work its magic
After your veggies are sufficiently sauteed, add in the broth, spices, and dry beans. Put the Instant Pot lid on and turn the nozzle so it's sealed. Then, press the "Pressure Cook" button and set the cooking time at 30 minutes.
When the timer is done, wait another 15 minutes for the pressure to release naturally, then move the nozzle to the "vent" position to release the rest of the pressure.
The beauty of the Instant Pot is its speed. "If you make this on the stove using dry black beans it would take at least 90 minutes. [It's] much easier to cook with dry beans in the Instant Pot," Hahn says. If you don't have any dry beans and want to try your hand at using canned beans, Hahn recommends cooking it on the stovetop instead. "Saute the vegetables and add the canned beans and then follow the rest of the directions. The Instant Pot is needed when you are using dry beans," she explains.
Let the blender help out
As much as it may seem like it, beans and veggies don't just magically turn into soup. The secret to a truly thick and creamy soup is getting a little help from a common kitchen tool. That's right, your blender! An immersion blender is designed for blending dishes like soups, but if you have a standard upright blender, that will work just fine.
The trick is not to blend the entire pot of soup. First, scoop out 1 cup of soup in its chunky, unblended form. Then, blend the rest of it until smooth and add that unblended cup of beans and veggies back in. This gives you a soup that's smooth, but still has some satisfying texture.
Then, the final touch: add in the juice of half a lemon. Hahn explains this touch of citrus gives the soup "a great flavor," but notes you can "definitely" sub lime juice if you only have limes or prefer that flavor.
It's time for some soup!
Soup's on! Add a garnish of cilantro, red onion, and avocado, and a side of lime wedges, and it's now time to serve up bowls of delicious black bean soup. If you're looking for serving ideas, Hahn says "I usually serve it with a fresh salad. A Mexican salad with a cilantro dressing is great with this. You can also serve it with rice or bread."
If you're not serving the soup immediately, you can use the handy "keep warm" button on the Instant Pot until it's time to eat. If you end up with leftovers, Hahn says to store them "for up to 5 days in the fridge in an airtight container. You can freeze it as well for up to 1 month."
Now that you know this recipe, why go to Panera when you can make this tasty soup at home?
1 teaspoon avocado oil
1 yellow onion, chopped
1 red bell pepper, chopped
1 carrot, diced
2 stalks celery, diced
3 cloves garlic, minced
3 cups vegetable broth
1 cup dry black beans
1 ½ teaspoons cumin
1 teaspoon salt
½ lemon juiced
red onion, chopped, for topping
fresh cilantro, for topping
avocado slices, for topping
lime wedges, for topping
Add the oil to the Instant Pot and turn on the "saute" setting. Add the onion, bell pepper, carrot, celery, and garlic and cook for about 5 minutes, stirring often.
Press the cancel button. Now add in the broth, dry beans, and spices. Select "pressure cook" and close the lid. Turn the nozzle on the lid to "sealing". Set the time for 30 minutes.
When the timer goes off, let the Instant Pot release the pressure naturally for about 15 minutes. Carefully switch the nozzle on the lid to "venting". If there is any pressure left in the instant pot, it will release the steam from the top of the lid.
Using a ladle, scoop out 1 cup of the beans and vegetables. Set this aside. Blend what is left in the Instant Pot with an immersion blender or a stand-up blender until smooth. Add back in the unblended beans and vegetable you set aside. Add in the lemon juice.
It is ready to serve, or you can select the "keep warm" button on the Instant Pot and serve later.
If desired, top with chopped red onion, fresh cilantro, avocado slices, and lime wedges.