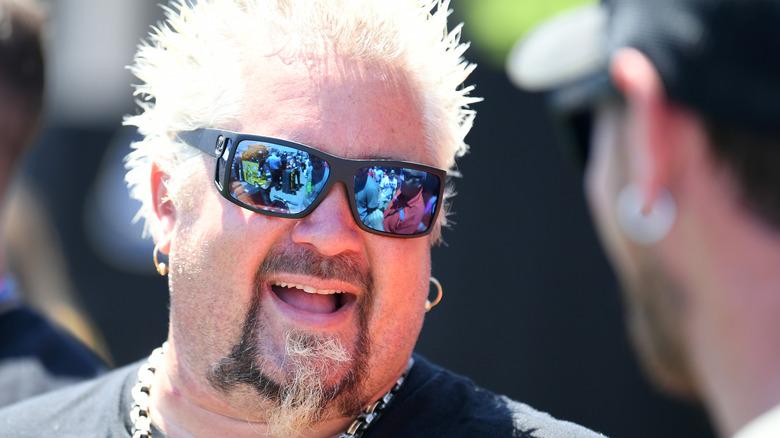 It seems Guy Fieri has never met a burger he didn't like — and on his show "Diners, Drive-ins, and Dives" (triple D, for short) he's had the opportunity to try a lot of them. From crocodile burgers to shrimp burgers, veggie burgers to burgers made entirely of bacon, he's had his share of the yummy, the moreish, and the just plain weird. And while it's hard to say no to any of the massive burgers he's dug into, there are certainly a few that are even more memorable than others.
While some folks say that Guy will rave about pretty much everything he tries on DDD, there are a few things to note: one, Guy has said that he doesn't feature dishes he didn't like, telling the Tampa Bay Times, "… if I don't like it, you don't see it. That's just flat out." And two, if he really likes something, fans say there's a "code" he uses that's easily crackable: a second bite!
As for the burgers below? Not only did they make it onto the show, but they were well worthy of bite #2.
A WTF burger worthy of the name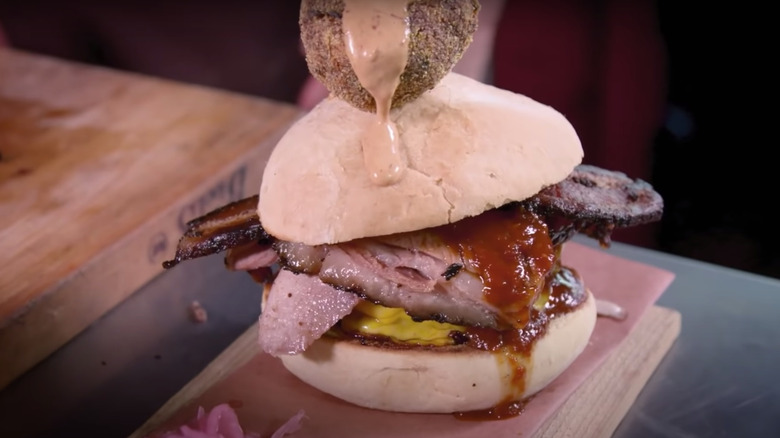 NorCal's Cochon Volant BBQ Smoke House is known mainly for its tried and true barbecue, so it's no surprise that the WTF burger features some BBQ too. In fact, this burger is topped with smoked prime brisket and brined, smoked pork shoulder, not to mention a crispy, chipotle-scented pork cake.
To make it, pork shoulder is brined in juniper and clove for three whole days before being slowly smoked for nine hours. It's piled atop a griddled burger with sautéed onions, cheddar cheese, the aforementioned ultra-tender brisket, a combo of mayo and house Carolina barbecue sauce, and house-cured maple bacon. The pork cake topping is drizzled with chipotle sauce to make this burger a surefire winner in Guy Fieri's book.
"You're getting, like, a pound and a half of meat," he says — and even the grandmaster eater of DDD isn't quite sure how to manage it!
The firehouse burger is loaded with three-pepper hot sauce
Gu Fieri gapes watching the no-nonsense cook behind the Firehouse Burger at Lankford Grocery in Houston, Texas make the hot sauce that gives the burger its namesake heat. She starts by combining serrano, jalapeño, and habanero peppers with vinegar, garlic, onion, radish, and loads of mustard. The resulting sauce, Fieri quips, is so spicy it might "cook raw chicken." Instead, it's going on a patty basted with a cayenne-spiked butter for extra heat!
The sandwich itself features American cheese, even more jalapeños (which the cook surreptitiously covers with lettuce!) as well as classic burger toppings: onion, tomato, and pickle.
"It's like licking the volcano in Flavor Town," Fieri says, noting nevertheless that while the burger is indeed hot, "you still get flavor." And yet … he visibly struggles to get through this spicy burger. "If I keep eating it, it'll cool it for like, ten seconds," he says, leaning in for another torturous bite. "Oh, my tongue is completely numb now."
A Bentley of a burger on a homemade croissant bun
Guy Fieri may get around in a red '60s Camaro, the burger he enjoys at Washington State's Ethos Bakery & Café is what Fieri calls a Bentley with "monster truck tires."
Former engineer Angela Kora is the brain behind the burger Guy Fieri calls "one of the most outside of the box burgers I've ever had on triple D." That attention to detail she gleaned from her baking job is evident in the creation of "outside-of-the-box" burger.
The burger begins with a homemade croissant dough laminated in-house and rolled, not into the traditional crescent shape, but rather into a homemade burger bun. Baked and split, it's topped with an 8-ounce burger patty that's just marked on the grill before being finished in the oven with butter infused with rosemary. Topped with white cheddar cheese, it's not hard to see why Fieri had such high praise for this burger!
This BBQ brisket "burger" isn't a burger at all
Texan twin brothers Jonathan and Justin Fox are the masterminds behind Atlanta's Fox Bros. Bar-B-Q. They get creative with the moniker "burger" in applying it to a sandwich that isn't a burger at all! Here, a chopped smoked brisket sandwich stands in for the patty — but that doesn't stop Fieri from giving it high praise.
The brisket for this "burger" is seasoned simply with salt and pepper before being smoked "as low as it'll go." Topped with a sauce made with house-made ketchup, vinegar, Texas Pete hot sauce, garlic, molasses, and spices, it's also dressed with a homemade pimento cheese patty and house-made jalapeño mayonnaise for creaminess and a slight kick. Layered on a toasted bun with peppered bacon, pickles, tomato, and onion, it surely has Fieri convinced in the brisket swap. He even notes that chopping the brisket helps to incorporate the fat, making it even more savory than the slow-smoked meat would be all on its own.
An "insane" green chile cheeseburger in Santa Fe
Green chile cheeseburgers are a dime a dozen in Santa Fe, but Bert's Burger Bowl claims to be one of the originators. Sadly, the burger joint — which was founded in 1954 — closed in 2015, and from the looks of the burger Fieri enjoyed, its closing is a big loss to the burger world. One customer interviewed on DDD had been coming in for about 25 years just to order this burger, which appears to be as simple as it is delicious.
The burger starts with a plain grilled patty, which is topped with burger topping staples: mustard, pickles, tomatoes, lettuce, and onion. The local flair comes in the form of a house-made hatch chile sauce seasoned with garlic, onion, and oregano. Guy liked the sauce so much, he was eating it with a spoon!
The finishing touch is a slice of cheese, which is allowed to melt over the green chile topping before the burger is transferred to the bun and served. At just $3.50, it's no surprise that this tasty burger was such a local fave for so long.
A mashup between a burger and a hero
The cooks at Truckee, California's Burger Me have married the best parts of a burger and an Italian hero to come up with the Italian Stallion — a "burger meets a deli sandwich," according to Fieri.
The burger begins not with ground beef but with ground bison base, which the owner claims isn't just leaner — it also has a "stronger beef flavor." Fair enough! The burger is topped with a cabernet vinaigrette as well as sliced meats familiar to anyone accustomed to the Italian deli window: pink mortadella and flavorful Genoa salami. Provolone cheese and hot chopped peppers are the obvious finishing touches for this burger sure to conquer the heart of any Italian-American — including Guy Fieri.
"There's nothing about that I don't like!" says the DDD host before doing "the hunch" (to keep the burger juices from running down his arms) and taking a big bite.
The Mac Attack is comfort food to the max
Guy Fieri dubs the Mac Attack burger from the Boston Burger Company the "dictionary definition of comfort food" — and it's not hard to see why! This burger is topped with house-made mac and cheese made with a blend of American, cheddar, and jack cheeses and then seasoned with two more — parmesan and pecorino — along with some hot sauce. The mac is chilled overnight and then griddled to order — topped with even more cheddar and jack cheeses! — as a topping for each hand-made burger patty. Both crispy and gooey, it's not hard to see why one client dubbed it "wicked awesome."
Fieri is super impressed with the attention to detail here, from the never-frozen patties to the bacon cooked to order for each and every burger. "I've seen ridiculous in the burger world," he says. "This might have to be a contender."
This low-key burger is high on flavor
Hodad's in Ocean Beach, California is a surfer's paradise, with a no-shirt, no-shoes, no-problem ambiance, attitude, and sign. The now-deceased owner, Mike Hardin, may have had a laid back demeanor and funky vibe with his restaurant, but he was serious when it came to building big burgers.
The signature burger at Hodad's is unique for sure and is topped with a boiled bacon patty cooked up so that it almost resembles hash browns. The cooks at Hodad's are burger experts and construct an "onion castle" atop a bun spread with mayo and mustard, drizzling the ketchup over the top and topping with pickles, tomato, and lettuce. The burger patty and bacon concoction are the finishing touches.
Fieri notes that the restaurant is devoid of fancy frills, but that's how he likes it, calling Hodad's an "old-fashioned, sloppy, run-down-your-arm burgers" sorta place. If you're in SoCal and looking for a solid burger, this is certainly the place to satisfy your burger fix.
Pinky's burger is no fixer-upper
The space now known as Pinky's Westside Grill was once home to a Volkswagen garage and repair shop. But when Guy Fieri visits, the Charlotte, North Carolina spot is known not for lemons but for burgers!
The chef behind this spot, formerly of since-closed local fave the Penguin, griddles up a burger whose name is a nod to the now-defunct Triple G garage. Greg Auten tops the 80/20 beef burger with homemade beef chili seasoned with garlic, chili powder, coriander, hot sauce, and cumin. Each burger has not one, not two, but three five-ounce patties and is piled with mustard, chopped onions, cheese, and house-made Southern slaw.
Fieri nearly has to unhinge his jaw to take a bite, while the burger's creator, impressed, looks on. "It's like a coyote got ahold of it," Auten says as he watches. We can't help but think that's a good thing.
This burger may be on Guy Fieri's all-time hits list
Guy Fieri does not hide his love for the bacon cheeseburger at Dad's Kitchen, which is truly "unlike any burger I've ever had," according to one client. What's so special about it? The bacon and blue cheese are cooked right into the patty.
To make this crazy burger, aptly named Dad's Burger, the bacon is chopped into tiny squares. The diced bacon is then packed into a ring mold and topped with blue cheese, followed by the beef mince for the burger. Cooked on the griddle (bacon-side first!) the resulting burger has a crispy crust and is infused with bacony flavor all the way through. Served with an Aleppo pepper spread made with loads of roasted garlic and garlic-infused oil, the resulting burger is deemed both "off the hook" and "righteous!" by Guy — and you can tell he really means it as he swoops in for another bite!
Peanut butter burger, take two
Guy Fieri likes most things he tries on "Diners, Drive-ins and Dives." In fact, aside from eggs and liver, Fieri likes most things! So given his first experience with a peanut butter burger did not go all that well (after trying one in Lafayette, Indiana, the DDD host said, point blank, "I absolutely do not enjoy that at all."), it's perhaps surprising he would ever try such a concoction again. And yet he finds himself doing just that in Utah at Sabores International cuisine. Here, a chef who has cooked for President Reagan now makes comfort foods from around the globe.
The peanut butter burger here is admittedly quite distinct from Fieri's first foray into the oddity. Chef Eliseo Garcia pairs the peanut butter spread with a homemade chipotle aioli, and Fieri likens it to a Thai peanut sauce, with a touch of spice lacing the sweetness. It seems to have made the spikey-haired TV host a PB burger convert — and the house-made root veggie chips seasoned with achiote, cumin, and chile don't look bad either!
A burger made entirely of bacon
At Santa Fe, New Mexico's Dr. Field Goods Kitchen, they don't just serve burgers — they butcher whole animals! And at this farm-to-table restaurant-cum-butchershop, the burger isn't made with beef but with pork … pork belly, to be exact. Yep, that's right: The whole burger here is made of bacon, for a cross between a burger and a BLT that has Fieri smitten.
To make these burgers, eight to 12 pork bellies are brought in per week and smoked on applewood. Each burger gets a whopping 9-ounce patty cooked in a wood-fired oven, served on a house-made potato bun. Topped with mayo, heirloom tomatoes, and baby greens and served with house onion rings, it's a "monster," according to Fieri.
"This is what everybody wants a BLT to be like." It's got the volume of a burger and the flavor of bacon. In the words of fellow Food Network star Ina Garten: "How bad could that be?"
This burger packs a flavor punch
At In a Pickle Restaurant in Waltham, Massachusetts, the Toro Loco Burger is a staple — and it's not hard to see why. The burger patties (that's right, patties) are topped with a breadcrumb-coated, deep-fried hunk of pepper jack cheese (the owner claims it's a quarter-inch slice, but Guy notes it's more like a half — and we're not complaining!) The house-made fried onion straws are coated with a powder made from ground-up fiery hot cheese snacks for a burst of both spicy flavor and bright red color.
The burger is topped with arugula and two sauces: a Sriracha aioli and a jalapeño "aioli" (which the chef notes is really a mock aioli made with sour cream and mayo … and proves to be Fieri's favorite part of the burger!) The result is just spicy enough to have our Diners, Drive-ins and Dives host drooling and going back for more, and you know that's high praise from the DDD host!