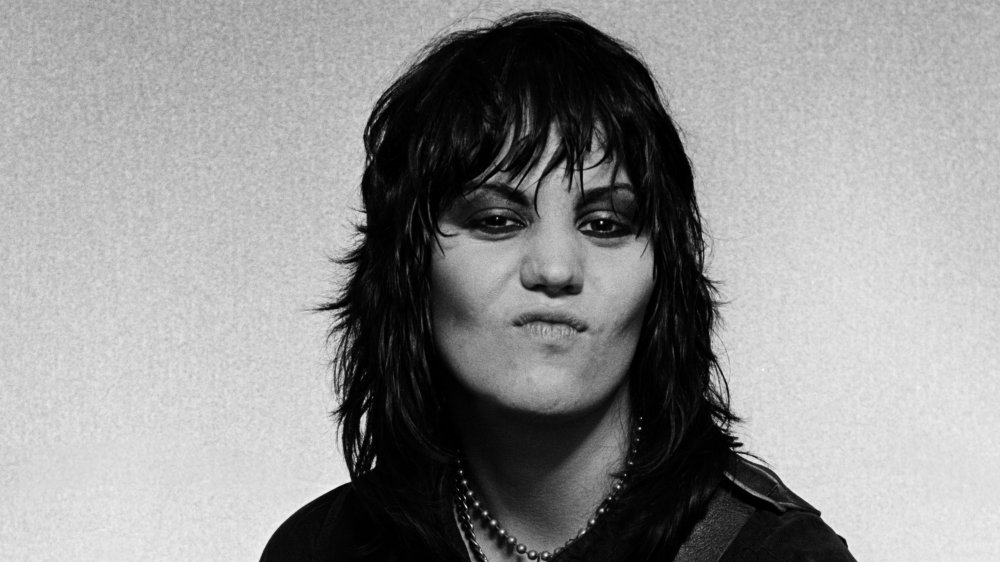 Joan Jett has been railing against assumptions for her entire life. Her first music teacher told her that girls couldn't play rock and roll. Her first band was subjected to sexist and violent treatment from audiences who weren't ready to accept women as rock stars with just as much bravado and as many chops as men. Her first solo album was rejected by 23 record labels. But none of this stopped her.
Blackheart Records, the label she founded to distribute her own music when no one else would do it, continues to this day, and all of the ups and downs that come from over 40 years of living and working as a Queer woman in a business built around, by, and for male heterosexuality have seemingly made her stronger and more resilient. The influence and ubiquity of songs like "I Love Rock and Roll" and "Bad Reputation" would be enough to keep her memorable, but we know and admire her for so much more.
Girls can't play rock and roll?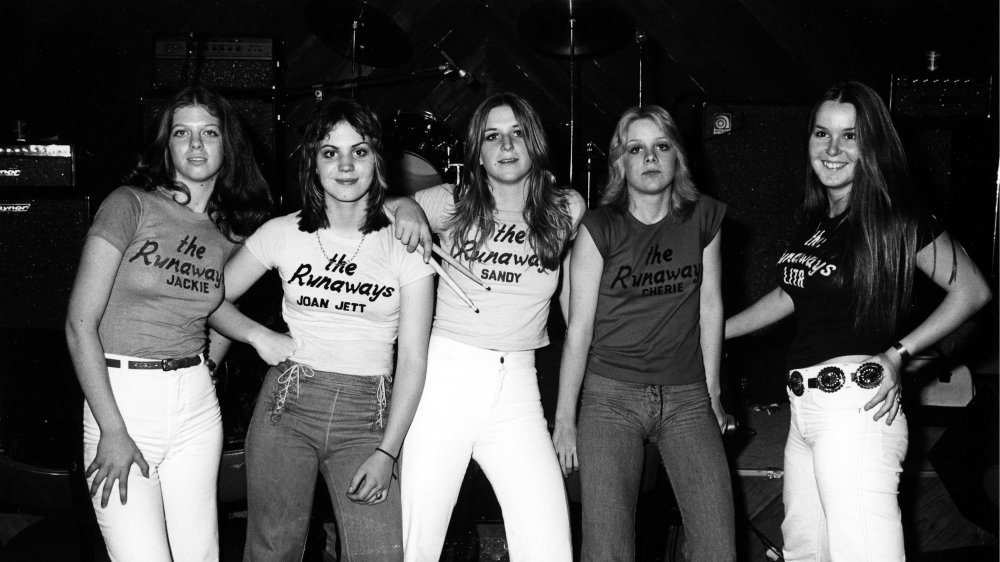 Joan Jett was born Joan Marie Larkin on September 22, 1958, in Wynnewood, Pennsylvania. She asked for and received her first guitar for Christmas when she was 13 years old and was told at her first lesson that "girls can't play rock and roll," according to the 2018 documentary Bad Reputation. Luckily, Joan didn't listen and kept rocking.
Her family soon moved to West Covina, California, and, as recounted to Rolling Stone, she started going to Rodney Bingenheimer's English Disco, the "all-ages glam-rock club" on Sunset Boulevard where the crowd was "the equivalent of social-media stars." She changed her last name to Jett and modeled her now-famous look of black leather, black eyeliner, and a black shag haircut after American rocker Suzi Quatro, who inspired her musically as well as aesthetically. "What Suzi Quatro did for me was make me realise that girls could be successful playing rock and roll. I realised that if I wanted to do that, there were probably other girls like me who probably wanted to do it too."
She met drummer Sandy West at Rodney Bingenheimer's via producer Kim Fowley. Fowley introduced them to other musicians, seemingly with the intention of putting together a band of teenage girls, although he claimed in Edgeplay: A Film About the Runaways: "I didn't put the Runaways together, I had an idea, they had ideas, we all met, there was combustion, and out of five different versions of that group came the five girls who were the ones that people liked."
The Runaways: "dirty, sweaty, sexy rock 'n' roll"
The Runaways' official lineup consisted of Joan, Sandy, lead guitarist Lita Ford, bassist Jackie Fox, and lead singer Cherie Currie. Joan and Kim Fowley wrote most of the Runaways' songs, including the famous "Cherry Bomb." In 2010, Joan explained to The Irish Times, "We wanted to be The Rolling Stones, Led Zeppelin … We wanted to play dirty, sweaty, sexy rock 'n' roll, so when people told us girls couldn't play, that wasn't want they meant. They meant that girls couldn't play rock 'n' roll because it implied sex, which means that they're in charge and owning it."
Sexist magazine headlines like "Teenage, Wild, and Braless" and "Lissome Lolitas or Teenage Trash?" focused on their youth, gender, and looks instead of their music, and Kim Fowley seemingly encouraged this sleazy treatment. Edgeplay recounts his tendency to call the band members names like "Dog sh*t," keep them on drugs and without money of their own, and encourage Cherie Curie to wear underwear onstage and pose for scantily clad photographs.
Audiences were also abusive: Jett told The Irish Times, "It's difficult to get across to people what it's like to be spat at … After the gig, I would be dripping in spit, and just put my head in my hands and cry out of sheer frustration. I just didn't get what the problem was, but I just can't back down … And being carried off was the only way you'd get me off the stage, not by scaring me off it."
"Everything was just splintering"
According the The Runaways.com, the band released five albums in four years and toured the world. They found more respect and success, with number-one albums in both Australia and Japan and a reception in Japan that Joan compared to "Beatlemania." Jackie Fox got sick and left during tour and was replaced by bassist Vickie Blue, while Cherie Curie left shortly after they returned to the United States, with Joan taking over lead vocals.
According to interviews with band members and their parents in Edgeplay, Kim Fowley continued to mistreat the band, denying them schooling and health care and playing them against each other. In 1978, Laurie McAllister took over bass from Vickie Blue, and the Runaways played their last show on New Year's Eve 1978 in San Francisco. In her documentary Bad Reputation, Joan explained, "Everything was just splintering … I could feel a camaraderie between Sandy, Lita, and this producer, John Alcott, and I was not part of it. I'm not gonna get fired from the band I started … so I should probably let you guys do your thing."
Rejection and the birth of Blackheart Records
Joan Jett took the dissolution of her band hard. In Bad Reputation, she states, "How did I personally deal with the crumbling of the Runaways? I drank a lot, starting at eight in the morning … I was angry. I didn't know how to make sense of a world that gave girls sh*t for playing guitars."
Jett continued her pattern of hard living while recording music for a movie for which the Runaways were contracted to record a soundtrack. This led to her first meeting and resulting lifelong creative partnership with producer and manager Kenny Laguna. Laguna told the Tahoe Daily Tribune in 2007, "I worked with her on a film based on The Runaways' career, called We're All Crazee Now, and had a vision of what could be. She was fantastic, but no label would take her on. I love Joanie, but never wanted to be her manager. But she became a cause."
After a frightening hospitalization for a heart infection, Joan went to Europe and recorded and released a self-titled debut album. Back in the States, 23 labels rejected the album, so Laguna and Joan formed independent label Blackheart Records and released it themselves. "We couldn't think of anything else to do but print up records ourselves, and that's how Blackheart Records started," Laguna said. "It was more or less Joan's idea to do it ourselves." The book Rock to Riches describes Laguna selling the album out of his trunk after shows and having a hard time keeping up with demand.
"I ain't gonna change"
Joan decided to form a new band with men because another band with women would have been "sacrilegious," as she told People in 1982, and she also wanted avoid the negative public perceptions that came from having an all-women band. An advertisement announcing that she was looking for "a few good men" led to the formation of the Blackhearts. The band started playing around Los Angeles and toured Europe before moving to New York.
Laguna's friend Neil Bogart re-released Joan Jett as Bad Reputation on his new Boardwalk Records label. The album's lead single, also called "Bad Reputation," remains iconic to this day — it was named the 29th best hard rock song of all time by VH1 in 2009 and serves as an answer song to Joan's critics and naysayers. Kathleen Kennedy described the song in Women's History Review as "a defiant reply to what she understood as different codes of conduct applied to make and female rock performers," with lyrics like "a girl can do what she wants to do and that's what I'm gonna do" and "I don't really care if you think I'm strange, I ain't gonna change." The album was relatively well-reviewed and set Joan up to record a new album for Boardwalk with her new band.
Joan Jett loves rock and roll
Joan's first album with the Blackhearts, I Love Rock and Roll, came out in 1981 and was "unexpectedly a huge smash," reaching number two on Billboard. The title track, a cover of an Arrows song that Joan had performed live for years, became one of the best-selling singles of all time, topped the Billboard charts for seven weeks, and was the third most popular song of 1982. The album remains Joan's most successful one, having sold ten million copies. "I Love Rock and Roll" is Billboard's 56th All-Time Top Song and is in the Grammy Hall of Fame.
The song's popularity was bolstered by the "endless play" of its video on the newly influential and groundbreaking MTV, featuring Joan and the Blackhearts moodily swaggering and sneering through a live performance in a dive bar. The Blackhearts followed up this video with a meta one for "Bad Reputation," depicting the rise to stardom that resulted from "I Love Rock and Roll." Magazines that had insulted the Runaways now ran articles like "Joan Jett is a Very Nice Girl" and "Selling Records Is The Best Revenge."
1982 also saw two more top 20 hits: her cover of "Crimson and Clover," notable for her decision to keep the pronouns and sing about loving a woman, and "Do You Wanna Touch Me (Oh Yeah)," a cover of a Gary Glitter song. Also from the Bad Reputation album, this song became another infamous Jett video, this time featuring her opening a raincoat to flash the camera in a tiny bikini.
Not a major talent?
The Blackhearts followed I Love Rock and Roll with two less successful albums, Album (1983) and Glorious Results of a Misspent Youth (1984). Album's first single, "Fake Friends" was a commercial disappointment, and a cover of "Everyday People" did better, though nothing like "I Love Rock and Roll." None of the singles from Glorious Results charted, and the albums peaked at #20 and #67, respectively. Rolling Stone's review of Album stated that it "doesn't make a very strong argument for Jett as a major talent."
Nevertheless, the Blackhearts continued touring and making eye-catching videos featuring such scenes as the band being mobbed by hangers-on who turn into cardboard cutouts ("Fake Friends") and what Kathleen Kennedy described as Joan "orchestrat[ing] a number of fantasy scenes around the concept of group participation in sex" and " lead[ing] a parade of transvestites, prostitutes and one older white male — dressed in a white suit — who awkwardly attempts to match Jett's steps. The parade walks right into the camera and ends as Jett plants a kiss on the camera (viewer)" in "The French Song." The backlash was reminiscent of Jett's treatment in the Runaways, enduring a public not ready for or comfortable with a woman performing more sexually explicit material from a place of power and self-confidence rather than from a place of submission intended for the male gaze.
Just around the corner to the light of day
1986's Good Music continued the string of poorly performing albums — it only got to 105 on Billboard and had no charting singles. However, things were about to improve for Joan Jett once again. She won the part of Patti in the 1987 movie Light of Day and starred with Michael J. Fox and Gena Rowlands in the "family melodrama" as a single mother fronting a bar band and fighting with her religious mother. Her acting received mixed reviews from critics such as Robert Ebert, with Variety calling her line readings "childish and silly." But the title song, "Light of Day" written by Bruce Springsteen and performed by Joan, was a minor hit (#37 on Billboard), and Jett and Springsteen would later perform it together in 2001 at a post-9/11 benefit concert.
In 1988, the album Up Your Alley was a huge, multiplatinum comeback with two top-20 singles. It charted at #19 on Billboard and was nominated for a Grammy for Best Hard Rock Performance. 1988 also saw a Runaways reunion of sorts, as well as a rekindling of the members' rivalry, at least on the music charts. Joan's former bandmate Lita Ford's song "Kiss Me Deadly" joined the Blackhearts' "I Hate Myself For Loving You" on Billboard, peaking at #12 in June while "I Hate Myself" peaked at #8.
Joan Jett's sexuality: "all-inclusive" and "assume away"
Joan Jett's sexuality has been a subject of discussion and conjecture throughout her career. She has never officially come out yet has been an LGBTQIA+ icon for most of her time in the spotlight. In Edgeplay, Cherie Currie revealed that she and Joan had been romantically involved during the Runaways, and their relationship is part of the plot of the 2010 movie The Runaways, based on Cherie's biography Neon Angel, executive-produced by Joan and starring Kristen Stewart as Joan and Dakota Fanning as Cherie. Joan has publicly classified her sexuality as "all-inclusive" to Rolling Stone and told Out in 1994 that their readers and her fans should "assume away."
Despite these not exactly subtle or shy remarks, in 2018, an interviewer for The New York Times told Joan that some had questioned the documentary Bad Reputation playing at the Outfest festival, as Joan had never officially come out. Joan held up her necklace and responded angrily: "What the [expletive] is that? Two labryses, or axes, crossing each other, inside of two women's symbols crossing each other. It's not been off since I got it. And I wear this one every day. [She turns around, lifts her shirt and reveals a tattoo with similar female symbols on her lower back.] I don't know how much more you can declare."
The original riot grrrl
The '90s were a decidedly mixed bag for Joan. On one hand, the popularity she had enjoyed in the early and then late '80s floundered once again. In Bad Reputation, her drummer Thommy Price described touring in less than luxurious or ideal circumstances: "We were doing all of these one-off shows. We'd be going to crappy little towns, doing a state fair … I went through a phase where I didn't really give a crap because they were gigs I felt like we shouldn't be doing." Joan recounted in Bad Reputation that their less enthusiastic reception was "a bad feeling, but I always felt like we had to fight on. We knew we had what it took. We didn't stop working."
A separation from Epic Records in 1992 might have proved devastating, but because she and Kenny Laguna had kept Blackheart Records going all along, they had the opportunity to once again release and control music as they saw fit. Joan also enjoyed new creative partnerships with members of and people associated with the Riot Grrrl movement. In Rolling Stone, Joan called seeing the all-women punk band L7 perform as a "religious experience." She went on to perform with L7 at a Rock for Choice show, fronted the punk band the Gits after the murder of their lead singer Mia Zapata while leading a successful effort to find Mia's killer, and collaborated with Kathleen Hanna, producing singles for Hanna's band Bikini Kill while Hanna wrote songs for Joan's 1994 album Pure and Simple.
Did Kim Fowley hurt people, and did Joan Jett know?
Despite her love of and pride in the Runaways, Joan Jett didn't appear in Vickie Blue's 2004 documentary Edgeplay: A Film About the Runaways with the rest of the band and refused to let them use any songs she had written, which was a good portion of their catalog. Joan explained her lack of participation to the Montreal Mirrorin 2006: "If there's gonna be a Runaways movie, it should be about what we accomplished, the tours we did, the bands we played with, the people we inspired. I'm not gonna participate in a Jerry Springer fest, bottom line."
After Kim Fowley died in 2015, Jackie Fox (pictured above) came forward and revealed to the Huffington Post that he had a history of grooming young girls, had raped her when she was in the Runaways, and that other members, including Joan, had been there. Joan made a statement that she was "not aware of this incident" and claimed, "if I was aware of a friend or bandmate being violated, I would not stand by while it happened." In the New York Times interview from 2018, when asked about Kim Fowley, Joan replied "I never felt threatened by Kim. He never harassed me. I think he would have been afraid to." When asked if she felt differently about him after the allegations, she went on: "I don't like the thought — if he hurt people, that's not good. It's hard for me to listen to that. But I can't really speak to what they're saying."
"The last American rock star"
There's no question that Joan Jett has earned her place as a legend and an icon. When Kenny Laguna's daughter Carianne Brinkman joined Blackheart Records in 2002, she brought a younger sensibility to the label and has been a particular champion of Joan, from encouraging her to join the Warped Tour in 2006 to conceptualizing and producing the documentary Bad Reputation. Brinkman and Joan continue to select and produce musicians signed to Blackheart Records, seemingly in a partnership as close as the one between Joan and Laguna that started it all back in 1980. Brinkman told Forbes in 2014, "Joan and I are the barometer for our ethos," and the article went on to point out that, "Joan was forced by failure to do what all artists have to do now: hustle."
Entrepreneur, feminist, rocker, fashion icon, and mentor, Joan Jett's career is a testament to her ability to keep working and stay true to herself and her vision in the face of hardship and failure. In 2015, she was honored with the rest of the Blackhearts and Kenny Laguna with an induction into the Rock and Roll Hall of Fame. In the Blackhearts' Hall of Fame essay, writer Jaan Uhelszki called her "the last American rock star, persuing her considerable craft for the right reasons: a devotion to the true spirit of the music."