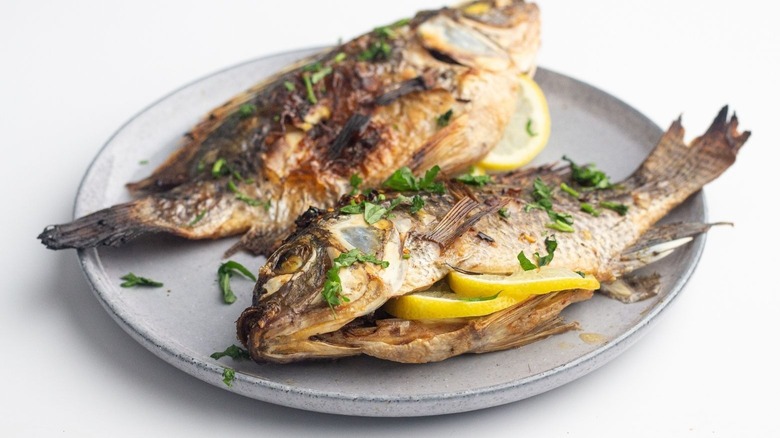 Tilapia is one of the most popular fish to eat, and it helps that the cost of it won't hurt your wallet too much. You can serve it plenty of different, tasty ways, and the lunch and dinner possibilities are truly endless. It makes the ultimate summertime meal when served with a refreshingly cold potato salad, roasted zucchini, or a plump and juicy tomato cucumber salad. According to Healthline, tilapia are generally freshwater creatures. The fish also boasts several health benefits, and it's high in protein and full of vitamins and minerals. Simply put, this fish has a lot to offer your next meal.
This recipe for grilled whole tilapia is sure to knock your socks off — whether you're already a major fan of the fish or have yet to give it a try. Recipe developer Susan Olayinka of The Flexible Fridge is the mastermind behind the excellent dish which is great for a quick and easy dinner with the family or one to please any guests you're having over. Olayinka shares that her favorite part about this dish is the nostalgia. "I just love the taste of this fish. It is very dear to me, as it was commonly eating in my household growing up," she says. "It is a fish [that's] very mild, and it has really nice taste."
Keep scrolling for more details on how to whip up this quick and easy fish, which will only take five minutes to prep and 20 minutes to cook.
Gather the ingredients to prepare this grilled whole tilapia recipe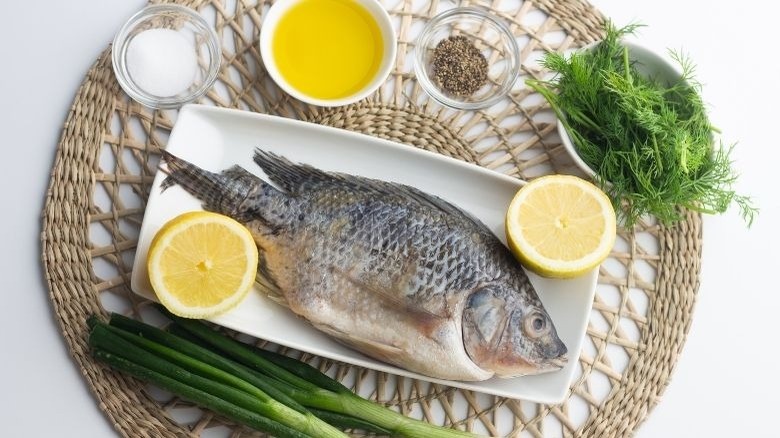 The recipe for grilled whole tilapia is one of the more uncomplicated dishes you'll make, and it requires only a handful of ingredients — the majority of which you probably already have in your kitchen cupboard and fresh herb garden. Before you get started preparing this undeniably tasty dish, you'll need to round up whole tilapia, green onions, fresh dill, lemon, extra-virgin olive oil, salt, and black pepper. Hopefully, you already have a few of these items stashed at home, and you don't need to get too much at the store. Once you lay everything out on the counter, get excited, because it's time to begin cooking!
Descale and gut the tilapia
Sometimes, the grocery store prepares the tilapia for cooking when you purchase it, but other times, they do not. If the fish isn't prepared yet, you must descale and cut it. But if it is, you can go ahead and skip this step. "Tips for descaling is just make sure you do it very slowly, perhaps wear gloves, and hold the fish up to the light to see if there are any glass-like looking scales left," Olayinka says. Once you're finished with that, pat the fish so that it is very dry.
Brush the fish
When the fish is dry, you're ready for the next step. Simply brush both sides with extra-virgin olive oil. After that, the tilapia is ready for some seasoning. Put salt and pepper on both sides of the fish, and also be sure to add some inside the cavity. This ensures that all of the flavors will soak in quite nicely while it's cooking. Salt and pepper is such a simple combination, but it provides a great addition to this main course, so don't skip out on this step!
It's lemon and greens time
It's time to cut your lemon in half. Using only half of the lemon, cut it into slices to use for cooking. At this time, you can also cut the green onions in half. Next, put the lemon slices, onions, and dill into the cavity of the fish. You'll use about half for each of the fish so they're evenly divided. This combination of ingredients is so incredibly simple, but it makes the tilapia taste super tasty and fresh — trust us on this one.
Grill the fish
The fish is officially ready to cook. Wasn't the prep work surprisingly easy? That's certainly one of the highlights of this gem of a recipe.
Place both pieces of fish on the grill grates, grilling each side for about 10 to 15 minutes. Pro tip: You'll know it's ready to turn over when it's not sticking to the grill, and it will pull away very easily.
As far as grilling tools are concerned, a thin metal spatula works best as opposed to silicon. Olayinka also says that tongs should not be used for flipping and working with the delicate fish, because they could pierce it. Alternatively, Olayinka shares that you can cook the fish in the oven, but doesn't advise using a pan.
Turn the fish over, and grill the other side
After the fish has cooked for 10 to 15 minutes on the first side, give it a good flip, and let it cook on the other side. Once it's cooked all the way through, remove it from the grill. Be sure to display the grilled whole tilapia on a pretty serving platter so it has the presentation it deserves. The tilapia is excellent with a chopped dill garnish and a few fresh lemon slices, too. "This fish is best served with a fresh salad, roasted sweet potatoes, or a rice and stew dish," Olayinka says.
Whoever you serve this delicious fish dish to will think you spent all afternoon putting it together — but we won't tell them that's not the case. Now, it's prime time to dig in and fully enjoy your masterpiece!
2 whole tilapia fish
4 green onions
½ cup of fresh dill
½ lemon
3 tablespoons extra-virgin olive oil
2 teaspoons salt
1 teaspoon black pepper
Descale and gut the fish if it wasn't prepared for cooking when purchased.
Pat the fish with paper towels so that it's very dry.
Brush both sides of the fish and the cavity with extra-virgin olive oil. Then, season both sides of the fish and the cavity with salt and pepper.
Slice half of a lemon into slices, and cut the green onions in half. Stuff both the green onions, lemon slices, and dill into the cavity of the fish equally.
Place both fish onto the grill, and grill each side for 10 to 15 minutes. You will know when it's ready to turn over as it will not be sticking to the grill and will pull away very easily. Use a thin metal spatula to turn it over.
After 10 to 15 minutes, turn over the fish, and cook on the other side.
Once it is cooked, place onto a serving dish. Top with chopped dill, and garnish with lemon slices.