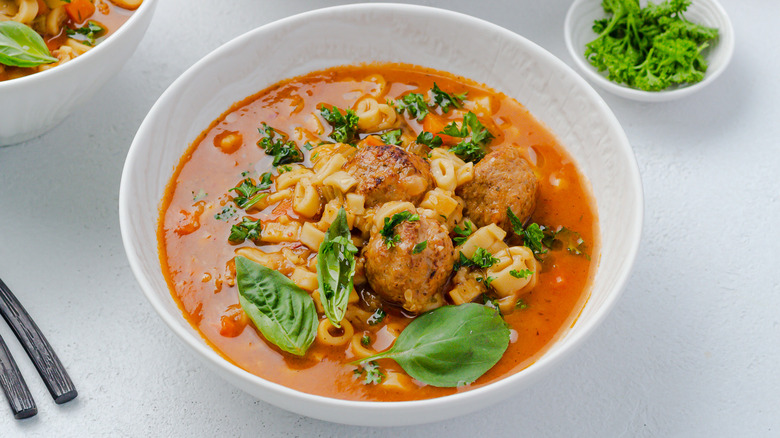 There's just something about meatball soup that is oh-so-good and oh-so-comforting. Whether you're enjoying a delicious bowl by the fire on a cold winter afternoon or satisfying a craving smack-dab in the middle of summer, it's always a good idea to keep a go-to recipe on hand. Take it from us — this hearty soup is sure to please the family or a crowd of guests.
You can make soup in a variety of ways, but the Instant Pot is the quickest and easiest way to get great results in little time. In the case of this recipe, it's just 12 minutes of cook time. Several ingredients go into this scrumptious soup, ensuring that every single bite is absolutely packed with flavorful goodness. It's also incredibly filling, which is a huge plus in our book.
Recipe developer Carlos Leo of food blog and gourmet online shop Spoonabilities is the creative behind this recipe, and he shares that there are several reasons why he loves this easy lunch or dinner recipe. "It's easy [and has] simple ingredients. [Plus, it's] flavorful and filling," he says. For more details on how to whip up this delicious soup in your own kitchen, keep scrolling for a step-by-step guide.
Gather the ingredients to prepare this easy Instant Pot meatball soup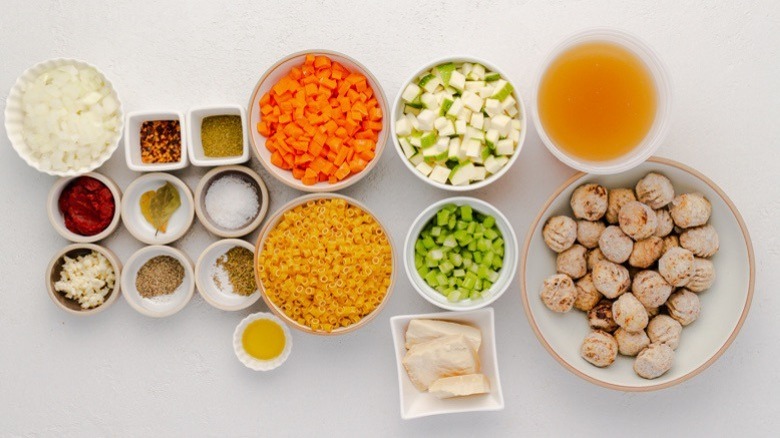 At the start of any recipe, it's best to figure out which items you have at home versus what you need to shop for at your local grocery store or market. You'll need to round up several items for this tasty meatball soup recipe, and the list of ingredients is relatively simple. As a matter of fact, you may have most of the items already in your kitchen.
You will need to gather olive oil, carrots, celery, sweet onions, zucchini, and garlic. (To save some time in the prep work, you can always buy pre-chopped carrots, celery, and onions, in addition to minced garlic.) You will also need some tomato paste, red pepper flakes, oregano, thyme, and unsalted chicken stock. For ease, get 32 frozen mini meatballs. "You can use any kind of meatballs. Because the idea is for a simple recipe, I recommend getting frozen meatballs," Leo says. You will need ditalini pasta, sea salt, black pepper, bay leaves, Parmesan cheese, parsley, basil, and crusty bread with cheese to round off the list. Once your ingredients are lined up, it's time to begin preparing this hearty meal.
Prep the Instant Pot
For starters, get out your trusty Instant Pot, and set it to the sauté setting. Add a little bit of olive oil to the pot, and sauté the carrots, celery, and onions for about two minutes. After that, add in the minced garlic, crushed smoked red pepper flakes, dried oregano, and dried thyme. Cook everything until it's fragrant, which should be about 30 seconds. Then, you're going to add in the tomato paste, and cook everything for an additional 30 seconds. Get ready for the heavenly aromas to fill up your kitchen!
Continue adding ingredients to the Instant Pot
Now that you have a good portion of ingredients cooking in your Instant Pot, it's time to add almost everything else. Toss in the chicken broth, pasta, diced zucchini, and the 32 frozen meatballs. As we touched upon earlier, they can be any type of frozen meatball that sounds best to you and whoever you're preparing the soup for.
Once those ingredients are added to the Instant Pot, give the entire mix a big stir to combine everything well. After that, you can add in the Parmesan rinds. Only a few more steps, and you're well on your way to enjoying this hearty soup.
Pressure cook the meatball soup
Everything is ready to go, and now comes the easy part — sitting back and waiting while this deliciousness cooks up in the Instant Pot. Select the option to pressure cook on high. Then, set your timer for nine minutes. Once the nine minutes are up, use the natural release.
When you can open the Instant Pot, throw in the chopped parsley, and stir to combine. The parsley not only gives this soup a little fresh flavor, but it also makes the presentation look even better.
Serve, and enjoy
Now, it's finally time to take the soup out of the Instant Pot. You've waited so patiently, and your mouth is likely watering right about now. We can relate! The best part of every recipe is enjoying the fruits of your labor.
Serve the soup in individual bowls, and garnish each bowl off with some fresh basil for the ultimate presentation. As you can tell from our pictures, this is definitely a recipe that's worthy of the 'gram. Crusty bread with cheese goes very well with this soup, because what's better than dipping bread into a warm bowl of soup? Nothing … nothing is better.
If you have any leftovers, Leo says that you can freeze them to enjoy on a later date. No matter the time of year, this is also such an amazing meal to whip up if you're meal prepping for the week. This particular recipe yields four to six servings, so keep that in mind when you're mapping out your meals. Once you make this soup, you'll want to keep the ingredients on hand on the regular so you can make a pot whenever you're in the mood.