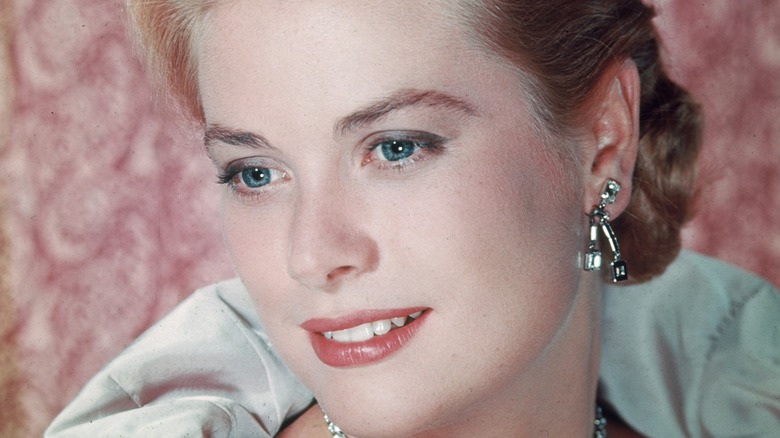 Grace Kelly had the sort of glamorous life every girl dreamed of in the 1950s. Per Biography, the future silver screen star was born into an upper-class family in Philadelphia, Pennsylvania, in 1929, her father a "self-made millionaire" and her mother, an athletics instructor at the University of Pennsylvania. According to Vanity Fair, while she was still young, a theatrical Grace declared to her sister, Peggy, "One day I'm going to be a princess."
Well into her acting career by the mid-1950s (and an Academy Award win under her belt), Grace Kelly jet off to the 1955 Cannes Film Festival where she met her future husband, Prince Rainier III — the Prince of Monaco (via Biography). The pair eventually wed, and Grace received her fairy tale ending: she became the Princess of Monaco.
That being said, was married life truly that luxurious for the "High Society" actor? According to "Once Upon a Time" author J. Randy Taraborrelli, you'd be shocked to find out how "tormented" she really was. "Though many people saw her as a glamorous celebrity who got anything she wanted, she actually struggled through most of her life," he told Publishers Weekly. Let's dig in and find out why Grace Kelly's marriage was more complicated than you thought.
Grace Kelly was engaged to another man when she met Prince Rainier III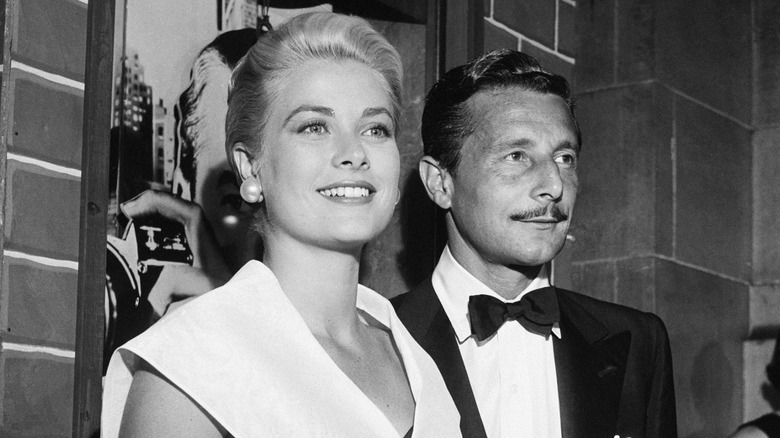 In 1955, Grace Kelly was on a trip to the Cannes Film Festival in France, when she agreed to be a part of a magazine cover with Prince Rainier III. According to Biography, she re-routed to the Prince's Palace of Monaco for the shoot, only to jet back to Cannes afterward. As her friend, "Gone with the Wind" star Olivia de Havilland, recalled to People, "She was in a state of enchantment."
Enchanted she may have been, but the blonde beauty was already engaged to fashion designer Oleg Cassini. As revealed by letters found at a Cassini auction (via The Hollywood Reporter), the actor truly did seem to be in love with her fiancé, so what happened? "One of the reasons I believe you're marrying this man is because this is the best script that you ever received in your life," Cassini is quoted as bluntly telling his ex-fiancée after she decided to break off her engagement in favor of Prince Rainier (via Independent).
And while Grace did indeed get the role of her life, her complicated marriage would eventually take center stage. In fact, according to "Once Upon a Time," the actor hinted that maybe it wasn't her choice who she ended up marrying. "Do you realize if my mother hadn't been so difficult about Oleg Cassini, I probably would have married him?" Grace once told her friend, Charlotte Winston. "That one decision changed my entire future."
Did Grace Kelly have an arranged marriage?
While the union between Grace Kelly and Prince Rainier III wasn't officially an arranged marriage, many have alleged otherwise. As J. Randy Taraborrelli, author of "Once Upon a Time," wrote, Grace once alluded that her parents pushed her to marry Prince Rainier. But what exactly did a royal have to gain from it?
According to "Grace Kelly: The Secret Life of a Princess" (via South Florida Sun-Sentinel), at the time, Monaco had an independence agreement with neighboring France, which ruled that the sovereign city-state "would revert to French control" if the Grimaldi royal family "failed to produce an heir." Although Prince Rainier was in a relationship with a French actor before meeting Grace, the woman "was unable to bear children." As such, the "Rear Window" actor was subject to a "physical examination" to make sure the same problem didn't plague the Grimaldis again. After the exam (and a shocking $2 million dowry from Grace's father), Prince Rainier and Grace courted for a mere two weeks — and then he popped the question.
While the marriage may have been political, it's alleged it was economical, too. As film producer Robert Evans claimed in his autobiography, "The Fat Lady Sang" (via Page Six), it was actually Aristotle Onassis who came up with the idea, as he "owned a lot of property in Monaco." As Evans writes, Onassis told Rainier, "The right bride could do for Monaco's tourism what the coronation of Queen Elizabeth did for Great Britain."
Their wedding was utter chaos itself
Like any royal wedding, the 1956 union between Prince Rainier III and Grace Kelly was a highly publicized affair. As Vanity Fair details, there were almost 2,000 reporters during the ceremony, and as bridesmaid Maree Rambo remembers, she saw "more press there than guests." If that's not all, MGM filmed the wedding and broadcast it live to over 30 million European viewers.
While there's no doubt a royal getting married is an exciting moment, it's the historical timing of it that makes it so iconic. Per Vanity Fair, the lavish event was the 1950s poster child for a successful, postwar marriage, highlighting "fairy-tale fertility and prosperity." As their son, Prince Albert, told People years later, "it's left such a mark on people … what it's meant for Monaco, for people around the world … that's something unimaginable."
While many dubbed the fairy tale "The Wedding of the Century," Grace quipped that it was "the Carnival of the Century" (via Vanity Fair). Prince Albert indeed confirmed his mother's anxiousness around the entire event, telling People, "Mom said it was 'overwhelming,'" and adding that both Grace and Rainier were so "so [exhausted]," they just went to sleep on the night of their honeymoon.
Was Grace Kelly's A-list social life over?
Of course, being one of the most in-demand actors in the mid-1950s meant Grace Kelly had a thriving social life. 1954 was a big year for the star, as she received her first Academy Award nomination for her role in "Mogambo," and even won her first Golden Globe (via IMDb). According to Biography, at that point, she signed a seven-year contract with MGM and also began working with the legendary Alfred Hitchcock, who became her "friend and mentor."
Grace Kelly's marriage in 1956 to Prince Rainier III effectively wiped her Tinseltown dreams away. According to "Once Upon a Time: Behind the Fairy Tale of Princess Grace and Prince Rainier," Princess Grace would invite her A-list pals to visit her in Monaco and spend time at "the Palace for important formal functions." As she would be egged on by her friends to loosen up with some fun, Rainier "would cringe" — as did Grace's lady-in-waiting, Madge Tivey-Faucon. In fact, it's reported she even once said, "This familiarity destroys at one blow the careful staging built up by protocol around the Prince and Princess."
Heartbreakingly enough, until the very end of her life, Grace's friends were still on her mind. The same year she died, in 1982, she told ABC's "20/20," "…my friends are very important to me."
Grace Kelly missed acting
Grace Kelly didn't realize that marrying Prince Rainier III would mean throwing her acting dreams aside. According to Biography, the star wanted to perform since she was a little girl, eventually chasing her dreams to Hollywood. "I miss acting," Grace told the Los Angeles Times in 1964 (via Vogue). "Once you're bitten with the acting bug, you never really get over it."
Unfortunately for Grace, Rainier disapproved of the actor resuming her silver screen career and even went as far as to "[ban] her films in Monaco" (via The Guardian). "I don't want my wife to work," he once declared to the press, per Kinfolk. This sentiment would continue later on in their lives, too, as biographer James Spada told the South Florida Sun-Sentinel, when Grace would give "her annual poetry readings" as "a means of self-expression," Rainier wouldn't go watch for years. "He was not an emotionally giving person," Spada noted.
But it wasn't just Rainier who wrinkled his nose at the thought of Princess Grace acting again. Per Vogue, in 1962, when the actor was set to appear in Alfred Hitchcock's "Marnie," a reporter for the Los Angeles Times visited Monaco to get the reaction of the locals. "I could no longer have respected her if she'd gone to Hollywood," declared one saleswoman, adding, "and our country would have lost prestige." Ultimately, Grace Kelly dropped out of the project.
Grace Kelly found an escape back to Hollywood
Once a heartbroken Grace Kelly realized she couldn't return to the silver screen, she began ensuring her new profession was appropriately done. According to Vogue, she approached her new role as a princess "with the same discipline, culture, and kindness that she had brought to her career as an actress." Suddenly, in the mid-70s, an opportunity came for Grace to at least get a taste of her old life back.
According to "Once Upon a Time: Behind the Fairy Tale of Princess Grace and Prince Rainier" in 1976, the "Rear Window" star's old agent, Jay Kanter, contacted her for a business opportunity with 20th Century Fox to have Grace serve as the first woman on the board. To Kanter's surprise, Grace accepted. "Grace performed the normal duties of a board member, to look after the stockholders' position, make certain [budgetary] approvals, that sort of thing."
However, the main reason for Princess Grace's desire to serve as a board member was the opportunity to be involved in show business again, as meetings were either in Los Angeles or New York. "[They're] a gift from heaven," she allegedly told Kanter, while Kinfolk quotes her as explaining, "It gets me away from Monaco at least four times a year."
Did both Prince Rainier III and Grace Kelly have affairs?
If you push aside the apparent fact that Prince Rainier III and Grace Kelly came from different backgrounds, thus causing snags in their marriage, their time together was complicated romantically, too. In fact, many have alluded that both parties were involved in extramarital affairs.
According to celebrity biographer Wendy Leigh (via Independent), within a mere month of Grace and Rainier's wedding, he had gotten involved with "at least three" other women. "Grace was humiliated and she was extremely unhappy," Leigh wrote in her book, "True Grace," dubbing Rainier's friends as "disreputable." Interestingly enough, it's reported that Princess Grace didn't take her husband's salacious romps quietly. "I know my husband has affairs with other women," she once revealed to her hairstylist, according to Express. "That's very frustrating to me and makes me very unhappy."
Frustrated she was, and as noted by Express, it's the reason the former actor reignited some of her own old flames, such as with Marlon Brando and Frank Sinatra. In addition, it's alleged that Grace had "a love-nest" in the luxurious commune of Cap-Ferrat with Ol' Blue Eyes himself, with their affair lasting "several years."
Their family life wasn't exactly close
Grace Kelly and Prince Rainier III had three children: Prince Albert, Princess Caroline, and Princess Stephanie. As Vanity Fair writes, while many saw the royal couple's union as the ultimate vision of "fairy-tale fertility and prosperity," their familial relations weren't exactly flourishing.
"For my brother and I, [nanny] Maureen was the key figure in our life," Caroline revealed in "Albert II of Monaco, The Man and The Prince" (via People). "When we were little, we were probably closer to our nanny than to our parents," she added, also recalling crying each year as their nanny left on "her annual vacation." That being said, it's not like the Grimaldi children didn't have any strong ties to their parents. Albert, according to The New York Times, was closer to his mother than his "famously distant" father — perhaps a result of understanding she was uprooted. "Coming to live here and having to behave in a certain way must have been hard for her at first," he told People (via Vanity Fair), noting that he "never heard her complain."
As for Prince Rainier, it seems that as his children grew up, he finally wished he treated them with more paternal fondness, with the Chicago Tribune quoting him as musing, "My only regret is to have not been available enough to take care of my children during their tender years, and it is too late to make up for lost time."
Was Grace Kelly depressed in her marriage?
After silver screen legend Grace Kelly became Princess Grace of Monaco, many have believed that she became incredibly depressed living in the microstate. In fact, "High Society: The Life of Grace Kelly" reveals that the actor even once boldly told a reporter, "I don't expect to be happy, and I don't look for happiness." While the biography notes that Grace perhaps wasn't suffering from "profound depression" all the time, she still had periods of sadness and "loneliness."
Grace herself has alluded to the difficulties of suddenly moving across the pond, as she said in a "20/20" interview in 1982, "Mediterranean countries … don't accept change very easily." Many have compared Princess Grace's experience marrying into royalty as that of the late Princess Diana's, and, interestingly enough, the two have crossed paths, too. As Lady Di once revealed (via "Diana: Her True Story"), "I remember meeting Princess Grace and how wonderful and serene she was, but there was troubled water under her, I saw that."
Of course, Grace Kelly never spoke out about any sort of depression (unlike Princess Diana). Still, one can only imagine the difficulties she faced after she moved to a foreign country. As biographer Jeffrey Robinson shared with Closer Weekly, as soon as Grace and Prince Rainier III married, she was thrown into her royal duties — fluent only in English in a French-speaking country.
Prince Rainier III and Grace Kelly never truly had privacy
Much like the incredible amount of paparazzi that plague the British royal family (and ultimately led to the death of Princess Diana), Prince Rainier III and Grace Kelly never really had any privacy. As Jay Jorgensen, author of "Grace Kelly: Hollywood Dream Girl" revealed to Closer Weekly, "The one thing that she would talk about was time," adding that the former Hollywood icon had no idea how rarely she would be able to escape for some one-on-one time with her husband. "She would say that she [wanted privacy] a little bit."
Interestingly enough, at the time of Grace and Rainier's wedding in the mid-1950s, Monaco wasn't the glamorous sort of playground for the wealthy that it is these days (seriously, there's even a TV program about it). Biographer Jeffrey Robinson dubbed the country "a backwater" while speaking to Closer Weekly, noting that "the electricity and plumbing were 19th century French [and] even the telephones didn't work." With the sudden shift of lifestyle, along with her personal life suddenly being put under the microscope, it's no wonder that this royal marriage was as complicated and exhausting as it was.
Unfortunately for Grace and Rainier, the paps weren't just after them, but their children, too. As Princess Grace herself revealed in a 1982 "20/20" interview, her daughter, Stephanie, had to go to her gymnastics classes in the trunk of their car "just so [the paparazzi] wouldn't follow her."