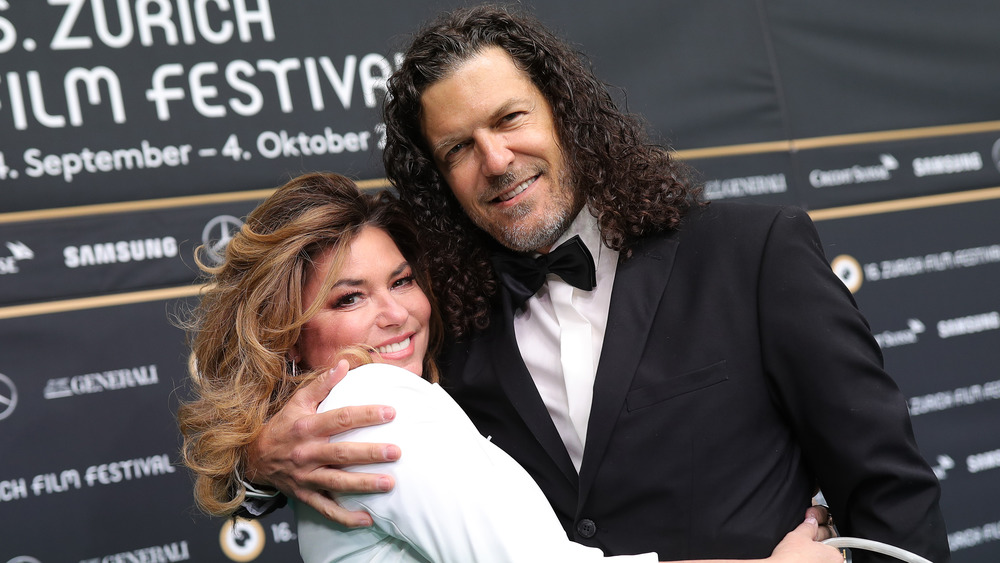 From John Lennon and Yoko Ono to Brad Pitt and Angelina Jolie, celebrity relationships are an American religion. Fans everywhere grow emotionally invested in their favorite twosomes. In fact, living vicariously through the charming ups and the fatal downs of Hollywood couples is a cultural pastime as old as cinema itself.
How did they meet? What did he say? What was she wearing? Okay, that last one might just be for the women. In any case, the retrieved details are generally nothing to marvel over. "Through mutual friends," they say. Another common response, "at a bar," or, in recent years, "on a dating app."
It's safe to say country music sensation Shania Twain's love story is anything but generic. It's a story that involves all the climatic workings of a cinematic masterpiece: fame, eloping to a foreign country, starting a family, secrets, betrayal, divorce, and an unexpected knight in shining armor that wraps the story into a "Party For Two" fairytale ending. Spielberg and hopeless romantics, everywhere, settle in. This is a good one.
She mixed business with pleasure by marrying her manager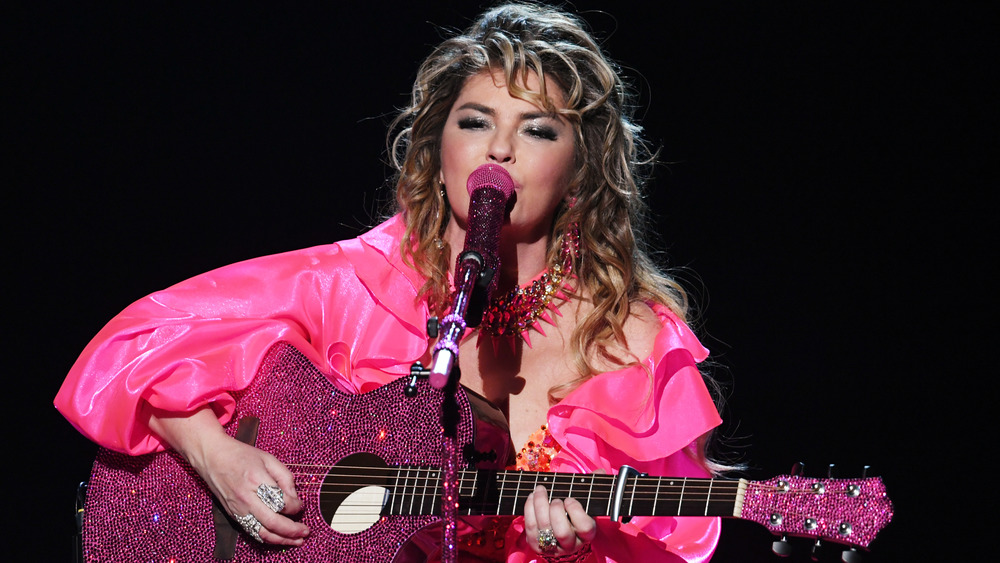 She's one of the world's most glamorous and talented country singers; he's one of the most successful record-producers and songwriters. So it's no surprise that Shania Twain and Robert "Mutt" Lange eventually crossed paths. Lange contacted Twain after he saw her music video "What Made You Say That." As Twain explained in 40 Days That Shaped Country Music, "He called me up and said, 'Look, there's a quality in your voice that I really like." Twain gushed, "He said, 'You know, we really should get together and see what we can do as songwriters.'"
Lange has worked with high-profile artists like AC/DC, Maroon 5, Bryan Adams, Lady Gaga, and Muse. The South African producer saw potential in Twain and was the driving force that incorporated a more poppy sound into her music. "As a producer, [Mutt] is very much a director," the songstress explained to The Guardian. "He was driving the direction of the sound. He didn't drive the direction of my voice and never tried to change me … He drove the instrument choices."
Together they created The Woman In Me, which went on "to sell millions and, in 1996, won a Grammy for Best Country Album" (via Official Charts). Six months after meeting face to face, the two were married, and by 2001, Twain gave birth to their son Eja. "I think we make a great team," explained Twain in 40 Days That Shaped Country Music. "Obviously, we love each other."
Shania Twain met Frederic Thiebaud in Switzerland
Shania Twain, like so many celebrities before her who reached mega-fame, craved time away from the spotlight. As she explained on The Ellen DeGeneres Show, "I just really needed to take a break. Switzerland was just a place that I could go and be very quiet … And I became a mom. And it was just a great place to start that part of my life."
It was there that Twain met Frederic and Marie-Anne Thiebaud. "My ex-wife started to work for them, and that's how we got to know them," dished Frederic on Oprah. Marie-Anne was Twain's assistant and managed Shania and Mutt's "46-room chateau in La Tour-de-Peilz" (via Belfast Telegraph). "Fred and I did not have a one-on-one relationship at all. It was quite a formal relationship, really," Twain noted on The Ellen DeGeneres Show.
The families grew close and generally spent holidays together. As the singer explained on Oprah, "Fred and Mutt were good friends, and Marie-Anne and I were good friends. She was my confidant, somebody who understood what my concerns were in my marriage." Twain added that she always trusted Marie-Anne's judgment. "I said, 'Marie-Anne, don't you think my husband is acting strange?' And she said, 'No, I don't see anything strange.'"
The shocking betrayal that involved Shania Twain's ex-husband, new husband, and best friend
It's all fun and games until families start playing Wife Swap without informing all the players. Case in point: When Frederic Thiebaud discovered his wife, Marie-Anne, was having an affair with Shania Twain's husband, Robert "Mutt" Lange, he told Twain. Spoiler alert — it didn't go well. As Frederic revealed on Oprah, "I did discover the affair with my wife and Mutt … and I said, 'Guys, now you have to tell [Shania]. This is ridiculous. You just owe her that.' And they didn't want to do it. So I had to tell her."
Then — get this – Frederic found phone bills and hotel receipts, and recalled seeing lingerie and a garter belt in Marie-Anne's suitcase from one of her solo trips (via Daily Mail). Twain admitted to being in denial and wanted an explanation from Lange and Marie-Anne. "I called her up," Twain explained on The Ellen DeGeneres Show, adding, "I wanted to give her the opportunity to tell me herself without me accusing her … And she said, 'No … I don't understand why you'd think I would ever hide anything from you.'"
Lange and Marie-Anne denied having an affair. After Marie-Anne ignored Twain's calls and changed her phone number (red flag), Twain emailed her. "Please leave us in peace … If you could see me crying and suffering, maybe you would have pity. Find love somewhere else, from someone else that isn't hurting two families so much."
Her heartbreak took a physical toll and threatened her singing career
Shania Twain's story proves fame and wealth don't protect against adversity. Specifically, the double whammy of discovering your hubby and BFF are off in cahoots without you — a bummer, to say the least. "Suffering does not discriminate. No one is above this type of low," she explained on Oprah. A broken Twain explained she'd basically given up on life. "There were days when I really just was like … 'I just don't even really care if tomorrow comes" (via Oprah.com).
In addition to the nightmare she found herself in, Twain noticed her anxiety negatively impacted her Lyme disease. As she told Belfast Telegraph, "I lost my voice from Lyme disease. The stress of the divorce added to the dysphonia, which is a tension around the larynx. The divorce is part of it, but it wasn't the root of it." Sheesh, throw the woman a bone!
Twain was forced to undergo multiple throat surgeries and feared that she'd lose the vocal cords that built her career. "It was devastating," the singer opened up to Today. "I was very, very sad about it, to the point where … I felt I had no other choice but to just accept it." The invasive surgery did affect Twain's voice but birthed a new "gravel" tone that she's enthusiastic about. "I think it's kind of sexy … I'm never going to have my old voice again. I'm okay with that. I've found a new voice. And I like it."
The bizarre way Shania Twain found love after divorce
There's no denying Shania Twain experienced an incredibly devastating series of events that left her emotionally shattered. No one had bigger problems, romantically or otherwise. Fortunately, Twain didn't have to experience the turmoil alone. "The person to comfort me was Fred [Thiebaud] because he's been through the exact same thing," she explained on Oprah.
Certainly, new love can be the furthest thing from one's mind during the deep throes of heartbreak. But, as Twain gushed on The Ellen DeGeneres Show, an unexpected love blossomed out of a strenuous shared experience. "We slowly became very, very good friends. We had many months of just trying to make sense of everything. Holding each other up was a very difficult time emotionally for both of us … And really found something very beautiful in the end and unexpected."
Inspired by Thiebaud's calm composure, the Canadian country singer said she gradually began to see Thiebaud in a new light. "You see all their anger, how they handle their grief, their desperation," the singer noted to Redbook, adding, "And he did it beautifully and was able to give me support at the same time. I admired him first. I think that's very important." But as Twain's feelings grew for Thiebaud, she admitted worrying about what people would think about them getting together. "He was Marie-Anne's husband. That's twisted if you really think about it … But just so beautifully twisted."
The moment Shania Twain fell in love with Frederic Thiebaud
Of course, every woman has a laundry list of qualities she looks for in a life-mate. In addition, sharing a life with someone who you can learn from and who inspires you to be a better person also falls somewhere on the list under Swiss banking-account. Luckily for Shania Twain, Thiebaud had all the above!
Swiss-born Frederic Nicolas Thiebaud is an executive for the food and beverage company Nestlé. Born on August 1, 1970, Thiebaud is five years younger than Twain (via CountryFancast). It's reported that Thiebaud even "fell in love with music" as a kid and had aspirations of becoming a singer, per Country Daily. Star-crossed lovers — are they not?
While Brad Pitt may not impress Twain much, she knows the moment she realized she'd fallen for Thiebaud. "I got to observe Fred going through the same thing I was, and I admired how he handled it," she dished to Redbook. "That is where I fell in love with him, because he was so exemplary in every way." Twain even credits Thiebaud for being her "count to 10," explaining, "Fred has shown me through example how to stop, listen, think, and then express myself, instead of immediately saying things I might wind up regretting. Trust me, that's hard for a girl who grew up cursing hockey refs."
Shania Twain and Frederic Thiebaud had an intimate wedding
If it's not social media official — did it even happen? Don't answer that. Per Country Daily, Shania Twain made her relationship official on her 44th birthday on August 29th, 2009, on her website. As she wrote, "A dear friend and true gentleman by the name of Fred, has been the most constant companion of support for both Eja and me." The crooner went on, "And having gone through the suffering of his family splitting apart at the same time under the same extreme circumstances, he understood me better than anyone. We leaned on one another through the ups and downs, taking turns holding each other up. We've become stronger and closer through it all, as have our children, Eja and Johanna."
According to People, Thiebaud finally proposed the following year with a three karat solitaire diamond ring. "She's a true angel. That's what I think," gushed Twain's beau on Oprah. On January 1, 2011, the pair married in Rincon, Puerto Rico, in an intimate ceremony. "My closest friends and family say they haven't seen me this free-spirited and happy in years," Twain proudly told People. "And it's true. It's definitely true."
Shania Twain claims her new husband is 'too good to be true'
In this love story, Shania Twain and Frederic Thiebaud prove the honeymoon phase never has to end. And thank god for that because after the debacle these lovebirds trudged through, who wouldn't be rooting for a whimsically charming finale?
Twain gave fans a glimpse into her fairytale relationship when she spoke about Thiebaud's romantic gestures to Redbook. "The other day I was showering, and he had to go out. He knew I hadn't eaten yet, and I had to go somewhere too. So before he left, he prepared me a salad. I could hear chopping and singing, and I'm thinking, What is he doing? I came out of the bathroom, and he'd set up a little table with a note saying, 'I love you — Fred.' And there was a glass of wine and this beautiful salad with little tomatoes and flowers all around the edges. He's very good at doing displays." And not a dry eye in the audience!
Prince Charming himself confessed the inspiration behind his romantic behavior. "To express my love, words are not enough. I'm more in love with her every day" (via Daily Mail). Chocolates and flowers aside, Twain babbled on to Redbook about what drew her to him. "Fred is not only nice, he's incredible. He's attentive … He shows what he feels, and that's a quality that could come in any shape or size and be admired … He's too good to be true … I'm loving every minute of it."
'Kissing, talking, playing tennis' are this pair's fave pastimes
The Canadian country singer may be one of the world's biggest stars, but behind closed doors, Shania Twain is just like anyone else when it comes to enjoying romantic pastimes with her spouse. "Kissing, talking, playing tennis," Twain gushed to Redbook, adding, "Fred [Thiebaud] hits hard and keeps me on my toes. I'd chase a ball for him any day."
And let's be honest, famous or not, no couple escapes cheesy nicknames. "We stare at each other a lot and call each other lovey names," said the country singer. "I'm Sunshy, short for Sunshine, and he's Beauty Man because he's so darn beautiful!"
Undoubtedly handsome, Twain said her hubby's eyes are his best physical feature. "They're gentle, intelligent, and alluring, and such a beautiful shade of green. Fred's and Eja's eyes are exactly the same shade." One would have to be blind not to see Twain and Thiebaud are nothing short of a perfect union. The songstress noted that Thiebaud's compassion for others is what she loves most about her husband. "Fred is a true gentleman. He waits for everyone else to begin eating before taking a bite. He's always concerned about world affairs and the interests of others."
Why Shania Twain is grateful for the way things turned out
From chart-topping success and starting a family to losing it all and coming back stronger than ever, country music sweetheart Shania Twain has come full-circle. Reflecting on her experience while on Oprah, the artist revealed that she believes life has a way of working out the way it's supposed to. "Sometimes I think bad things have to happen to us to give us perspective."
The "Honey, I'm Home" crooner elaborated further during an interview with Belfast Telegraph, explaining, "I had to meet this horrible betraying friend in order to meet this extraordinary man. And I had to meet Mutt to have this child who is the absolute center of my life."
Twain revealed that over time, she was able to fully process and understand the collapse of her marriage with Lange. "The fact that the marriage broke down is nobody's fault. That is just a mutual breakdown of communication between two people," she told Oprah. And even though Twain admitted to being partially responsible for the fallout of her marriage, she's grateful for the emotional evolution and strength it gave her. "I never thought it was entirely my fault," Twain told the Belfast Telegraph, adding, "But I certainly felt that I obviously missed something. Where have I been! Hello? How dumb can one be!" she laughed. "I just felt very stupid … You put things in perspective over time."
Shania Twain's dark inspiration for new music
Amidst new love and restrengthened vocal cords, Shania Twain set her sights on resurrecting her singing career. But it wasn't as if she could just pick up from where she left off. "There were three albums and 15 years of our collaboration," Twain told Belfast Telegraph. "So the fear was … not knowing where to begin after all that time, and knowing that the expectations would be high — because Mutt is a genius." Twain revealed her doubts pioneering a new path. "There were a lot of moments when I was just too afraid to tackle it … Maybe I should just leave it where it was."
Ultimately, Twain decided her new material had to come from the heart, which produced a darker tone, both vocally and lyrically. "Who's Gonna Be Your Girl?" are lyrics expressing the dark and lonely crumbling of Twain's marriage. As the singer explained to Rolling Stone, "It's about feeling unappreciated and knowing that you are secondary. Having to live with someone that has different priorities and accepting that you're not the most important thing in a person's life." Gulp. Meanwhile, "Swinging With My Eyes Closed," is a pretty self-explanatory track, yet heart-wrenching, everything considered.
On September 29, 2017, Twain released her fifth studio album Now, which debuted at number one on the Billboard 200. Leaps and bounds, friends. Leaps and bounds.