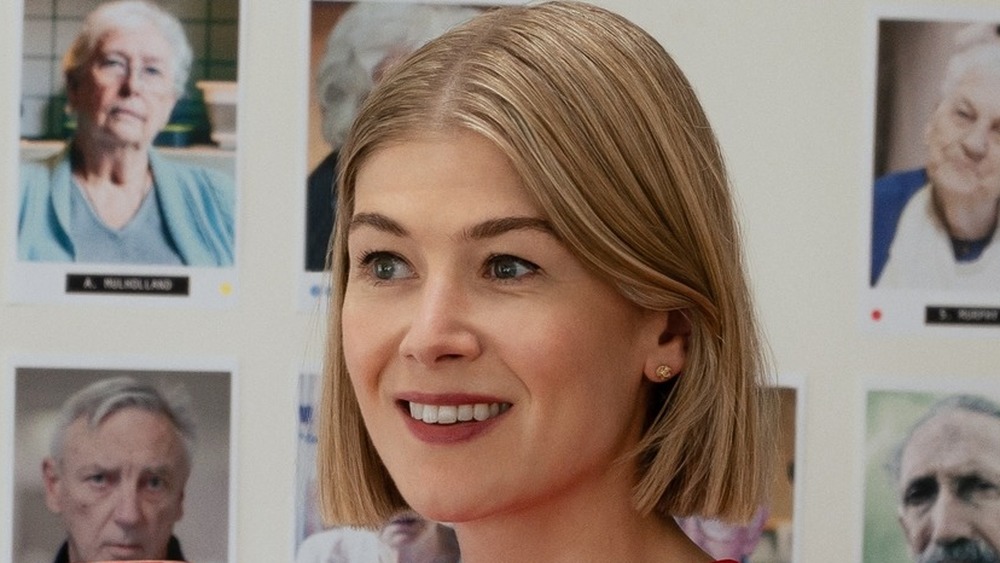 After a year like 2020, the only thing on many people's minds is finding some way to decompress and relax, to escape the stress and pretend that everything is just fine. That is, unless you're a hardcore thriller fan (or just really sick of quarantine), in which case you've been looking for something to get the blood pumping and provide a little excitement after months of isolation and boredom.
And just over two months into 2021, we've got quite an enthralling batch of suspenseful entries in the thriller canon. From the comfort (or boredom) of our own homes, we can witness all kinds of scares and chases, twists and turns, freshly minted for our enjoyment this year. If 2021 does turn out to be just as horrific as its predecessor and demand that we turn to escapism through our movies, at least it has provided us with some exciting films to turn to — and stacked up even more upcoming titles to look forward to as the year wears on.
Red Dot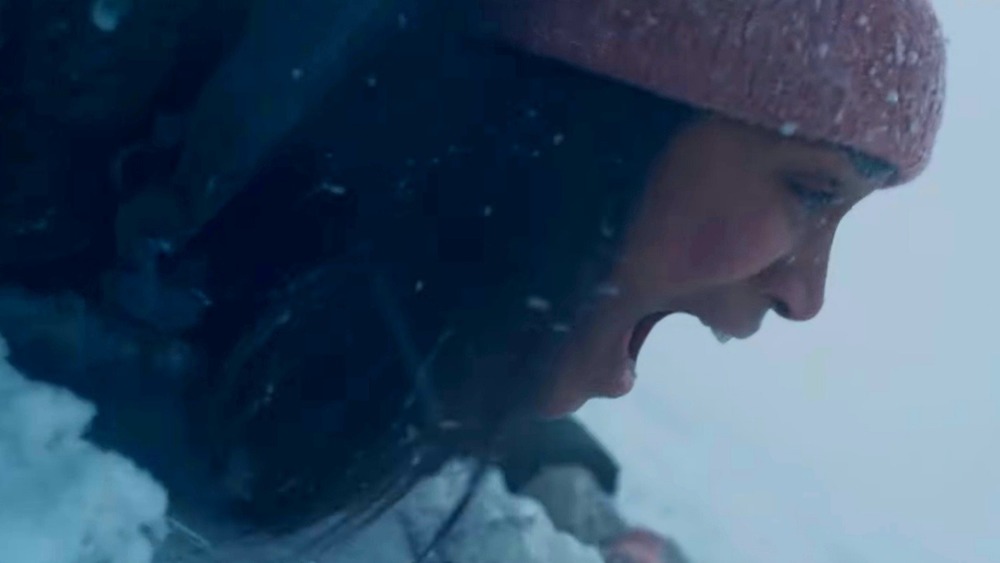 Across the snowy landscape of remote Sweden, we see — or don't see — a couple being pursued by unseen assailants. Much of the action takes place across great distances which only a bullet can quickly travel, obscured by falling snow that only the red dot of a rifle's sight can pierce. The whiteout visuals take the suspense to critical heights as we frantically struggle to figure out what's going on.
But it's not just the relentless snow that's hiding something. When there's a twist in a thriller movie, usually it's something involving the villain, something that shocks the protagonist to the core and presents a new threat that they must find a way to overcome. Maybe someone close to the protagonist has been working against them the whole time, or the main character must confront a challenge to long-held beliefs.
Red Dot, however, in addition to its impeccable and inventive brand of suspense, puts a spin on the traditional twist itself.
Wrong Turn
As far as reboots go, 2021's take on Wrong Turn is more than respectable. In fact, critics liked it even more than the 2003 original! And since the 2021 version is the seventh installment in the franchise, it's even more impressive that it was able to garner positive reception rather than dismissal or even frustration.
The original Wrong Turn relies heavily upon the gore and suspense of being chased through remote woods by a group of cannibals. False hopes repeatedly give way to the harsh illumination of human depravity: The protagonists find a cabin and hope to be able to phone for help, but instead discover that it belongs to the very cannibals who are stalking them, and are forced to watch in hiding as their friend is dismembered and eaten. We witness all manner of weapons and traps, from arrows to axes, tire punctures to explosions. There's a lot of action, to be sure, but nothing new.
In 2021's version, though, we get a clearer window into the cult of the cannibals themselves. Rather than fleeing from largely unknown forces, we learn that the cult was originally an 1859 settlement established on the basis of the belief that the United States was doomed. The protagonists meet and interact with multiple members of the community, becoming more enmeshed with them in their attempts to survive than in the first film — which makes for a much more thrilling disentanglement and escape.
Silk Road
This year has offered a lot of non-traditional fare as far as the thriller genre goes, but Silk Road is closer to a classic story of crime and suspense and is based on true events. The dark web's Silk Road was in many ways the first of its kind, an infamous but elusive platform best known for facilitating the sale of illegal drugs. Silk Road tells the story of Ross Ulbricht (Nick Robinson), creator and operator of the titular darknet marketplace, and his capture by the FBI in concert with DEA agent Rick Bowden (Jason Clarke).
One of the strongest elements of the film is the manner in which it portrays these two main characters. While it was not the best-received thriller of the year, it serves as a good introduction to the subject matter it covers, and though critics have concluded that the film should have done a better job elucidating these inner workings, the film will appeal to viewers who enjoy the intrigue of the dark web and ponder the clandestine dealings of its users.
Fear of Rain
If you think a detective's job is hard, try doing it with schizophrenia. That's essentially the situation Rain (Madison Iseman) finds herself in as the protagonist of the 2021 psychological thriller Fear of Rain. She not only has to battle the unnerving hallucinations brought on by her illness and attempt to discern what is real from what is not in the midst of this confusion, but when she begins to suspect her neighbor of kidnapping, this delicate balance is thrown into upheaval.
There is no critics' consensus yet for Fear of Rain, and the few reviews that have already been cast are mixed, but audiences loved the film — and left ratings to that effect in many times greater numbers. The thriller is engaging because of the personal way it shows a young person reckoning with powerful forces both outside and within, which amounts to the kind of impossible odds that make for good suspense.
The juxtaposition of these threats in the film makes it compelling: hallucinations of cemetery statues crying blood are frightening, yet outside the realm of reality, while kidnapping is very real. The film also features a Shyamalan-esque twist and an emphasis on the bonds of love that tether us not just to reality, but to our humanity.
I Care A Lot
I Care A Lot premiered at the Toronto International Film Festival in late 2020, but wasn't distributed to United States audiences until late February of 2021, when it began to dominate Netflix Top 10 lists soon after its release. The film stars the formidable Rosamund Pike, whom you might recognize from her critically acclaimed role in another thriller, David Fincher's Gone Girl from 2014.
Unlike Gone Girl, however, I Care A Lot has a bit more of a comedic bent, though the tale is still undoubtedly a thriller. Pike shines in roles such as these, which allow for the kind of psychological depth that keeps us engaged as much as the plot itself: In this case, the story revolves around Marla, a scammer who cons the courts into appointing her as a guardian for seniors whom she falsely testifies are incapacitated. After putting her wards in assisted living facilities, she begins to sell their assets for her own profit.
It really does seem like something that, in another life, Pike's character from Gone Girl would do. The talented actress has explained that she is drawn to complex roles, and I Care A Lot delivers just that — another "wicked performance" from Rosamund Pike as a painfully clever woman with an elaborate scheme to secure her own survival at someone else's expense.
Boss Level
The ingredients of a thriller can easily sneak into its sister genres to give them a bit of an extra kick, and that's exactly what happens in Boss Level, the sci-fi action film released on Hulu to positive reactions from critics and audiences alike. While the time loop trope in films has itself become a little repetitive, the "excess" of Boss Level allows it to "power up" the concept, according to the consensus on Rotten Tomatoes.
The name of the film is a reference to the term for the final level of a video game in which the player must face a "boss" or challenge that represents (or even directly incorporates) all the challenges of the previous levels combined in overwhelming force. It is typically the hardest level of the game, and many players in various games attempt it dozens, even hundreds of times before they beat it – if they even do.
Boss Level combines this familiar experience with the time loop concept, but tells the story of one man trying to survive the same day over and over in the style of a thriller, with narration by star Frank Grillo that's more reminiscent of a noir. This ambitious and captivating entry in a tired genre proves that there's always a way to break the cycle.
Army of the Dead
Zack Snyder is having a big year. The director kicked off 2021 with the release of "Zack Snyder's Justice League," popularly known as the "Snyder Cut," a four-hour epic that rectifies the in-Justice of the 2017 film after Snyder turned over the reins to Joss Whedon in post-production. It was also very sentimental to him: He left the original "Justice League" project to properly deal with the loss of his daughter, Autumn, to suicide. The Snyder Cut is dedicated to her.
"Army of the Dead" is the first film Snyder has directed since his director's cut of "Justice League," and a triumphant return after tragedy — not only a return to the craft of filmmaking, but to Snyder's roots. He broke onto the filmmaking scene in 2004 with the seminal zombie film "Dawn of the Dead," itself a remake of a 1978 classic that carved out its own place in the horror canon.
Snyder's newest film builds on this legacy, but takes it one step further: It's not just a zombie movie, it's a heist movie set in the middle of a zombie apocalypse. Either of those premises alone would have been thrilling enough, but combined, they make for an over-the-top (in a good way) ride with enough action and gore to satisfy old and new fans alike.
If you or anyone you know is having suicidal thoughts, please call the National Suicide Prevention Lifeline​ at​ 1-800-273-TALK (8255)​.
A Quiet Place Part II
There are certain kinds of films that frequently struggle to impress critics: sequels and horror films. Sequels face the challenge of attempting to live up to their predecessors (or, if the first installment was a dud, attempting to redeem it). Horror films face the obstacle of a formulaic genre: It's hard to tell a story that hasn't been told before without relying on predictable jump scares, while still managing to terrify people in a way they aren't expecting.
"A Quiet Place Part II" had to face both of these challenges at once. The first film, John Krasinski's directorial debut and first foray into the horror genre, was an immediate success. After he rose to fame playing Jim Halpert on "The Office," Krasinski gained prominence in action roles like the titular character in the "Jack Ryan" TV series, and finally made his directorial debut with "A Quiet Place" in 2018 … in which he killed himself off.
Clearly, Krasinski isn't afraid to make loud statements and shocking changes in his career, and the sci-fi horror film in which survival depends on silence was only the beginning. The sequel not only lived up to its panic-inducing predecessor, but broadened the scope of its universe while remaining anchored in the relationships at its heart.
Riders of Justice
In the Danish action comedy "Riders of Justice," a couple of mathematics geeks work on an algorithm that can be used to predict future events, insisting that most coincidences are just cases of insufficient information: We don't recognize the causes of events because we can't see all of the contributing factors at once.
In terms of the critical success of "Riders of Justice," though, the ingredients of this outcome are pretty clear, and anything but unpredictable. To start with, the film boasts the towering presence of Mads Mikkelsen, an actor who has played such thrilling roles as Le Chiffre, the main antagonist in the 2006 James Bond film "Casino Royale," and Dr. Hannibal Lecter himself in the NBC horror-thriller series "Hannibal."
On top of the inimitable skills of Mikkelsen, the film shoves him into relatively new territory, setting him up with quirky material and a darkly comedic revenge plot that pulls new levels of emotional depth out of the actor and his supporting cast. This movie will make you laugh but also keep you guessing with impeccable pacing and enthralling performances. The inciting incident of the film may look like an accident, but the successful delivery of the whole story is anything but.
Nobody
The 2021 action thriller is called "Nobody," but its star and producer Bob Odenkirk is anything but. You might recognize him from roles in similarly thrilling pieces, like the television show "Breaking Bad" or its spin-off, "Better Call Saul," based on his "Breaking Bad" character, stingy defense lawyer Saul Goodman.
Or you might recognize him from comedic roles like the carbon copy of Michael Scott who interviews Pam in the final season of "The Office" for a receptionist position in Philadelphia, or as the willfully ignorant, weak-stomached Officer-made-Chief Bill Oswalt on the FX series "Fargo" (which has elements of both thriller and comedy).
Suffice it to say, the guy has range, and he proves it yet again as Hutch "Nobody" Mansell in the violent, destruction-packed thriller that cements him as a formidable force in yet another category: action star. Odenkirk's character humorously navigates both his own self-image and relationship with his family (as the everyday "nobody" he first appears to be) as well as the intense violence of his secret-assassin life.
Stowaway
Much like launch support engineer Michael Adams (Shamier Anderson) ends up as an accidental stowaway, this 2021 film launches itself into the thriller sphere through pretty unconventional means for the genre. There are no bad guys — at least, not in the traditional sense. In fact, it's basically the opposite: Whereas many thrillers culminate in finding out who the bad guy is, "Stowaway" ends with each of its four characters finding out just how much good they have inside them when it comes to crunch time.
But the road there is filled with moral dilemmas and high stakes, in the claustrophobic vastness of a craft in deep space. This setup qualifies the film for a level of tension that would normally be reserved for psychological thrillers with malicious antagonists. But the real enemy in this film is also the thing the characters are trying to save: human life and survival.
Funnily enough, the director and co-writer of "Stowaway," Joe Penna and Ryan Morrison, made their cinematic debut with a film called "Arctic," starring Mads Mikkelsen!
The Dry
It's always the boyfriend or husband, right? "The Dry" doubles down on this premise and then spends its entire running time unraveling it. A childhood friend works to clear his deceased buddy of a murder-homicide charge, even as he battles vitriol from his former neighbors for the suspicion that he killed his own girlfriend two decades earlier. It's a layered, slow-burn thriller with lots of false leads and great twists, and it's anchored in the deeper themes of personal struggles and community history.
The engaging thriller plays on the commonly bittersweet experience of returning to one's hometown. There is both a sense of obligation and alienation inherent in these circumstances, and that's without any suspicion of murder. The dual tensions of returning after estrangement and a murder investigation find their perfect triplet in the oppressive heat of a drought that keeps everyone on edge and pushes secrets through the community's pores like sweat. It's literally a slow burn.
Be thrilled, our hearts
Don't stray too far from the edge of your seat, because there is a lot more in store this year in the thriller genre.
Because the pandemic isn't quite over yet, some of the thrillers set to come out in 2021, like "Mission: Impossible 7," "Death on the Nile" – a mystery thriller based on an Agatha Christie novel of the same title — and "Deep Water," an erotic psychological thriller, were postponed to February 2022.
But some major events in the genre are proceeding on schedule. We'll get introduced in late July to a new M. Night Shyamalan flick called "Old," in which a family discovers that the beach on which they are spending their holiday is causing them to age so rapidly that their lifespans are reduced to a single day.
Besides Shyamalan's film, we'll hopefully get a "treat" in the form of "Candyman," a supernatural slasher and psychological thriller set to hit theaters in August. And as Halloween approaches, we'll round out the dozen films of the "Halloween" franchise with "Halloween Kills," premiering in mid-October — just a week after the 25th Bond film, "No Time To Die," is scheduled to come out. We certainly have a lot of thrills to look forward to in 2021 (hopefully just on screen).