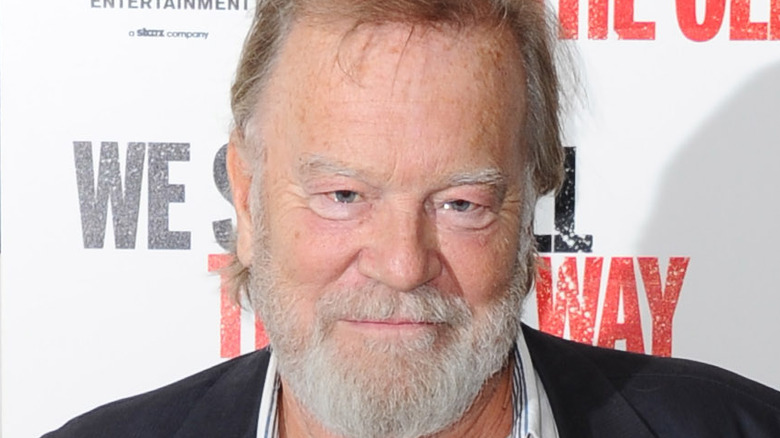 British ensemble series "Downton Abbey" follows the lives of the aristocratic Crawley family and their household staff from 1912 to 1926. Along with their complex personal lives, the characters of this historical drama navigate real-life events like the sinking of the Titanic which occurs at the beginning of the series, and World War I which is the focal point of Season 2.
The show spans six seasons, having aired from 2010 to 2015 on ITV in the UK and slightly later on PBS in the U.S. Throughout the seasons, viewers celebrated with their "Downton Abbey" family as Lady Mary and Matthew finally wed and mourned alongside them when Lady Sybil died in childbirth. By the time "Downton Abbey" ended, the show had claimed 11 Emmy Awards, three BAFTAS, three SAG Awards, and a Producers Guild Award (via Forbes). In March 2016 9.6 million viewers tuned in to PBS to bid the series farewell.
However, "Downton Abbey" didn't leave screens permanently and the cast soon reunited for the series' first feature film, which was released in 2019. The film continues the Crawleys' story around 18 months after the events of the show's finale. As of this writing, fans are thrilled that a sequel to the film will be released in December 2021, but sadly, there are a few faces who will be missing from the next big-screen reunion.
Terence Harvey made a dramatic exit on Downton Abbey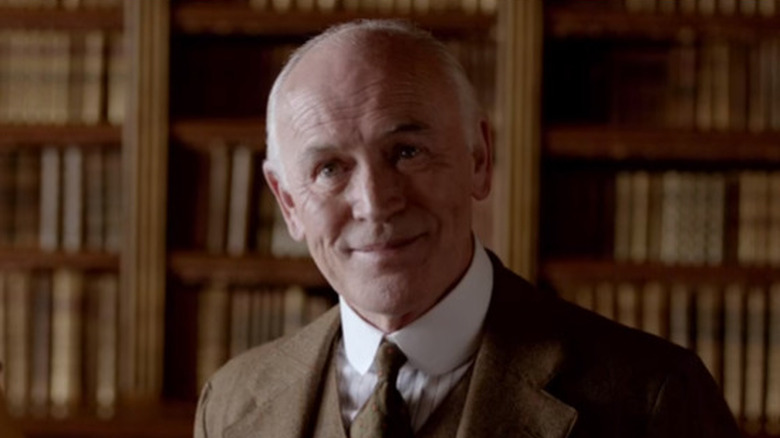 Terence Harvey, born Terence John Humes, was a veteran of the "Downton Abbey" series. He played Downton's estate manager, Mr. Jarvis, who had worked for the Crawley family since 1880. Harvey had recurring appearances in the show between the first and third seasons. However, his time on the show abruptly ended in Season 3, when Jarvis resists Matthew Crawley's (Dan Stevens) attempts to modernize the Downton estate.
As Matthew criticizes the lack of progression at Downton and explains to Lord Grantham (Hugh Bonneville) that "the estate has been run very wastefully for many years," Jarvis angrily tries to defend his "40 years of loyal service." The estate manager, who believes he is being "accused of malfeasance and corruption," abruptly announces that he has no choice but to resign. Though Matthew apologizes for causing offense and Lord Grantham asks him to reconsider staying, it is too late and Jarvis starts to leave. Before storming out he issues a strange warning to Matthew: "I am the old broom Mr. Crawley, you are the new. I wish you luck with your sweeping."
Though Harvey never returned to "Downton Abbey" he did go on to work with Hugh Bonneville again in the 2017 film "Viceroy's House." Prior to appearing in the British period drama, the actor also racked up credits in popular British soaps, including "Hollyoaks," "Eastenders" and "Holby City." Harvey died suddenly at the age of 72, The Times confirmed.
Bernard Gallagher had a touching scene with Maggie Smith
Bernard Gallagher played recurring character William "Bill" Molesley in "Downton Abbey." Molesley can usually be seen tending to his exquisite rose garden or offering advice to his son Joseph (Kevin Doyle), who is a butler-turned-valet to Matthew Crawley. He portrays a loyal and caring father who does whatever he can to help his son — most notably in Season 4 when Bill Molesley tries to secure a job for Joseph, who has been struggling to find work since Matthew's death.
Gallagher's most memorable moments come in Episode 5 of the first season, though, when his character competes in the Downton Village Flower Show against Maggie Smith's character, the Dowager Countess of Grantham. After a few eye-opening conversations, the Dowager discovers that she is automatically being awarded the Grantham Cup for "Best Bloom In the Village" every year because of her title and reputation. In a very touching scene — and to the surprise of everyone in the hall — the Dowager takes herself out of the running and announces Molesley's victory. He privately acknowledges her sacrifice, saying: "Thank you for letting me have it."
Before appearing in "Downton Abbey," Gallagher enjoyed an acting career spanning more than half a century. He had a long history in the theater, making his stage debut in 1956 and later gained small screen roles in popular shows like "Casualty," "Eastenders," and "Doctors." Gallager died of pneumonia on November 27, 2016, at the age of 87 (via The Guardian).
Tim Pigott-Smith made a big mistake on Downton Abbey
Critically acclaimed British actor Tim Pigott-Smith was well versed in both film and television. In 1984 he won a BAFTA for his leading role as Ronald Merrick in the mini-series "The Jewel in the Crown." He also starred in the 2003 "Johnny English" film alongside former "Downton Abbey" actor Terence Harvey. Pigott-Smith also spent a significant amount of his career on stage thanks to his Shakespearean training.
Pigott-Smith sadly died in April 2017 at age 70, the BBC reported. In the year prior, the actor was made an OBE by Her Majesty The Queen and was nominated for a Tony Award for his role in "King Charles III."
Pigott-Smith had a small but memorable role in the third season of "Downton Abbey". He played Sir Philip Tapsell, a specialist obstetrician recommended by the Dowager Countess of Grantham to oversee Lady Sybil Branson (Jessica Brown Findlay) through childbirth. "He's delivered many lords and royal highnesses," the Dowager insists to her son Lord Grantham. However, Tapsell's arrival at Downton Abbey causes conflict with the family's usual physician Doctor Clarkson who fears Sybil is suffering from an underlying condition but is overruled by Tapsell. When Clarkson eventually diagnoses Sybil with eclampsia, Tapsell's failure to agree prevents the family from taking her to the hospital and she dies after giving birth.
Though Pigott-Smith only guest-starred in one episode, the consequences of Sybil's death and her absence from the show reverberated throughout the series.
Nicky Henson tried to blackmail the Downton Abbey butler
Nicky Henson joined the cast of "Downton Abbey" as the broken-down former stage entertainer Charles Grigg who blackmails the Crawley's butler, Charles "Charlie" Carson (Jim Carter). Grigg arrives in the first season looking for money and a place to hide after committing a petty crime. He forces Carson to help him by threatening to reveal his ex-pal's theatrical past (the pair used to perform as "The Cheerful Charlies" duo) but Lord Grantham eventually sends him packing. Grigg later returns in Season 4 hoping to make amends with Carson. His reappearance brings up past trauma for Carson, but they work through it, and the former duo eventually part as friends.
Like his "Downton Abbey" character, Henson spent most of his career on the stage. The actor performed in classics like "Romeo and Juliet" and "A Midsummer Night's Dream." He also had a very memorable appearance on "Fawlty Towers" as Mr. Johnson, a hotel guest hiding women in his room right under the nose of Basil Fawlty (John Cleese).
In 2019, Henson died of cancer-related complications after living with the disease for almost twenty years, The Guardian confirmed. The actor previously told the PA news agency that "For the last 18 years, I've regarded myself as being in extra time, which I never expected to have, so I'm very thankful for it" (via Deadline).
Christopher Rozycki was offended by Daisy Lewis' character on Downton
Christopher Rozycki played Count Nikolai Rostov in the fifth season of "Downton Abbey." Rostov is one of several Russian refugees whom Lady Rose MacClare (Lily James) is trying to help. They become the focal point of Episode 3 when Rose invites them over to Downton for tea. However, their arrival inadvertently reveals a secret about the Dowager, who admits she almost left her husband for Prince Kuragin, who is now a refugee.
The episode is a prominent reminder of who the Crawley family is as it highlights their sympathy toward the Russian monarchy and shows how deep their ties to other elite families are. When Sarah Bunting (Daisy Lewis) voices socialist opinions to Count Rostov, he is so distraught that Lady Grantham (Elizabeth McGovern) can only calm him down by showing him their family mementos from a British-Russian royal wedding.
Rozycki didn't get the opportunity to return to "Downton Abbey" after his three-episode stint on the series because, in 2015, he sadly died after an accidental fall at the age of 71 (per Holby TV). He is survived by his wife Joanna Hole and their four children. "Downton Abbey" was one of Rozycki's last roles before he died. The others were a guest appearance of Ruth Jones' comedy-drama "Stella" and a supporting role in docu-drama "The Honorable Rebel." Before appearing in the period drama, Rozycki had a main role in prime-time medical drama "Casualty" alongside "Downton Abbey" alum Bernard Gallagher.
Jane Wenham revealed the truth about Brendan Coyle's character
Actor and singer Jane Wenham, who was best known for her theater roles in London's West End stage house The Old Vic, died at the age of 90 in 2018 (per The Guardian). Before she died, Wenham enjoyed a successful career that spanned over six decades. She was a versatile actor performing everything from Shakespeare to Sophocles and anything in between — she even had a stint doing pantomime. The thespian actor quickly transitioned into television and film too, scoring guest roles on shows like "General Hospital" and "Inspector Morse."
In "Downton Abbey," Wenham played Mrs. Bates, the mother of the titular character John Bates (Brendan Coyle). She appeared in Season 1 (and is mentioned throughout Season 2 and Season 3) when she met with Anna Smith (Joanne Froggatt) to expose her daughter-in-law Vera's criminal past. Her son only took the blame for his wife's crimes because "he felt he'd ruined Vera's life," Mrs. Bates explained to Anna.
Though Mrs. Bates only had a brief appearance on "Downton Abbey," she helped to set the relationship of one of the series' favorite couples in motion. Their meeting confirms what Anna has believed all along — that Bates is a good man — and it gives her hope that the pair could have a future together.
Ronald Pickup played a strange character on Downton Abbey
Ronald Pickup was best known for his role as Norman Cousins in "The Best Exotic Marigold Hotel" and its sequel. However, "Downton Abbey" fans will remember Pickup for his guest appearance as Sir Michael Reresby in the sixth and final season of the show. Reresby is introduced in Episode 3 as an eccentric old man in need of a butler for his dilapidated estate, Dryden Park. Lord Grantham and Mr. Carson encourage the Downton under-butler, Thomas Barrow (Robert James-Collier), to interview for the job as a means to downsize staff at the Abbey.
Reresby is initially thrilled to have Barrow as his new butler but later denies him the job because he strangely assumes Barrow is a republican. "I can't risk a republican in this household when anyone might call," he insists after Barrow points out his job advertisement doesn't quite match the job description. The pair quickly part ways, citing philosophical differences. However, this appearance on "Downton Abbey" was just a stop along the way for Pickup, who has a long list of credits under his belt, including supporting roles in other prominent period dramas. The actor played the Archbishop of Canterbury in the Netflix series "The Crown" and former British Prime Minister Neville Chamberlain in "The Darkest Hour."
On February 24, 2021, Pickup died peacefully after a long illness (via the BBC). His agent confirmed the actor was "surrounded by his wife and family," adding that Pickup "will be deeply missed."
James Greene was a trying boss for Robert James-Collier's character
After failing to get the job with Sir Michael Reresby at Dryden Park, Thomas Barrow is hired by Sir Mark Stiles, played by Belfast-born actor James "Jimmy" Greene. Greene appears in the last episode of Season Six but is somewhat of a trying boss for Barrow who is underwhelmed by his new job. Sir Mark clearly likes for things to be done properly and is not happy that Barrow is letting his duties fall to another member of the staff when he needs an evening off. "The cook carrying the tea into the drawing-room?" he asks in a tone of shock. Luckily for Barrow, that's the last we see of Sir Mark as he is sequestered back to Downton Abbey to replace Carson, who decides it is time to retire.
Prior to his guest appearance in "Downton Abbey," Greene had been busy bagging roles in a variety of popular British shows like "Merlin," "Doctor Who," and "Call the Midwife" He also appeared in feature films like "Sherlock Holmes" and "Les Misérables." During his 40 year career, Greene also spent time performing on London's West End, starring in "The Playboy of the Western World" alongside "Misfits" actor Robert Sheehan and fellow Irish thespian Niamh Cusack.
In January 2021, at the age of 89, Greene died after briefly suffering from an undisclosed illness. He is remembered by the Belfast Telegraph as a "staple of TV and film for many years."