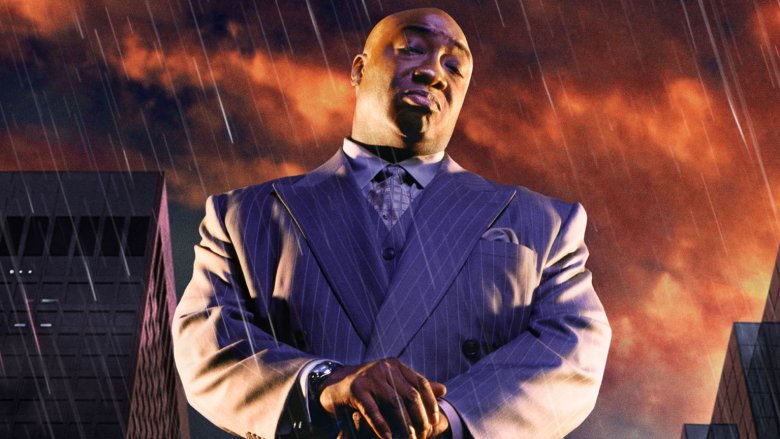 Superheroes don't really die. Oh, maybe they'll be defeated. Maybe you'll even see a body. But ask any experienced comic book reader and they'll tell you that no matter how unlikely it seems, superheroes always come back.
Unfortunately, that isn't true of the men and women who play them. Before their deaths, the following actors didn't just make their marks as some of Marvel's most popular—or at least most interesting—characters. They left behind a long and impressive body of work, and Hollywood is all the better for their contributions.
Powers Boothe — Gideon Malick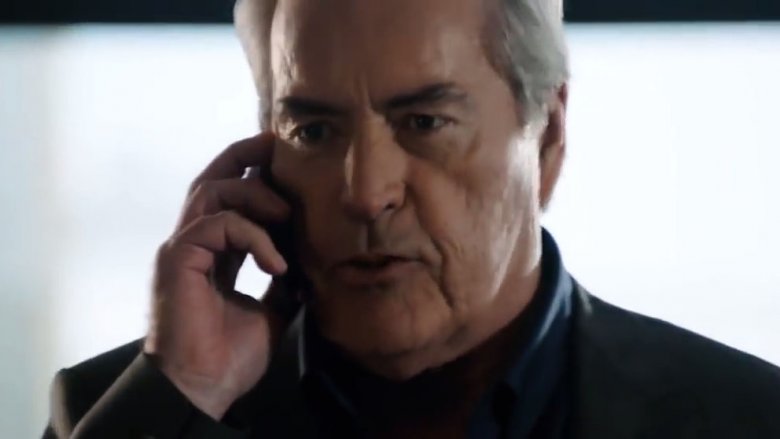 Powers Boothe had the perfect name for a supervillain (seriously, that's not a stage name), but he's known for much, much more than his Marvel outings. If you don't recognize Boothe from his brief appearance in The Avengers or his run on Marvel's Agents of S.H.I.E.L.D, you probably know him as cult leader Jim Jones in Guyana Tragedy, a role that won him an Emmy, as the conniving brothel owner Cy Tolliver on HBO's Deadwood, as Lamar Wyatt on Nashville, or as 24's Vice President Noah Daniels. And that's just the beginning—the dude did a lot.
Marvel fans, however, will always associate Boothe with Gideon Malick, the cunning and ruthless industrialist who oversaw S.H.I.E.L.D. as part of the World Security Council, and later took over as the acting head of HYDRA. Malick first appeared in The Avengers, seen encouraging Nick Fury to nuke New York City in order to stop Loki's alien army, and later returned for Agents of S.H.I.E.L.D. as season three's big bad. As head of HYDRA, Malick helped rescue the ancient Inhuman Hive from exile in another dimension. As way of thanks, Hive murdered Malick's daughter, prompting Malick to betray HYDRA shortly before he died at Daisy "Quake" Johnson's hands.
Malick isn't the only comic book character that Boothe played, either. He voiced Gorilla Grodd and Red Tornado in Justice League Unlimited, played Lex Luthor in the animated feature Superman: Brainiac Attacks, and appeared in both Sin City movies as Senator Roark. Sadly, Boothe passed away in May 2017. Onscreen villainy will never be the same.
Roy Scheider — Frank Castle Sr.
Frank Castle, alias the Punisher, is one tough son of a gun. According to 2004's The Punisher, that kind of thing runs in the family. When a group of thugs show up at the Castle family reunion looking to exact revenge, the Punisher's old man, Frank Castle Sr., mows down attackers with a shotgun and stabs a heavy with a knife. Castle Sr. perishes in the attack, of course—the family needs to die for the Punisher to live—but even after his death, he helps his kid out by leaving him a massive gun collection. Frank loves his guns, after all. Like father, like son.
Not that you'd expect anything less from the man who faced down Jaws not once but twice and lived to tell the story. As a teenager, Scheider took part in amateur boxing competitions, amassing an impressive knockout record and a broken nose. After college, he served for three years as an active member of the United States Air Force, and remained on the reserve list for a good while longer. Still, Scheider is best remembered as an actor. He netted an Academy Award nomination for playing grizzled Detective "Cloudy" Russo in The French Connection, and another for his role in All That Jazz.
It's Jaws, however, that made Scheider a legend. As Police Chief Martin Brody, Scheider is one of the three men who take to the seas in order to stop the tourist-eating great white. Reportedly, Scheider improvised Brody's most famous line, "You're gonna need a bigger boat," during filming. In his later years, Scheider focused more on politics than show business, and ultimately passed away in 2008 after a two-year illness, making cancer one of the few opponents he couldn't beat.
Garry Shandling — Senator Stern
Revered writer, comedian, and actor Garry Shandling only played a small role in the Marvel Cinematic Universe, but it was an important one. In Iron Man 2, Shandling's Senator Stern tries to discredit Iron Man and transfer Tony Stark's tech for the United States government, ultimately allying with Stark's rival, Justin Hammer. In Captain America: Winter Soldier, Stern leans towards a compromised S.H.I.E.L.D. operative and ominously whispers, "Hail HYDRA."
It's one of the most memorable parts of the movie, but it's barely a footnote in Shandling's long and accomplished career. Shandling started his career as a writer for '70s sitcoms like Sanford and Son and Welcome Back, Kotter, but decided to pursue stand-up comedy when he got sick of sitcoms' vapid content and a brutal car accident encouraged him to follow his dreams. In a roundabout way, that brought him back to television. Appearances on The Tonight Show landed Shandling a gig as one of Johnny Carson's go-to guest hosts, and eventually led to the subversive, fourth-wall breaking sitcom It's Garry Shandling's Show.
Later, Shandling funneled his Tonight Show experience into The Larry Sanders Show, an HBO series about a late night talk show. It was an instant hit. Over the course of its six-season run, The Larry Sanders Show amassed a whopping 56 Emmy nominations, helped make Jeffrey Tambor, Rip Torn, and Janeane Garofalo into household names, and cemented its place as one of the greatest television shows ever made. In 2016, Shandling appeared on Jerry Seinfeld's Comedians in Cars Getting Coffee in an episode called "It's Great That Garry Shandling Is Still Alive." He died a few months later at age 66.
Bill Paxton — John Garrett
When Agents of S.H.I.E.L.D. debuted in 2013, it didn't have a lot of star power. The series' biggest star was ER vet Ming-Na Wen, and while Clark Gregg's Phil Coulson had appeared in a handful of Marvel movies, he wasn't exactly a marquee character.
Thankfully, that didn't last. After Captain America: The Winter Soldier hit theaters, Agents of S.H.I.E.L.D. revealed its season one end game—a full-on battle between the good guys and HYDRA for control of S.H.I.E.L.D.—and rolled out the big guns. Cobie Smulders and Samuel L. Jackson made brief guest appearances, but fan favorite character actor Bill Paxton led the charge, bringing Marvel's cyborg assassin John Garrett to life onscreen for the very first time. As Garrett, Paxton lured straight-laced S.H.I.E.L.D agent Grant Ward to the dark side, uncovered the secret behind Phil Coulson's mysterious resurrection, and ultimately ended up on the wrong side of Coulson's disintegration gun.
Paxton was perfect for the part. According to executive producer Jed Whedon, Paxton was everybody's first choice to play Garrett, as unlikely as that seemed to S.H.I.E.L.D's staff at the time. In hindsight, however, his appearance is bittersweet. Paxton, who made his name in geek-friendly movies like Aliens, Terminator, Twister, Apollo 13, Tombstone, True Lies, Edge of Tomorrow, and many, many others, passed away just a few years later due to complications resulting from heart surgery.
Neil Fingleton — Ultron
If Neil Fingleton walked into a room, you might not recognize his face, but you'd certainly notice him. The British athlete-turned-actor stood at a record-setting seven feet, seven inches tall, officially making him the tallest man in Britain. As such, it should come as no surprise that Fingleton's career started with basketball. He played college ball at the University of North Carolina and College of the Holy Cross, represented Britain in the World University Games, and later played professionally in Boston, Italy, Spain, and Greece.
However, Fingleton's sports career came to an abrupt end in 2007, when an injury finished his time on a court. He turned to acting, where his massive size landed him all kinds of unique roles. In Doctor Who, Fingleton appeared opposite Peter Capaldi and Jenna Coleman as the would-be conqueror Fisher King. He played Game of Thrones' resident giant, Mag the Mighty, in Game of Thrones, a key member of Mance Rayder's wildling army.
On the Marvel side, Fingleton actually played two roles, although you'd be forgiven for not noticing him in one of them. While James Spader voiced Ultron in Avengers: Age of Ultron, he didn't work alone. Fingleton helped Spader bring the robotic despot to life, working as both a stunt performer and motion capture artist on the big-budget superhero adventure. Fingleton also played a Russian bodyguard in X-Men: First Class, one of the rare parts that actually revealed his face. He died of heart failure on February 25, 2017.
Cliff Robertson — Uncle Ben
There's no such thing as a small part. Just look at Cliff Robertson's role in Sam Raimi's Spider-Man. Compared to the rest of the cast, Robertson's Uncle Ben doesn't have much screentime, and he dies early in the movie. But it's Uncle Ben's passing that inspires Peter Parker to become a hero, and it's Ben's famous catchphrase, "With great power comes great responsibility," that serves as Spidey's guiding principle.
Uncle Ben is an important part of Spider-Man's story, and requires an actor that can radiate wisdom, warmth, and integrity. Cliff Robertson brought all three. Not that this should be a surprise, of course: much like Ben, Robertson was a real-life hero. While he stole hearts as a young JFK in P.T. 109 and won an Oscar for the lead role in Charly, he's probably best known for taking a stand against Hollywood corruption. In 1977, Robertson reported that Columbia Pictures head David Begelman had forged his name on a $10,000 check as part of a massive embezzling scheme. In the aftermath, Begelman lost his job (although he landed at MGM a few years later), and Hollywood bigwigs refused to give Robertson more parts.
Robertson never fully embraced the show business machine, and he wasn't sorry for his actions. "If I hadn't done what the law required, which was to give evidence to the authorities, I would have been a party to a crime," he told People. He eventually worked his way back into Hollywood's good graces, although before his death in 2011, he admitted that "Nobody made more mediocre films than I did." Still, Robertson stood up to the authorities, and risked his career for the better good. Ben Parker would be very, very proud.
Harry Dean Stanton — Security Guard
If you don't know Harry Dean Stanton's name, you certainly know his face. In the '60s and '70s, he slowly emerged as one of Hollywood's most reliable character actors, thanks to memorable bit parts in films and television shows like How the West Was Won, Cool Hand Luke, Gunsmoke, and The Godfather Part II. Stanton's popularity eventually lead to bigger supporting roles, including parts in Alien, Escape from New York, and The Green Mile.
Stanton could carry a movie if he needed to, however. In 1984, he took the lead in Wim Wenders' critically acclaimed Paris, Texas, and the same year, he co-starred as Bud in the cult-classic sci-fi romp Repo Man. In 1985, his star rose even higher as he played Molly Ringwald's father in Pretty in Pink, and he went on to portray the disciple Paul in Martin Scorsese's controversial Bible story The Last Temptation of Christ.
In his later years, Stanton's last big role was as a crafty cult leader in HBO's Big Love, which he appeared on between 2006 and 2010, while he played a recurring part in Twin Peaks: The Return, his second-to-last project before his September 2017 passing. In between those parts, however, Stanton found time to sneak into the Marvel Cinematic Universe with a small, blink-and-you'll-miss-it appearance in The Avengers. You know that security guard who gives a post-Hulk Bruce Banner trouble because he's not wearing any clothes? Yup, that's Stanton.
Yevgeni "Eugene" Lazarev — Anton Vanko
Every force has an equal and opposite reaction, and Tony Stark's fast-talking, uber-charming, morally flexible father is nothing if not a force of nature. Of course he's got an evil counterpart. Iron Man 2's depiction of Anton Vanko is a little different from the comics'—instead of the Crimson Dynamo or Whiplash, he's a scientist who leaves the villainy to his son—but that doesn't lessen his impact on Tony Stark's story.
In the Marvel Cinematic Universe, Vanko was a longtime Stark Industries employee (he helped Peggy and Jarvis in an episode of Agent Carter) who helped Howard Stark develop the Arc Reactor, the ultra-potent power source that powers Iron Man's suit. However, shortly after Stark and Vanko created the new technology, Vanko was found guilty of espionage and was shipped back to Russia. After a lengthy stint in a Siberia, Vanko returned to civilization to raise his son, turning Ivan Vanko against the Starks and creating Iron Man 2's main villain, Whiplash.
Thankfully, the actor who played Vanko, Yevgeni Lazarev, wasn't quite so twisted in real life. A Russian native, Lazarev was a well-known and accomplished actor in his motherland, where he was honored with the People's Artist of Russia title, the most prestigious government award a Russian performer can attain. On his move to the United States, Lazarev kept right on acting, appearing in films and TV shows like Lord of War, 24, Alias, The West Wing, and many others. He didn't keep all of that experience to himself, either—between roles, Lazarev taught acting at the University of Southern California. He died of a heart attack in 2016, just a few months after returning home from the United States.
Michael Clarke Duncan — The Kingpin
When you're casting someone like crime boss Wilson Fisk, better known to superhero fans as the Kingpin, you need someone who's got a big presence. Michael Clarke Duncan didn't just fit the bill—standing at six feet five inches and weighing close to 300 pounds—he also had charisma to spare. The actor's stature helped land him gig as the big bad in 2003's Daredevil, but he didn't coast on his size when he landed the role. While prepping for the part, Duncan hit the gym for half an hour every day, adding 40 pounds to his already massive frame.
Duncan, a superhero fan since childhood, was very enthusiastic about playing Fisk—he re-read Frank Miller's run from front to back before filming Daredevil, and returned to voice the character in Spider-Man: The New Animated Series. Still, the Kingpin was just one of many memorable parts Duncan played over the years. He entered show business by working as a bodyguard. In 1997, he was assigned to protect hip-hop artist Notorious B.I.G, but his assignment was switched at the last minute. Biggie was shot a few hours later, and Duncan dropped out of the protection market in order to pursue acting full-time.
Duncan appeared in films like Armaggedon, The Whole Nine Yards, Sin City, and others, usually playing criminals or other heavies, but his star-making turn came in 1999 when he joined the cast of Frank Darabont's The Green Mile. Duncan landed the role as the imposing but gentle inmate John Coffey thanks to his good friend Bruce Willis, and was rewarded for his efforts with a handful of award nominations, including the Academy Award for Best Supporting Actor, for his efforts. The actor passed away from a heart attack in September, 2012.
Bill Bixby — David Banner
Visit any reasonably sized comic book convention, and you'll find that Lou Ferrigno, the six-foot-five bodybuilder who played Marvel's jade giant on the Incredible Hulk television show, is alive, well, and still signing autographs for adoring fans. Unfortunately, his onscreen alter ego, Bill Bixby, is no longer with us. Bixby, who played the Dr. Jekyll to Ferrigno's Mr. Hyde, passed away in 1993 after a two-year battle with cancer.
Bixby will always be best known for his portrayal of David "Bruce" Banner, the heroic scientist who traveled the country in search of a cure for his condition, but even without the Marvel bona fides, he'd be well-remembered. In 1971, he was nominated for a Best Actor Emmy for his ongoing role in The Courtship of Eddie's Father, and followed that up in 1976 with two more Emmy nods. He was an accomplished director, helming 30 episodes of Blossom as well as other television shows. Bixby's showmanship extended offscreen, too. He performed all of his own tricks on NBC's The Magician, and belonged to Los Angeles' Magic Castle, an exclusive club for members of the magic community.
Sadly, Bixby's personal life was fraught with tragedy. In 1981, his six-year-old son Christopher died from a rare throat infection. His first wife, Brenda Benet, divorced Bixby and committed suicide the following year. He was only married to his third wife, Judith Klivan, for six weeks before cancer got the better of him. It's a sad ending for one of the most accomplished and prolific TV actors of all time—but thanks to his turn as one half of the Incredible Hulk, Bixby won't ever be truly forgotten.
Miguel Ferrer — Vice President Rodriguez
Miguel Ferrer comes from a major show business family — his cousin was superstar George Clooney, and his parents were Oscar-winner Jose Ferrer and '50s pop star Rosemary Clooney. The younger Ferrer became a prolific and intense character actor, recognizable from a number of roles, usually playing bad guys and authority figures. David Lynch fans will no doubt remember Ferrer as the incredibly opinionated FBI agent Albert Rosenfield on the original Twin Peaks, as well as the 2017 revival. He also co-starred in the 1994 adaptation of Stephen King's The Stand, playing Randall Flagg's right-hand man, Lloyd Henreid.
Of course, Ferrer didn't only show up in supernatural series. He played Dr. Garret Macy on NBC's Crossing Jordan, and he joined the cast of NCIS: Los Angeles as the mysterious Owen Granger, overseer of the Office of Special Projects. Apart from his dozens of other TV guest star roles, Ferrer made memorable appearances in films like Traffic, Hot Shots: Part Deux, and RoboCop. But observant MCU fans will remember him for his brief but important part in Iron Man 3. In the final entry of Tony Stark's trilogy, Ferrer played Rodriguez, the corrupt, Mandarin-connected vice president of the United States who tries to help assassinate President Matthew Ellis. Sadly, in January 2017, Ferrer died after a struggle with cancer, passing away at the age of 61.
John Pinette — Bumpo
When stand-up comedy boomed in the 1980s and early 1990s, when clubs popped up in most every city and cable networks filled out their programming day with shows like An Evening at the Improv and The HBO Comedy Half-Hour, a ton of joke-tellers became instantly famous and familiar. Among that class was John Pinette, a gifted stand-up and impressionist.
A heavyset man, Pinette dedicated a lot of his act to making fun of himself and his robust eating habits. His most famous bit concerned his interaction with an exasperated buffet manager. Pinette toured and taped comedy extensively while also landing acting roles. After playing a high school gym teacher on Parker Lewis Can't Lose, he appeared on Seinfeld, Dr. Katz: Professional Therapist, and in 2004, he showed up as Bumpo in the ultra-violent film adaptation of the ultra-violent revenge comic The Punisher, opposite Thomas Jane.
Pinette provided lightness and comedy to the otherwise dark movie as the easy-going character and the financial beneficiary of the Punisher righting wrongs. Tragically, in 2014, Pinette was found dead in a Pittsburgh hotel room, and a medical examiner ruled that he'd perished as a result of natural causes. Pinette was only 50.
Peter Fonda — Mephistopheles
Nicolas Cage is such a comic book fan that he named his son Kal-El (after Superman's real name) and almost starred in an ill-fated Man of Steel movie. But in 2007, he finally got a superhero franchise going with two Ghost Rider movies. Cage played Johnny Blaze, a bounty hunter forced into service for the unholy demon Mephistopheles. And playing the Ghost Rider's wicked boss was Hollywood scion Peter Fonda, brother of Jane, son of Henry, and father of Bridget.
His role in Ghost Rider was among the last in a long, legendary career. In 1969, he wrote, produced, and starred in the hippie and counterculture classic biker movie Easy Rider, for which he received his first of two Academy Award nominations. The second came for 1977's Ulee's Gold, in which Fonda starred as a grieving beekeeper with a troubled family. In between, Fonda appeared in dozens of well-known movies, including The Last Movie, The Cannonball Run, and Escape from L.A. In 2019, the official Marvel movie actor (and unofficial, as his Easy Rider character was nicknamed "Captain America") passed away at age 79 after a battle with lung cancer.
Irrfan Khan — Rajit Ratha
Just before 2010, Irrfan Khan started to pop up in all kinds of popular and acclaimed American and British films. He played a police detective in the Oscar-nominated Slumdog Millionaire, and he portrayed the adult version of main character Pi Patel, recalling his survival of a shipwreck in the Oscar-nominated Life of Pi. He also showed up as dinosaur park owner Simon Masrani in Jurassic World, and he also played the villainous Provost in Inferno.
Fans of Andrew Garflield's Peter Parker will also recognize him from The Amazing Spider-Man, where he played Oscorp executive and scientist Dr. Rajit Ratha, whom Spidey attempts to save from certain doom. But even before his many high-profile roles in Western blockbusters, Khan was a superstar and one of the most acclaimed and beloved actors of all time in India. A prolific television actor, Khan broke through to the A-list of Indian cinema in the 2000s and won numerous accolades for his work in Life in a Metro, Haasil, and Paan Singh Tomar, which won the man a National Film Award for Best Actor.
Shockingly, in 2018, Khan announced that he'd been diagnosed with a neuroendocrine tumor, and following a hospitalization in Mumbai for an infection in 2020, the superstar died at age 53.
Richard Kiley — The Cosmos
Back in 2008, Iron Man became the first Marvel Cinematic Universe entry, but the modern history of movies based on Marvel Comics characters goes back to 1986 with Howard the Duck, a critically reviled box office flop about a wisecracking extraterrestrial water fowl. The title character deals with all sorts of sci-fi stuff, including the Cosmos itself, personified and voiced by veteran actor Richard Kiley.
And there's a reason Kiley was hired for his vocals. By 1986, Kiley was best known for his pipes. He'd provided narration for many National Geographic TV specials and dozens of TV commercials. He was such a prolific voice actor that he got a shoutout in Jurassic Park when dinosaur island director John Hammond (Richard Attenborough) remarked that he "spared no expense" in landing Kiley as the voice of the park's automated tour.
Kiley was a decorated actor, winning four Emmy Awards – one for A Year in the Life and one for The Thorn Birds, among others — and two Tony Awards, including one for Man of La Mancha, in which Kiley originated the role of Don Quixote and introduced the standard "The Impossible Dream." Kiley died in march 1999 of a blood disorder. He was 76 years old.
Derrick O'Connor — Father Everett
There are those particular director/actor team-ups where the mutual fondness and familiarity breeds magic every time the duo collaborates. There's Martin Scorsese and Leonardo DiCaprio, for example, or Toshiro Mifune and Akira Kurosawa. And then there's the less-known but equally amazing duo of Terry Gilliam and Derrick O'Connor, who worked together on three bizarre, visionary, surreal films – Jabberwocky, Time Bandits, and Brazil.
Those beloved films were made better by O'Connor's often very physical, lightly verbal performances, and he brought his idiosyncratic style to other widely liked movies, including Lethal Weapon 2 (as two-faced South African mercenary Pieter Vorstedt), Pirates of the Caribbean: Dead Man's Chest (as an old buccaneer), and the 2003 Ben Affleck-starring Marvel movie Daredevil. In that reviled superhero flick, O'Connor portrayed Father Everett, confidante to the hero's Matt Murdock alter ego and a priest who doesn't think too much of his pal's vigilante crimefighting behavior. The versatile, physically chameleonic actor died in June 2018, succumbing to pneumonia. O'Connor was 77.
Darren McGavin — General Fleming
In the superhero cinematic wilderness of the 1990s — long before Tobey Maguire played Spider-Man or the launch of the Marvel Cinematic Universe — comics fans hungry for content had to make do with fare like Captain America, a low-budget adaptation released direct to home video and cable in 1992. Little-known up-and-comer Matt Salinger (son of acclaimed and reclusive author J.D. Salinger) played Steve Rogers, and the best-known actor in the film was arguably Darren McGavin, who portrayed World War II-era military authority figure General Fleming.
The familiar-faced character actor had worked in mainstream movies and television since the 1950s, when he starred in the shows Mickey Spillane's Mike Hammer and Riverboat. In the '70s, McGavin headlined the cult horror/sci-fi series Kolchak: The Night Stalker, just a few years before he'd land his most famous role, that of Ralphie's father — or the "Old Man" — in A Christmas Story. He'd play dads often, including a recurring role as Murphy Brown's father on Murphy Brown and Billy Madison's father in Billy Madison. Sadly, McGavin passed away in 2006 at the age of 83, leaving behind many roles that were far more memorable than his part in Captain America.
Reg E. Cathey – James Lucas
As one of film and TV's most prolific, intense, and versatile character actors, it's hard to say exactly which role is the one for which Reg E. Cathey is best known. It might be warden Martin Querns on the harrowing prison drama Oz, or political organizer Norman Wilson on The Wire, the chief of police on Robert Kirkman's Outcast, a detective on the cult hit Banshee, various roles on the 1980s PBS educational sketch comedy show Square One Television, or barbecue joint proprietor Freddy Hayes on House of Cards, which won Cathey an Emmy Award for Outstanding Guest Actor in a Drama Series. Cathey also played more than one role in multiple Marvel franchises. In the 2015 Fantastic Four reboot, he portrayed Dr. Franklin Storm, father of superheroes Sue and Johnny Storm, and on the Netflix MCU-adjacent series Luke Cage, Cathey took the role of James Lucas, a pastor and the father of the titular character.
In February 2018, Cathey died at his New York City home. According to the New York Times, the cause of death was lung cancer. Cathey was 59.
Dr. Wesley Von Spears – Holographic Dog
Dr. Wesley Von Spears appeared briefly in both Guardians of the Galaxy films. He didn't have any lines, but he was memorable just the same, because Von Spears is a dog. In Guardians of the Galaxy, he portrayed "Holographic Dog," and in Guardians of the Galaxy Vol. 2 he played the part of "Dog in the Back of Truck at Dairy Queen." In Hollywood, landing a role is sometimes about who you know, and nepotism definitely played a part in Von Spears' casting in the MCU — he's the pet of Guardians writer-director James Gunn. The dog's influence on Marvel movies comprises more than just a couple of cameos. "Truthfully, a lot of Groot is based on my dog Von Spears," Gunn told i09. "I think there's a sort of puppy-like innocence to Groot. That if my dog could talk, it would probably say, 'I am Groot.'"
Dr. Wesley Von Spears died at age 17 in February 2020. Gunn briefly delayed filming on his next film, The Suicide Squad, to fly home and be with his dog in his final moments.