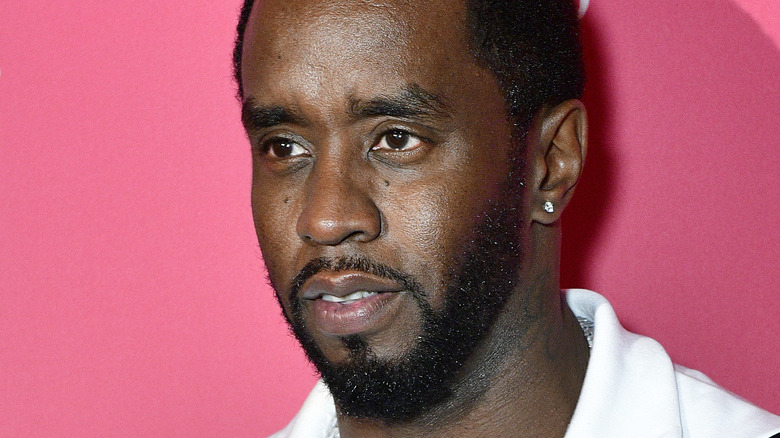 As a genre, hip-hop is one of the youngest forms of music to hit the mainstream. Its popularity did not first get noticed until the Reagan Administration, and it was not until the days of President Clinton that it exploded into the mainstream like a cannon. Still, even during its earliest days, hip-hop has held a loyal base of support that stretched outside the African American community, who were the genre's first artists and audiences.
A few decades after The Sugarhill Gang's "Rapper's Delight" hit the top 40 in 1979, hip-hop has become an institution in pop culture and as American as country and rock 'n' roll. Its artists are celebrities, icons, and superstars around the world. The music has gone from the streets of New York City and underground house parties to headlining massive festivals and soundtracking award-winning films. Even hip-hop fashion and language have become mainstream, used today by people who would have clutched their pearls at the music in the 1980s. And with all of this, comes the Benjamins.
Hip-hop has taken a number of individuals into states of wealth they would have never dreamed of. A generation of rappers and producers now have what people would refer to as "new money" or "first-generation wealth." These men and women in the industry have truly achieved the American Dream with their rags-to-riches stories. Here are the richest hip-hop stars in the world today.
Ad-Rock and Mike D went from punk to hip-hop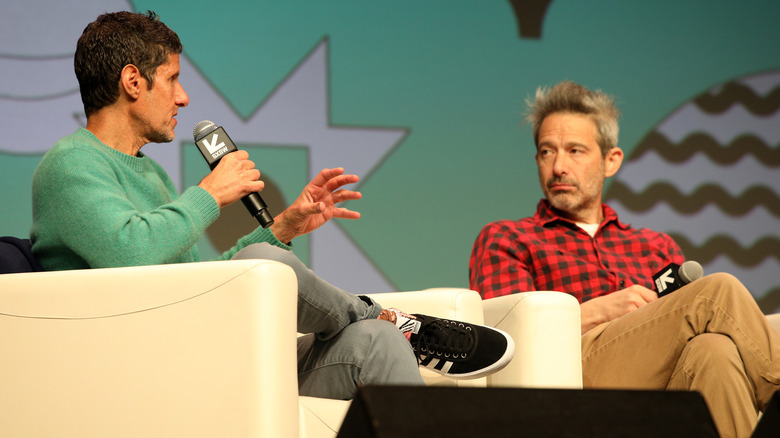 When the Beastie Boys first broke into hip-hop in the mid-1980s, it was an important turning point in rap's evolution. The trio were the first popular white artists in hip-hop, and despite fears of cultural appropriation and turning the genre into a parody of itself, the group instead became as important as any other act. Combining hip-hop lyrics with their background in hard rock and punk music, the Beastie Boys paved their own path and became foundational to both hip-hop and nu-metal.
According to Celebrity Net Worth, the trio met as teenagers deeply entwined in the New York punk movement of the late 1970s. However, in the early 1980s, the group grew from their punk sound into the new underground music movement in New York City in the early 1980s, rap.
Unfortunately, Adam Yauch, also known by his stage name MCA, passed away from cancer in 2012, ending the band after more than a quarter-century of music. That same year, the group was elected into the Rock and Roll Hall of Fame. The two surviving members, Adam Horovitz (also known as Ad-Rock) and Michael Diamond (also known as Mike D) both hold a net worth of $90 million each, as told by Wealthy Gorilla.
Jay-Z was the first rap billionaire
He's not a businessman, he's a business, man! Sean Carter's first album, "Reasonable Doubt," did not get released until he was in his late 20s. Amid the New York hip-hop scene of the early and mid-'90s, Jay-Z stood on equal ground with stars like Biggie Smalls, Big Pun, and Big L. By the end of the decade, the three men had passed away, leaving Jay-Z to hold the crowd as the new King of New York hip-hop.
In the world of hip-hop, there are very few artists who have had a longer career than Jay-Z. He is an outlier in a genre where youth is king. Over the span of three decades, he has released both commercially and critically acclaimed albums. However, it's his business dealings outside of the studio that have put here.
According to Wealthy Gorilla, Jay-Z became the first rapper to become a billionaire and remains one of only two to do so. His estimated net worth today, as detailed by Celebrity Net Worth, is $1.3 billion. This has come from his investments into clothing lines, record companies, nightclubs, and even a minority ownership in the Brooklyn Nets. He held the top spot until April 2020, when he was surpassed by one of his frequent collaborators.
Kanye West is the richest hip-hop star of them all
What can be said about Kanye Omari West that he hasn't already said about himself? There are so many angles one could take with the artist. Today, about two decades after hitting the mainstream with his work as a producer for many other artists and his own studio albums, West's is the most recognized name in the genre. He has shocked the worlds of fashion, music, art, celebrity tabloids, and politics. One thing remains true for West, though, he is the modern icon in hip-hop.
According to Wealthy Gorilla, in April 2020, West surpassed his collaborator Jay-Z as the wealthiest rapper of all time. In fact, West has more than surpassed Jay-Z — he's lapped him five times over! As estimated by Celebrity Net Worth, West holds a net worth of $6.6 billion. West's "Yeezy" clothing line has helped him grow his fortune, and as the sole owner, he earns hundreds of millions in royalties each year. West, for his part, has proved to be a shrewd businessman, as he also makes a pretty penny with his partnership with Adidas. According to The New York Times, West and Gap inked a 10-year partnership in 2020. The two sides hope that halfway through their venture, they will have taken home $1 billion each.
Kanye West's ventures in music, touring, fashion, and real estate have not only made him the richest person in hip-hop but also the richest African American in the history of the United States.
Queen Latifah is much more than an emcee
Hip-hop has not had another artist who has converted into the world of film and television better than Queen Latifah. Today, many people forget that before she was an award-winning actress, Queen Latifah was a rap star and one of the first female emcees who broke the glass ceiling in the world of hip-hop.
When Dana Owens broke into hip-hop in the late 1980s, her songs were messages to the male-dominated industry of the era that she and other female emcees deserved an equal share of the musical pie. Her songs became hip-hop feminist anthems, such as "Ladies First," "U.N.I.T.Y" and "Just Another Day." Her first album, "All Hail the Queen," declared her arrival to the world of hip-hop.
Celebrity Net Worth pegs Latifah at $70 million, the second-highest among female rappers. Her wealth, like Kanye West and Jay-Z, comes not from her music but her other projects. These projects include being a spokesperson for Pizza Hut, CoverGirl, and Jenny Craig, as well as her own line of cosmetics for women of color. She hosted her own daytime talk show that ran from 1999 to 2001 and continues to star in leading roles on both the small and big screens. Musically, she has branched out into different genres. In 2004, she released, "The Dana Owens Album," which shifted her sound from hip-hop to jazz and soul.
Timbaland produced some of hip-hop's biggest names
According to Worthly, as a rapper, Timbaland has recorded three studio albums. Still, it's not Timbaland's work as an emcee that has placed him in the pantheon of hip-hop, nor has it placed him as one of the richest hip-hop stars in the world. Instead, his work as a producer for some of the biggest artists in the worlds of hip-hop and R&B has earned Timothy Mosely a net worth of $80 million, as told by Wealthy Gorilla.
His first work as a producer was with R&B musicians, according to Celebrity Net Worth. In 1996, he produced the debut album for Ginuwine. The album's hit single, "Pony," put Timbaland's name on the map. He continued to find success as a producer when he worked with "The Princess of R&B," Aaliyah. Not long after his collaboration with Aaliyah, Timbaland found himself working with another female superstar in the music world, this time in the world of hip-hop. Missy Elliot and Timbaland collaborated on Elliot's debut album, "Supa Dupa Fly," which turned Elliot into a superstar and became one of the most celebrated albums of the era.
Since then, Timbaland has continued to work as a producer in both the worlds of hip-hop and R&B. He has catalogs with Eminem, Jay-Z, Method Man, and Nas, just to name a few. Timbaland said this about his desire as an artist: "I'm trying to bring the street to pop. Not watering it down, no nothing."
Missy Elliot shines as both a rapper and producer
It's hard to mention Timbaland without thinking about Missy Elliot in the world of popular music, so why should it be any different here? The duo has worked together frequently, like a hip-hop version of Quincy Jones and Michael Jackson. Their collaboration isn't just as musician and producer, but instead a partnership between childhood friends.
According to Biography, Elliot was born Melissa Arnette Elliott on July 1, 1971, in Portsmouth, Virginia. Unfortunately, Elliot's home life was unstable, and she grew up witnessing both poverty and domestic abuse, which led the young girl to develop depression that she still struggles with. Finding solace in music and her Baptist faith, Elliot partnered with her friend, Timbaland, after her girl group disbanded before they could release their first album, which Elliot herself wrote.
After releasing her debut album "Supa Dupa Fly," Elliot followed her friend and worked as a producer for some of the biggest artists in the world. From Whitney Houston and Madonna to Britney Spears and Mel B, Elliot has been as busy as a producer as she is as a rapper. Her music has netted her a $50 million net worth, according to Wealthy Gorilla. This puts her at third among female emcees, though her legacy in the genre is second to none among women in hip-hop.
If you or someone you know is dealing with domestic abuse, you can call the National Domestic Violence Hotline at 1−800−799−7233. You can also find more information, resources, and support at their website.
Hip-hop owes much to Rick Rubin
Unlike the other producers on this list, Rick Rubin is not an actual rapper. He has never picked up a mic like Kanye West, Missy Elliot, or Timbaland. That being said, his importance in the genre undisputedly surpasses that of his fellow producers. In fact, there might not be a more important figure in hip-hop's evolution than Rubin. According to Worthly, at the dawning of the genre in the early 1980s, Rubin and Russell Simmons co-founded Def Jam Records. Rubin produced the label's artists, such as the Beastie Boys, Run DMC, and LL Cool J. As noted by Celebrity Net Worth, his sound was forceful, heavily influenced by rock records, and became very popular. It was on Rubin's watch that Def Jam became the top record company in hip-hop and that the artists on Def Jam became the first superstars in the genre. It can be said that Rubin's production helped launch the genre itself to the mainstream!
His work with Def Jam and his continued production with other artists, both in and outside the rap world, have garnered both critical and commercial acclaim for Rubin, as well as a nice-looking bank account. Rubin's net worth is valued at $400 million (via Worthly). This is even greater than all the artists he has worked with. Despite having a beard that makes him look like the long-lost fourth member of ZZ Top, Rubin's heart, soul, legacy, and bank account belong to hip-hop.
Dr. Dre made the West Coast a thing
Dr. Dre picked up on the West Coast what Rick Rubin launched in New York City. With N.W.A, Dre established the sound and bravado of West Coast hip-hop and gangster rap. The sound of his first album, "The Chronic," Dre's "G-Funk" made the West Coast the new center of rap.
Born Andre Young in Compton, California, the man who would become Dr. Dre nearly single-handedly put West Coast hip-hop on the map in the late 1980s and then made it the capital of the musical genre in the early and mid-'90s. This was done as a rapper, producer, and talent scout. Some of the biggest names in hip-hop, such as Eazy-E, Ice Cube, Snoop Dogg, Eminem, and 50 Cent got their starts under the wing (and production) of Dr. Dre.
Over the past decade, it has not been Dr. Dre's producing skills or his album royalties that have been growing his bank account. Instead, his line of headphones and speakers, Beats by Dre, has become a staple in hip-hop and pop culture. Athletes, musicians, and everyday fans cannot wait to get their hands on the popular products. When Dre sold Beats to Apple for $3 billion, it was believed that this would make him the first billionaire in hip-hop, according to Worthly. However, this was not the case. As reported by Wealthy Gorilla, Dr. Dre's net worth sits at $820 million, shy of $1 billion but still the highest among West Coast artists.
Sean Combs knows business
If Dr. Dre was Magic Johnson on the West Coast, Sean Combs is hip-hop's Larry Bird. The two are forever connected through the East Coast/West Coast rivalry as their two record companies, Dre's Death Row Records and Diddy's Bad Boy, battled for hip-hop coastal supremacy. After the war ended with the deaths of Tupac Shakur and Combs' friend and music partner, Christopher Wallace (aka Biggie Smalls), Combs launched his own rap career and became a global mogul.
Sean Combs (also known as Puff Daddy, P Diddy, Puffy, and Diddy) holds one of the highest net worths in all of hip-hop at just under a billion. Celebrity Net Worth estimates him at $900 million. Breaking through in the 1990s, Combs has produced material for Biggie Smalls, Ma$e, LL Cool J, and many other artists in and outside of hip-hop. Like Kanye West, Combs' ventures in clothing have helped him earned much of his wealth.
Worthly reports that while taking a step back from his own music career, Diddy has earned money from his clothing company, Sean John, and his popular vodka, Ciroc. Diddy also is a major stakeholder in the television channel Revolt TV. Combs has also acted in a number of films, such as "Monster's Ball" and "A Raisin in the Sun." Today, there might not be an elder rapper more recognizable in popular culture than Sean Combs.
Akon has done quite well for himself
Akon is the classic example of someone who broke into music as a rapper, only to climb the corporate ladder to become the head of an industry he was just a cog in. Mixing rap with R&B, Akon burst onto the scene in 2004 with the album "Trouble," according to Wealthy Gorilla.
As told by Celebrity Net Worth, the album featured the hit singles "Locked Up" and "Lonely," which helped the American-Senegalese artist break into the mainstream. His next album, "Konvicted," was even more successful and saw him working with Eminem and Snoop Dogg, the latter of whom would collaborate on the song "I Wanna Love You," Akon's first No. 1 single. 2008 would see more collaborations with top artists like Lil Wayne and Young Jeezy on the album "Freedom," though the highlight of his year would be co-writing Lady Gaga's breakout single, "Just Dance."
From 2008 to 2011, Akon earned $66 million. Much of this came outside of music, as the rap star owns two separate clothing lines, Konvict Clothing and Alianune. He is also an investor in many entrepreneurial ventures, which has led to an estimated net worth of $80 million. Akon has used much of his money for philanthropic work in his homeland of Senegal.
Swizz Beatz has worked with a wide range of artists
In the late 1990s, Kasseem Dean, aka Swizz Beatz, was just a teenager when he produced some of the biggest hits for the artists under Ruff Ryders Entertainment. According to AllMusic, this included Eve, Style-P, and the label's superstar, DMX. Beatz launched this work into a career, that is today more than two decades old, as a top-notch producer in hip-hop.
Celebrity Net Worth places Beatz's net worth at $150 million. This is unsurprising, as, outside the Ruff Ryder's lineup, he has worked with some of the biggest names in all of music throughout the past quarter-century. From rap's biggest stars like Nicki Minaj, Nas, and Jay-Z to to R&B artists like Chris Brown and Alicia Keys to U2 frontman Bono, Swizz Beatz's catalog would make for the greatest music festival ever seen. The diverse array of artists who have worked with Beatz goes hand-in-hand with his interest less in albums and more in singles. Despite more than 20 years in the music world, Beatz has released only two solo albums.
Outside the world of music, Swizz Beatz has also found financial success as an art collector and as a fashion designer.
Nicki Minaj is the richest woman in hip-hop
All hail the queen! Nicki Minaj has been the dominant female emcee for more than a decade and with a net worth of $75 million, as told by Wealthy Gorilla, she has surpassed all other female rappers in hip-hop. Minaj was born Onika Tanya Maraj on December 8, 1982, in Trinidad and Tobago and moved to the center of hip-hop, Queens, New York, when she was 5. There, according to Celebrity Net Worth, she developed as an underground rapper with a string of popular mixtapes, "Playtime Is Over," "Sucka Free," and "Beam Me Up, Scotty." Soon, Minaj went from underground sensation to mainstream hitmaker, working with some of the biggest names in hip-hop, such as Drake, Lil Wayne, and Birdman.
Minaj has also worked as an actress, appearing in "The Other Woman" and "Barbershop: The Next Cut." She has also modeled and worked as a judge on "American Idol." Minaj puts it the best when discussing having control over her career: "When I win and when I lose, I take ownership of it, because I really am in charge of what I do" (via HuffPost).