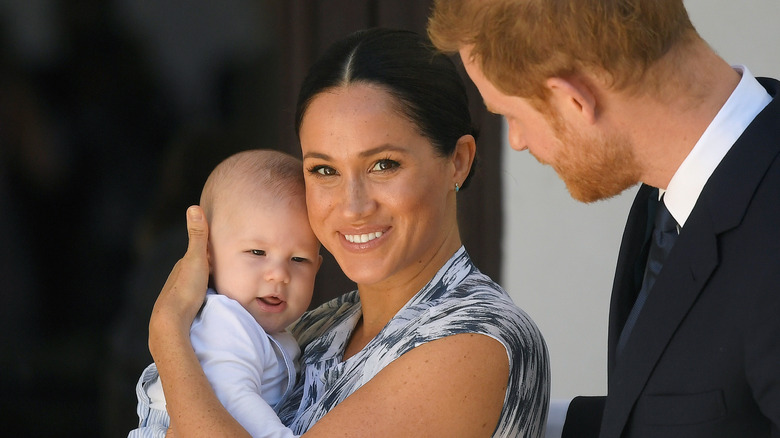 Royals have been parent-shamed, just like many other fathers and mothers across the globe. For all the positives that social media has brought to the world, it's also given rise to cyber-bullying, and, when hidden behind keyboards, people become much more likely to dish out unnecessary criticisms and downright rude comments.
Parent-shaming has also become exceedingly present, though it's not limited to online attacks. Psychotherapist Heather Quinlan told Marie Claire, "Mean mom behavior can be exacerbated by shaky self-esteem and a drive to be more successful, happier, richer, prettier, and 'better than' other moms — and social media can be a triggering factor."
Celebrity parents, in particular, are frequently victim to this form of bullying with millions watching their every move online. In an ITV News interview, Meghan Markle opened up about her own struggles, telling the interviewer, "Any woman, especially when they're pregnant, you're really vulnerable, and so that was made really challenging." She's certainly not the only royal parent to experience unwanted criticism, and her openness about her struggles has shed a bright light on just how much she and her royal counterparts have had to endure as parents.
Meghan Markle was parent-shamed for how she held Prince Archie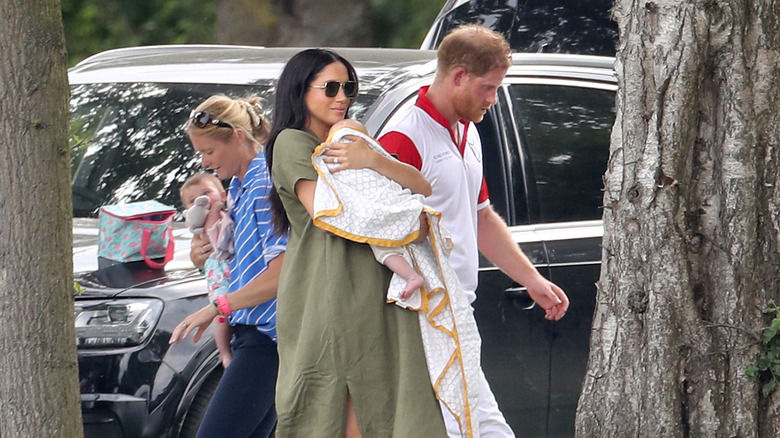 On one of Meghan Markle's first outings with her and husband Prince Harry's son, Archie, she was relentlessly parent-shamed online for how she was carrying the newborn. Today reported on the backlash, citing a Twitter user who said Meghan didn't have "any maternal instincts at all," among other social media comments targeting the new mom. Given Meghan's comments about feeling vulnerable in her and Prince Harry's ITV News interview, we know these overly critical remarks must have hit close to home, as they would for any new mom.
Plus, remember that, since 2016, Meghan Markle has fallen in love, gotten engaged, gotten married, and become a mom for the first time. Balancing all that while joining one of the most famous families in the world was certainly no easy task, so, in the grand scheme of things, criticizing how she held her baby was pretty low-hanging fruit. And according to an expert, the royal wasn't even doing anything wrong.
Pediatrician Dr. David L. Hill told Today, "In general, at two months of age, there is enough head control that you don't have to constantly cradle the head."
Prince William and Duchess Kate took an adults-only vacation after George was born
In 2013, Prince William and Kate Middleton had their first child, Prince George. Since then, the future king and queen, who are just two of the royals who are anything but traditional, can't seem to catch a break.
Seven months after Prince George was born, the couple came under fire when they took a parents-only vacation to the Maldives, leaving George with Kate's parents. According to the Daily Mail, critics of the couple had problems with the trip because they had just gotten back from a family vacation to Mustique. The outlet pointed to multiple comments on the site Mumsnet that parent-shamed the royals for their decision.
One user reportedly wrote, "Can't imagine choosing to be so far from my baby for so long," while others lamented that it seemed the couple's life was turning into one endless extravagant vacation. One woman, however, commended William and Kate for prioritizing their marriage. Leaving a newborn at home was likely an incredibly difficult thing for the new parents to do, but, if it offered them a chance to take a break from their extensive duties to focus on their relationship, can they really be blamed?
Royal Kate Middleton was parent-shamed for letting Prince George play with this toy
In June 2018, Kate Middleton attended Prince William's polo match with royal children Prince George and Princess Charlotte in tow. What seemed like a quiet family outing ended up sparking very real outrage and a huge discussion. In the photos from the event, Prince George could be seen playing with toy guns. Understandably so, the internet had a ton of thoughts and were ready to parent-shame. Metro reported on the incident and pointed to several comments from disgruntled social media users to summarize the controversy. One person tweeted, "No child in this day and age should look at any gun as a fun toy. This looks far too real."
While many, many social media users were taken aback by the images, InTouch reported that Kate had some defenders, too. Several users pointed out how common it was for kids to have toy guns, with one person saying, "Just leave the boy alone and let him be a child."
Sarah Ferguson likely embarrassed royal Princess Eugenie with cringe-inducing Twitter posts
Parents don't stop being parents when their kids grow up, and Sarah Ferguson's social media posts celebrating her daughter's engagement proved just that. When Princess Eugenie's engagement to Jack Brooksbank was announced in January 2018, Ferguson took to Twitter to share her unbridled joy at the occasion. People were divided over whether or not the multiple photos accompanied by cheesy messages were sweet or simply too much.
One of Ferguson's posts from that evening, a grainy photo of the newly engaged couple with the message "Thank you for your message and for sharing all our happiness with them and you" written over it in a script font received a few negative comments. One user said, "Keep QUIET. It's all well and good and Yes, rather exciting, but keep it in the family. Act appropriate." Some users believed this kind of over-excited sharing was not befitting of a member of the royal family, and they weren't alone in that line of thought, as others also parent-shamed Ferguson for her behavior.
According to the Daily Mail, after Ferguson's tweets were sent, a scheduled BBC interview with her was canceled, and Prince Edward spoke to the outlet alone instead.
Royal Prince William buckled a swaddled Prince George in his car seat and faced parent-shamers' wrath
Becoming a parent for the first time comes with a host of challenges, and, when you're a royal, everything you do is under a microscope, with every tiny mistake painstakingly analyzed. The world was watching when Prince William and Kate Middleton introduced their first child to the world in 2013. While many fans of the couple were busy noticing how the pair seemed calm, cool, and collected while standing as a family for the first time on the Lindo Wing steps, others noticed something amiss with Prince George's car seat.
HuffPost reported on the controversy, sharing photos of Prince William carrying a swaddled Prince George in his car seat — a big no-no. Several people took to online forums to discuss the matter, with many parent-shaming the royals (via Mommyish). While the photos shared from the moment do indeed show Prince George not quite properly in his seat, viewers have no idea if the new parents didn't immediately correct his position when safely in their car.
One of the major issues with social media is the focus on singular moments that don't tell the entire story. It's entirely possible William and Kate knew more at that moment than the internet gave them credit for.
Royal Kate Middleton appeared on the Lindo Steps "too soon" after giving birth, said parent-shamers
The images of royal mothers on the steps of the Lindo Wing are iconic. With each of her children, Kate Middleton has appeared on the steps alongside her husband, smiling for the horde of cameras as she introduces their newest addition to the world. On some of these appearances, she has even honored her late mother-in-law, Princess Diana. But even a sweet moment steeped in tradition isn't safe from parent-shaming.
In 2018, the duchess appeared on the famous steps just seven hours after giving birth to Prince Louis. While many considered this to be nothing short of inspiring — with even Serena Williams telling InStyle that Middleton was "No. 1" after this moment — she also received heavy criticism for her seemingly perfect appearance so soon after giving birth.
According to Express, radio host Meshel Laurie was having none of this "inspiring" talk, finding all the praise Kate received to be troubling. The host wasn't alone in these thoughts, either. Express reported that multiple people took to social media to share similar views, pointing out that they believed Kate's appearance was creating an unrealistic expectation for new moms.
Prince George and Princess Charlotte weren't in car seats on the way to Eugenie's royal wedding
While some criticisms of the royal parents are nitpicky and inconsequential in nature, others are much more ripe for debate. In October 2018, for example, Prince George and Princess Charlotte were seen riding in the back of a car, sans car seat and seatbelt, on the way to Princess Eugenie's wedding. Understandably, this raised quite a few eyebrows.
While this looked like a clear case of right and wrong, InStyle reported that U.K. laws regarding car seats are extremely different than those with which U.S. residents are obviously more familiar. In the U.K., children don't have to sit in car seats if they're over 3 years old, and they don't even have to use seatbelts if the car isn't equipped with them. Both things that InStyle suggested would have been applicable in this case, as the car the royals were traveling in was an old model and both children were older than 3 years old at the time.
What's more, an expert interviewed by InStyle also revealed that, because Windsor Castle is a private property, transport safety laws would not apply. All of this, and considering the car was traveling at or slower than five miles per hour, suggests the parent-shaming the royal family received on this matter was largely unwarranted.
Princess Diana held royal newborn William in the backseat of a car
Even before the age of social media, the royal family was under the watchful eye of people the world over. And even years later, seemingly innocuous royal moments can come under scrutiny and spark parent-shaming. That was the case with a photo of Princess Diana holding a newborn Prince William in the back of a car that was unearthed by PopSugar — no car seat or seat belts in sight! However, as is the situation with so many other parenting "mistakes" made by royals, any criticism here would have likely been unfair. As PopSugar noted, when Prince William was born in 1982, the U.K. didn't have seat belt laws yet and car seats weren't widely used.
Any criticism of Prince Charles and Diana's decision to not use a car seat would likely fall on deaf ears. By most accounts, Diana, who demonstrated a stunning transformation over the years, was a great mother who prioritized her kids and tried to show them what the world was really like (via History Extra). As with everything, context is key. Internet users with a penchant for calling out others on what they deem to be bad behavior would do well to get the full story before dishing out an opinion that may, after all, not hold up.
Mom-shamers harassed Meghan Markle for leaving Archie to go to a tennis match
It's hard to imagine anyone giving a new mom grief simply for going out of town for a couple of days to support a friend, but that's just what happened in 2019 when Meghan Markle traveled to New York to watch her pal Serena Williams play in the US Open. Parent shamers were furious that Meghan left Archie at home, noted Cosmopolitan, although really, what would a four-month-old do at a tennis match, anyway?
Sure, Meghan could have stayed home, but who could blame her for wanting some me time? Besides, it seems like she did consider doing this, as the trip was reportedly one that was decided upon at the last minute.
We're sure that baby Archie was in good hands with Prince Harry, and Meghan no doubt appreciated her mini-vacay, although it was probably marred by the fact that outlets like the Daily Mail painted her as a cold and unfeeling mother for supposedly abandoning her child by daring to take a couple of days for herself. Yikes.
Prince Harry was dad-shamed for traveling shortly after Archie was born
Meghan Markle wasn't the only one shamed for traveling after the birth of baby Archie. Prince Harry was also slammed for conducting some royal business shortly after their first child was born. Per The Bump, Archie was less than a month old when Harry traveled to Italy for the 2019 Sentebale ISPS Handa Polo Cup.
This wasn't exactly a leisure jaunt, as the event was a fundraiser to support people with HIV, and Harry's appearance had been scheduled for some time. Still, that didn't prevent tongues from wagging. Prince Harry's friend Ignacio Figueras, a professional polo player, was forced to defend the royal from the press after one reporter asked him how Meghan felt about Harry traveling so soon after Archie's birth. Figueras pointed out that "sometimes duty calls," and that Harry was only leaving his newborn for a day.
Figueras later took to Instagram to call his friend "a kind, generous, compassionate person who is constantly thinking about how to make the world a better place."
Meghan Markle was ridiculed by parent-shamers for reading a book with Archie on Instagram
Even something as seemingly innocent as reading a book can bring out royal mommy shamers in droves. Meghan Markle learned this when she read a book to Archie on his first birthday in 2020. The video was posted to the Instagram account Save The Children UK to raise money for "the most vulnerable families in the UK" in the wake of the COVID-19 pandemic.
Even though it was for a good cause, shamers seemed to agree with the assessment of author Emily Giffin, who slammed Meghan's storytime with Archie on social media. "This is the Meghan show," she wrote on Instagram (via Fatherly). "Why didn't she film and let Harry read…?" Giffin also criticized Meghan for Archie appearing with "no pants" on video, although he was wearing a perfectly nice and age-appropriate onesie.
Other criticisms from social media users include one person who tweeted at Meghan to "PUT SOME CLOTHES ON HIM." Another even accused her of not changing Archie's diaper, writing, "The diaper also looks loaded … Poor kid."
Prince William was criticized for supporting Prince George's love of ballet
Most people would say that a parent supporting their kid's passions is doing right by them. Unless you're Prince William, that is, and people expect you to uphold traditional gender roles.
Many applauded the future king in 2019 after he revealed that his oldest child, Prince George, was studying ballet at school and loving it. It should be noted that ballet is a required part of the curriculum for young students — regardless of gender — at Prince George's school. But that didn't stop people from making fun of Prince George for participating in what many view to be a feminine pastime. One Twitter user said people should "stop encouraging" Prince George, stating that "he should be redirected as any man should be." Good Morning America host Lara Spencer mocked the royals on air, saying, "William says George absolutely loves ballet. I have news for you Prince William, we'll see how long that lasts."
Spencer later apologized for her comments, acknowledging the "bravery it takes for a young boy to pursue a career in dance."
Parent-shamers slammed Meghan Markle for touching her baby bump
We've all seen expectant parents cradling their baby bump. It's a natural thing and reflects the urge to protect and care for one's child. Shamers blasted Meghan Markle for doing just that, though, accusing her of somehow flaunting her pregnancy by doing something that was quite likely an instinctual move.
"If I see one more photo of Meghan Markle cradling that bump I am going to vomit," tweeted one person (via Us Weekly). Another wrote, "She should learn from Kate [Middleton] on how to pose regally when pregnant. Both hands discretely under the bump." Still, another tweeted, "Meghan Markle is a prime example of a pregnant woman who feels the need to 'cradle' her bump. Why? I'm pretty sure it won't fall off."
For the record, there's nothing wrong with cradling a baby bump. "It's a positive thing for both mum and baby to touch and reassure baby, which is vital for [babies'] bonding and well being, staving off postnatal depression and facilitating healthy connection for all," KG Hypnobirthing founder Katherine Graves told the Daily Mail.
Meghan Markle was shamed for announcing her second pregnancy
Parent-shaming can be cruel, but also senseless. Of the many bizarre things that Meghan Markle has been shamed for, one of the worst is the shaming she received after simply announcing her pregnancy. The royal was met with backlash after the announcement that she and Prince Harry were expecting another child in 2021. Per Marie Claire Australia, a British tabloid covered the announcement with the headline "Publicity-Shy Woman Tells 7.67 BN People: I'm Pregnant."
Making the shaming even crueler is that Meghan had previously revealed that she'd suffered a miscarriage several months earlier. "I knew, as I clutched my firstborn child, that I was losing my second," she wrote in a heartbreaking piece for The New York Times in November 2020.
The criticism of the announcement was a jab at Meghan and Harry leaving the royal family in search of a more private life, but, realistically, it's not like they could have kept the existence of another child a secret from the world. Plus, as one Twitter user pointed out, Meghan has "never been shy of publicity" but has rather "been critical of bullying and misrepresentation in the media."