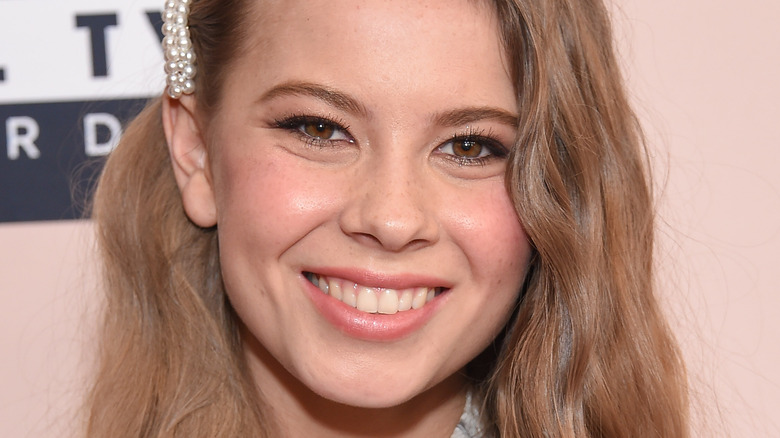 We all got to know the Irwin family due to famous crocodile hunter Steve Irwin. The Australian family quickly won over the hearts of people everywhere, in part due to their environmental advocacy and, of course, their sweet nature. Steve married Terri Irwin in 1992 (via People), and the couple had two children — Bindi Irwin and Robert Irwin. The world has watched as rising star Bindi has grown up, and, as she's made a name for herself, she's shared the healthy aspects of her life, including her eating habits, perhaps so we can all try to emulate the beneficial ways she fuels her body.
Bindi showed us her physical capabilities while on "Dancing With the Stars" and made people swoon when she got married to her longtime boyfriend. Things truly felt full circle when she gave birth to her first baby. It truly feels like we've been on a journey with Bindi, and in turn, she has let people into many different aspects of her life, including how she lives her healthy lifestyle. Here's everything you need to know about what Bindi Irwin eats in a day.
Bindi Irwin starts her day with a pretty unusual breakfast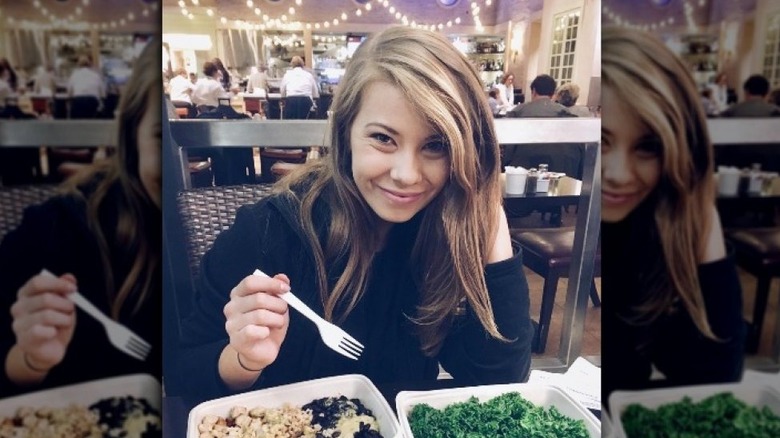 A lot of people are accustomed to big breakfasts. Bindi Irwin certainly got the memo that breakfast is a meal that can fuel the body, but whereas some of us prefer a latte and an omelet, Irwin goes for something a little different. "I'll have one [a cup of tea] every morning with breakfast, which will be a brown rice and vegetable bowl," Irwin told The Sun. Yes, she eats rice and veggies in the morning, and yes, we wish we had her willpower.
It turns out that Irwin gets up at 7 a.m. every day, fuels her body with a very healthy-sounding breakfast, and heads to the Australia Zoo where she works with her family. As noted by the Daily Mail in 2018, Irwin has also been spotted eating the likes of tofu and leafy greens for breakfast, too. She shared a photo on her Instagram back while traveling with the caption, "I'm not the only one who prefers kale & tofu over cereal, right?" So you heard it here — if you want to eat like Irwin, you're going to have to be ok with kale in the morning.
Bindi Irwin typically avoids this go-to morning beverage
A lot of us coffee drinkers love the taste of a morning brew, and we know that if we don't have a cup by 9 a.m., the caffeine headache will hit. There are a bunch of not-so-pleasant side effects that happen to your body when you suddenly stop drinking caffeine, and it begs the question as to why we started drinking coffee in the first place. Well, the morning drink is a habit that Bindi Irwin has never gotten into, and after the one time she indulged, she felt just awful about it. As noted by the Daily Mail, Irwin does not have coffee on the regular, as her mom always told her that caffeine should be avoided.
To WHO magazine in 2014, Irwin shared that while she was attending a music festival, she had a mocha and immediately felt like she'd "screwed up." She called her mom and apologized for having the drink, even though any coffee lover out there will tell you that a mocha hardly counts as a cup of joe.
Of her cautious nature, Irwin admitted on "The Kyle and Jackie O Show," "It's so funny, my mum always says, 'I look at you and it's like I trapped this 86-year-old inside a 17-year-old's body.'"
Tea is a big part of Bindi Irwin's life
Some of us choose coffee, while others opt for energy drinks in the morning (we'll pray for you). But Bindi Irwin starts every day with a cup of tea at breakfast, as she told The Sun. Tea is very important to countries in the Commonwealth. As noted by World Tea News, "Australians drink an average 9.5 cups [of tea] per person per week." So it looks like Irwin is falling right in line with the trend. In fact, tea is such a big part of Irwin's daily eating and drinking habits that she launched her own tea collection with the Australian brand Tea Tonic.
As noted by the Daily Mail, Irwin started the health-focused selection in part because the drink is such a big part of her life. "I'm so happy to announce that I have partnered with Australian tea gurus Tea Tonic to create 'Wild by Nature' — a fresh, sweet and minty tea combining botanical flowers," Irwin announced. "Tea makes everything better!" Irwin's pursuits were supported by her younger brother, and given her own obsession with the drink, we're going to guess that Robert Irwin is a fan of the beverage, too.
Oh, and don't get her started on iced chai tea lattes. "It's like angels have just cried into it," she said after having her first cup of the drink from Starbucks.
This fruit is Bindi Irwin's favorite
If there is a sibling duo who could take over the world, it's Bindi Irwin and Robert Irwin. In a sit-down interview with Pedestrian TV, Bindi and Robert were asked rapid-fire questions about each other, with one posed to Robert about Bindi's favorite food. "I think lychee fruit," Robert said when asked the question, resulting in a very happy and shocked Bindi. "Yes!" she said. "That's cause I was just talking about lychees." Robert chimed in, saying that she had brought up her fruit of choice about two minutes before the cameras started rolling on the interview, so it's safe to say that the fruit definitely is on her radar.
So what exactly is lychee fruit? It's certainly not your standard apple or orange. As Medical News Today explained, lychee is a tropical fruit that is rooted in Chinese history — it was even served as a delicacy in the Chinese courts. The fruit itself has a pale, fleshy consistency that is covered with a hard shell exterior. It is super sweet, and very good for you, containing a nice amount of vitamin C. So if you want to eat like Bindi, pick up some lychee fruit next time you're in the store.
Bindi Irwin is adventurous when it comes to food
It probably doesn't come as any bit of a surprise when we say that Bindi Irwin is adventurous. Her late father, Steve Irwin, literally wrestled with crocodiles, and she herself is named after one of his favorite crocs (via the Australia Zoo website). Bindi spends her days working as a conservation advocate and as part of the managerial staff at the Australia Zoo, so it doesn't come as a huge shock to learn that she's down to try anything when it comes to food.
As noted by The Urban Mum, Bindi shared that she was traveling in Taiwan when she had the most unusual thing she's ever eaten. She shared with the publication that the street food was amazing, but she was not a "huge fan" of the stinky tofu dish, one of the most bizarre foods you need to try before you die. So while Bindi probably isn't eating stinky tofu on a daily basis, you can bet that she's down to try just about anything.
Is Bindi Irwin a vegetarian?
Bindi Irwin and her entire family have made themselves known for their conservation advocacy. In charge of one of the most prominent zoos in the world, the Irwins have consistently fought for environmental protections — so it begs the question, is Bindi Irwin a vegetarian? Does she eat meat or animal products daily? As noted by Distractify, Irwin has never come out explicitly saying if she is vegetarian or vegan, but rather has made it clear that she sticks to a very healthy diet. While her daily meals might contain some sort of meat or fish, it is likely that it's in moderation.
However, during an appearance on the series "I'm a Celebrity … Get Me Out of Here," Bindi shared that she wouldn't be eating strange animal parts, saying, "We are so not going to be eating anything like that, I'll take the beans and rice challenge." So it may very well be that her daily food intake consists of veggies only (via New Zealand Herald). The only statement Bindi has made on the issue was when someone asked her on social media if her father, Steve Irwin, adhered to a vegetarian diet. "He wasn't vegetarian but strongly against consuming wildlife," Bindi tweeted in response.
This is what Bindi Irwin typically makes for dinner
We know that Bindi Irwin is an adventurous eater, but what do her nightly dinners look like? What is her go-to? The wildlife conservationist and advocate told The Urban Mum that her weekday dinners are pretty simple, but they certainly pack a punch.
"I really love fresh fruits and veggies. Most nights I'll make a stir-fry or a salad," Irwin said. Of course, a stir-fry is a great way of getting a well-rounded meal without sacrificing flavor. As noted by Verywell Fit, stir-frying requires less oil than other cooking styles. As such, the ingredients typically remain crisp and colorful and keep their nutritious content. We certainly understand why a health-conscious person such as Irwin sees the allure of such a means of cooking.
In the summertime, Irwin shared that she's a big fan of mangoes. This is another healthy option on Irwin's part because, as noted by Healthline, mangoes are full of nutrients ranging from vitamin C to folate to potassium. Looks like we'll be cooking a lot more like Irwin does in the future.
Is Bindi Irwin a big drinker?
As you may have guessed given Bindi Irwin's healthy habits, she doesn't have a ton of interest in alcohol. Alcohol, by nature, is a dehydrating agent and can lead to a number of health risks, as noted by Healthline. As such, the healthiest people out there tend to avoid it, and it looks like Irwin is in that camp, too.
As noted by E! News, Irwin appeared on the "Kyle and Jackie O" radio show in Australia in 2016 and discussed her 18th birthday (she was 17 at the time). The hosts asked her if she would be popping the champagne bottle on the big day (as the legal drinking age in Australia is 18), but the animal conservationist was pretty uninterested in the proposition. "Yeah, you know, maybe," Irwin said. "It's one of those things where it's never really truthfully been that big of a deal to me, I think because I've been so busy with my life and I'm always running around … so who knows? Maybe one but we'll see. Probably not."
While it remains unclear if Irwin popped open the bubbly on her birthday, it seems that her daily eating and drinking habits don't often include alcohol.
Bindi Irwin probably doesn't drink much soda
We know that tea is a big part of Bindi Irwin's daily life, but what about other beverages? Is she a fan of soda? As you may have guessed, Irwin is not one to indulge at the soda fountain — in fact, while appearing on the "Kyle and Jackie O" radio show in 2016, she revealed she'd never had Coca-Cola before (via the Daily Mail).
"You know, I am so wild that I haven't even had [Coca-Cola] before, can you believe that?" she said. "I wanted to see how long I could go without it, honestly. And it's really interesting because people will say, 'Gosh what are you going to do?'" Irwin revealed that, if she didn't splurge on alcohol on her 18th birthday, she would consider soda. But one thing for sure, she said, was that she would be having "a cup of tea."
Host Kyle Sandilands pushed back, saying that one day Irwin would "go mental" and indulge in drugs and parties given her more modest life. Co-host Jackie Henderson even said that Irwin would have to "make up for lost time," but Irwin seems very happy sticking to no soda, no alcohol, and lots of tea.
Bindi Irwin had this daily food craving while pregnant
Any expecting mom can tell you that her daily food habits change during pregnancy. A lot of us have heard of the more typical cravings — like anything vinegar-based or sweet — but what about healthy cravings? It seems like, even while she was pregnant, Bindi Irwin was craving rather obscure — but very healthy — foods.
Irwin had a pretty interesting pregnancy. She described it as "'extraordinary," but there were some difficulties along the way. "At about 5′ 2" I've always been quite small, so carrying our daughter has definitely brought challenges as she continues to grow," she told The Bump. "Reaching down to tie my shoes or pick up an animal is quite difficult now." So, just what did she want to eat during this time? Irwin was craving snacks like seaweed. Of course, seaweed has that salty, crunchy taste that is pretty addicting, so it's easy to understand why the healthy snack was on her mind. According to Healthline, seaweed also has a bunch of health benefits with a number of vitamins and minerals packed in.
"Random but delicious," she said to describe her go-to pregnancy snack.
Bindi Irwin is a big fan of this specific food from Oregon
While she was pregnant, Bindi Irwin craved more than just seaweed. She also wanted lettuce wraps, but not just any lettuce wraps — she specifically wanted ones from a Chinese restaurant in the Pacific Northwest.
During an episode of "Crikey! It's the Irwins," she was shown during her early days of pregnancy absolutely craving the delicious treat. "In Oregon, in the U.S.A.," Bindi said when asked about the lettuce wraps in question. "And there's a pandemic and I can't travel anywhere, and I really want my lettuce wraps!" It's hard to say just how far she'd go for lettuce wraps, but it did sound like a pretty desperate situation for her.
The conversation continued with Robert Irwin talking about their mom's cravings while she was expecting years ago. "I remember watching a documentary and you told Dad that you were pregnant with pickles and ice cream," he said. While she could've easily found pickles and ice cream, poor Bindi Irwin wasn't able to get her favorite wraps. Hopefully she found a comparable solution in Australia!
Bindi Irwin is lactose and soy intolerant, so these bars are her go-to
When you have certain dietary restrictions, trying to find snacks that are suited to your needs is tough. Bindi Irwin is soy and lactose intolerant, making it difficult for her to find snacks that are both healthy and enjoyable. But that's where the Mama Bar brand comes in, a snack company that she just happens to have partnered with. Irwin shared a collaborative post with the brand on her Instagram page in January 2021 and talked about the snacks that enabled her to stay healthy and satisfied, especially during her pregnancy.
"Pregnancy has been such a special time and I wanted to find a snack that was good for me and our beautiful daughter," Irwin wrote. "I found Mama Bars @mamabarofficial and discovered how delicious they are. I'm soy and lactose intolerant so these bars being free of both is absolutely perfect. I snack on them whenever I need a pick-me-up." Mama Bar features flavors such as dark chocolate with cashews and cherries and peanut butter with dark chocolate chips. Sounds good!