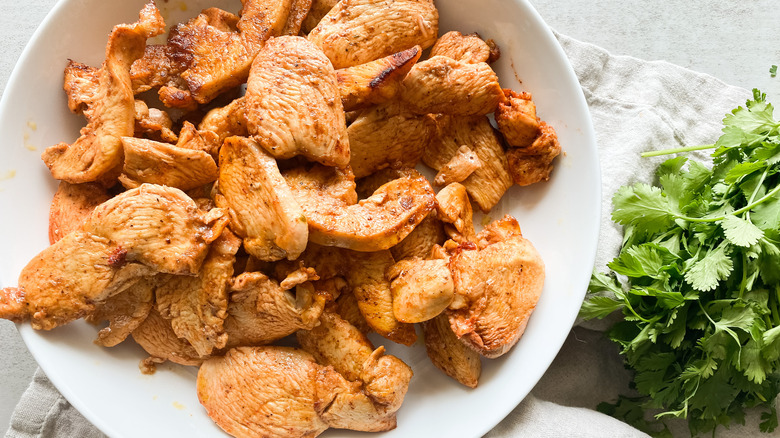 When it comes to quick and easy recipes, Trader Joe's is where it's at. They have some of the yummiest ready-to-cook meals that combine great flavor and filling portions. One of the most popular items on many people's grocery list at the retailer is the pollo asado, which goes in everything from tacos to salads to burritos and more. The chicken has such good flavor and tastes as though it could be from a restaurant — yes, it's that good.
What if we told you that you could make a version of Trader Joe's Pollo Asada at home that is just as delicious? Kristen Carli is the mastermind behind this great main course that will wow you and anyone lucky enough to taste it. She shares that her favorite part about the recipe is the flavor. "This is a very flavorful dish! It makes for a great dish to cook up for a crowd," she shares.
Now let's get to cooking. Keep scrolling to find out how to put together this fantastic main-course which is sure to please your guests.
Gather the ingredients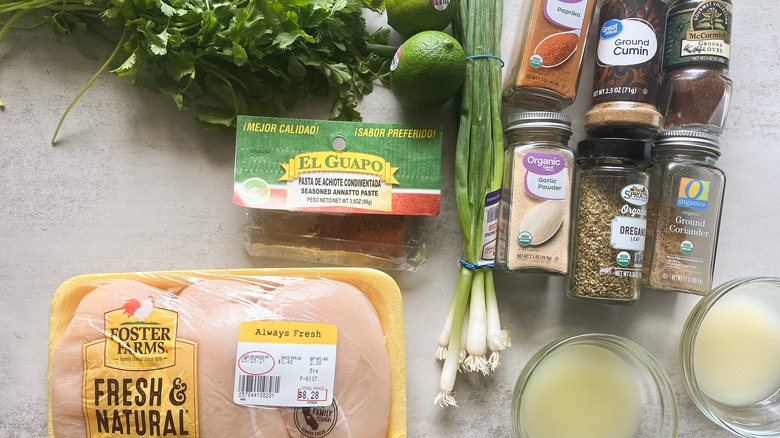 This recipe calls for quite a few ingredients, but you probably have most already available in your spice cabinet. You will need both lemon and lime juice in addition to olive oil. In terms of spices, grab achiote powder (which might be labelled as annatto paste), ground cumin, coriander, ground cloves, dried oregano, pepper, and salt. Of course, it wouldn't be complete without boneless, skinless chicken breasts and a few items for serving, including cilantro, green onions, and queso fresco.
Prep the marinade
Get out a small bowl of your choice to mix many of the ingredients. In the bowl, toss in the lime juice, lemon juice, and ¼ cup of olive oil. Also, add your spices, including the achiote powder, cumin, paprika, coriander, cloves, oregano, pepper, and salt. "If you want to add more heat, I would recommend including some red chile flakes in the marinade," Carli suggests.
Stir it well with a spoon, so everything gets well-combined. Once you finish, move on to the next step!
Slice the chicken
Take your chicken breasts out of the fridge and slice them into thin pieces. At this time, you can also trim off the fat as needed. Once you finish cutting, place it in a large plastic bag.
Pour the marinade over the chicken, making sure to cover every piece. Then, zip up the bag and squeeze all the extra air out. Massage the marinade over the chicken and stick it in the fridge for 2 hours.
Cook the chicken
Once your timer goes off, the juices should be soaked into the chicken, locking in the flavor. Next, it's time to cook. Get out a large skillet and put it over medium heat. Then, add the remaining tablespoon of olive oil.
When the pan gets hot, add the chicken. Cook each piece for about 5-8 minutes a side. As a reminder, make sure to check to be sure the chicken cooks all the way through.
Enjoy!
Congrats, once your chicken is fully cooked, it's ready to be enjoyed. As far as serving options, the possibilities are endless! Carli recommends putting these in tacos with some queso fresco, green onions, and cilantro. In addition to tacos, Carli shares that this would also be great on the side of Mexican rice and calabacitas. Leftovers are good for 4 days in the fridge as long as they're stored in an airtight container. Bon appetit!
2 tablespoons lime juice
2 tablespoons lemon juice
¼ cup plus 1 tablespoon olive oil, divided
1 tablespoon annatto paste (also known as achiote powder)
1 tablespoon ground cumin
1 teaspoon paprika
1 teaspoon ground coriander
¼ teaspoon ground cloves
½ teaspoon dried oregano
½ teaspoon pepper
1 teaspoon salt
2 ½ pounds boneless skinless chicken breasts
Tortillas, for serving
Cilantro, for serving
Green onions, for serving
Queso fresco, for serving
In a small bowl, add lime juice, lemon juice, ¼ cup olive oil, achiote powder, cumin, paprika, coriander, cloves, oregano, pepper, and salt.
Thinly slice chicken breasts and place in a large plastic bag.
Pour the marinade over the chicken. Zip up the bag, squeezing all the air out. Massage the marinade all over the chicken. Place in the fridge for 2 hours.
Heat a large skillet over medium heat. Add remaining 1 tablespoon of olive oil to pan.
Once oil is hot, add chicken. Cook on each side for about 5-8 minutes. Be sure to cook all the way through.
Serve in tacos with green onions, queso fresco, and cilantro.