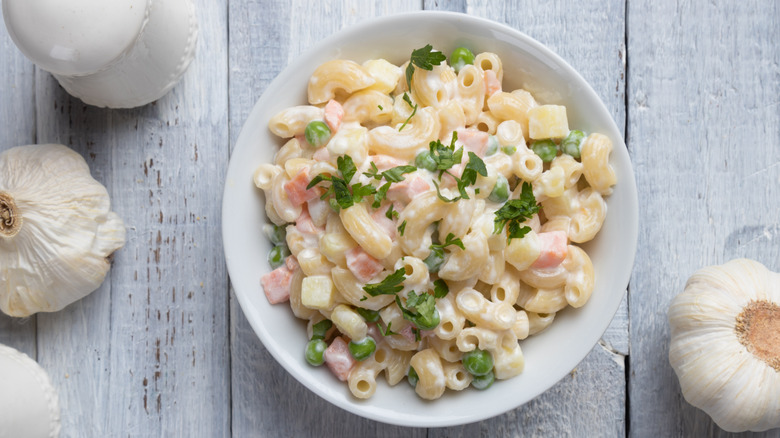 Whether it's South African braai or Southern United States barbecue, if a main dish is coming off of a hot grill, then it needs a substantial side dish setup. While there are all kinds of barbecue side dish classics out there to weigh a table down, you'll find nothing but surefire pasta sides here.
While pasta salads can be somewhat improvisational things that can be whipped up easily, following the tried and true recipes below crafted by our recipe developers will result in success. As simple as they might seem, try to stick to the recipes. Whether that means using the right amount of seasoning or using the specified pasta shape to make sure there are no mistakes, you'll only produce a crowd-pleasing dish if you don't deviate from the plan too much.
From your basic macaroni salads and cold antipasto to classic mac and cheese and some inventive ways to include some surf with your turf, these are the best pasta salads you'll want to bring to every barbecue. They make for refreshing, sumptuous sides that might very well steal the show. Don't go thinking that everything you find here is rolled in mayonnaise or that it's just al dente pasta mixed with a bunch of random vegetables, either; enough time has passed since recipes for pasta salads first started showing up in 1960s that there are new spins and takes on the classic side dish that smack more of innovation than tradition.
Dig in. You won't regret it.
Macaroni Salad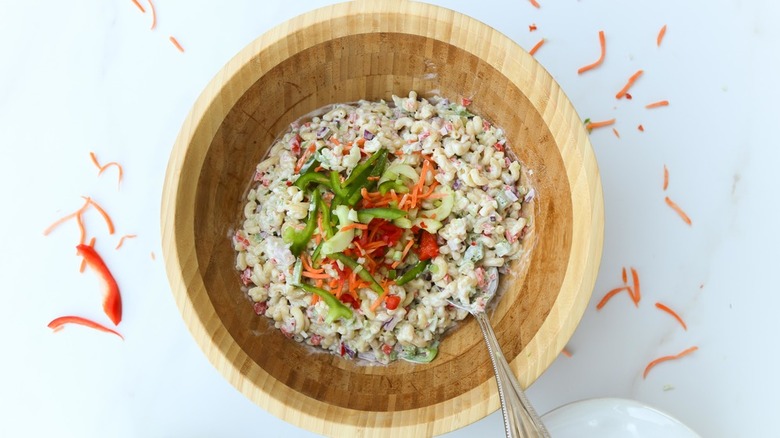 Whether it's your first pasta salad rodeo or you'd just like something simple and traditional for your barbecue, macaroni salad is a cornerstone of pasta salad side dishes. Everyone and their grandma has their own version of it, but this one from Maren Epstein has everything you need: There's a little bit of fresh veg to give it a crunch and a dressing that's both salty and tangy. Epstein's so confident in her version that she deems it the macaroni salad "everyone is guaranteed to love," and we're inclined to agree.
Grilled Summer Vegetable Pasta Salad
This recipe's incorporation of grilled vegetables is one of the best ways to marry what's happening on the grill with what's happening on your stovetop. Whether it's early spring or late summer, by taking whatever vegetables are in season and giving them a bit of char and color, grilling will make your pasta salad far more vibrant in flavor and texture. Asparagus, bell pepper, squash, onion, tomato and zucchini all form this pasta salad's mix, but you can switch them up according to whatever's in your fridge.
Antipasto Salad
"The best thing about this antipasto salad," Sher Castellano writes for her antipasto salad recipe, "is the fact that it tastes amazing and works so well with so many meals, from BBQ to a traditional Italian dinner spread to a buffet lunch." She's not wrong, and what's more, her recipe is something that can be made well in advance, from the morning of your barbecue session to several days beforehand. That gives you more time to focus on the star attraction of your barbecue sesh — whether it's burgers, sausage, steaks, or whatever you like.
Creamy Pasta Salad
When it comes to the first pasta salads in the history books, they generally leaned towards the creamier side of the pasta salad spectrum. This one from 1916, for example, calls for cups of whipped cream to be added. Kristen Carli's recipe for creamy pasta salad uses a ½ cup of mayonnaise in place of all that cream and is best served after chilling in the fridge for at least two hours. Don't be shy about doubling the recipe or ending up with more than you might have bargained for; Carli says leftovers will keep for up to five days in the fridge.
Mediterranean Pasta Salad
By combining all the calling cards of Mediterranean cuisine –- think Kalamata olives, feta cheese — and combining them with vegetables like cherry tomatoes and cucumber, this Mediterranean pasta salad checks off all the boxes for a fresh summer side. It meets all the requirements of the Mediterranean diet, too — unless you plan on grilling up a big platter of red meat to go with it. Just make sure that if you do choose to make this pasta salad, let it sit for a bit once it's all mixed up, giving the pasta the time it needs to soak up the flavors around it.
Easy Bow Tie Pasta Salad
With no more than five steps required to execute it and little more than 15 minutes total needed (including prep and cooking time), calling this recipe for bow tie pasta salad easy is an understatement. Best of all, because it's served as a cold side dish, it's something that you can keep leftovers of tucked away in the fridge to indulge in days later. In fact, you might find that it's a tad more flavorful on a subsequent day when you dig into it than it was when you first tasted it.
Creamy Crab Pasta Salad
If the grill brings the turf to the dinner table, this creamy crab pasta salad brings the surf; it might very well even steal the show. Think about it: Fresh crab claw meat and a mere four additional ingredients — olives, red onions, sun-dried tomatoes, and fresh parsley — that get blended into al dente pasta (there's no specific shape necessary, so you can use whatever you have!) with a creamy dressing. If reading that doesn't get your appetite going, we're thinking that you need to seriously reassess your tastebuds' aptitude to know what's delicious.
Puttanesca
Does a pasta salad always need to come cold when it's served as a side dish? We don't think so, and there's nothing wrong with serving up this recipe for hot puttanesca as a side to accompany whatever you have sizzling on the grill. After all, Italian dinners consist of multiple stages, and the 'primi' of pasta comes before the 'secondi' of grilled meats. With that in mind, consider pairing this one up with any one of these spectacular options for grilled dishes.
Easy Chicken Fajita Pasta
While the words "chicken fajita pasta" might sound a little too fusion-y, rest assured that this is a delicious marriage of recipe creator Kristen Carli's Italian heritage and her southwestern upbringing. The chicken doesn't need to be cooked in any particular way, but seeing as you've got a barbecue fired up, why not cook it on there to give the mix a smoky touch? At 25 minutes total time combining prep and cooking, it's something you'll be able to easily make as you wait for your main dishes to start sizzling.
Ground Turkey Casserole
Looking for something truly easy to whip up, and want to have plenty of it to feed a bunch of people? Then this ground turkey casserole recipe is a great way to go. You can trust that this one is made for feeding families: "This recipe was inspired by a casserole that my father used to make all the time," the recipe's creator Carlos Leo says. If you crunch the numbers, you'll also find that this doesn't cost very much to make, so why not put those savings towards buying an even fancier cut of steak?
Copycat Chick-Fil-A Mac And Cheese
Depending on who you ask, mac and cheese is a necessity when it comes to side dishes for a barbecue. There are a lot of different ways to make it, but we thought it'd be best to go with this copycat Chick-Fil-A mac and cheese for its creamy, cheesy goodness. Trust us when we say that it pushes the cheese factor to the limit by mixing together as many as five different cheeses. If you want that real Chick-Fil-A flavour that slaps, make sure to follow this recipe down to the very last ingredient and step. And don't be surprised if it turns into a pasta salad you'll want to bring to every barbecue.