There's a time and a place to eat at Starbucks while traveling abroad: it's after day 49 when you're hungry and lost and they won't give you the WiFi password unless you buy something.
The occasional blueberry scone at Starbucks during a moment of weakness aside — travelin' meals are best served street-side, squatting on a plastic chair among locals beneath the cool night air, sipping from a dusty bottle of local lager as a grizzled Australian expat tells you the story of how he lost his left hand to a shark while sea kayaking.
If you want to dive face first into a country's culture, there's no tastier way than gobbling down their street food. Eating food from local vendors let's you pull up your sleeves and dig into food the local population eats. You're supporting hard-working vendors while feasting in the company of local people (and the odd Australian expat). As an added bonus, street food is cheaper than anything dished out at a tourist trap — and probably cleaner than anything they're serving at off-peak hours.
But there are only so many pages in your passport (hint: they're refillable, though) and space in your tummy, so we rounded up a list of the one street food dish you should try in these legendary countries.
Singapore: Chili crab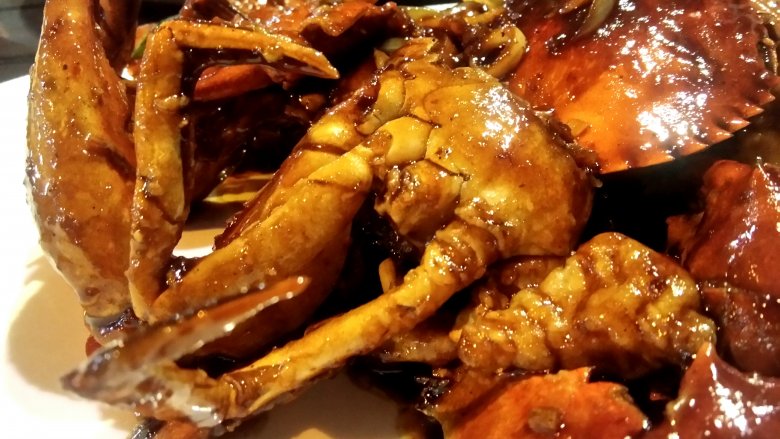 Our world street food tour starts in Singapore, a famously food-obsessed island nation in Southeast Asia. Once considered a dull, expensive layover on the way to Bali or Thailand, Singapore has made a name for itself with an insane street food scene that equals that of Mexico City or Bangkok.
The bulk of Singapore's street vendors' (or "hawkers," as they are called locally) cuisine is concentrated in hawker markets, or open-air food complexes. There, you'll find a dizzying array of dishes served with ice cold Tiger beers from thousands of stalls.
If you must limit yourself to one dish (psshh good luck), try the chili crab — one of Singapore's most popular dishes. As the legend goes, the crustacean creation was invented by husband-wife pair of street vendors who wanted to explore alternatives to steaming crab. Their original chili-tomato-based recipe has since been expanded upon, and today the dish is typically served with hard-shell Sri Lankan crabs drenched in a rich sweet-spicy sauce made from sambal, tomato paste, and eggs. Chili crabs are complemented with steamed or deep-fried buns called mantous, which you can use to mop your plate clean of the tangy tomato gravy.
Peru: Ceviche al paso
Now follow us over to Peru, where another humble seafood street food dish has risen to the ranks of its country's national dish. Ceviche — sometimes spelled seviche or cebiche, depending on the country you're in — is available in various renditions in countries across Latin America.
The version you'll find in Peru is often made from chunks of fresh, raw white fish marinated in lime, cilantro, and other spices, topped with fresh red onion, and served with large-kernel corn and sweet potato. It's a centuries-old cooking method that allows the acidic citrus fruit juice to transform the fish protein into something similar to cooked seafood, making the raw seafood safe to consume.
You can find ceviche in restaurants across Peru. But for times when you haven't the money or time to sit down at a restaurant, there's ceviche al paso. This ceviche is sold roadside by vendors in colorful carts. They pile styrofoam plates high with ceviche fish, and scoop on sides of soft and crunchy choclo. Note: sine you're dabbling in raw seafood here, we recommend saving ceviche al paso for when you're dining coastal cities like Lima, it's sleek, modern capital.
South Africa: Bunny chow
Picture a loaf of white bread. Now, slice it in half, hollow the loaf out, and fill it with vegetarian or meat curry. This is bunny chow, a dish that started in Indian restaurants in the South African city of Durban around the 1940s.
It's a hearty, deliciously messy dish with a dark history. In the days of apartheid, certain restaurants in South Africa weren't allowed to seat black patrons. Instead, servers would dole out dishes to non-white customers through windows or back doors. According to historians, chefs used loaves of bread in place of containers or plates so they didn't have to be returned.
A lot has changed in South Africa since the days of bunny chow, but the dish remains. You can find the ultra-gooey curry creation at sidewalk carryout eateries around South Africa. The dish is served in quarter- or half-size loaves of white bread and filled with curries made from mutton, chicken, veggies, and more. You could eat bunny chow with a knife and fork, or you could eat like a local/baddass by seizing the bread by both hands and nibbling it down like an ice cream cone.
Thailand: Som tum
Rounding back toward Asia we arrive at one of the world's street food culinary meccas: Thailand. It was tough to choose a top street food from a country that just shells out skewer after skewer of mind-blowing street food, but eventually we settled on som tam.
Som tam translates to "sour" and the crushing tool used to make it. Most non-Thai speaking folk know it as papaya salad, but don't let that "salad" word fool you. With som tam, there's nary a wilted shred of iceberg or drop of blue cheese dressing on the plate. Instead, the dish is crafted from thin shreds of crunchy green papaya, mixed with long, crunchy green beans, shredded carrots, and tomatoes. Som tam is bathed in a complex mix of lime, fish sauce, sweet palm sugar, Thai chilies, and fresh garlic, then topped with dried shrimp and crumbled peanuts.
The resulting dish is at once sweet, spicy, and sour. For those of you who aren't spicy food fans, beware: even "mild" dishes tamed down for timider tongues can be quite spicy. For those of you who do seek spice thrills, ask for pet mak (very spicy) and buckle up.
Poland: Oscypek
Now meander over to Poland, the birthplace of Pope John Paul the II and an intricately decorated cheese called oscypek (os-TSEH-peck). The sheep's milk cheese has been produced in the Tatra mountain region since the 15th century. Within wood huts using wooden tools, bacas (traditional cheesemakers) craft fresh smoked cheese and set them in elaborately carved wooden molds. The cheese is then soaked in saltwater and smoked over pine or spruce wood. The resulting product is golden brown ser with a creamy white interior with notes of toasted chestnuts — best enjoyed with a pint of vine or glass of vodka.
Where can you find the magical oscypek cheese? Unfortunately, it's not always easy: the EU places strict regulations on what is and isn't allowed to be called oscypek, as BBC Travel notes. A genuine oscypek must be made from 60 percent sheep's milk, weigh between 600 and 800 grams, and measure between 17 and 23 centimeters. To qualify, the cheese has to be made sometime between late April and early October.
You can try to chase down an authentic oscyek among the many knockoffs sold on Krupówki street in Zakopane, a resort town sitting on the foot of the Tatra mountains. But you might have better luck in July, when Zakopane holds a festival dedicated to highland folklore, oscyek, and other folky culinary traditions.
India: Pani puri
Bright, busy, and unabashed about spice, the vast country of India is treasure trove of spicy vegetarian street food. One of our favorites, pani puri — also known as puchka, pani patashe, and gol gappe — can be found in various forms across the sprawling country. The street snack consists of a round, crisp hollow ball made with refined flour, filled with a gooey mixture of chickpeas, potatoes, tamarind water, and potatoes.
For the full experience, hunt down a pani puri cart and pull up a red plastic stool. The vendor will hand-serve you the crispy ball and instruct you to punch a thumb through the top. The crunchy little ball is then filled with chickpeas and potatoes, then dunked into tamarind water.
The trick to eating pani puri is to gobble it down fast, lest it turn mushy and spill all over your shorts. Unless you have a particularly strong stomach, it's also important to double check to see the vendor is using mineral, not tap water.
Vietnam: Bun cha
It's a scene that will go down forever in the history of food: former president Barack Obama and the late, great Anthony Bourdain, balancing on plastic stools at a stainless steel tables, drinking Hanoi beer over steaming bowls of bun cha.
Obama and Bourdain met at Bún chả Hương Liên, where their former table sits behind glass, and the menu now includes Combo Obama to memorialize the dinner. It's worth a visit if you're feeling touristy; otherwise, go the way of the locals and follow the aroma of grilled meat to a bun cha street stall. Amid plastic stools and steel tables, bun cha vendors barbecue pork patties on open-coal grills, and serve them alongside a plate of cold vermicelli noodles and crisp lettuce leafs. Completing the dish is a simmering bowl of broth made from fish sauce, vinegar, and sugar. By the way — the Bún chả Hương Liên made an exception for their TV appearance, but bun cha is typically only served during lunch hours (around 11 a.m. to 3 p.m.)
U.S.A: Sonoran dogs
Like so many of America's favorite foods, the Sonoran dog originated in a foreign country and was brought to the states by immigrants. Born in the street carts of Sonora, Mexico, the bacon-wrapped hot dog traveled 70 miles north to Tucson, Arizona, some time around the late '80s or early '90s.
Today, around 200 dogueros hawk Sonoran dogs from street carts around Tucson. Dogged former dogueros graduated from food carts to world-renowned restaurants like El Guero Canelo and BK Carne Asada and Hot Dogs.
Uniting Mexican and American flavors, Sonoran hot dogs are wrapped in juicy bacon and stuffed into a fluffy bolillo roll. They're topped with a mouthwatering mélange of condiments and garnishes — typically chopped fresh tomatoes, grilled onions, pickled jalapenos, mayonnaise, crema, and beans. For the even hungrier, there's crispy radishes and cucumbers, whole chiles, guacamole, and crushed Ruffles to pile on, too.
Germany: Currywurst
So illustrious is this street food, there is an entire museum dedicated currywurst. According to the German Currywurst Museum, the iconic treat was invented by a woman named Herta Heuwer in 1949. A snack-bar owner in Berlin's Charlottenburg district, Frau Heuwer traded spirits (or according to some sources, Worcestershire sauce) with British soldiers for ketchup and curry powder. She sliced up a sausage, and showered it with ketchup mixed with curry powder and other spices. Naturally, it was an instant hit.
Since that fateful day, currywurst has become as ubiquitous in Berlin as hot dog stands in New York. An estimated 850 million currywursts are devoured in Germany per year, and 70 million in the capital city alone. Like so many great street foods, the iconic street food dish tastes best late at night after a few biere too many. In Berlin, they're served round the clock at stands and snack bars.
Fun fact: Germans may love currywurst, but former president George W. Bush reportedly turned up his nose at it. Not all former U.S. presidents can be as cool as Obama, we guess.
Mexico: Tacos
To end on a predictable note: tacos hold the undisputed title for the best street food in Mexico for good reason. You could spend a lifetime eating nothing but street tacos in Mexico, and you would never go hungry or get bored. In Mexican cities, tacos are sold on seemingly every corner and topped with every kind of meat, veggie, salsa, and garnish imaginable. Some of our favorites include:
Guisado-style tacos. Popular around breakfast and lunch time, Guisado tacos are served with an endless variety of stewed meats and veggies. Vendors will set out earthenware bowls called cazuelas with choices of fillings, ranging from meaty picadillo hash to roasted poblano chiles in cream. .

Tacos el pastor. You can recognize al pastor vendors by their gyro-like spits, which sizzle up seasoned pork crowned with slices of pineapples. Vendors serve the pineapple-caramelized pork with white onions, cilantro, and salsa.

Tacos de canasta. "Basket tacos" or tacos de canasta are tacos that served steamed from cloth-covered baskets. The moist tacos are stuffed with goodies like shredded chicken, spicy mutton, potato and eggs, or chicharrones.

Tacos de cabeza. Named for the Spanish word for head, tacos de cabeza are prepared with juicy, slow-steamed meat scooped from inside a steer's noggin. Taco vendors often offer an assortment of head innards, including sesos (brains), lengua (tongue), and oreja (ear).